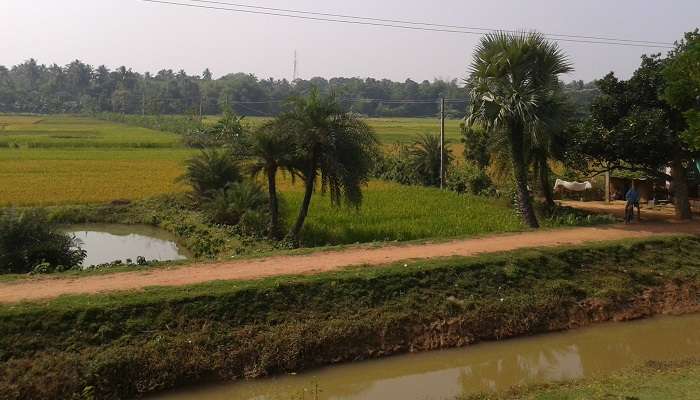 Nestled in the eastern region of Odisha, Bhadrak is a quaint little place that serves as a spiritual getaway for Hindu pilgrims. One will definitely marvel at the magnificent architecture of the religious places to visit in Bhadrak while discovering the gems of this city. While the city takes its name after the goddess Bhadrakali, the place holds a great significance to the locals. Whether it is a spiritual attraction, a garden for a picnic with your family, or a lavish theatre, the city has something to offer to all kinds of travellers.
7 Best Places To Visit In Bhadrak
Here is a complete list of the best places to visit in Bhadrak that travellers must explore on their next trip to this spiritual town.
1. Akhandalamani Temple

Image Credit: Sangram Keshari Senapati for Wikimedia Commons
Renowned for its white architecture in Aradi Village, Akhandalamani Temple is one of the famous spiritual places to visit in and around Bhadrak. Built in the year of 1840 AD, you will witness the gorgeous architecture which has been transformed from what used to be a wooden temple earlier. This abode of Lord Shiva is set on the banks of river Baitarani, and holds a great historical significance in reference to Akhandalamani.
Location: RM64+P39, Aradi, Odisha 756138
Timing: 5:00 a.m. to 9:00 p.m.
Must Read: 7 Hotels Near Puri That Are Widely Preferred By Tourists
2. Dhamra Port

Image Credit: Government of Odisha for Wikimedia Commons
This ideal destination is for those who are seeking a completely different experience and are looking for  places to visit in and around Dhamra Port. Located just a few hours away from the town at the confluence of Bharmani and Baitarani river, the scenic views of the surroundings will definitely leave your mesmerized. In addition, one can also visit another popular tourist attraction of Dhamarai temple which is just 10 kms away from the location.
Location: RXF7+FJF, Coconat Island, Odisha 756171
Timing: Open 24 hours
3. Bhadrakali Temple

Image Credit: Sangram Keshari Senapati for Wikimedia Commons
Situated five kms to the southwest of Bhadrak, Bhadrakali Temple exudes a profound spiritual aura and positive energy. This sacred site is dedicated goddess Bhadrakali, and is steeped in a rich tapestry of history and beliefs. As you explore the temple, you'll encounter a magnificent black granite statue of the goddess adorned with a lotus and a lion, and all within a serene ambiance that is sure to captivate your senses and make your visit truly meaningful.
Location: 2G8P+3MX, Bhadrakali sahi, Aharapada, Odisha 756128
Timing: 6:00 a.m. to 10:00 p.m.
Suggested Read: 5 Resorts Near Puri For Those Who Love Waking Up To The View Of Calm Beaches
4. Dhamarai Temple

Escape the hassle and hectic life and spend some time at Dhamarai temple that is one of the sacred places to visit in and around Bhadrak. Nestled on the Bay of Bengal, it is a famous attraction dedicated to goddess Dhamarai. For the best experience, spend some time and visit the landmark during the festival of Makar Sankranti. The temple's spiritual significance is believed to be one of the most important reasons to visit this place in Bhadrak.
Location: Dhamara, Odisha 756171
Timing: 7:00 a.m. to 7:30 p.m.
5. Biranchinarayan Sun Temple

Biranchinarayan Sun Temple is the second temple dedicated to Lord Brahma in the world, and is one of the famous places to visit in Bhadrak. The locals believe that the god's faces are the four-faced image of the sun. You can observe a gorgeous square-sized stone of Lord Brahma on the chariots with lotuses in two hands. The structure is around 75 feet high that offers a mesmerising view of the lush greenery around. Located just 15 kms from the town, the temple is well-connected to the town stations.
Location: 2JH6+4G2, paila, Odisha 756127
Timing: 3:30 a.m. to 12:00 p.m.
Suggested Read: 5 Best Resorts Near Bhubaneswar One Must Pick For A Rejuvenating Staycation
6. Bankabasuli Temple

Nestled in the heart of Kacheri Bazar of Bhadrak, Bankabasuli Temple is one of the oldest temples of the town. Renowned for its entrance gate, it is believed that the presence of Goddess Laxmi is always on top of the gate. The temple is dedicated to 3 most renowned gods and goddesses, Lord Ram, Laxman, and Mata Sita. To enhance the experience of your city excursion, visit the landmark during Durga Puja when you will get to experience a completely different energy compared to usual days.
Location: Kacheri Bazar, Bhadrak, Odisha 756100
Timing: Open 24 hours
7. Jagannath Temple

Located just 20 kms away from Bhadrak and dedicated to Lord Jagannath, Lord Balabhadra, and Devi Subhadra, Jagannath Temple is a popular tourist destination in India. If you are planning to visit the temple during June or July, do not miss the chance to participate in Rath Yatra, one of the oldest and the most celebrated festivals which people join from all over the world. While exploring, witness the magnificent structure and get mesmerized by the architecture of the temple which is quite similar to the one in Puri.
Location: Digi PurushottamKshetra, Andarai, Sabarang, Odisha 756123
Timing: 5:00 a.m. to 1:00 p.m., 3:00 p.m. to 9:30 p.m.
Further Read: 6 Tourist Places In Balasore To Feel The Magic Of The Sand City
Is your bucket list updated with the fascinating places to visit in Bhadrak? Make sure you have all the above-mentioned places included as these prominent attractions will amaze you in its own way. Plan your next trip to Odisha with your loved ones, and discover the culture, heritage sights, and famous attractions at your own pace like a local.
For our editorial codes of conduct and copyright disclaimer please click here.
Cover Image Credit: Deepak Das for Wikimedia Commons
Frequently Asked Questions About Places To Visit In Bhadrak
What is the Speciality of Bhadrak?
Bhadrak is famous for its culture and not to mention, the Bhadrakali Temple. Also, the Malanga village and the Maleswar temple devoted to Lord Shiva is also one of the popular destinations.
Which beach is near Bhadrak?
Chandbali Sea Beach is nearest to Bhadrak in Odisha.
Which Shiv Mandir is famous in Bhadrak?
In Bhadrak, the famous temple or mandir is Akhandalamani Temple which is devoted to Lord Shiv.
What are Bhadrak 's famous dishes?
Rathi Pedewala's Dahi Samosa and Veera Da Dhaba's Chole Bhature are the famous dishes in the famous restaurants or dhabas.
Which is the mysterious beach in Odisha?
The Chandipur beach has an awesome arrangement of rocks, sparkling water, and step cuts in the Bay of Bengal. Because of the mysteries related to the beach, the attraction is well-popular as the HIde and Seek beach in India.
People Also Read:
Places To Visit In Chennai Places To Visit In Himachal Pradesh Places To Visit In Goa