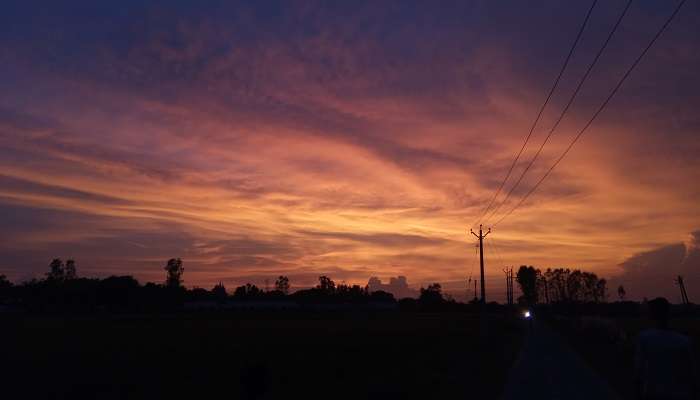 With such revered attractions to offer, places to visit in Azamgarh are ideal if want to explore the ancient architecture and bask in the spiritual aura of the city.
Nestled in the heart of Uttar Pradesh, Azamgarh beckons travellers with its timeless charm and cultural richness. This lesser-known gem, often bypassed by mainstream tourists, is home to a tapestry of historical wonders, spiritual sanctuaries, and natural beauty. From the sacred Bhawarnath Temple to the heritage site of Daulat Ibrahim Khan Tomb, the city offers a diverse range of travel experiences. Plan a visit to this hidden gem, on your next getaway and unveil the hidden treasures that the city has to offer.
5 Best Places To Visit In Azamgarh
Explore the city's cultural and historical gems with our list of the best 5 places to visit in Azamgarh. Read further to know more.
1. Bhawarnath Temple

Bhawarnath temple is one of the famous places to visit in Azamgarh devoted to Lord Shiva, nestled in the western end of the city. This old religious destination is well-known for Bhananthnagar, an experienced Baba who let his devotees meet their wishes and bless them for a bright future. The attraction is connected with numerous beliefs that locals follow and is a perfect place to have a glimpse of their diverse culture. The best time to visit this religious gem is during the festival of Mahashivratri.
Location: 35Q9+MF2, Sikandarpur Rd, Azamgarh, Kisundaspur No.2 Or Kishund, Uttar Pradesh 276001
Timing: Open 24 hours
Must Read: 7 Resorts In Agra That'll Surely Make Your Trip To The City Worthwhile
2. Mehnagar

Image Credit: Magentic Manifestations for Wikimedia Commons
Indulge yourself in the lifestyle of locals at Mehnagar, a panchayat nagar of the area and among the prominent places to visit in Azamgarh district. Spread in 36 kilometres this town will surely leave you amazed by its gorgeous fort and the famous pond built by King Haribans. This one of a kind location is the birthplace of poet Ayodhya Prasad Singh Upadhyay who wrote 'Vaidehi Vanvas'. The location is just an hour away from the city centre and is easily accessible via road.
Location: Mehnagar, Uttar Pradesh, 276204
Timing: Open 24 hours
3. Awantikapuri Mandir Anwak

Another one of the best places to visit in Azamgarh is the Awantikapuri Mandir Anwak or Avak. Situated 20 kilometres from the city, in Mohammadpur it is a sacred and is deeply connected to the Raja Parikshit yagya that held the execution of the entire snake species. You can visit the sanctuary and lake nearby, another famous landscape that offers a mesmerising view and a different adventure experience.
Location: X37M+FCX, Anwak, Uttar Pradesh 276207
Timing: 6:00 a.m. to 9:00 p.m.
Suggested Read: 10 Places To Visit In Allahabad: Experience Sacredness In This City Of Offerings
4. Daulat Ibrahim Khan Tomb

Image Credit: Saurabh Sharan for Wikimedia Commons
Daulat Ibrahim Khan Tomb is a rich heritage in and around Azamgarh. This marvellous architecture was constructed by Raja Haribansh Singh as a memorial of Daulat Ibrahim Khan and has 66 doors inside. While exploring, unleash the history and interesting facts with your friends or family. To make your experience better, explore the region with a professional tourist guide. You can easily grab a cab to reach the destination from the city centre, it will hardly take an hour to cover the distance.
Location: Mehnagar, Uttar Pradesh 276204
Timing: 6:00 a.m. to 8:00 p.m.
5. Dattatreya

Dattatreya is in the confluence of two main rivers in Uttar Pradesh, Tamsa and Kunwar rivers. The best time to visit is during the festival of shivratri and the sightseeing view of the attraction during that period is just wow! The destination is well-known for Saint Dattatreya, a famous believer of god who is mentioned to be the incarnation of Lord Vishnu, Brahma, and Shiva. Indulge into the vibe of this place and must-visit with your family.
Location: Dattatreya, Uttar Pradesh
Timing: 6:00 a.m. to 9:00 p.m.
Further Read: Top 10 Places To Visit In Varanasi In 2 Days For Divine Delight
Explore some of the popular places to visit in Azamgarh with your friends or family and grab the best out of this city. These splendid attractions will give you a taste of an unforgettable journey. So, plan a trip to Uttar Pradesh and discover the gorgeous sights, architecture, and rich history of the region. Add on some spice and sweetness to your excursion by having some delicious local cuisines.
For our editorial codes of conduct and copyright disclaimer please click here.
Cover Image Source: Shutterstock
Frequently Asked Questions About Places To Visit In Azamgarh
What is famous about Azamgarh?
Azamgarh is the birthplace of the famous poet Ayodhya Singh. It is popularly known for the Azamgarh fort and one of the most famous temples Baba Bhavannath attracts tourists not only in India but across the country.
Is Azamgarh famous for its black pottery?
Azamgarh is best-known for its black pottery as you will witness the essence of Persian style because of their feudal rulers. They are the best for home and interior decoration and you can easily find them at the local markets.
Which language is spoken in Azamgarh?
In Azamgarh, three languages are well-spoken, Hindi, Urdu, and Bhojpuri. Hindi and Urdu are the official languages, but Bhojpur is the native language.
What is the best time to visit in Azamgarh?
The best time to visit Azamgarh is during the winter months from December to February as the temperature range is between 20 degrees Celsius to 29 degrees Celsius.
What are the must-try dishes in Azamgarh?
Azamgarh is famous for its Mughlai aroma and lip-smacking taste. If you want a real essence of the city then you must try biryani, kebabs, and korma. It is a perfect blend of spices, veggies, and meat that will surely leave you in awe.
People Also Read:
Places To Visit In Chennai Places To Visit In Himachal Pradesh Places To Visit In Goa