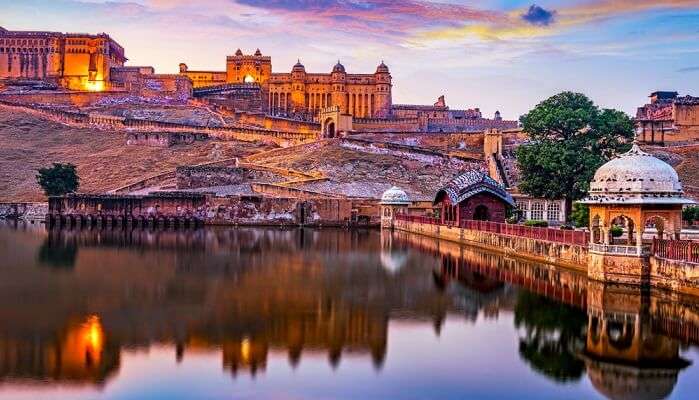 The intriguing land of forts, palaces, lakes, and royalty, Jaipur is a hub for Rajputana culture. Taking pride in its rich heritage, this "Pink city" can be seen in a celebration mode throughout the year. While being an epitome of royalty, the destination is replete with tourist spots that are not only vibrant during the day, but also at night when the city narrates a different story altogether. From an impressive light and sound show at Amber Fort to a lavish Rajasthani experience at Chokhi Dhani, Jaipur can treat your senses with numerous elements. Other popular nightspots like Jal Mahal, Nahargarh Fort, Raj Mandir Cinema, and Johari Bazaar also emit a unique charm that should not be missed on a Jaipur trip. Overall, the city always lives up to its visitors' expectations. And, especially when the sun bids farewell, the capital is a sight to behold. If you wish to experience such a magical tour, check out these best places to visit in Jaipur at night and gather some cherishable memories.
8 Places to Visit in Jaipur at Night for a Unique Experience
Here, we have enlisted some of the most popular spots in Jaipur where you can witness the alluring nightlife of the city:
1. Jal Mahal

Jal Mahal is another historic gem that emits a unique charm at night. Floating on Man Sagar Lake, this tourist spot is adorned with lights that reflect on the lake. If you are on a romantic spree, this place makes a perfect base to spend some cosy time with your beloved ones. An epitome of engineering during the Rajputana period, the palace was built as a hunting lodge for the Maharajas. The palace is not open to visitors. However, they can stroll along the edge of the lake while imbibing the majestic views.
Location: Amer Rd, Jal Mahal, Amer, Jaipur, Rajasthan 302002
Timings: 12:00 a.m. to 10:30 p.m.
12 Best Places That Exemplify The Nightlife In Jaipur
2. Hawa Mahal

Positioned in the heart of the Pink City, this five-story red and pink sandstone palace offers a sight to behold. The beauty of Hawa Mahal lies in its 953 small windows, also called Jharokhas from where the royal women would witness the happenings of the streets without being noticed. Although the palace is closed when the sun goes down, the night lights focused on it allow one to capture impressive shots from the outside.
Location: Hawa Mahal Rd, Badi Choupad, J.D.A. Market, Pink City, Jaipur, Rajasthan 302002 Timings: 9:00 a.m. to 5:00 p.m.
3. Nahargarh Fort

Featuring the glorious past of the Rajputana era is Nahargarh Fort standing boastfully on the edge of Aravalli Hills. Constructed by Maharaja Sawai Singh II in 1734, this periodical wonder is adorned with intricate designs and murals. The forts offer breathtaking vistas of Jaipur in the evening when the city prepares to sleep. Watching a sunset view amid the cool breeze along with a pleasing vibe make the overall experience worth trying. The colourful lights around the fort and awe-inspiring vistas make it one of the best places to visit in Jaipur at night.
Location: Krishna Nagar, Brahampuri, Jaipur, Rajasthan 302002
Timings: 10:00 am – 5:30 pm.
Adventure Places In Jaipur: 8 Best Sites To Witness The Thrilling Side Of The Pink City!
4. Jawahar Circle Garden

Established in 2009 by Jaipur Development Authority (JDA), Jawahar Circle Garden is touted as one of the biggest circle gardens in Asia. The garden becomes live especially during the evenings when musical fountains dance on the melodious tunes. The fountains create a whopping 270 different effects while reaching upto 25 feet. Besides this, there are several other features that make it one of the top night places to visit in Jaipur. What completes the experience are the food stalls, jogging tracks, and rose garden where one can spend some relaxing evening hours.
Location: Jawahar Circle, Malviya Nagar, Jaipur, Rajasthan 302017
Timings: 5:00 a.m. to 10:00 p.m.
5. Amber Fort

Built in the 16th century by Maan Singh, Amber Fort is an architectural marvel offering enchanting city views along with a wide range of activities. The night at the fort welcomes visitors to a different world altogether. As the dawn rolls up, the fort appears to be gleaming with lights. Among many nighttime experiences, watching a light and sound show outshines every other experience here. The 1-hour show narrated by Amitabh Bachchan focuses on the intriguing history of Amber. Besides this, travellers can also watch a remarkable Kathak performance which is held every night at Diwan-e-Khas.
Location: Devisinghpura, Amer, Jaipur, Rajasthan 302001
Timings: 8:00 a.m. to 5:30 p.m. 6:30 to 9:15 p.m.
5 Luxurious Hotels To Stay In Jaipur During Covid-19 Which Are All Set To Serve You!
6. Chokhi Dhani

Spread across 10 acres of land, Chokhi Dhani is a Rajasthani village themed resort that is dipped in true culture and traditions of the Rajputana vibe. The village is a sight to behold in the evening when vibrant lights and several activities make the entire village a wonderful place to be. From folk dance performances to traditional Rajasthani thali to puppet shows, this cultural resort offers a concoction of lifetime experiences. If you are seeking places to visit at night in Jaipur, make sure to add Chokhi Dhani to your itinerary.
Location: 12 Mile, Tonk Road, Jaipur
Timings: 5:00 p.m. to 11:00 p.m.
7. Johari Bazar

Also known as shopper's paradise, Johari Bazaar is among many happening places to see in Jaipur at night. Apart from palaces and forts, Jaipur is also renowned for its authentic jewellery. This captivating market flaunts some of the top jewellery collections including precious, semi-precious stones and gems. From utterly expensive pieces to the most reasonable ones, all you can find at one place. Besides Johari Bazar, Jaipur houses numerous other markets that are always ready to smitten travellers. The best ones where you can head to are Tripolia Bazaar, Chandpole Bazaar, Kishanpole Bazaar, Nehru Bazaar, and Bapu Bazaar.
Location: 192, Johari Bazar, Badi Choupad, Bapu Bazar, Ramganj Bazar, Jaipur, Rajasthan-302002
Timings: 10:00 a.m. to 11:00 p.m.
24 Must-Visit Fancy Cafes in Jaipur You Shouldn't Miss At All
8. Raj Mandir Cinema

Raj Mandir Cinema is a true haven for all the movie buffs. Established in June 1976, is the oldest theatre in Jaipur that is widely renowned for showcasing Bollywood and other regional movies. Bragging the title, "Pride of Asia", the theatre is a magnificent piece of architecture exhibiting intricate carvings all over the place. While offering a surreal experience to the visitors, this palatial theatre can accommodate up to 300 individuals at a time. The Pearl Seats, the Emerald Seats, the Diamond Seats, and the Ruby Seats are 4 seating options to pick from. The regal royal touch coupled with modern aesthetics makes this place one of the top-most attractions to visit in Jaipur at night. Don't forget to catch a late-night show with your loved ones!
Location: C-16, Bhagwan Das Rd, Panch Batti, C Scheme, Ashok Nagar, Jaipur, Rajasthan 302001
Timings: Varies with movie shows
The aforementioned places are just to give you a sneak peek into the best places to visit in Jaipur at night. The city is brimming with other tourist spots where you can visit when the sun begins to set. Be it families, honeymooners, or solo travellers, Jaipur pampers all kinds of visitors who step on its ground. So, if you have an urge to travel, plan a trip to Jaipur and witness some of the most splendid experiences in Pink city.
For our editorial codes of conduct and copyright disclaimer, please click here.
Frequently Asked Questions about Places to Visit in Jaipur at Night
Can we visit Nahargarh Fort at night?
The Nahargarh Fort remains open till 5:30 om in the evening. However, you can capture glimpses of the outskirts of the fort along with catching the local vibe of the surroundings.
Is it safe to walk in Jaipur at night?
You can avoid walking alone, especially on dark and empty streets. Make sure that you are accompanied by someone while strolling at night here.
Is it safe to visit Jaipur during Covid?
You need to follow all the mandatory travel guidelines mentioned by the authorities to ensure a safe travel experience. Avoid crowded places and keep sanitizing your hands after touching surfaces. Maintain social distancing and remain masked in public places.
Which are the best places to visit in Jaipur at night?
There are a plethora of tourist spots in Jaipur that you can enjoy at night. Some of the best ones where you can head to are Hawa Mahal, Jal Mahal, Amar Jawan Jyoti, Johari Bazaar, Raj Mandir Cinema, Nahargarh Fort, Jawahar Circle Garden, Choki Dhani, and more.
What is the best time to visit Jaipur?
If you wish to witness the best of Jaipur, make plans between October to March when the climate is relatively pleasant. Moreover, you can enjoy sightseeing and other activities without worrying about the sweltering heat.
How many days are enough for a Jaipur trip?
Jaipur is a destination that features numerous tourist spots boasting an intriguing history behind them. In order to explore the top tourist attractions, one needs to plan a trip of around 3-4 days. From visiting forts and places to indulging in various adventurous activities, there are numerous entertainment options you can enjoy on your memorable trip.
Where can I go to enjoy the nightlife of Jaipur?
Following are some of the top-rated nightclubs and bars where you can witness the vibrant Jaipur nightlife - Steam – Taj Rambagh Palace, 100% Rock, 3D Restro Lounge, Ta Blu, Bar Palladio, F Bar & Lounge, Henry's The Pub, The Fire Ball, Aza, House of People, etc.