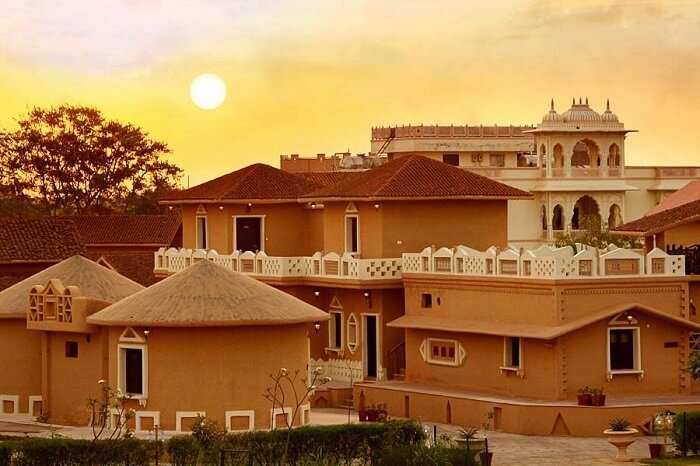 Known for its vibrant colours and narrow streets bustling with life, Jaipur is famous worldwide as the 'Pink City' owing to its amazing structures built in pink sandstone. The city's historic monuments that boast of its glorious past, chivalry, and valour of Rajput kings, welcomes every traveler to admire its array of monuments soaked in the glory of opulence and grandeur of the Rajput rulers.
While the Pink City is synonymous with luxury and the spectacular journey of its rich past, make sure you visit the breathtaking adventure places in Jaipur that reveal the brighter side of the city on your next trip.
8 Best Adventure Places In Jaipur
1. Nahargarh Fort – For An Epic Cycling Expedition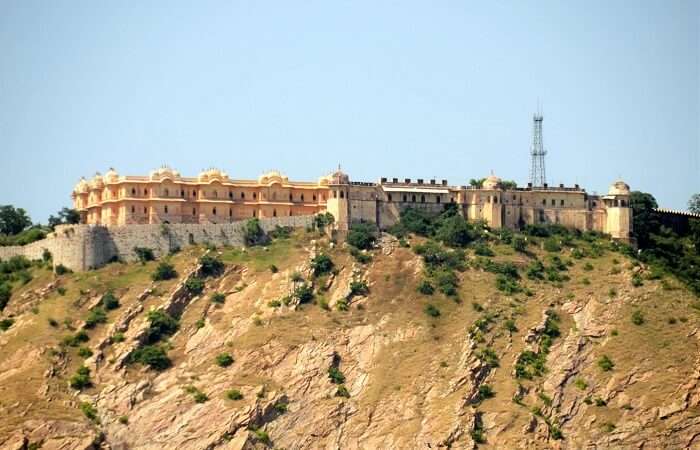 Go on a cycling expedition and witness the unique combination of Indian and European architectural styles at the grand Nahargarh fort. A stunning feature of this palace is the Madhavendra Bhawan that has 12 identical suites for the queens. The suites were constructed in such a way that the Maharaja could visit any of the queen's rooms without the others finding out. This cycling expedition at the fort is one of the famous adventure places in Jaipur where you can enjoy a quick bite at the Padao Open Bar Restaurant on the terrace of this palace whilst enjoying the views of the city.
Timings: All Days – 10 AM to 5 PM
Entry Tickets: Foreigners: INR 50 | Indians: INR 20
Suggested Read: 10 Reasons Why Jaipur Is One Of The Most Romantic Cities In The World
2. Amer Fort – For A Bumpy Elephant Ride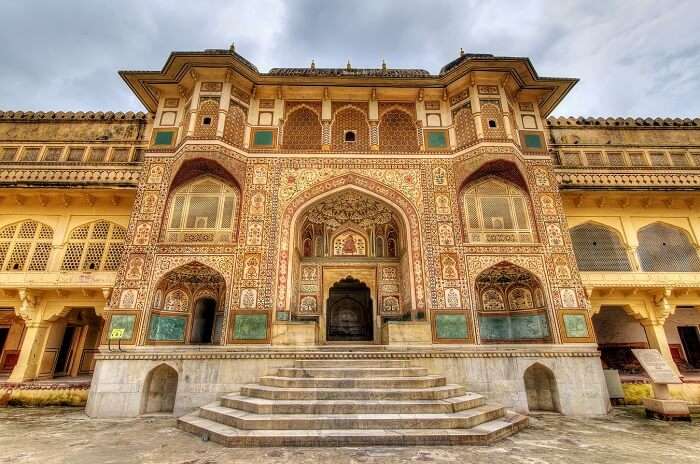 Amer Fort is one of the fun places in Jaipur where one can go on an elephant ride exploring the cobbled paths and large gateways of the fort. Blending Rajput and Hindu artistic elements, Amer Fort was built in the 16th century by Raja Shri Maan Singh Ji Saheb. One can also witness a magical light show held here every evening in English at 7:30 PM and in Hindi at 8 PM.
Timings: All Days – 8 AM to 6 PM
Entry Fee: Indian : INR 25 for Indians, INR 10 for students, INR 200 for foreigners, INR 100 for foreign student, INR 900 per Elephant ride
Suggested Read: Top 39 Things To Do In Jaipur: Exploring The Pink City All Over Again In 2022
3. Jhalana Safari Park – For An Incredible Wildlife Safari Tour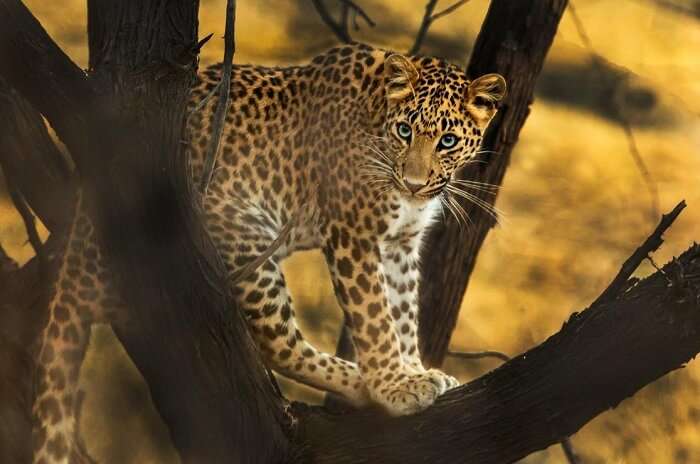 Suggested Read: 20 Best Rooftop Restaurants In Jaipur In 2022 That Redefine The Nightlife Of The Pink City
One of the most adventurous things to do in Jaipur is to discover the exotic wildlife while embarking on a unique wildlife safari in Jaipur. Drive deep into the safari park, spot Leopards, striped Hyenas, Desert Foxes, Golden Jackals, Chitals, and many more species of animals. For the birdwatching lovers, one can witness few birds like Indian Pitta, Dusky Eagle, Owl, Spotted Owl etc. However, one will also get a chance to explore the desert areas on incredible night tours.
4. Sambhar Lake – For The Thrills Of A Bike Trip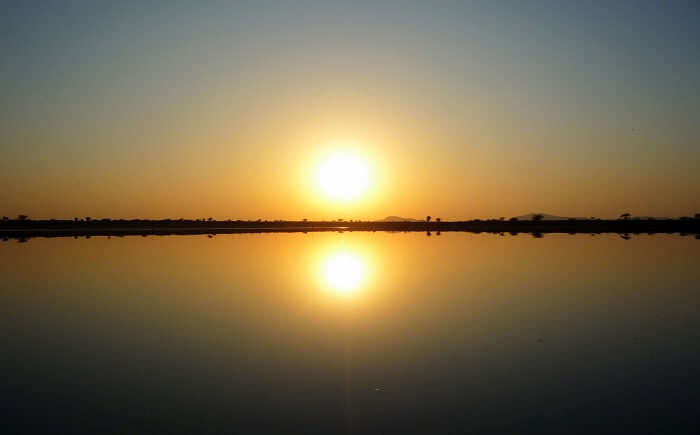 One of the famous outdoor activities in Jaipur is a bike ride to Sambhar Lake. One not only gets to enjoy the rich culture of the town, but also experience the fresh air of the passing towns like Sawarda. One will also pass through a small village dedicated to the religious guru of the Sikh community and also is a home to a striking Gurdwara.
Distance From Jaipur To Sambhar Lake
Suggested Read: Top 8 Places to Visit in Jaipur at Night
5. Dausa – For The Joy Of Village Safari Tours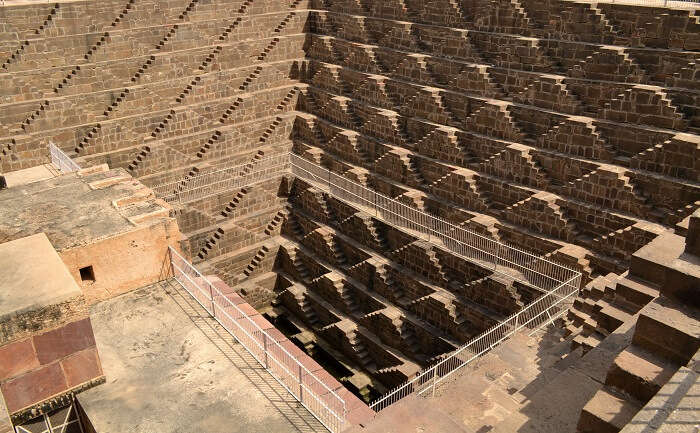 Among the many hangout places in Jaipur, a thrilling village safari tour will definitely make your vacation a special one. Explore the life of the farmers residing here, and discover the houses made of clay, cow dung, and hay, that makes it a termite-free facade in the countryside. You can also witness the views of the mountains near the village, and taste one of the best masala teas while exploring the region. A cooking session can also be arranged on request if you want to explore more.
Suggested Read: 24 Must-Visit Fancy Cafes in Jaipur You Shouldn't Miss At All In 2022
6. Tree House Resort – For The Best Glamping Experience
Glamping has now become one of the most popular adventure in Jaipur. It is possible to go glamping at the Tree House Resort where the state-of-the-art amenities, iron wrought beds, and leathered chairs greet you. You will get to stay in the 'nests' on the Keekar tree that are named after birds in the area. This is a true luxury at its best with ATV rides, jungle safaris, camel rides, tennis courts, bird watching, and outdoor movies to enjoy. It is undoubtedly an experience that one cannot afford to miss on their trip to Jaipur!
Location: Opp. Amity University, NH 8 | Jaipur-Delhi Highway, Jaipur 302001, India
Tariff: ₹ 14,626 – ₹ 20,068 (On Double Sharing Basis)
Website | Review
Suggested Read: 53 Tourist Places In Jaipur To Visit In 2022 For An Experience Like Never Before!
7. Pride Amber Villas Resort – For A Mindblowing Camel Safari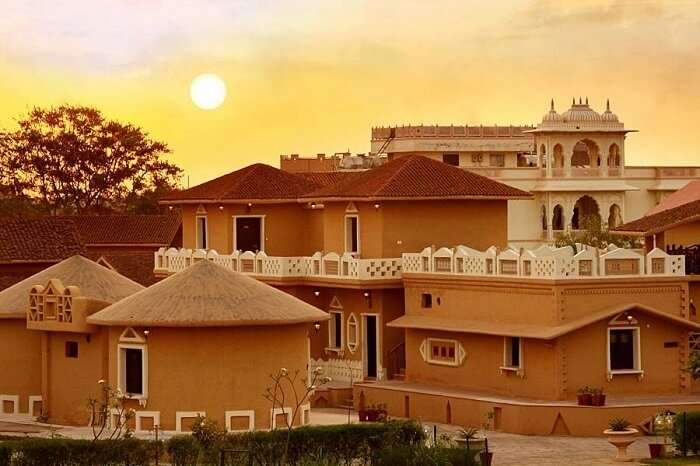 Suggested Read: 25 Best Restaurants In Jaipur To Relish Royal Meals On Your 2022 Vacay!
Camel safaris are popular and safest outdoor activities in Jaipur back of a camel and enjoy the rustic setting of rural Rajasthan during your stay at the Pride Amber for kids as the camels are tamed and completely harmless. Explore the wilderness of Jaipur on the illas Resort. While the duration of the camel safaris varies from single-day trips to 3-4 days, there are opulent camel safaris that start from INR 1900 as well as budget friendly ones that are around INR 600.
Location: 12 Mile, Vatika Mod, Tonk Road, Sitapura Industrial Area, Sitapura, Jaipur, Rajasthan 303905
Tariff: ₹ 2,721 – ₹ 5,510 (On Double Sharing Basis)
Website | Review
8. Kukas – For A Surreal Hot-Air Balloon Ride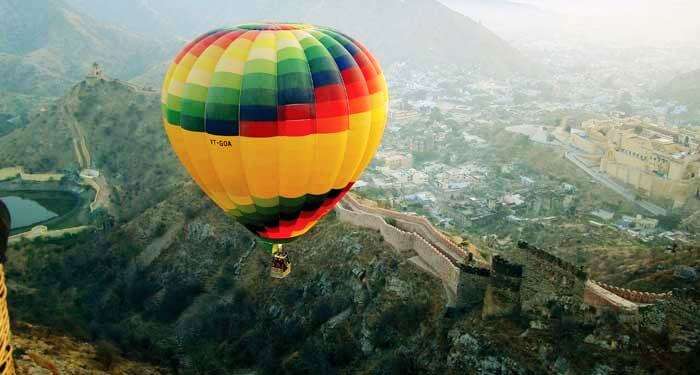 Drift over the Pink City in a hot air balloon and experience the mesmerizing views of the forts and palaces nestled among the Aravalli ranges with Sky Waltz Balloon Safari in Kukas. Enjoy the plethora of colors and sounds of this city from up above. Hot-air balloon ride is one of the popular things to do at the adventure places in Jaipur for one day and are mostly held few hours before the sunrise and sunset, and each ride can accommodate up to 8 people.
Location: SkyWaltz Haveli, Sharma Farm House, Suncity Project Road, Kukas, Jaipur, Rajasthan 302028
Timings: Open 24 Hours
Distance From Jaipur To Kukas
With so many amazing adventure places in Jaipur, it will be the most exciting trip of your life once you include these experiences in your itinerary. And to make the most of such experiences, book one of the customizable Rajasthan tour packages from Travel Triangle, and plan a hassle-free holiday right away!
Frequently Asked Questions About Adventure Places In Jaipur
Is Jaipur a good place to visit?
Yes, Jaipur is a good place to visit. It is known for its regal architecture and grandeur. If you love visiting forts and palaces, then Jaipur is just the thing for you. However, that's not the only thing to do in Jaipur. You can taste the authentic cuisine, enjoy the nightlife, and get high on the adventure at the places mentioned above.
Which fort is best in Jaipur?
It is not a fair question to ask because all the forts in Jaipur are unique and have boastful characteristics. Amer Fort and Nahargarh Fort both boasts of amazing skylines of Jaipur. The City Palace is where you will get more than a glimpse of the royal lifestyle of Rajput kings. There are other forts and temples which are impressive in their architecture.
What can we do in Jaipur at night?
You can go to nightclubs to enjoy the nightlife in Jaipur. There are so many amazing clubs and pubs where you can visit in the night with your friends to get drunk. You can also watch the forts spectacularly lit at night.
Where can I go from Jaipur?
You could go to so many places from Jaipur like Sariska Wildlife Sanctuary, Balaji Temple, Neemrana Fort, Galtaji Temple, Bhangarh Fort, etc. Plan a day trip to any of these places if you wish to extend your holiday in Rajasthan.
Where can I watch sunset in Jaipur?
There are so many vantage points from where you can watch the beautiful sunset and the tangerine sky. Amer Fort, Jal Mahal, and Nahargarh Fort are few of the popular attractions in Jaipur where sunset looks spectacular.
---
Comments
comments