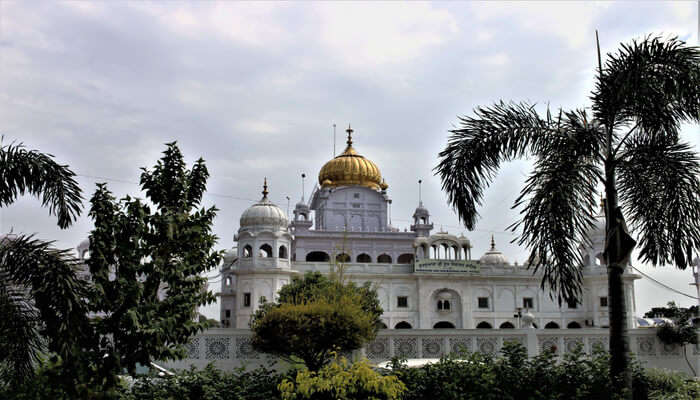 Patiala is one of the princely cities of Punjab. The backdrop of the city is colored with the grandeur and liveliness of the past rulers. It has a rich culture and art is the base. Patiala is home to various places that speak of its history and culture. From temples and gurdwaras to palaces and forts, it has a lot in store that will surely leave you amazed! So, if you are thinking of a unique holiday, then do consider Patiala. Here are some of the places you might need to know about before heading for the vacation.
7 Best Places To Visit In Patiala
Here is a list of the best places to visit in Patiala that will let you know about the history and culture of this lively city in Punjab. Take a look!
Kali Temple
Baradari Garden
Sheesh Mahal
Motibagh Palace
Gurudwara Dukh Niwaran Sahib
Qila Mubarak Complex
Omaxe Mall
1. Kali Temple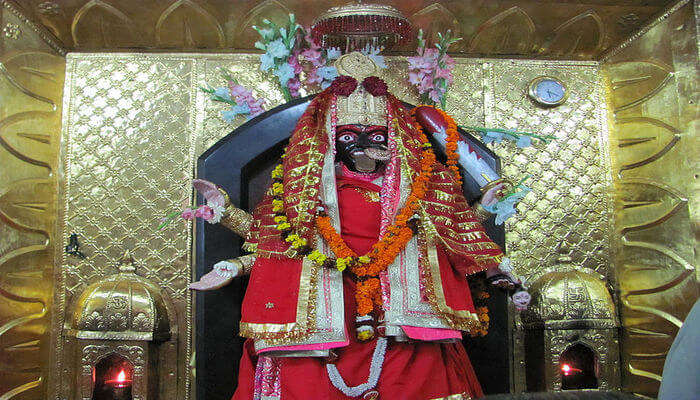 This temple was built by Sikh Maharaja Bhupinder Singh and dates back to 1936. It is one of the famous places to visit in Patiala. The temple is dedicated to Goddess Durga. It has a six foot tall and beautiful idol of Kali devi. You can begin your Patiala trip by seeking blessings in the temple. If you are visiting Patiala with family, then this is something you must not miss out on.
Location: Manjit Nagar, Sidhu Colony, Patiala, Punjab 147001
Must Read: An Insight Into The Palace of Mirrors: Sheesh Mahal In Patiala
2. Baradari Garden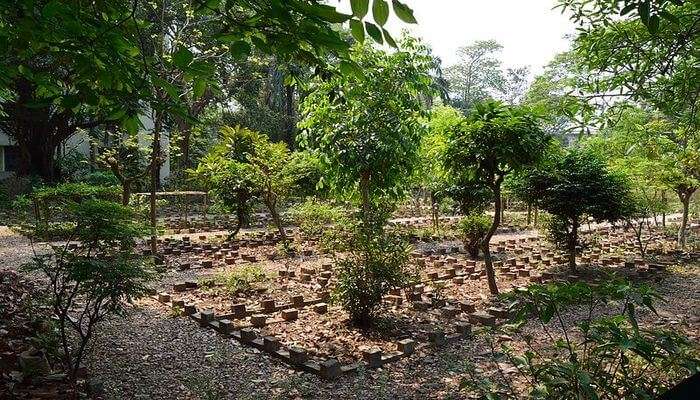 The name of this garden has a meaning that resembles its structure. The name is formed with bara which means 12 and dar meaning gates and so, there are twelve entrance gates in the garden. Built by Rajinder Singh in 1876, the garden is filled with lush greenery and is home to rare species of trees and flowers. You will find big fruit trees, the Fern house and Rock garden which show the interest of the king in nature.
Location: Baradari, Patiala, Punjab 147001
Suggested Read: Visit Rangla Punjab In Jalandhar To Relish The Culture Of Punjab
3. Sheesh Mahal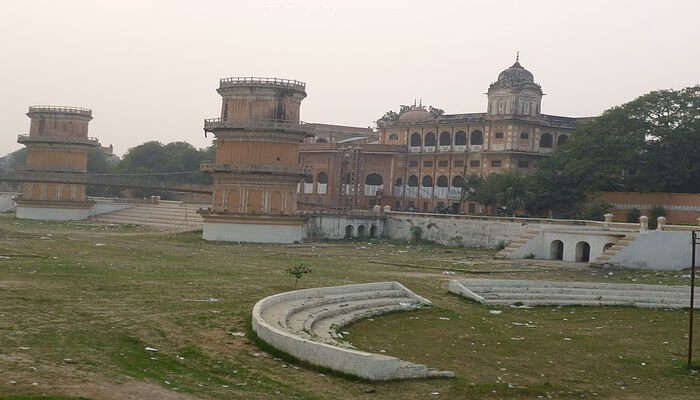 This attractive building is the palace that was given birth to by the Maharaja Narinder Singh in 1847. The palace is really beautiful and consists of paintings and artwork that depict the vision of sudras, keshavs and more. There is a section of the palace which is called palace of mirrors as it is decorated with mirrors and colored glass. Apart from that, there is a bridge called Lachman Jhoola and a museum which you must visit. The whole palace is a complete package of fun and knowledge.
Location: Old Moti Bagh, Moti Bagh, Patiala, Punjab 147001
Suggested Read: The Rock Garden In Chandigarh: Know Why It's Punjab's Most Popular Tourist Attraction
4. Motibagh Palace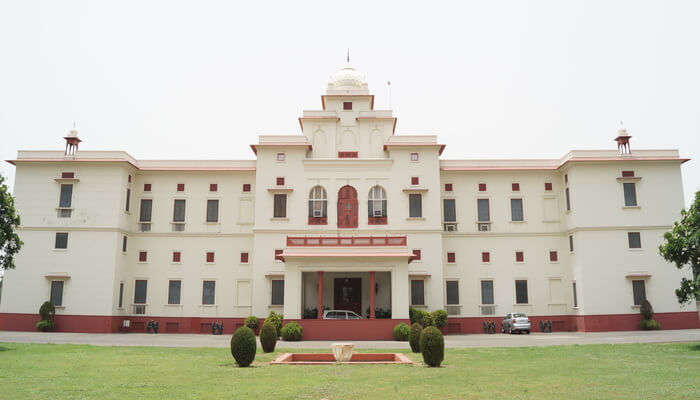 This palace was built by Maharaja Bhupinder Singh in the beginning of the 20th century. The structure includes Rajasthani style Jharokhas and chhatris that will impress you. It is a beautiful palace and surrounded by a lush green garden. Now the old palace is home to the National Institute of Sports of Patiala. For a unique holiday experience, visit this palace.
Location: Old Moti Bagh, Moti Bagh, Patiala, Punjab 147001
Suggested Read: 8 Most Spine-Tingling Things To Do In Punjab For A Fun-Jabi Trip!
5. Gurudwara Dukh Niwaran Sahib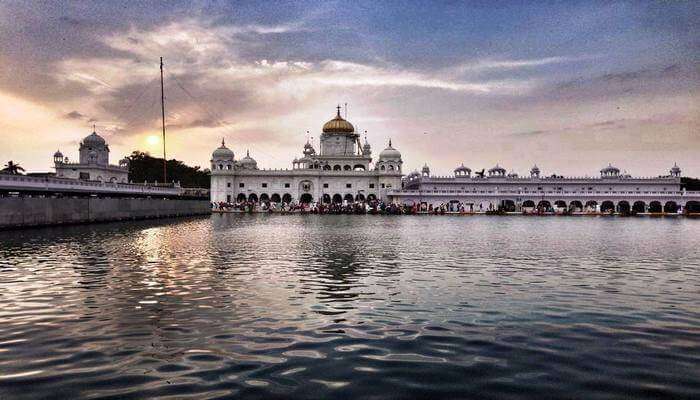 This is one of the most famous places to visit in Patiala. The pond of Gurdwara is supposed to be very pious and to be the cure of various people of the area from a disease. And thus it got its name 'Dukhniwaran', that is, the eliminator of suffering. The gurdwara is very beautiful as well. If you are looking for peace, then this is the place to be.
Location: Sirhind – Patiala Rd, Factory Area, Upkar Nagar, Patiala, Punjab 147001
Suggested Read: 10 Places To Visit In Punjab To Witness The True Beauty Of The State In 2021
6. Qila Mubarak Complex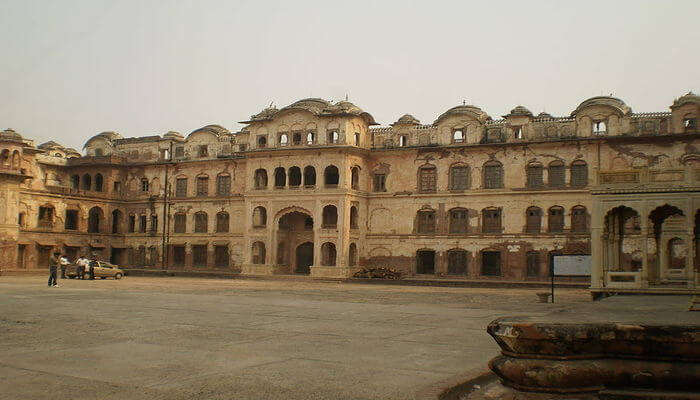 If you want to see the Sikh architecture, then this is the perfect example of it. The complex was built under the rule of Maharaja Ala Singh in 1764. The complex is divided into multiple sections that depict the life at the time of its use by the kings. The various sections are Ran Baas, Darbar Hall, Qila Androon and more.
Location: Quila Androon, Chandni Chowk, Adalat Bazar, Patiala, Punjab 147001
7. Omaxe Mall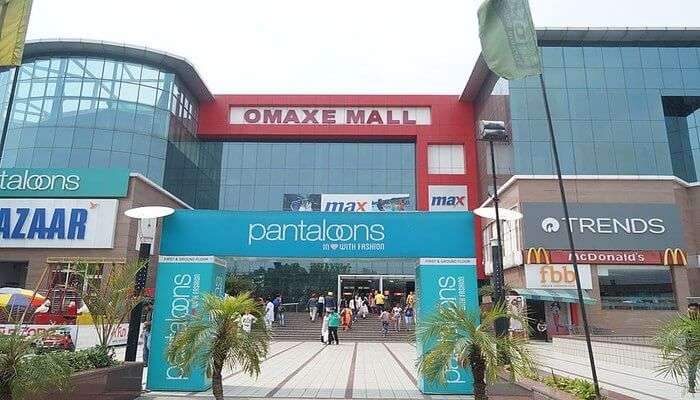 Apart from the tourist attractions, if you want to go shopping in Patiala, then this mall is where you should head to. This is the only mall in the city and offers everything from clothing stores to eateries. If you are visiting Patiala with friends and done with your exploration you can visit the mall to spend some good time.
Location: Mall Rd, Opposite Kali Devi Temple, Baradari, Patiala, Punjab 147001
Further Read: 6 Festivals Of Punjab You Must Experience To Get The Real Essence Of The Rich Culture
You might not have thought that this city is filled with so many places. All these places will give you a joyous experience of holidaying in the city. While we have tried to give the list of the best ones, there is still a lot to explore. So, do not think too much and plan a trip to Punjab, head to Patiala and indulge in the fun!
People Also Read
Places To Visit in Amritsar Places To Visit In Chandigarh Places To Visit In Himachal Pradesh