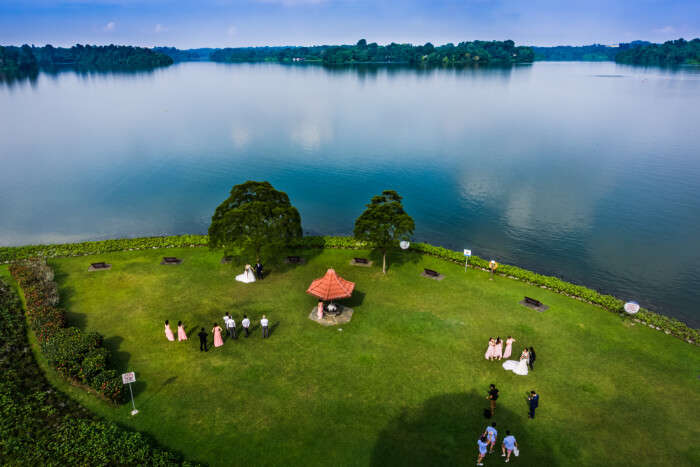 Singapore is a vibrant island-nation in Southeast Asia. Though the country is emerging swiftly with its modern and progressive approach of development, in the past, it was also one of the colonies under British rule. Singapore was a British Crown colony from 1946 until 1963. In 1963, the country was made a part of Malaysia. But at the end of World War II, in 1945, when Japan had surrendered to the Allies, Singapore was ones again handed back to the British. The country finally claimed independence in 1965. Ever since then, the country has worked hard to reach where it is now. But many sites in Singapore still stand to tell the story of the past. One such place is the region of Seletar Hills. If you are a history buff you must surely explore the places to visit near Seletar Hills in Singapore.
About Seletar Hills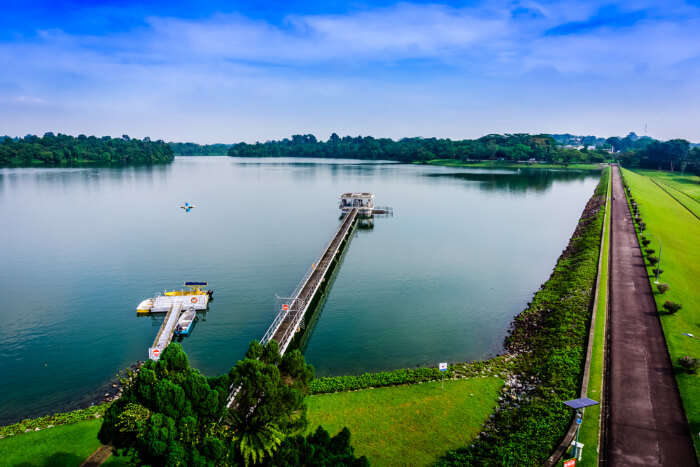 Located in the North-East of Singapore, Seletar is a region known for its colonial bungalows that were built for the military personnel of the Royal Air Force. Seletar also collectively refers to the Seletar Planning Area under the Urban Redevelopment Authority. This place shares boundaries with some other planning areas including Sengkang in the south, Punggol in the east, Yishun and Simpang in the west, and the Straits of Johor in the north, of this region. The Seletar Planning Area officially has 4 subzones – Seletar, Seletar Aerospace Park, Pulau Punggol Barat, and Pulau Punggol Timor.
Seletar was initially a rubber plantation estate in Singapore. The Singapore United Rubber Plantations Ltd. used to own the estate and were also responsible for its managed. In 1923, the Singapore United Rubber Plantations Ltd. sold 600 acres of the estate to the Straits Settlement government. The land was passed on to the British Royal Air Force as their military air base site in Singapore. By 1929, the construction of the airfield was finished and in1930, the airbase was officially opened. This was the first RAF base that was established East of India. Until Kallang Airport was made open to the public (1937), the Seletar RAF airfield also operated as a civilian airport. And now it is where the Seletar Aerospace Park is located. The park is spread across an area of 140 hectares. It is meant to provide space to the industries that specialize in aircraft maintenance, and repair services.
Another iconic landmark of Seletar is the Seletar Reservoir which is now known as Upper Seletar Reservoir. The reservoir was built in 1920, after the First World War. The construction of this reservoir was an attempt to cope with rising the water demand in Singapore, post-war. In August 1999, Upper Seletar Reservoir was recognized as a conservation site.
Places To Visit Near Seletar Hills
Here are the places to visit near Seletar Hills that you would surely love to explore on your trip to the Lion City:
1. Sembawang Hot Spring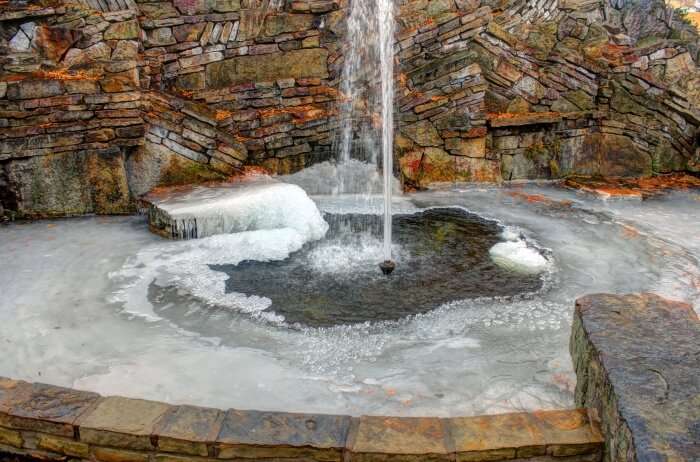 The Sembawang Hot Spring of Singapore is situated between the Gambas Avenue and Woodlands Avenue 12 and the nearby Sembawang Road. Being one and only natural hot spring in Singapore, it receives the tourists around the year visiting from the worldwide locations. It has become a perfect spot for the cascading pool cum foot baths, luxurious seating areas and of course a café and a floral walk to make you feel rejuvenated. Spend good times in its scenic beauty during your Singapore visit to preserve its memories for the lifetime.
2. Rumah Bebe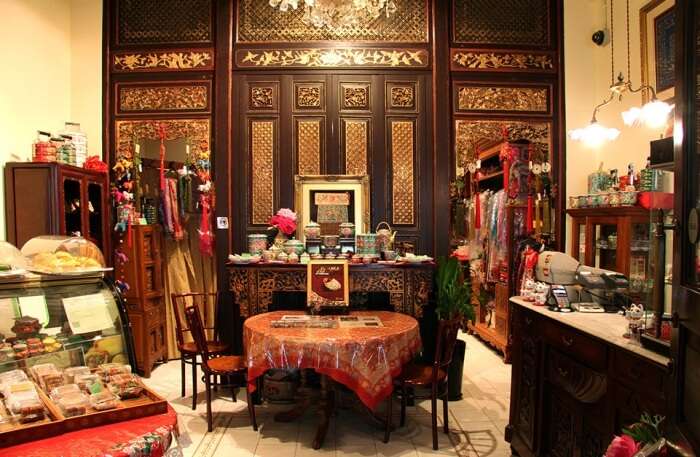 Built in 1928, this shophouse is currently owned by Bebe Seet and is a testament to the magnificent prowess of Peranakan architecture.. She is an expert in the traditional Peranakan craft of beading slippers. You can buy traditional kebayas which are Nonya-style blouses with decorative lace.
These kebayas stand out amongst others sold in the market as they have been modernized with contemporary and subversive twists and touches. You can also buy some exquisitely beaded shoes from here. It also has an in-house bake-cook shop where you can enjoy delectable Peranakan cuisine.
Address: 113 E Coast Rd, Singapore 428803
Contact: +65 6247 8781
12 Places To Visit In Geylang In 2022 That Will Steal Your Heart
3. Khadijah Mosque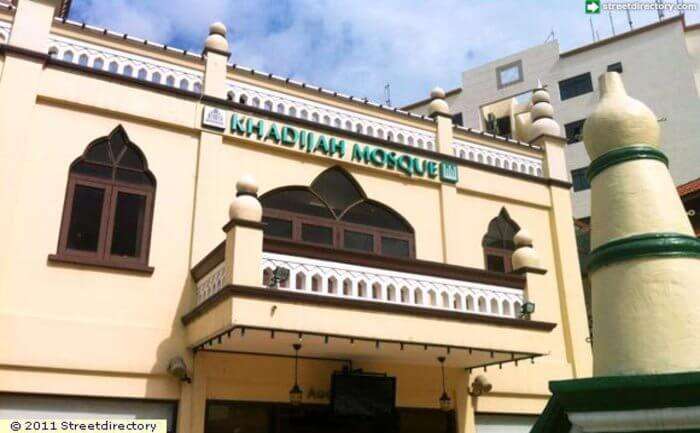 Image Source
It was built according to the wishes of Indian woman trader and philanthropist Khadijah Mohammed, who left behind more than 50,000$ to build a mosque and shophouses as part of her wakaf (endowment to the Muslim community), in 1915.
Kelvin Ang, director of conservation management at the Urban Redevelopment Authority, says: "That the mosque was built in the South Indian style is very rare. And that a woman's will was carried out at that time was even more of a rare occurrence."
The mosque also departed from conventional features of contemporary Middle Eastern mosques of its time, in that it does not have a minaret or a dome when it was built.
Address: 583 Geylang Rd, Singapore 389522
Contact: +65 6747 5607
4. Geylang Serai Market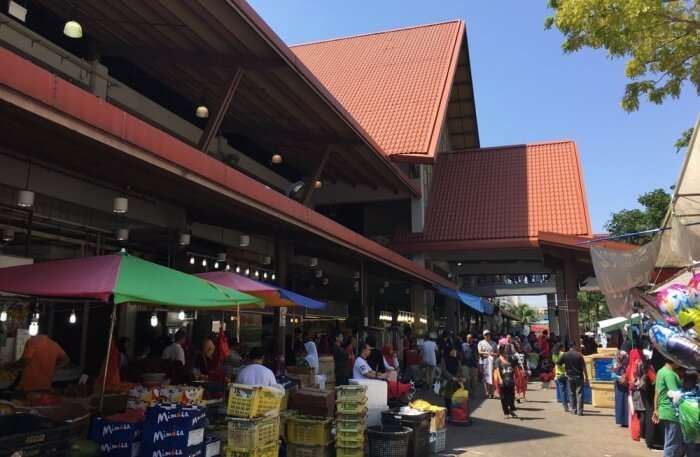 Image Source
Treat yourself to the diverse range of cuisines available at the myriad of restaurants that are located in this market. The market is only 5 minutes away from MRT Paya Lebar. It is lined with two-story buildings and sells Middle Eastern products, mainly halal, such as cosmetics, spices, batiks, scarves and vegetables.
You can also try some snakes and turtle eggs if you have the gut for it. You can also treat yourself to some authentic yet cheap Malay food in it vast food court. The market is, thus, a bustling microcosm of the multi-racial diversity of cultures that populate not just Geyang, but Singapore as a whole.
Opening Hours: Early morning
Location: 5 minutes from MRT Paya Lebar
5. Wisma Geylang Serai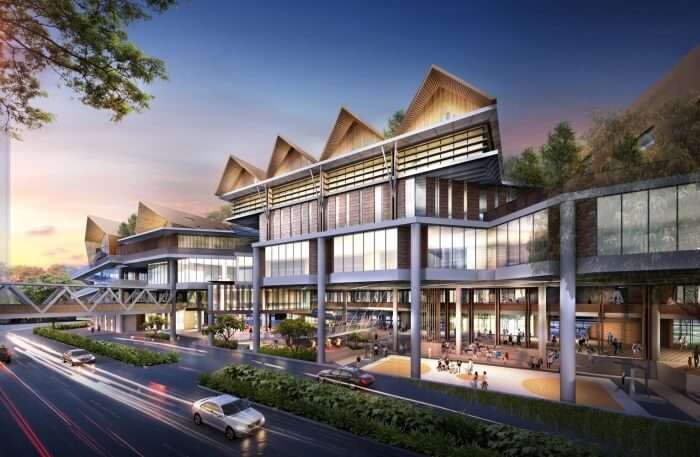 Image Source
This tourist spot in Geylang, Singapore is a cultural and heritage space, built recently. It comprises the South East Community Development Council office, a senior care centre, family service centre, Malay Heritage Gallery, and arts facilities and has therefore been claimed as Singapore's first social Hub.
It organizes musical events as well.
Address: 1 Engku Aman Turn, Singapore 408528
Contact: +65 6747 2919
Geylang Nightlife: 9 Places In Singapore Town That Get Super Lively At Night
Do you also wish to experience the vibes of the past in the Seletar Hills in Singapore? Are you a history buff who is intrigued by the thought of the tense environment during World War II and the rush of an active Airforce Military base? If yes, plan a visit to Singapore ASAP and come down to explore these places to visit near Seletar Hills.
---
Looking To Book An International Holiday?
Book memorable holidays on TravelTriangle with 650+ verified travel agents for 65+ domestic and international destinations.
---