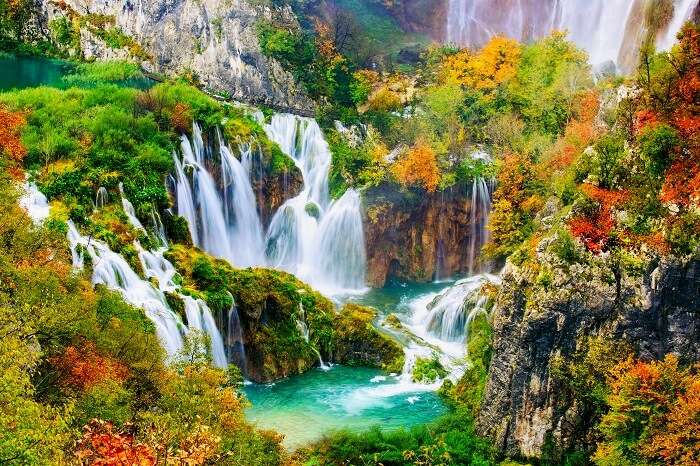 When you are in Croatia, one of the most breathtaking places to see is the Plitvice Lakes National Park. Being one of eight national parks in the country, it stands out among the rest because of its incomparable natural beauty. The jewel of the mountainous central Croatia, Plitvice National Park is located at the Bosnia Herzegovina border, between Zagreb and Zadar.
This awe-inspiring feat of nature was listed as a UNESCO World Heritage Site in 1979, and one of the most renowned features of the park are the Plitvice Lakes in Croatia. Also known as the Croatia lakes, this is one natural attraction in the country that you should not miss at all.
About Plitvice Lakes In Croatia

Suggested Read: 10 Things To Do In Croatia To Treat Yourself With The Best Of Balkans' Offerings
Dominating Croatia's most oldest national park, the Plitvice Lakes are clearly one of the best places to visit in the country. A combination of 16 lakes in one, the Plitvice Lakes in Croatia are indeed a giant network that offer sights to die for.
Taking the hikers and trekkers through four different trails, one can explore these lakes via seven different routes as well. While the guided tours are a great option, the trails in this area are clearly marked so you should have no trouble exploring on your own with the help of a Plitvice Lakes map.
List Of Plitvice Lakes In Croatia
While there are a total of 16 lakes, the whole system is divided into two parts of Upper Lakes and Lower Lakes. The Upper Lakes are comparatively bigger in size and they are as follows:

Prošćansko jezero
Ciginovac
Okrugljak
Batinovac
Veliko jezero
Malo jezero
Vir
Galovac
Milino jezero
Gradinsko jezero
Burgeti
Kozjak
On the contrary, the below-mentioned Lower Lakes and its combination is what results in the canyon formation and flow into the waterfall of Sastavci.
Milanovac
Gavanovac
Kaluđerovac
Novakovića Brod
Visiting Plitvice Lakes In Winter
When it comes to Croatia lakes holidays, there is nothing like planning one in winter. This is a magical time to see Plitvice Lakes and the waterfalls in Plitvice National Park. Even if you have seen the lake during other times of the year, there is nothing that comes quite close to seeing it in winter. Seeing the park covered in snow is a spectacular sight you will not forget any time soon.

Suggested Read: 12 Buzzing Croatian Festivals To Experience The Country's Culture & Enjoy Every Bit Of It
During the winter season, the Upper Plitvice Lakes remain closed, but it means few crowds and a less expensive entrance fee. Visiting Croatia lakes in Plitvice winter is a great idea as they are frozen during this time of the year. Combined with the snow all around and the frozen waterfalls, it makes for a stunning sight. While most people do not think about visiting Plitvice National Park in winter, you should definitely consider it as it allows you to see the park in a whole new light, and gives you a brand new appreciation of this natural wonder's breathtaking beauty.
Getting To Plitvice Lakes

The first thing you must be wondering is how to get to Plitvice Lakes. You can opt for a guided visit or take a tour. You can book a tour to visit the lakes from Zagreb and Zadar. Most people prefer traveling from Zagreb to Plitvice Lakes. Located 130 kms from the park, it takes about 2 hours to drive from the city to Plitvice National Park. Zadar is located about 118 kms from the park and takes about an hour and a half to drive there.
Entrance Tickets, And Timings

Suggested Read: 10 Croatia Beach Resorts For Everyone Planning A Lovely Adriatic Vacation
Currently, the one-day Plitvice Lakes tickets cost 150 to 250 Kunas or INR 1600 to 2600 while two-day tickets cost 250 to 400 Kunas or INR 2600 to 4275 approx per person. The ticket costs considerably less in the off-season and with the entrance ticket, you get a boat ride on the lake as well as a tourist train that takes you back to the entrance. In summers, the park is open from 7 AM to 8 PM and the second entrance of the Plitvice National Park is closed from October to March. At the first entrance, parking costs 7 Kunas or INR 75 for one hour, and 70 Kunas or INR 750 per person for one day.
Food and Drinks

When you plan a trip to visit Plitvice Lakes, it is a good idea to have an early start and arrive as early as possible. The main reason for this is you can be done by lunch time. As the food offered within the park is extremely overpriced, you might as well carry your own snacks to avoid having to spend money on food and beverages.
Tips For Exploring Plitvice Lakes In Croatia

Suggested Read: 10 Artsy Places To Visit In Croatia To End One's Quest For The Archaic And The Lively
Keep in mind that while you are hiking through the park, you will need plenty of water, especially on hot days.
The kiosks/cafés in the park are quite a distance apart so you will definitely want to carry your own drinks and water.
In case you're visiting Plitvice National Park in winter, you'll find the weather conditions to be "normal", the boats will be sailing on the Upper Lakes, and the guided tours will be available.
In winters, travelers can explore these Croatia lakes at a lower cost while the opening hours will be cut short due to the cold.
Be prepared to witness a snowfall in winters.
If you want to go skiing, you can do so in the village of Mukinje, a few kilometers from Entrance No. 2 of the park. You will find one slope with a few small hills mainly used for children on slides and a T-lift.
One can also rent skis and slides at the skiing center. There is also a restaurant here where you can grab some lunch or get coffee to warm up.
Mesmerized much? Get going to visit these Plitvice Lakes in Croatia that will make your next holiday in Europe one of the most memorable journeys of your life.
---
Looking To Book An International Holiday?
Book memorable holidays on TravelTriangle with 650+ verified travel agents for 65+ domestic and international destinations.
---