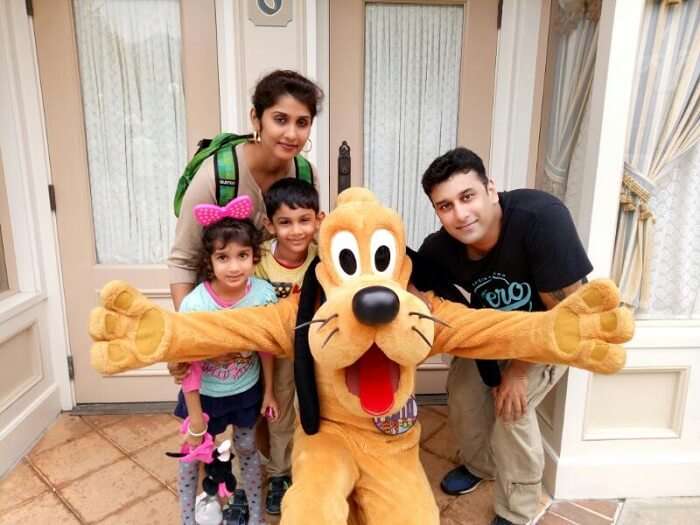 "Hong Kong is a magical city in many ways. It has adventure, fun, and a lot of places to see that bring out the inner explorer or sometimes even the kid in you – and if  that is not magical, then,  I don't know what is!"
My family and I too wanted to experience the action packed adventures and the fun energy of Hong Kong. Good food, great people, and a chance to experience China in a relatively accessible way was something we could not afford to miss.
So I started searching for good family packages to Hong Kong, and as I was trying to find the best one, I realized I had a lot of doubts about whether all my preferences would be taken care or not and that is when I found TravelTriangle. Thankfully, this OTA (online travel agency) offered customization, multiple quotes, and itineraries for their packages and in the end, choosing them for my trip was a great and convenient travel decision.
Finally, when we saw our package, we were more than satisfied and just to be extra sure since this was our first time with the company, we checked their reviews, and to our delight, those were fine too. All that was left was now our trip to take place and that day too, came soon.
Our Hong Kong Tour Package Details
Duration: 4 Nights 5 Days Family trip
Cost: INR 226000
Inclusions: Flights, Transfers, Hotel, Breakfast, Sightseeing
Exclusions: Activities not included in the itinerary
Travel Agent (connected via TravelTriangle): Breakbag Holidays Pvt. Ltd.
Day 1: Hello Hong Kong, our kids are kids are excited to meet you!
We had a very warm and welcoming arrival in Hong Kong and the representative who was there to receive us was very helpful in our transfers to the hotel. At the hotel, once again, we were so well treated and guided that it felt as if they were escorting school children (hospitality overdose!).
We freshened up for a while and then as per our Hong Kong itinerary proceeded for the city tour. The city tour included various interesting places like a one way tram ride to Victoria Peak, the Aberdeen Fishing Village, and also the refreshing Harbour Cruise. We ended our day with the magnificent "Symphony of Lights", a sound and light show which was spectacular.
Day 2: Hong Kong Disneyland, the ultimate joy ride every kid and family should experience!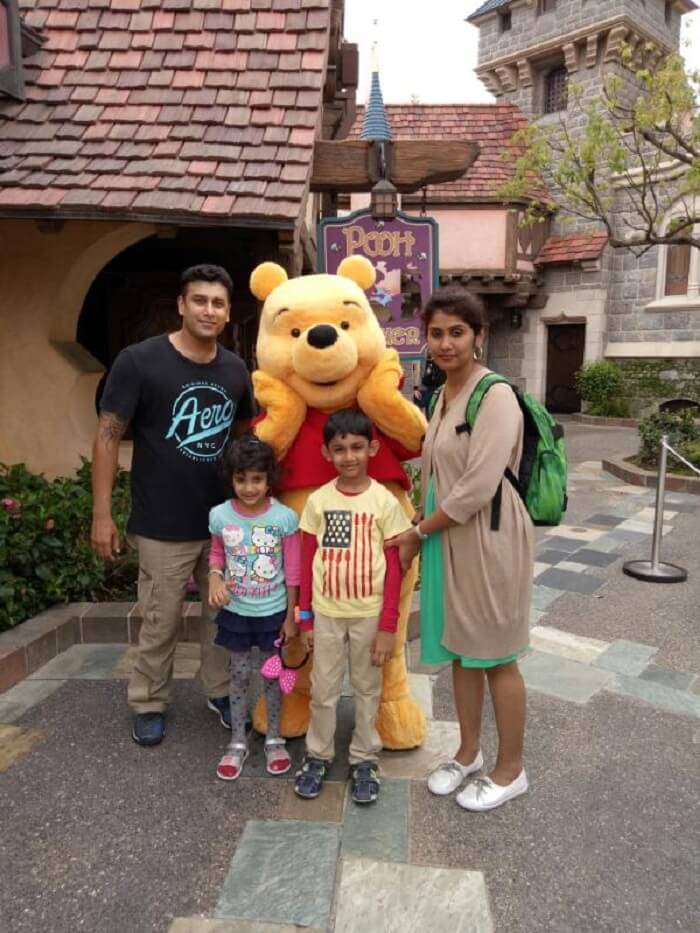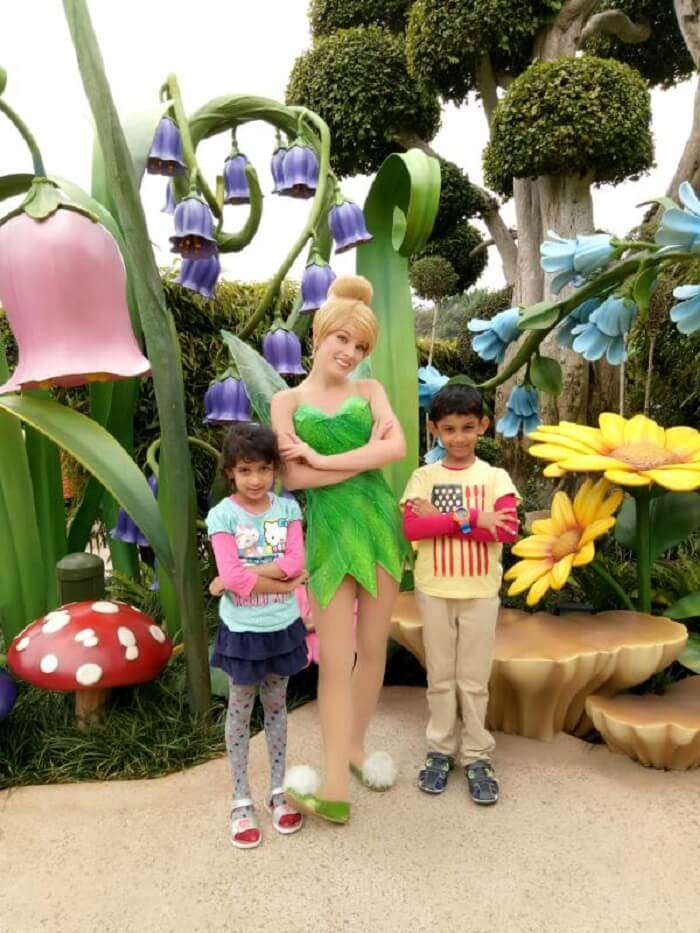 We witnessed the best attraction in Hong Kong today – Disneyland. And believe me when I say this that we loved every minute of our time spent here. From the 7D theater to the amazing rides, to Winnie the Pooh and clicking pictures with cartoon characters – we enjoyed everything like kids. The joy of this amusement park cannot be described in words but I will tell you this, it was worth it.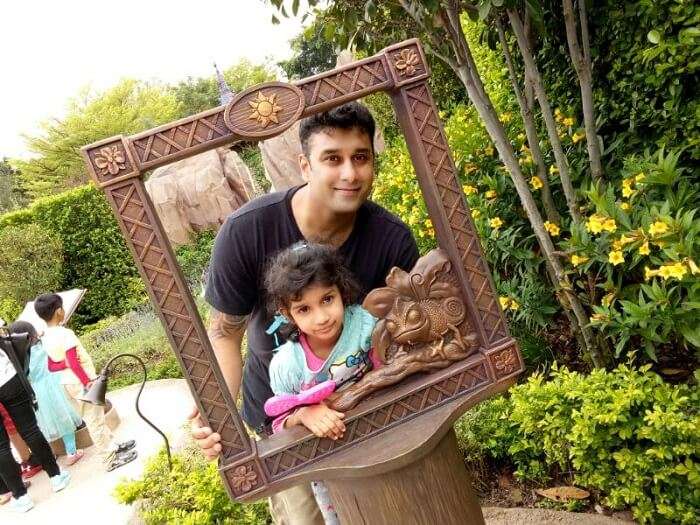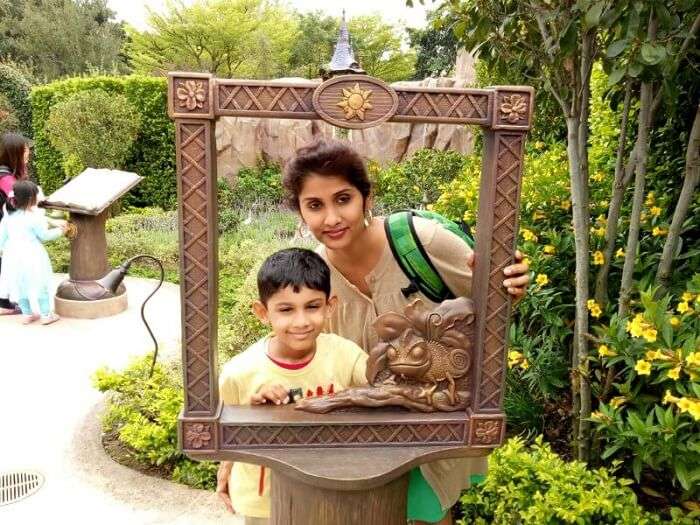 Experiences like grizzly Gulch. Toy Story Land, Disney Parade, and the fireworks brought out the kid in us and made us feel the innocent pleasures like we used to when we were young.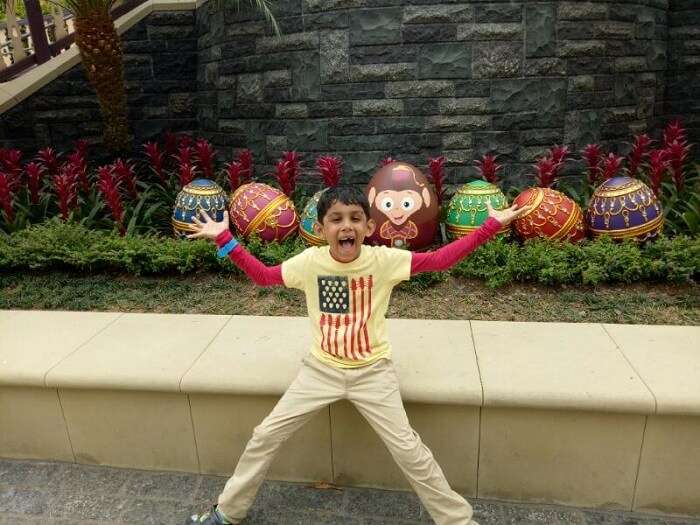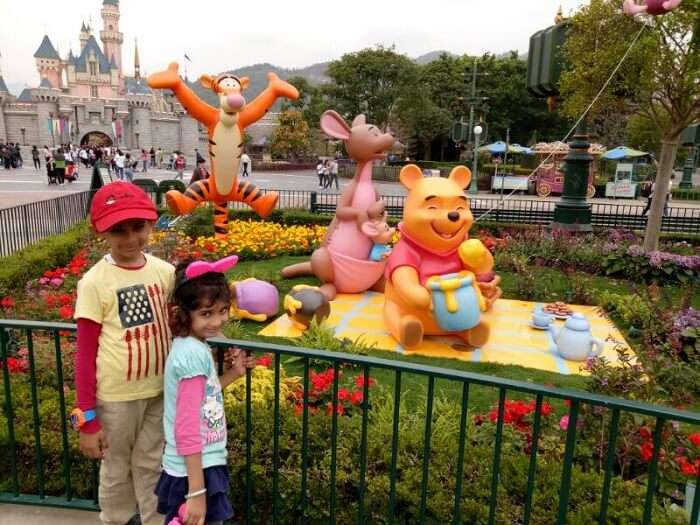 Needless to say, my kids absolutely loved it!
Day 3: Having the time of our lives at the Hong Kong Ocean Park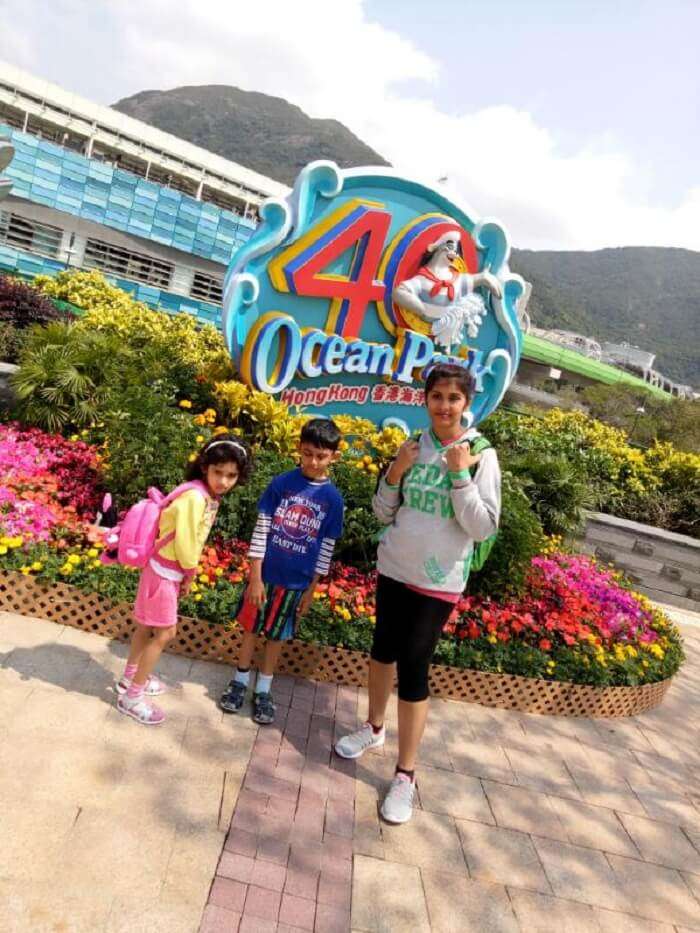 Our third day was spent at the Ocean Park, a water park in Hong Kong that offered some of the most fun and adventurous times we had ever had.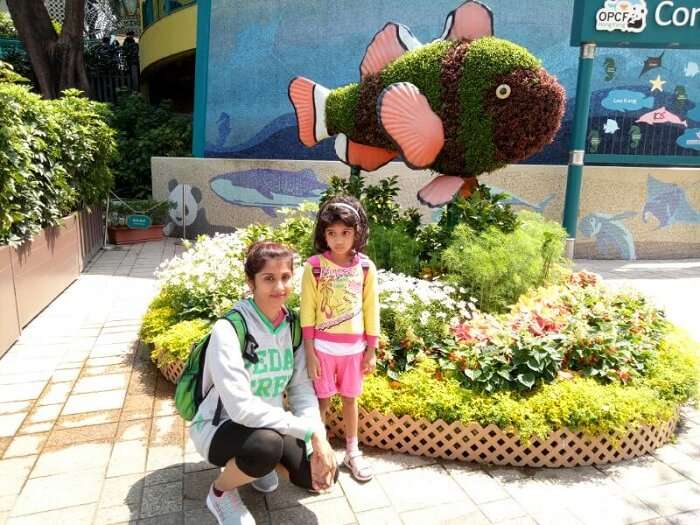 There were many water rides and activities that we did here and some of them are as mentioned:
Adventures in Australia
Shark Mystique
 Polar Adventure: Explore the North and South poles in one day.
 Old Hong Kong: Relive fond memories of times gone by!
 Thrill Mountain
 Rainforest
Aqua City
Amazing Asian Animals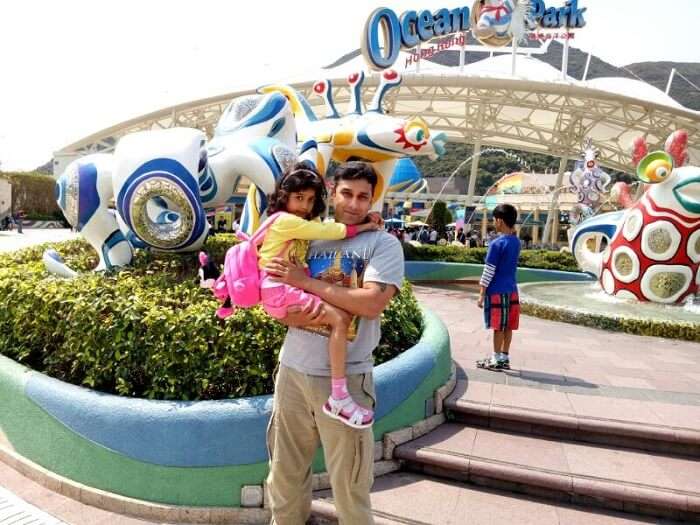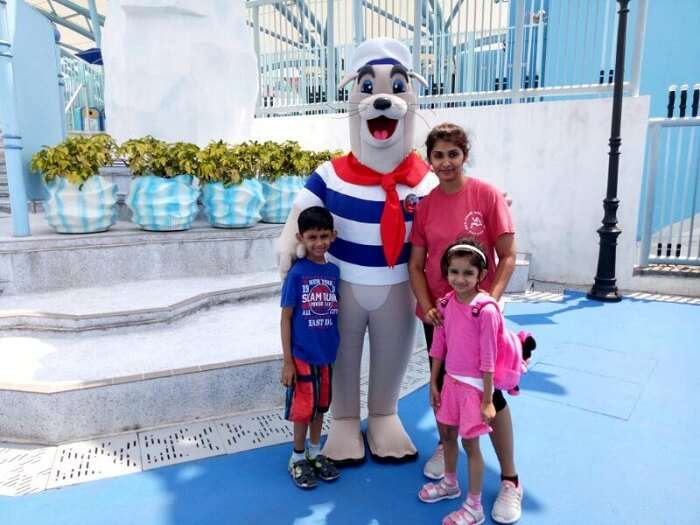 Our day ended with many memorable experiences!
Day 4: Sightseeing in Hong Kong – discovering the city on our own!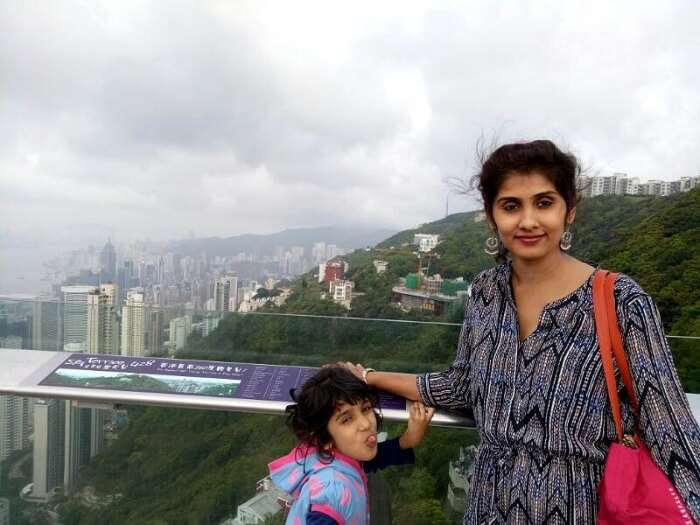 There was nothing planned today and we could do whatever we wanted. So to make the most out of our time, we visited many places like Ladies Market, Bird Market, Harbour City, Jardine's Cresent, Time Square, & Tai Yuen Street. All of these experiences were complimented by our indulgence in the street food which was simply yum.
Day 5: Farewell, and thank you, Hong Kong, for such great memories!
We checked out of our hotel today and proceeded towards the airport for our flight back to India.
Overall, our trip to Hong Kong was the perfect family vacation we had always wanted. Hong Kong beautifully blended fun, adventure, sightseeing, and culture to give us a holiday that would last in our memories forever. A short and worthy trip, that every family, once in their lifetime should definitely visit.
Also, we were more than happy with our trip experience and for that, I thank TravelTriangle for organizing a great trip for us. Since this was our first time with the company, we had also checked its reviews and were satisfied with them.
I recommend TravelTriangle!
High Points:
Low Points:
Tips for travelers:
Planning a family vacation in Hong Kong, go for it since it will offer all the joys and good times you expect in one.
Disneyland, sightseeing, adventure, & more! Witness it all on a family trip to Hong Kong. For hassle free planning and quotes, check out our customizable Hong Kong family packages here.
---
Looking To Book An International Holiday?
Book memorable holidays on TravelTriangle with 650+ verified travel agents for 65+ domestic and international destinations.
---