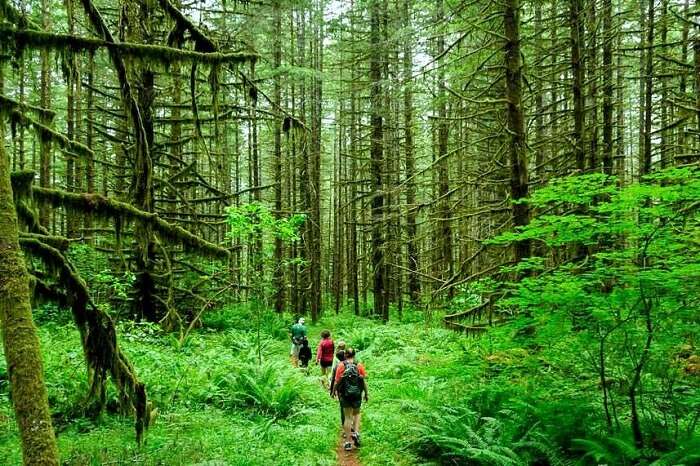 With a huge landmass, travelers are lucky enough to witness multiple rain forests in India.Explore some of the finest flora and fauna covered deep in the dense jungles Andaman, Assam, and the Western Ghats.
Very rarely do you find not one but three lush-green, dense, and lively rain forests in India at some of the remotest locations. These places have often fascinated wildlife enthusiasts from all the world that spend their entire lives in solving the fascinating mystery of the animal kingdom. Often infused with a large variety of tourist activities, rain forests in India are a popular source of income and footfall for the thriving tourism industry of that specific region.
Best time to visit rain forests in India
A tropical evergreen forest in India can be found in all parts of the country. Be it in the far eastern Gulf of Thailand or in the western coastal states in Karnataka or Maharashtra, mother nature has blessed the country with a lot of fertility. Another fact that wildlife enthusiasts need to keep in mind is that there are different benefits to traveling at different time periods to a rainforest.
The dry season generally opens up a lot of opportunities for hiking lovers as the trails get clearly demarcated due to the prevailing dry climate. The hikes become easy as the often muddy texture of forests completely dries out. For tourists, the wildlife is clearly visible and the only concern can be the searingly hot temperatures.
Whereas on the other side, the wet season brings a chance to view a lot of rare birds and animal species for people who wait patiently for their opportunity all-year long. Apart from that, the definition of a lush-green paradise can only be truly realized once a traveler sees a forest after a few days of rain.
Tropical rainforests in India
Normally, a tropical evergreen forest in India can be clearly found at three places- Andaman Islands, Assam, and the Western Ghats, but a few sporadic stretches of land in Odisha, Naga Hills, and Manipur also have a similar type of landscape.
1. Andaman and Nicobar Islands
Must Read: Baratang Island: Nature's Secluded Retreat In Andaman
The best example of a tropical evergreen forest in India is found in the Andaman and Nicobar Islands. What makes this place all the more special is the large variety of flora and fauna. The Andaman Islands have rare plant and animal species that are believed to have passed on from other nearby countries such as Myanmar, Thailand, and Bangladesh.
It is believed that there over 2200 variety of plants grow in the Andaman Islands, making it the richest biosphere in India. These tropical rainforests receive on an average a total of 2000 mm of rainfall throughout.
Best places to stay for a wildlife experience:
Pristine Beach Resort, Diglipur
Best time to visit: November to February
Places to visit: Havelock Island, Diglipur, and Baratang
2. Assam
Suggested Read: 10 Tourist Places In Assam: Unveiling The Hidden Charm Of The North-East
The most isolated, dense, and unspoiled rain forests in India can be found in the Assam region of Northeast India. Although the forests are majorly in Northern Assam, traces of the same are found in Nagaland, Manipur, Mizoram, and Tripura. The rainforests in the Assam region are characterized by low-lying hills that have a dense forest cover throughout the year and an average height of 900 meters.
Overall, Northeast India is famous for its moist sal monsoon forests that can be found in the Assam region as well. The region is home to many species of wild monkeys like Rhesus Macaque, Assamese Macaque, Slow Loris capped Langurs, Pig-tailed Macaque, Stam-tailed Macaque and Hoolock Gibbons. This rainforest in Assam also has a significant population of wild elephants.
Best places to stay for a wildlife experience:
Best time to visit: October to April
Places to visit: Kaziranga National Park, North Cachar Hills, and Dibrugarh
3. Western Ghats
Suggested Read: Karnataka Just Unveiled 30 Foot Tall Canopy Walk & Ecotourism Has A New Meaning In India
Found mostly in Maharashtra and Karnataka, a stretch of moist deciduous forests can be found in the northern part of the Western Ghats covering a total area of around 30,000 square kilometres. The rich and dense forest cover starts from Southwestern Maharashtra and extends as far as Karnataka and Kerala in South India.
Another area rich in flora and fauna, Western Ghats are home to more than 1100 species of animals out of which more than 200 are endemic to that region. The Western Ghat forest land is also famous for containing the largest elephant population in Asia. However, a major concern in this area is the rapid urbanization of the forest land as according to the statistics, two-thirds of the original forest land has been cleared or deforested.
Best places to stay for a wildlife experience:
Best time to visit: September to March
Places to visit: Eravikulam National Park, Silent Valley National Park, Chandoli National Park, and Kudremukh National Park
Further Read: 13 Places You Need To Visit For The Best Wildlife Experience in India
Rain forests in India are a blissful experience to behold. Covering the entire width of the country, these forests are a treat for nature and wildlife lovers. Share your experiences of your travels to these dense forests in India.
Comments
comments