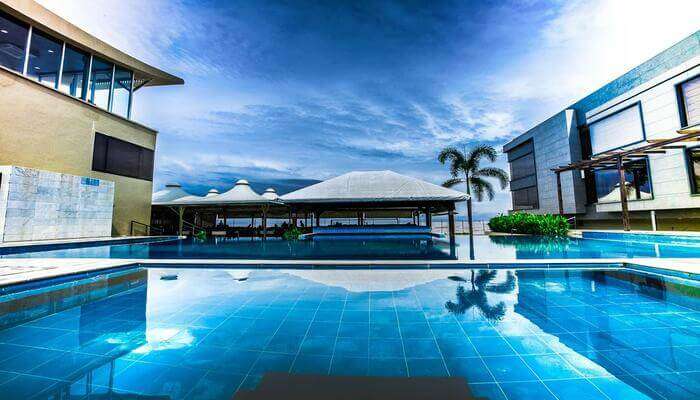 Cover Image Credit: Booking.com
Gujarat is one of the finest, most magnificent and very beautiful India's westernmost state. It owns an endless number of varied terrain and some decently fascinating sacred sites. It is known to be a hub of the Textiles industry and it is a home to Sabarmati Ashram where the Spiritual leader Mahatma Gandhi had his base. It is also home to amazing yet magical Jama Masjid which was built in the 15th century and it is very well renowned and reputed owing to its huge courtyard and a column design let alone it has a great religious significance. There are some great places to explore nearby and, here is a list of some of the finest resorts near Gujarat where you can hop in for a day or two while exploring the nearby places of.
5 Best Resorts Near Gujarat
Check out the list of sophisticated resorts near Gujarat that call for a luxurious vacation. Keep scrolling down and read long!
1. The Gold Beach Resort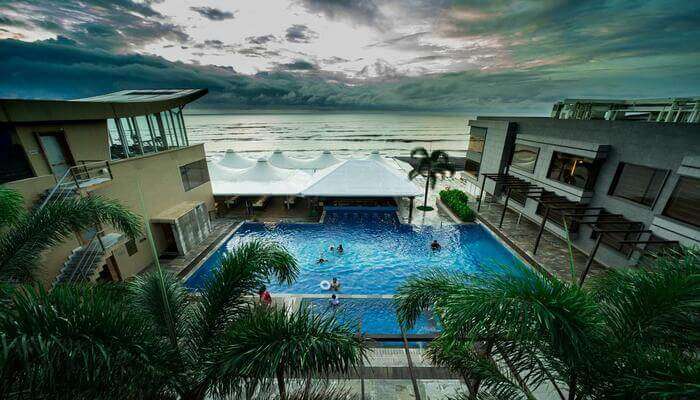 Image Source
This magnificent resort is well located in Daman and is known to be one of the very best and most widely visited accommodations n the region. It proudly boasts a spacious outdoor swimming pool and a decent fitness centre quite reputed to provide relaxation and rejuvenation. Speaking of the room here, the accommodations come with well air-conditioned rooms which are well equipped with wooden flooring, a wardrobe, a comfortable seating area and a flat-screen TV with cable channels. The stay also offers the tea/coffee making facilities let alone a minibar for those who would like to drink with their beloved ones. Almost every unit is enabled to offer some decent scenic and panoramic views of the surroundings to its guests. There is also a very beautiful yet utmost unique seaside spa that is accessible to every guest and there is some fee to avail the spa benefits and services.
This beautiful Golden Beach Resort is known to give direct access to several nearby attractions such as Portuguese Fort and Daman Market which are about 6 km away respectively. Guests can also try and visit the very magnificent Jampore Beach located about 8 km away from the accommodation. There are two quite spacious and happening restaurants which go by the name of Spice Galleon and Nineteen sixty-One where you are given the options to decide between Indian, Chinese and Continental delights and without an inch of doubt or hesitation, the foods served here are quite rich in taste and are truly healthy. In-room dining is possible if one wishes to. The nearest airport is Daman Airport about an hour's drive away.
Highlights: Offers free Wi-Fi, parking, beachfront, airport shuttle, spa, and wellness centre
Location: 2/1-B&2/1-C, Devka Beach, Marwad, 400000 Daman, India
Price: INR 7,500/- and above
Distance from the city: 75 km away approx.
 16 Magnificent Temples In Gujarat For A Divine Holiday In 2022
2. Woods At Sasan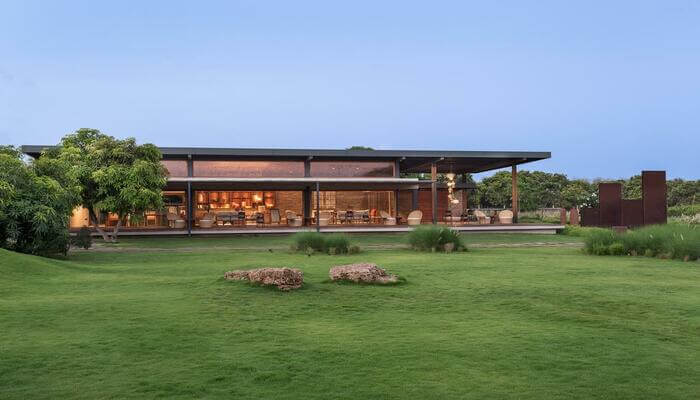 Image Source
It is another very fine resort graciously resting in the heart of Sasan Gir. It is well known to proudly boast its outdoor pool and the very refreshing and rejuvenated spa centre. There is a well spacious on-site restaurant which is said to serve some great delights worth your time and money let alone it is actually healthy and very delicious. Speaking of the rooms in this very stay, every unit is known to offer air-conditioned rooms well equipped with a TV and there are rooms with a seating area too.
There is a beautiful and spacious terrace that is accessible to every guest who would like to witness a decent scenic view of the surroundings. Besides free Wi-Fi which is accessible to every guest, there is also a 24-hour front desk which is well recognized and reputed for providing great help and appropriate assistance to all its guests at any given hour of the day. There is a table tennis court right at the resort and you can have some fun playing it with your beloved ones. Being located in such a safe and friendly neighbourhood, this so-called beautiful resort is certainly a perfect haven for couples or those who are travelling with family in pursuit of a great holiday worth their time and money.
Highlights: Offers free Wi-Fi, parking, airport shuttle and swimming pool
Location: Woods at Sasan by 1000 Island Hotels & Resorts Near Sangodra Railway Crossing, Sasan- Talala Road, Bhojde Village, Talala, Somnath District, 362135 Sasan Gir, India.
Price: INR 11,000/- and above
3. Rann Resort Dholavira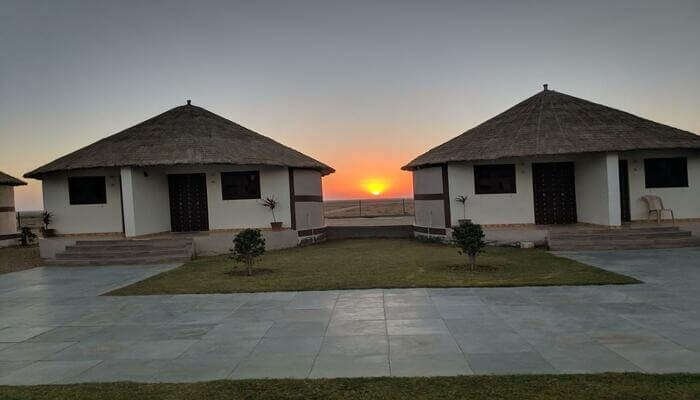 Image Source
This has to be a very fine resort located in Dholavira and it is very well reputed and recognized for its service, features and of course due to its remarkable hospitality. It is well known to proudly boast its magnificent garden which is quite spacious and is accessible to every guest where one can spend some quiet and calm time talking to their loved ones or just sit idle witnessing and watching the nearby panoramic views. There is a decent restaurant in the resort's vicinity known to serve some great delights and there is a 24-hour front desk always on toes to assist all their guests in a very appropriate manner.
Guests can approach the room service at any given hour of the day. Guests can access the shared lounge and they can certainly enjoy the buffet breakfast served every morning in the resort which is absolutely rich in taste and quality. Every room here offers you the very best features and are well equipped with every basic amenity required for a healthy and convenient stay. As the rooms are cleaned every day, they are known for their cleanliness and utmost hygiene. Every room comes with a private bathroom with toiletries on request. There is a children's playground well equipped with amenities for kids to spend some quality and fun time while the parents can explore the resort's vicinity. Being located at such a friendly neighbourhood, it is for sure known to be a great place for couples and even to those travelling with friends or family, they too can find their haven right here in the Rann Resort Dholavira.
Highlights: Free Wi-Fi and parking
Location: Dholavira-Janan Road Survey No. 41/p3, Kharoda, 370165 Dholavira, India
Price: INR 5,200/- and above
Closest airport from the resort: Bhuj/Bhuj Rudra Mata Air Force Base about 83.9 km away.
 52 Intriguing Tourist Places In Ahmedabad For Your Gujarat Getaway In 2022
4. Kutir Craft Village Resort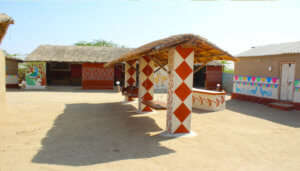 Image Source
A perfect blend of tradition with modern facilities tweaked in local style, Kutir Craft Village Resort ensure to provide a unique stay experience to its guests. Located in the Hodko, this traditional resort is also known for its contrasting interiors with mirrorwork, textiles and other local crafts. The resort will give you the true feel of Gujarat with its interior, amenities, and facilities offered. It offers stay in huts covered with grass roofs, locally called BHUNGA, which are decorated with mirrors and local crafts to give you the true and comfortable feel of the rural side.
Highlights: Stay in huts covered with grass roofs
Location: opposite Hotel Desert King, Rann Utsav – Dhordo, Road, Hodka, Gujarat 370510
Price: ₹3,900 onward
Closest airport from the resort: Bhuj/Bhuj Rudra Mata Air Force Base Airport, 36 miles from Kutir Craft Village Resort.
5. The Mountain Villa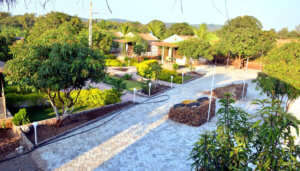 Located in the Sasan Gir, Mountain Villa is among the best resorts to visit near Gujarat. Nestled in the Bhojde part of Bhojde, this property is in close proximity to many major tourists attractions. This customary farmhouse is located in close proximity to the Gir National Park and provides an in-house multi-cuisine restaurant and pool to relax by. The Mountain Villa also provides the facility of free wi-fi and car parking making sure you have a comfortable and convenient stay experience.
Highlights: Delectable food, and hospitable staff
Location: Village- Bhojde – Sasan Gir Taluka, Talala, Sasan Gir, Gujarat 362135
Price: NA
Closest airport from the resort: Keshod Airport, just 39.3 km away from the Mountain Villa
 15 Museums In Gujarat To Redefine Your Trip In 2022
Gujarat is a great place for vacation and it is a known truth that it is said to be visited by an endless number of visitors throughout the year. The place has so much to offer to the visitors and some of those scenic views, breathtaking monuments, some amazing wildlife sanctuaries where animals are seen on their own natural habitat, those very fascinating business industries and so many other things are here right in the heart of Gujarat to give you a great time during your visit, an unforgettable experience and of course a lot of memories to cherish all your life. So, if you are looking for a decent place to spend few good days with your near and dear once, always remember that these resorts near Gujarat are ever ready to welcome and embrace all its guests with wide arms open. So, hurry up and plan your vacation in Gujarat right away!
For our editorial codes of conduct and copyright disclaimer, please click here
Frequently Asked Questions About Resorts Near Gujarat
Is Gujarat worth visiting?
Yes, Gujarat is a great place for vacation and its widely visited by people across the country and abroad too. There are several places to visit in Gujarat and all are well known to have their own significances and are certainly known, reputed and recognised for owning dozens of tourist attractions or point of interests which are worth visiting.
Which is the best-known place to visit near Gujarat?
Out of several places, Damn and Diu are certainly the best to visit if you are planning to explore places located near Gujarat.
Which are the best resorts in Daman?
The Golden Beach Resort is considered to be the best resort located in Daman owing to its amazing features and service, its great atmosphere and very cosy yet comfortable ambience and certainly the friendly, helpful and very welcoming nature of the staffs working at the so-called Golden Beach Resort.
Which are the budget resorts near Gujarat?
Rann Resort Dholavira is said to be very beautiful but also quite reasonable comparatively. It should certainly fit into your budget however you will be quite happy with this stay as there is almost everything that a decent accommodation requires to promise their guest a convenient and a delighted stay.
Which is the most beautiful and widely visited resort located near Gujarat?
Woods at Sasan is a well-known and a very decent stay known for its remarkable features and remarkable hospitality. It is said to be widely visited by several guests throughout the year and almost every guest has nothing to say but only has words of praises for the said accommodation.
People Also Read:
Resorts Near Gurgaon Resorts Near Vadodara Resorts Near Delhi
Comments
comments