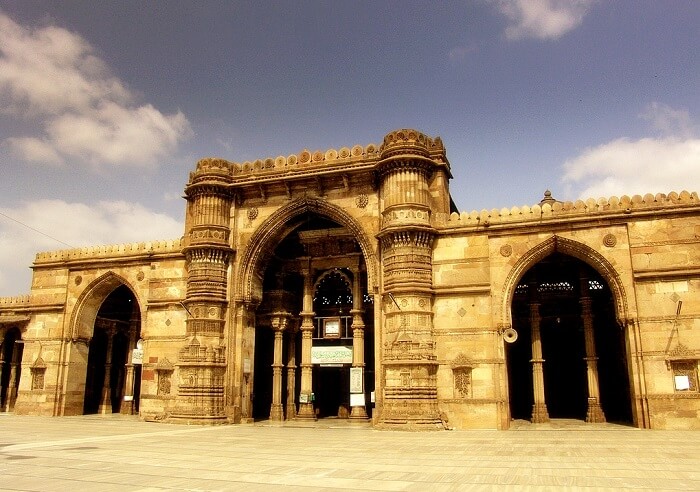 A busy urban metropolis, an educational center, a textile hub and a city with a glorious past – Ahmedabad is a popular and one of the most significant places of Gujarat. As a city of full of history and heritage, Ahmedabad attracts a number of tourists with varied interests.
Popular places to see in Ahmedabad are a mix of magnificent temples, striking mosques, interesting museums, picturesque lakes, calming river-front and bits of Gandhi heritage. With so many tourist places in Ahmedabad, all you need is to pick your favourite four or five (depending on the duration of your stay) and cover them for sure.
1. Sabarmati Ashram – A glimpse into the kosher world of Mahatma Gandhi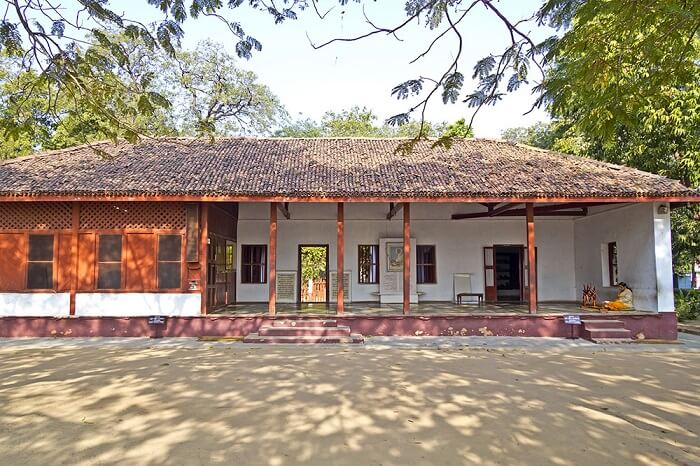 Image Source
Tranquil and placid, Sabarmati Ashram is an ultimate abode to acquire peace and calm. Located on the banks of River Sabarmati, it is also popular as Gandhi Ashram, Harijan Ashram and Satyagraha Ashram. It was built by Gandhiji after he returned from South Africa in 1915. Mahatma desired to pursue works related to agriculture, animal husbandry, and khadi udyog from here.
Today, Sabarmati Ashram is the most significant tourist place in Ahmedabad. A number of Indian and international tourists flock here to have a look at the reminiscences of the 'Life of Gandhi', his works, and success and failures while attempting to develop India.
Don't miss: If you are visiting the Gandhi Ashram, stop by at Upasana Mandir, Magan Niwas, Hriday Kunj, Udyog Mandir, and Nandini. The Ashram Museum, which includes an art gallery, a library and the archives, tells you a lot of about Gandhi, his family, his ways, revolutionary movements and much more.
Opening hours: 8.30 am to 6.30 pm, every day
Entry: Free
Suggested Read: 11 Playful Picnic Spots Near Ahmedabad In 2019 To Have Some Leisure Time With Your Family
---
Gujarat Holiday Packages On TravelTriangle
Spot lions in their natural habitat at Gir national park, relax on the beautiful island of Diu, or go on a religious tour to Somnath and Dwarka. Book a memorable holiday to Gujarat inclusive of airport transfers, cab, resort, sightseeing, and meals on TravelTriangle.
---
2. Jama Masjid – One of the most spectacular places to see in Ahmedabad
Image Source
Jama Masjid in Ahmedabad was built by Sultan Ahmed Shah I in 1424. It is as spectacular and majestic as its namesake, the Jama Masjid in Delhi. It is one of the striking places to see in Ahmadabad, also known as Jami or Jumma Mashjid. Located adjacent to the Bhadra Fort, along the road extending from Teen Darwaza to Manek Chowk, Jama Masjid is counted as the highest watermarked mosque design in western India. It's beauty and architecture are simply astounding.
Don't miss: The wide courtyard of the mosque; and the yellow sandstone architecture which depicts a blend of Hindu and Islamic styles.
Opening hours: 6 am to 8 pm, all days of the week. Also, the mosque doors are closed for visitors during prayer times.
Entry: Free
Suggested Read: 15 Romantic Restaurants In Ahmedabad That'll Fill Your Dinner Date In 2019 With Love!
3. ISKCON Temple – A step closer to divinity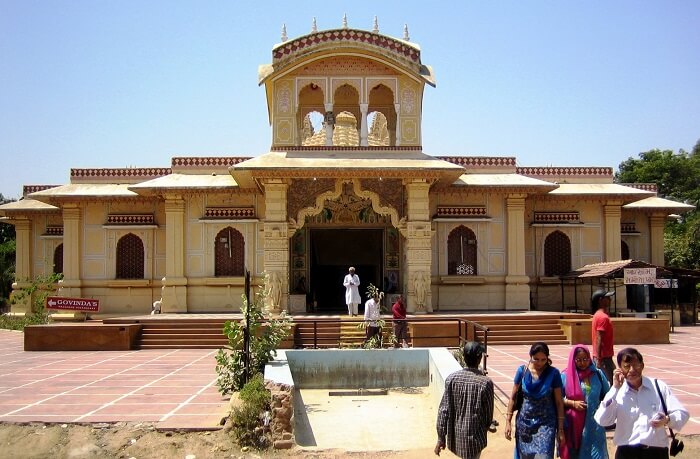 Image Source
The gorgeous temple of ISKCON, also known as Hare Krishna Mandir, amalgamates Gujarat Sompura and Rajasthani Khamira architectural pattern. The temple is located on a sprawling 4 acre land full of beautiful gardens, fountains and refreshing flora.
Though the temple is dedicated to Krishna and Radha, it also houses idols of various other deities of Hindu mythology. It sees a huge footfall of devotees, who fill up the premises with energizing and cleansing chants of 'Hare Rama Hare Krishna'.
Don't miss: The temple's architecture, pattern and design of the walls; the exquisite prayer room; and morning and evening aarti.
Opening hours: 4.30 am to 1 pm, and 4 pm to 9 pm; all days of the week
Entry: Free
4. Swaminarayan Temple – Truly a work of wonder and awe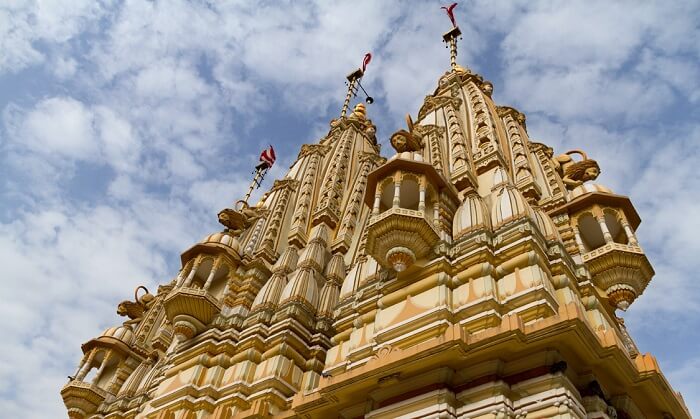 Image Source
The grandeur of its architecture, milky white buildings, jaw dropping styles, and remarkable patterns make Swaminarayan Temple of Ahmedabad a crucial wonder of modern India. One of the top tourist places in Ahmedabad, the temple depicts the glory of Indian culture and tradition. The neat arrangement of the temple premises is worth mentioning. Known for their exquisite architectures and intricate carvings, this is the first of many Swaminarayan Temples around the world.
Don't miss: Nar Narayan Temple, Akshar Bhavan, Temple for Women, Haveli in North and East.
Opening hours: 6 am to 7 pm, all days of the week
Entry fee: Free
Suggested Read: 13 Awesome Reasons Why Ahmedabad Will Ruin You For Life
5. Bhadra Fort – A majestic palace, full of mysteries and wealth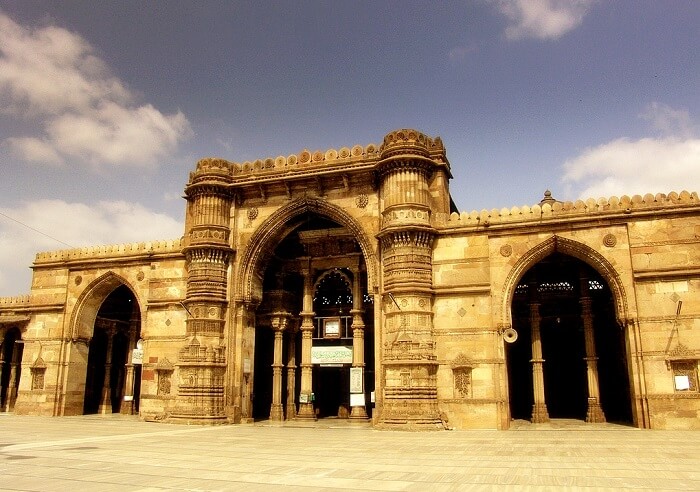 Image Source
Built by Sultan Bhadra Fort in 1411 during Martha rule, Bhadra Fort is one of the prime attractions of Ahmedabad. This royal fort comprises of a majestic palace, a lush green courtyard and a Bhadra Kali Temple. Popular belief says that Goddess Lakshmi once stepped into the Bhadra Fort and blessed the Sultan that his city were to always remain wealthy and affluent. Till now, it is believed that there are hidden stashes of riches, somewhere deep in the fort.
The fort was renovated in 2014 and is now managed by Archaeological Survey of India as a heritage property.
Don't miss: Teen Darwaza; Royal Square; Bhadra Kali Temple; Azam Khan Sarai; Clock Tower; and gardens, Nagina Baugh and Maidan-e-Shah.
Opening hours: 9 am to 5 pm, all throughout the week
Entry: Free
6. Sardar Vallabhbhai Patel National Museum – Archiving the life and achievements of a leader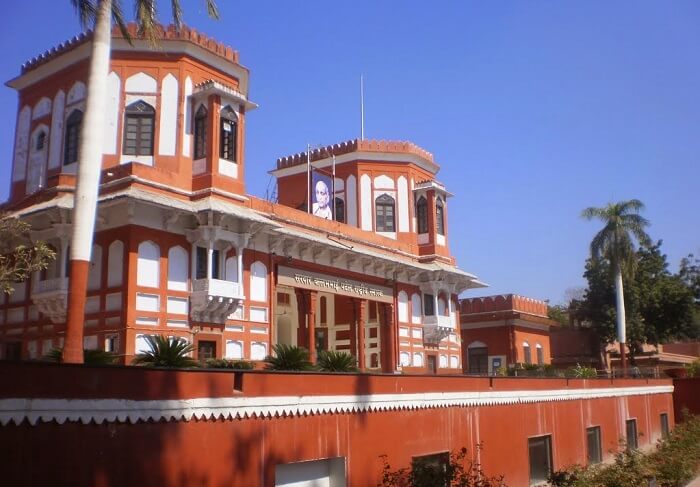 Image Source
Sardar Vallabhbhai Patel National Museum is located in Moti Shahi Mahal in the Shahibaug area of Ahmedabad. The museum building was constructed between 1618-1622 and was used as British Cantonment at that time. However, after independence, it was used as the serving Governor's residence. Set up in 1978 by Shri Babubhai Jashbhai Patel, then CM of Gujarat, the museum showcases artefacts and the belongings of Sardar Vallabhbhai Patel. The archives depict the life and achievements of the beloved national leader.
Don't miss: The multimedia halls which demonstrate 3D interactive and experiential exhibits on Sardar's life and work.
Opening hours: Tuesday to Sunday, from 9.30 am to 5 pm. Show timings for 3D interactive show is from 7 pm to 7.45 pm daily, except on Mondays.
Entry fee: INR 20 per head
7. Calico Museum of Textiles – A rich play of colors and designs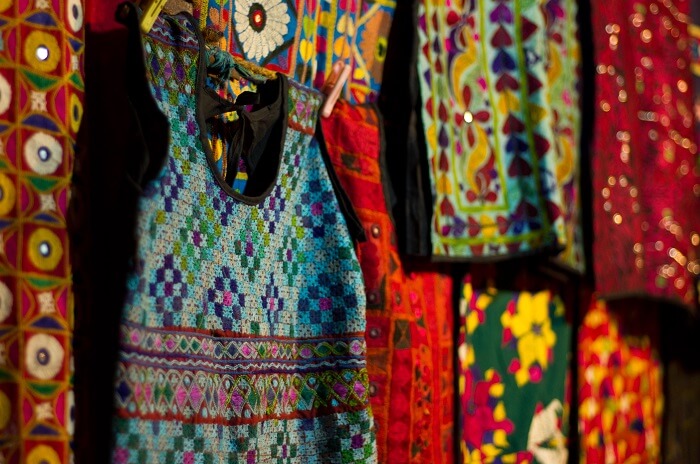 Image Source
Calico Museum of Textile is another famous tourist place in Ahmedabad. Managed by Sarabhai Foundation, it is one of the oldest textile museums in the country. It comprises exclusive collections of various textiles, fabrics and artefacts; rare collections of antique textiles; spectacular samples of Kashmir shawls; tie and die fabrics; and relics from various parts of the country.
Don't miss: Exclusive collections of bronze, pichwai paintings, Jain art items, Indian miniature paintings, tribal art and handicrafts.
Opening hours: From 10 am to 12.30 pm, then from 2.45 pm to 4.30 pm; everyday except Wednesdays.
Entry: Free
8. Kankaria Zoo – One of the picnic spots in Ahmedabad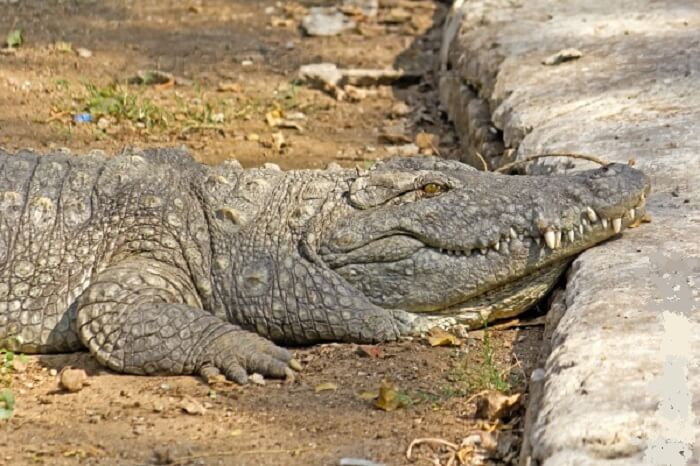 Image Source
Kamala Nehru Zoological Garden is a perfect tourist spot to explore with family especially with kids. The zoo was established in 1951 along the banks of Kankaria Lake. It houses rare and endangered species of birds, mammals and reptiles, including crocodiles and alligators. The lush greenery and animal spotting make the experience memorable and thrilling, while taking utmost care of your safety. Pack a picnic basket and set out to enjoy your day with the wilderlies.
Don't miss: Along with wild animals and birds, explore Butterfly Park, Water Park, Nocturnal Animal House, Nagina Vadi, Rasala Nature Park, Balvatika, and NH Museum.
Opening hours: Timings of the zoo vary with seasons. From March to October, it is open from 9 am to 6.15 pm and from November to February, it is open from 9 am to 5 pm
Entry fee: INR 20 per head. On every Thursday, entry is free for Educational Tours.
9. Sanskar Kendra – Exhibits of old, simple Ahmedabad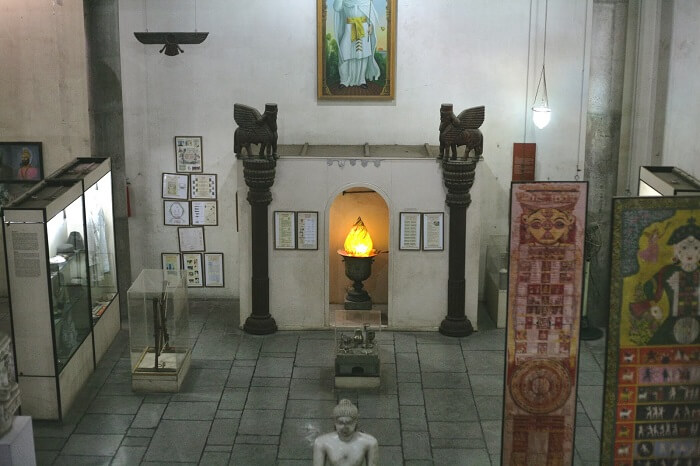 Image Source
Designed by architect Le Corbusier, Sanskar Kendra is a museum located near Sardar Bridge in Ahmedabad. Exhibiting history, art, culture, traditions and architecture of the city, the museum is one of the prime tourist attractions in Ahmedabad. You must visit the museum to get a brief glimpse of the living heritage of the city and its glorious past.
Don't miss: Photographs related to history of city, art, photography, Mahatma Gandhi, Indian independence struggle, various religious communities of Ahmedabad; the tallest incense stick of the world – 4.5 m long.
Opening hours: All days of the week from 10 am to 6 pm
Entry: Free
PS: Do not miss the adjacent Patang Museum. Kites of different colors, shapes and designs can hold your attention for long. Don't miss it as you won't get a better opportunity to indulge your inner child.
Suggested Read: 9 Amazing Resorts Near Ahmedabad: Guide To Your Next Vacation Hotspots
10. Vechaar Utensils Museum – From kitchens of different centuries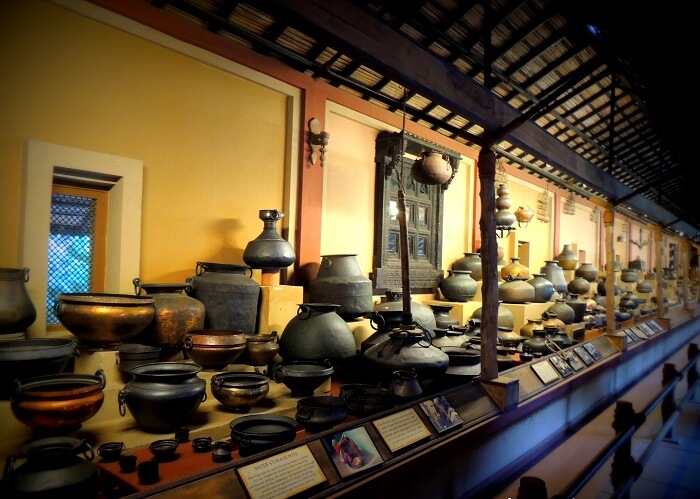 Image Source
Vechaar Utensils Museum is a unique and exclusive showcase depicting centuries old antique collection. The exhibits of utensils and pots have been picked from all over the country, and the total number ranges over 4,500 samples. Built in 1981, this museum is one of the famous tourist places in Ahmedabad that aims at preserving evolution of Indian utensils over time.
Opening hours: 1 pm to 3 pm and 5 pm to 10.30 pm; all days of the week except on Mondays.
Entry fee: INR 20 per head
11. Auto World Vintage Car Museum – From horse carriages to limos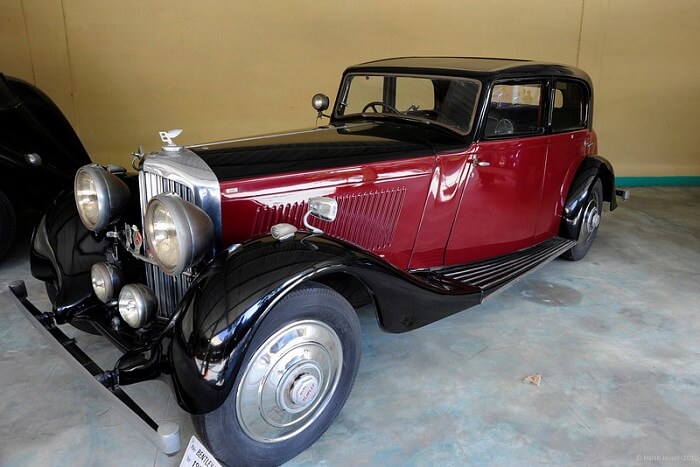 Image Source
Auto World is a vintage car museum located in Kathwada area of Ahmedabad. One of the popular tourist places in Ahmedabad, the museum displays spectacular collections of antique vehicles, cars, motorcycles, utility vehicles, and buggies from all over the world. The well-preserved vintages attract much fanfare due to rarity and heritage associated with them.
Don't miss: The special collection of grand limousines, romantic convertibles, swanky sports cars, railway saloons, horse-drawn carriages, boat-tailed wooden speedsters, and shooting brakes-cars.
Opening hours: 8 am to 9 pm
Entry: Free
12. Rani no Hajiro – A beautiful vault for beautiful souls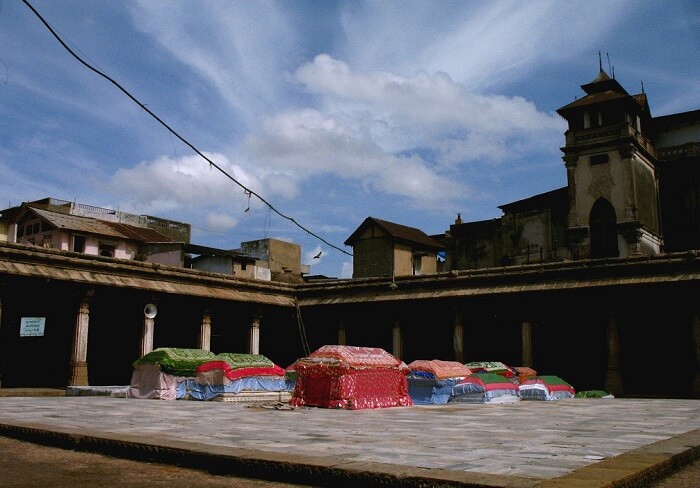 Image Source
The Hajiro is a cellar for graves of the queens of Gujarat affil of Mughal Empire. A tomb complex near Manek Chowk, it is a popular tourist place in Ahmedabad. The Queens' tomb, located adjacent to Badshah na Hajiro, is a serene place, away from the hustle-bustle of the city chores.
Don't miss: The tombs and the architectural pattern of the complex is awe-inspiring. The approach road is dotted with numerous local shops good for souvenir shopping.
Opening hours: 6 am to 10 pm
Entry: Free
13. Nagina Wadi – For a perfect family evening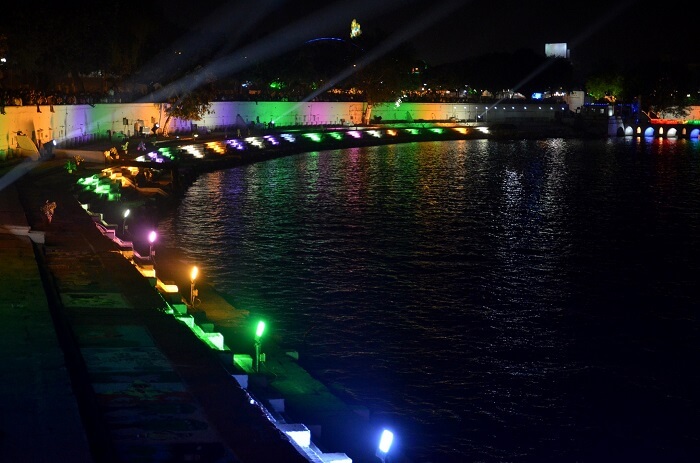 Image Source
Nagina Wadi is a garden-themed amusement area in the heart of the picturesque Kankaria Lake. It is approached by a straight tree-lined concrete pathway criss-crossing half of the lake. The area also comprises numerous food stalls serving lip smacking local food. Actually, it is a perfect spot for family outing and some quality time with your loved one.
Don't miss: Illuminated musical fountain – the dancing fountain is quite enchanting with its soothing music and hypnotizing lights. Speed boat, jet ski, and other water sports are also popular.
Opening hours: 9 am to 11 pm
Entry: Free
14. Sarkhej Roza – An attractive architectural complex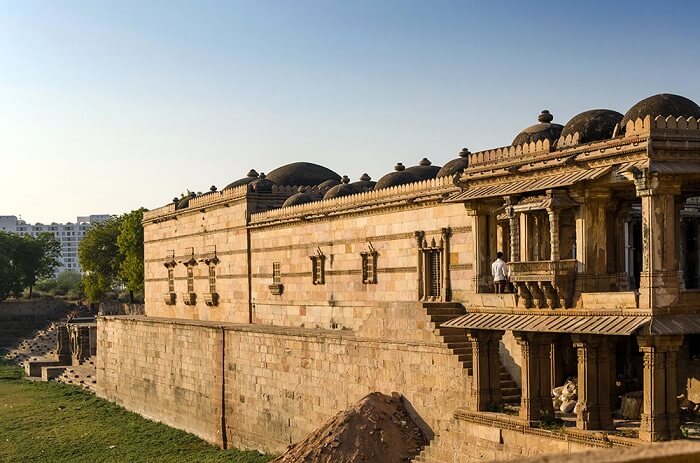 Image Source
Sarkhej Roza is a tomb and mosque complex located in Makaraba area of Ahmedabad. It is one of the most attractive architectural complexes of the city, depicting Islamic style of the Mughal period. Sarkhej Roza is also known as Ahmedabad's Acropolis as Le Corbusier's compared this mosque's design to the Acropolis of Athens.
Don't miss: Persian designs of the tombs, Ganj Baksh's Tomb, and Sarkhej Lake.
Opening hours: 9 am to 6 pm
Entry: Free
15. Vastrapur Lake – A man-made beauty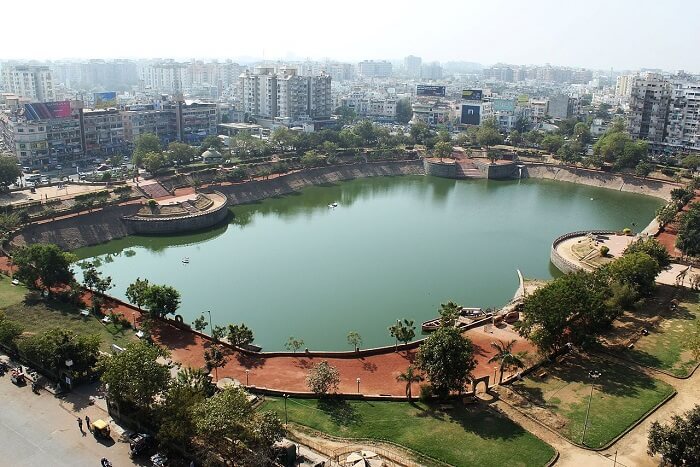 Image Source
Vastrapur Lake is located in the western side of the city and is maintained by Ahmedabad Municipal Corporation. This man made beauty is one of the most spectacular places to see in Ahmedabad. Emerging as a popular attraction for some family time, Vastrapur lake is perfect to indulge in boating while enjoying the company of your loved ones.
Don't miss: Children's park, jogging track, and open-air theatre for various cultural events and performances.
Opening hours: The lake area is open for public from 8 am to 10 pm on all days of the week. However, maximum footfall is observed during weekends.
Entry: Free
So, set to go exploring the Ahmedabad city and its top tourist attractions.
Further Read: 9 Fun-tastic Picnic Spots Near Vadodara
---
Looking To Book A Holiday Package?
Book memorable holidays on TravelTriangle with 650+ verified travel agents for 65+ domestic and international destinations.
---
Comments
comments