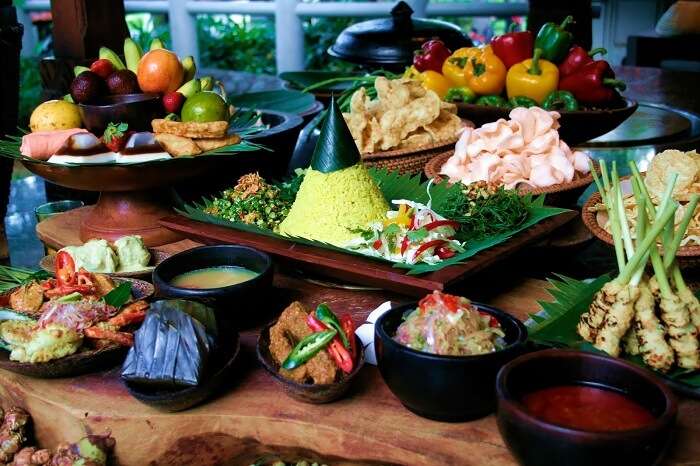 Canggu, a once sleepy fishing village, is now an ever-growing town of yoga retreats, surf schools, shopping strips, nightlife, fitness studios, co-working spaces and incredible gastronomy. It is fast becoming a go-to spot for foodies and smashed-avo connoisseurs alike with trendy, jungle themed cafes, awe-inspiring three story restaurants and toes-in-the-sand, authentic Balinese warungs. The cuisines served in restaurants in Canggu range from detailed Japanese dishes to hearty Italian options, with quite literally something for everyone.
10 Best Restaurants In Canggu
From Balinese seafood outlet to European style pizzeria, we've shortlisted 10 restaurants in Canggu where you can eat varied cuisines on a shoestring budget:
1. Milk and Madu
View this post on Instagram
They say breakfast is the most important meal of the day and if you want yours to start with a bang, you can't go wrong with a trip to Milk and Madu. Even better, this is not just for early birds as breakfast here is an all day affair. They are known for their eggs benedict, but my personal choice would be one of their delicious smoothie bowls, or, if I was feeling naughty, French toast with strawberries, cream and candied walnuts!
Later in the day, this is a great place to come for burgers, wraps, a massive bowl of fresh salad or simply to unwind over cake and coffee. It's sometimes overlooked at dinner time, although this really isn't fair as they have an extensive dinner menu and every Tuesday and Sunday from 5pm you can get 2 for 1 pizzas. Anyone who is eco-conscious may be interested to know that Milk and Madu operates a palm oil free kitchen and attempts to cut down on single use plastics.
Must Read: 3 Perfect Places To Visit In Buleleng Regency Bali In March Which Are Worth A Visit
2. The Loft
View this post on Instagram
The Loft is a relatively new entrant to Canggu's food game. Its owners started out with the popular, Vida Surf Store, by Australia's famous Bondi beach and, in order to bring their concept to Bali, they have combined the best elements of the Bondi breakfast scene with Scandinavian interior design and a dash of South American passion.
The menu is healthy and largely plant based, making this a great choice for veggies and vegans. Dedicated meat-eaters need not be put off though as their beef burger has a pretty good reputation and they have an award winning salmon poke bowl. Anyone on a gluten free diet should make a point of coming here as they have several good options and will try their best to accommodate any dietary needs.
3. Musubi
View this post on Instagram
If you are craving a Japanese fix during your stay in the 'Gu then Musubi is the place for you. The chef is formally of the famous Rockpool in Sydney, so you know you will be in for a truly world class dining experience. The atmosphere is refined yet casual and the food is modern take on some Japanese favourites, with just a hint of international fusion. Think teriyaki tacos and sushi burgers, finished off with a delectable matcha tiramisu.
Suggested Read: Bali Honeymoon : Romance Your Beloved On The Beautiful Island
4. Monsieur Spoon
View this post on Instagram
Fancy a bit of Parisian cafe culture in Bali? Then Monsieur Spoon is where it's at. This family run French bakery serves up a mean croque monsieur along with several other French savouries. Personally though, I would be there for the sweet treats, which include millefeuille, lemon tart and the ever unbeatable eclair.
Suggested Read: 10 Best Things To Do In Jimbaran For A Rejuvenating Bali Experience With Your Loved Ones
5. The Avocado Factory
View this post on Instagram
Set over two levels and with a fantastic view over the surrounding rice fields, this is always a pleasant place to spend a bit of time. Obviously, though, it does help if you like avocados because, as the name would suggest, the ingredient is in virtually every item on the menu, including the drinks (this is not limited to the smoothies, by the way, you can also get an avo latte). The poke bowls and salads are all delicious and their avo toast is, of course, on point.
Veggies, vegans and those with dietary intolerances are all well catered for here, but there are also a few dishes with either fish or bacon in them that should keep the carnivores happy. Eco-types will also be glad to know that all the food is sustainably produced and locally sourced and that environmentally friendly packaging is used wherever possible.
Suggested Read: 8 Best Villas In Jimbaran That'll Let You Have A Lavish Holiday In Bali!
6. Garden Canggu By Pizza House
View this post on Instagram
Arguably the best pizzeria in Bali, the Pizza House can be found in a sleepy corner of Canggu, with a view over the rice fields. The setting is definitely on the rustic side, but the pizzas are huge, delicious and easy affordable. Its best to head down in the evening, find yourself a picnic table, and share a giant cheesy pizza with a few friends.
Suggested Read: 14 Best Places To Visit In Jimbaran For A Serene Holiday Experience In Bali In 2022!
7. Copenhagen Canggu
View this post on Instagram
A little piece of Scandinavian charm right in the heart of Canggu. With its bright and cheerful interior, pastel tones and seriously funky mural, this place it supremely Instagrammable. This is the perfect place to come for brunch but it does operate a little differently from most cafes. The concept is that you get to build your own meals from scratch.
Whether you decide to go for a complete meaty brunch of sausages and piles of bacon, or mix things up a bit by adding in some breads, spreads and veggies is completely up to you. This is another place that is good for vegetarians and also caters for those who are on lactose or gluten free diets.
Suggested Read: 8 Day Trips From Bali To Invigorate Mind & Body
8. Ulekan
View this post on Instagram
Whilst every cuisine from around the world may now be represented in Canggu, you can't come to Bali Villas without trying out some of the amazing local food. Ulekan may be a little pricier than some of the roadside warungs you come across on your wanderings, but it is the latest project from the same people that run Milk and Madu and the Watercress Cafe, so you know you are in for a treat.
Their food is all organic, fair trade and locally sourced where possible, it is also msg and palm oil free. If you are not familiar with Indonesian food, or simply can't decide on what to have, then I would suggest the Rijstaffel – this is influenced by the era of Dutch colonialism and is basically a tasting platter of local curries, stir fries and veggies.
9. Old Mans Restaurant
View this post on Instagram
Old Mans is an old staple of the Canggu scene, with a killer location on the beach and a great menu to boot. The food is mainly simple fare like burgers, pastas and salads, although there are also plenty of tasty bar snacks and few asian dishes. The outdoor seating area with its fantastic view of the sea makes this a great place to while away an afternoon with a few cocktails or an ice-cold Bintang. Be warned through, after dark, once the dance floor kicks off, things can get a little rowdy!
Suggested Read: Four Seasons Bali: Know Why You Should Be Spending Your Balinese Holiday Here
10. Ji Terrace By The Sea
View this post on Instagram
This is undoubtedly one of the best places to be seen in Canggu. It occupies the rooftop of the Ji Restaurant, and, with a panoramic view of the ocean stretching as far as the eye can see, is definitely the star of the show. Sit back amongst the boho inspired furnishings and soak up those tropical vibes whilst enjoying some amazing asian fusion food – oh and did I mention, the sushi is to die for!
On Sundays between 11 AM – 3PM there is a Japanese brunch, with live DJs and free flowing booze. This is also the perfect place to end a blissful Bali day – kick back with a signature cocktail and watch the sunset over the ocean.
Bali boasts of celebrated restaurants, quirky cafes and local food stalls. If you fancy tantalising your taste buds at this tropical paradise, then the perfect place to start your Balinese food trail would be Canggu. It is the epicentre in Bali for top eateries. Make a beeline for restaurants in Canggu on your Bali getaway and splash out on delicious and affordable gourmet meals.
With extensive experience in servicing Australian clients, Bali Villas know exactly what families are looking for in terms of location, style and pricing. They aim to take the stress out of planning your holiday, so you can concentrate on creating lasting memories with your family.
People Also Read
Restaurants In Seminyak Restaurants in Kuta,bali Best Restaurants In Bali
p.box-links a {
display: inline-block;
margin-right: -2px;
font-size: 13px;
-webkit-box-sizing: content-box;
-moz-box-sizing: content-box;
box-sizing: content-box;
border: none;
color: rgb(0, 0, 0);
-o-text-overflow: clip;
text-overflow: clip;
background: #98eae3;
-webkit-transform: skewX(-20deg);
transform: skewX(-8deg);
text-decoration: none !important;
padding: .2em .6em .3em;
margin-top: 2px;
}
p.box-links a:hover {
background-color: #000000;
color: #ffffff;
}