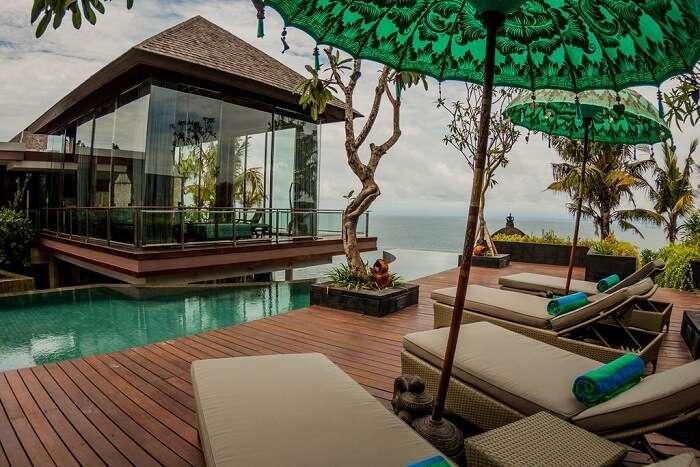 Situated on the southwestern bank of Bali, Jimbaran is the ideal blend of urban and rural culture. Contemporary shops scatter the market and there are a lot of seafood eateries by the shoreline to look over. Jimbaran Beach's tranquil water and white sands make for the imaginary day by the ocean. The region is outstanding for the proximity of comfortable villas.
So, in case you're planning a trip to Jimbaran and searching for settlement with more space and leisure, accommodating at one of the numerous villas in Jimbaran along the seaside is really a great decision.
8 Best Villas In Jimbaran
Jimbaran is flourishing with villas. From private beachside villas to topically lush estates and infinity-pool villas, there's a lot to choose from, making it confusing for visitors to decide which is the right one. Hence, we've listed some best villas in Jimbaran for you to choose as per your preferences.
1. Villa Aiko
Villa Aiko is a wonderfully designed contemporary estate on the prime destination on Bali's Bukit Peninsula with embracing vistas over Jimbaran Bay. A lavishness of glass surges this villa with direct daylight and consistent perspectives over soothing water highlights, polished yards, and relaxing moment in appealing infinity edge pool.
Here, you'll wake to an orchestra of birdsong, watch the fog ascend the mountains, rejuvenate with a massage in the peacefulness of the spa center or loosen up in the shaded jacuzzi at the rooftop.
Also, you can spend a sluggish day relaxing in the sun on your private veranda and kids can play around its enormous lawn adjoining the main house.
Rooms: The four rooms in the villa are large and offer privacy. Two even offer the astounding panoramas right as you wake up from your extra-large beds. The bathroom is equipped with a rain shower, while a gigantic bathtub set beneath a glass rooftop simply to have a twilight bathing experience.
Must Read: 5 Yogyakarta Temples Which Give A Glimpse Of Indonesia's Architectural Heritage
2. Villa Adenium
Villa Adenium lies within a peaceful and safe villa complex in the hills over Jimbaran Bay.
The villa features; a 15-meter swimming pool, billiard table, and table tennis room, gymnasium, massage center, and kids playroom consists of Xbox. You can chill at the pool, dig in the poolside lounge or relax at the terrace adjacent to the dining room.
The property owner provides a car and driver service as well to hang out in the surrounding area of Jimbaran.
Rooms: This modern and stylish four-bedroom villa has been created for a comfortable and relaxed living, giving breathtaking panoramas of Balis Bukit Peninsula and pool view. En-suite bathrooms are fitted with walk-in rain shower along with bathtubs. In the upstairs master rooms, jacuzzi and large wooden terrace are also available.
Suggested Read: 10 Most Charming Places To Visit In Yogyakarta On Your Indonesian Vacation
3. Jimbaran Sea View Villa
Situated in the beautiful area of Uluwatu, this villa possesses a dominant ground in the beaches, romantic, and sightseeing hub of Bali. The Jimbaran Sea View Villa also offers excellent scenes of Jimbaran Bay and beach radiating an ambiance of total tranquility and harmony.
The Jimbaran Sea View Villa includes the on-site golf course, swimming pool, beautiful garden, massage, and a fitness center.
Rooms: The villa has 4 luxury bedrooms all of which have a fully equipped kitchen and bathroom with bathtub.
Suggested Read: 10 Top Restaurants In Jimbaran Bay To Indulge In The Finest Cuisines That Indonesia Offers!
4. Bali Baliku Private Pool Villas
This villa is the best decision if you want to enjoy at the far end of Jimbaran Bay to plunge into the quiet environment of the tropical Bali beach life.
Bali Baliku Private Pool Villas consists of one, two, and three bedrooms private pool villas suitable for every group size. You'll admire the in-house beach amenities. A fabulous spot to relax and spend your time with dear ones or indulging in some water activities.
The villa is just behind the famed Jimbaran seafood restaurants.
Rooms: All Rooms include satellite TVs, DVD player, AC, huge living area, jacuzzi, gazebo, and safety box. Bathrooms in all rooms are fully equipped with bathtubs with indoor and outdoor showers.
Suggested Read: Indonesia Nightlife: 10 Places Where You Can Experience The Ultimate High & Party Till Dawn
5. Villa Yasmine
Villa Yasmine is a typical tropical villa classically designed with Alang-Alang roofs situated within the Karma Jimbaran area, a five min. walking distance from Jimbaran Beach.
This is an incredible place for resting among the tropics and also within an easy access to reach famous beachside restaurants of Jimbaran. The villa features a private pool, gym room, butler service, and daily breakfast service.
The villa includes a dining room, living room facing the pool seen from its glass doors, along with an armchair, two sofas, and a flat TV.
Rooms: The Villa has 3 master bedrooms which can accommodate up to 8 guests. The rooms are designed in a tropical style to enjoy holidays in a perfect rural setting style notwithstanding the full leisure amenities.
Suggested Read: 10 Indonesia Travel Tips You Must Follow To Make Your Trip Memorable
6. Villa Aum
Villa Aum grants a beautiful beachfront getaway as it is nestled in the celebrated Jimbaran region of Bali, Indonesia. The admirably designed living areas with landscape design, waterfalls, and the cliff front section make the stay absolutely subtle and unique for every visitor.
The Villa Aum features the private beach and can also indulge in the infinity-edge pool or massage service to relax from the stressed life of the city. It is also very close to Ayana resort to enjoy at its rooftop sea facing lounge.
Guest will get every day continental breakfast, 24-hour security and staff service, Wi-Fi access, and complimentary 8 hours car and driver service daily.
Jimbaran beachfront villas will grant you the classic benevolence if you are searching for a tropical island vacationing adventure. All these private Jimbaran villas have the high-class recreational amenities. The villas are settled quite close to the famous restaurants, beaches, and fascinating nightlife of Kuta. كزنو The stay in any of these villas will truly make your vacation memorable.
Rooms: Rooms include AC, flat TV, fully fitted kitchen with a microwave, and a balcony offering elegant pool and sea view. Private bathrooms feature a shower or a bathtub and a hairdryer.
Suggested Read: Top 10 Indonesian Food Delights That Must Be On Every Foodie's List
7. Kayumanis Jimbaran Private Villas & Spa
Image Source
If you are looking for extravagant and luxurious villas in Jimbaran, there is no better choice than Kayumanis Private Villas & Spa. The villas of this place exude harmony and luxury. Pamper yourself with a rejuvenating spa at the villas and spend a blissful vacation in the tranquil and lush surroundings. This place will make you fall in love with Jimbaran.
Enjoy Indonesian cuisine right at the villas and have a candle-lit dinner with your spouse in the privacy of your own villa.
Rooms: The room in this villa feature semi-open living room, a kitchenette, and an open-air garden bath. The architecture is styled in traditional Javanese Joglo-style architecture
8. The Villas at AYANA Resort
Image Source
When it comes to top villas in Jimbaran, the list is incomplete without a mention of The Villas at Ayana Resort. Enjoy a pampering stay at these luxurious villas which come with infinity pool overlooking the beautiful sea. The environs of these villas are so peaceful you would not want to leave your room. The elegant villa comes with everything from an on-site tennis court, fitness center, and a tour desk.
Enjoy a Thalasso massage which is done using fresh sea water rich in minerals and will help you calm down your nerves. There is not one but many restaurants in the villas that serve an array of cuisines.
Rooms: Each room in the villa has elegant wooden decor and comes with a 42-inch flat screen LED. The bathrooms so regal and charming you would not want to get out of the marble bathtub.
Frequently Asked Questions
Q: Can I get some help to decide on my holiday and villa?
Sure. If you need help in seeking options for luxurious villas in Bali, the above listing is at your disposal. For planning your holiday, you can send a quote to TravelTriangle and we will help you customize your holiday and even plan it to the T.
Q: How do you select the villas in Bali?
It Totally depends upon your budget, location, amenities you want (like private pool or an ifinity pool), and the kind of experience you seek. Depending upon these factors, you can close on the villas in Bali.
Further Read: Bali Travel Tips: 10 Tips To Improve Your Bali Holiday Experience
Have any plans yet? Soaking in the serenity and absolute bliss of this place will surely change your mind! Book your Bali trip with TravelTriangle to experience a blissful vacation in this beachy paradise!
People Also Read:
Bali In February Villas In Ubud Villas In Nusa Dua
---
Looking To Book An International Holiday?
Book memorable holidays on TravelTriangle with 650+ verified travel agents for 65+ domestic and international destinations.
var metaslider_50011 = function($) {
$('#metaslider_50011′).flexslider({
slideshowSpeed:3000,
animation:'slide',
controlNav:false,
directionNav:true,
pauseOnHover:true,
direction:'horizontal',
reverse:false,
animationSpeed:600,
prevText:"<",
nextText:">",
easing:"linear",
slideshow:false,
init: function(slider) {
$('#metaslider_50011 .msHtmlOverlay').each(function() {
$(this).css('display', 'block');
});
},
before: function(slider) {
$('li:not(".flex-active-slide") .animated', slider).not('.disabled').each(function(index) {
var el = $(this);
var cloned = el.clone();
el.before(cloned);
$(this).remove();
});
},
itemWidth:300,
minItems:1,
itemMargin:0
}); $(window).resize(function(){
$('#metaslider_50011').metaslider_scale_layers({
downscale_only: false,
orig_width: 300
});
});
$('#metaslider_50011').metaslider_scale_layers({
downscale_only: false,
orig_width: 300
});
$('#metaslider_50011 .msHtmlOverlay .layer[data-link], #metaslider_50011 .msHtmlOverlay[data-link]').each(function() {
var layer = $(this);
layer.css('cursor', 'pointer').on('click', function(e) {
if( ! $(e.target).closest('a').length) {
window.open(layer.attr('data-link'), layer.attr('data-target'));
}
});
});
$('#metaslider_50011 .msHtmlOverlay').each(function() {
$(this).css('display', 'block');
});
};
var timer_metaslider_50011 = function() {
var slider = !window.jQuery ? window.setTimeout(timer_metaslider_50011, 100) : !jQuery.isReady ? window.setTimeout(timer_metaslider_50011, 1) : metaslider_50011(window.jQuery);
};
timer_metaslider_50011();
---