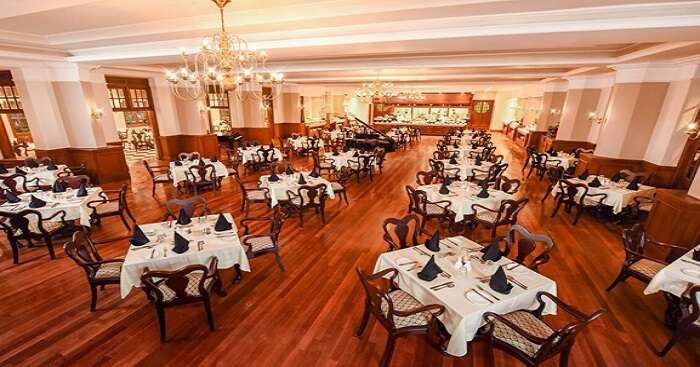 Nuwara Eliya is a great place to enjoy and relax. Also, the restaurants in Nuwara Eliya are also great. It is more like a mini London fitted inside Sri Lanka . Most of the restaurants have a British feel and cuisine. This is also a great way to feel the vibe of two different countries at the same time.
Nuwara Eliya has a variety of restaurants and cuisines. They also vary in price range. Hence, simply put travelers can enjoy good food at any pocket size. Nuwara Eliya is all about good feels and good food.
10 Best Restaurants in Nuwara Eliya
Nuwara Eliya is a beautiful city in Sri Lanka. There are many restaurants in Nuwara Eliya like Hill Club and many more that will satisfy the foodie in you. Here is the list of best restaurants in Nuwara Eliya. Take a Look!
1. Hill Club
Hill Club is a completely British style restaurants in Nuwara Eliya . Their menu is also completely based on British fooding style. It has traditional food like roast beef with all the trimmings and rich puddings. Although this all sounds very sophisticated, it is not. Hill Club is far from sophisticated and has a very casual ambience.
Location: 9 Grand Hotel Rd, Nuwara Eliya 22200, Sri Lanka
Price: INR 2000/- person
Must Read: 7 National Parks That Offer The Wildest Sri Lanka Safari
2. Grand Indian
Image Source
Indians may not like the local food very much. Hence this is a great choice for having food like back at home at this foreign land. It is a luxurious restaurant with great food. It is also a pretty popular indian restaurants in Nuwara Eliya . Surely is is not exactly cheap but is a must try once travelers are at Nuwara Eliya.
Location: Grand Hotel Rd, Nuwara 22200, Sri Lanka
Price: INR 2300/- person
Must Read: 12 Alluring Things To Do In Nuwara Eliya, The Heart Of Sri Lanka
---
Sri Lanka Holiday Packages On TravelTriangle
Book your Sri Lanka trip from TravelTriangle: Inclusive of Hotels, Sightseeing, Transfers, & Meals. Best Prices Guaranteed. Get Customizable Package & Free Guidance From Destination Experts. Book Now!
---
3. High Tea at the Grand
Image Source
It any person wants to experience what it is like to have a High Tea without going to London, High Tea at Grand is the place. It has a very intresting system, exactly at 3:30pm waiters in cafe set up the buffet.
table. They prepare a range of tea, cute perfectly triangle sandwiches and dainty cake and surely is one of the best restaurants in Nuwara Eliya. Visitors can take a sit back and enjoy the elegant feel of having High Tea .
Location: No. 05 Grand Hotel Road Nuwara Eliya, Nuwaraeliya 22200, Sri Lanka
Price: INR 3200/- person
Suggested Read: Top 5 Bentota Beach Resorts For A Luxurious Stay Along The Shores Of Sri Lanka
4. De Silva Food Centre
De Silva food center Nuwara Eliya is a decent restaurant near the bus stop. They do not have a huge range of food but the food is great. They serve Western, Chinese and Sri Lankan food. Although Western and Chinese food is not very authentic and has Sri Lankan feel to it. But the food is great and is a must try and good option for anyone looking to eat on a budget.
Location: New Bazaar Rd, Nuwara Eliya, Sri Lanka
Price: INR 500/- person
Must Read: 8 Restaurants In Bentota For Relishing Scrumptious Sri Lankan Delicacies!
5. King Prawn Restaurant
Image Source
Well as the name suggests it is a great place to have seafood. The food is great and is a good change from Sri Lankan food. The place has influences from China and England. The culinary is Chinese and feels great to eat in it. The dining rooms are inspired from 1930 England. Go back to that era and enjoy the elegance.
Location: 33 Glenfall Rd, Nuwara Eliya 22200, Sri Lanka
Price: INR 1500/- person
Suggested Read: 7 Best Restaurants In Colombo To Relish The Real Culinary Delights Of Sri Lanka

6. Salmiya
Image Source
As it is quite evident that Nuwara Eliya has a essense of Europe in it. Salmiya is again one such restaurant. They serve Italian cuisine is very simple and cozy environment. The mouth watering food will make any day better. The menu hosts are a huge variation of pizzas that travellers can choose from.
Location: 122 Badulla Rd, Nuwara Eliya 22200, Sri Lanka
Price: INR 2000/- person
Suggested Read: 22 Places To Visit In Nuwara Eliya: The Mini London Of Sri Lanka!
7. Queenswood Restaurant
Image Source
Queenswood Restaurant has a offbeat location. It is visible right up front. Although once travellers find the location they will fall in love with the the restaurant. It has a muted light theme and the ambience is great.It has a great versatile menu. The cuisine of this restaurant is Asian Fusion and has mouth watering flavours.
Location: 124/1 Badulla Road, Nuwara Eliya 22200, Sri Lanka
Price: INR 1500/- person
Suggested Read: 6 Adventure Places In Sri Lanka To Quench The Thirst Of Your Inner Daredevil!
8. Grand Thai
Image Source
This is a great option for spending a date night dinner with special ones. The ambience is luxurious and is great for a romantic dinner on a honeymoon. They have South Asian cuisine as well as Western cusine. This restaurant also serves traditional Thai food with great flavours.
Location: Grand Hotel Rd, Nuwara 22200, Sri Lanka
Price: INR 1800/-
9. Themparadu
Image Source
The best thing about Themparadu is the scenic beauty it provides with. Looking over the gorgeous Victoria Park. It is also very good in service. The restaurant has a casual vibe and the food is amazing here. This serves Sri Lankan food with a twist and it is great. Finally it is surely a must go for the experience it provides with.
Location: Victoria Park, Nuwara Eliya 22200, Sri Lanka
Price: INR 500/- person
Suggested Read:Your Ultimate Negombo Beaches Guide To Explore The Best Of Sri Lankan Shores!
10. Sri Ambaal
Image Source
For traveller who are vegetarian it can be difficult to find food that is very intresting or to find a variety that would pleasure your tongue. Hence Sri AMbaal is the place for such travellers. It has good vegetarian food. The cuisine is South India, which contains a lot of variety. This place is also not very expensive and great for people travelling on budget.
Location New Bazaar Rd, Nuwara Eliya 22200, Sri Lanka
Price INR 1000/- person
Further Read: Be A Part Of These 16 Festivals In Sri Lanka That Showcase Its Culturally Vibrant Side
Nuwara Eliya sounds exciting, isn't it? Do you want to enjoy all the interesting food that has created there? No worries we have got you covered check out the amazing Sri Lankan food and more with customisable Sri Lanka package.
---
Looking To Book An International Holiday?
Book memorable holidays on TravelTriangle with 650+ verified travel agents for 65+ domestic and international destinations.
---