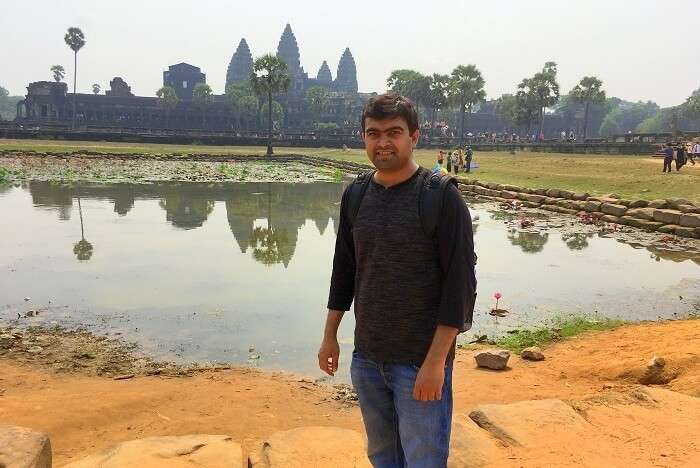 Travel to me is all about refreshing the mind, body, and soul. It provides an escape from the daily baggages of worry and offers a fresh perspective for writing the future chapters of life. And fortunately, just like my previous holidays, my solo trip to Cambodia offered me all this and much more.

Cambodia was on my bucket list for a long time and when finally I got the time to take a break, it was the only destination I wanted to go. All that was left now was a suitable Cambodia tour package and that too was soon sorted when I came across TravelTriangle on the internet.
The fact that they provided a customized package worked incredibly in my favour and soon after a raising my request and explaining them my requirements, they connected me to various travel agents onboard who gave me suitable itineraries and packages for my trip.
I selected the best quote from their agent Lotus Incoming Co Ltd for $290 and was now sorted when it came to my Cambodia Package.
My Cambodia Tour Package Details
Cost: $290
Duration: 4 Days
Trip Type: Solo
Inclusions: Transfers, Accommodation, Breakfast, and Sightseeing with entry fees
Exclusions: Flights, personal expenses, and meals not included in the itinerary
Day 1: Arrival in Siem Reap & a visit to Meanchey
Upon my arrival in Siem Reap, I was greeted by the agent's representative at the airport who after welcoming me, transferred me to the hotel. After checking in and resting for a while, we set out for sightseeing in Siem Reap and the place we visited, Meanchey, is known for its incredible mangroves.
At Meanchey, I enjoyed a kayak tour (on a traditional wooden boat) along the mangrove forest which is also home to hundreds of varieties of fresh water fishes and birds. Later, as we passed through the Tonle Sap Lake, I also saw an overwater village where the houses are built on stilts. Overall, it was an amazing experience and it brought me face to face with the incredible nature in Cambodia.
Day 2: A visit to to the world's largest temple, the Angkor Wat
Today, after breakfast, as part of my sightseeing, I proceeded to visit the world famous and world's largest temple, the Angkor Wat and it was one hell of an experience. The temple covers 10 square kilometers and is filled with galleries, vast statues, and intricate carvings. It felt as if I was back in time and since the temple also beautifully blends with the nature, everything felt raw and beautiful too. Exploring the whole temple in one day is just not possible due to time restrictions but I managed to cover some of the best places there like Ta Prohm Temple, and even the ancient city of Angkor Thom and its attractions like Bayon Temple, and many more.
Out of all the days in Cambodia, I think when I look back, this was the best one.
Day 3: A visit to the holy mountain, Phnom Kulen
Today was once again an exciting day for me and so after breakfast, we once again set out, to visit the Kulen Mountain, a holy place with huge historic significance since this was the place from where the Angkor empire originated. Phnom Kulen is around 60 km from Siem Reap and is accessible by road.
Upon reaching the place, I saw numerous temples scattered all around and there were also 1000 lingams located on the mountain top. The place is filled with various historic ruins of importance and just like the Angkor Wat Temple, has its own old world charm that is hard to describe in words.
Overall, it was a day well spent indulging in some live history lessons and I was more than happy.
Day 4: Goodbye Cambodia
This was my last day in Cambodia and I spent it at leisure exploring the markets, talking to people, and trying new food. The people in Cambodia are warm and welcoming and take very good care of their guests. Post this, I returned to my hotel and was then transferred to the airport for my flight back to India (Mumbai).
Final Thoughts
My solo trip to Cambodia as expected gave me a fresh perspective on life. It was one of the most refreshing trips of my life and interacting with the friendly locals, visiting Angkor Wat, and seeing the natural and historic attractions is something that will stay with me forever. Overall, Cambodia was lovely and thanks to the excellent service by TravelTriangle and its agent, it was made even better.
High Points
Visiting the Angkor Wat Temple
Boat ride in Meanchey
Visit to the holy and historical mountain, Phnom Kulen
Cambodia is one of the most underrated destinations near India and quite frankly is one hell of a destination for nature, historical, and culture lovers. It has so many things to look forward too that even a week can seem less when holidaying here. And yes, if you too want to experience a hassle free holiday like I did, I would recommend you book a Cambodia Tour Package from TravelTriangle.