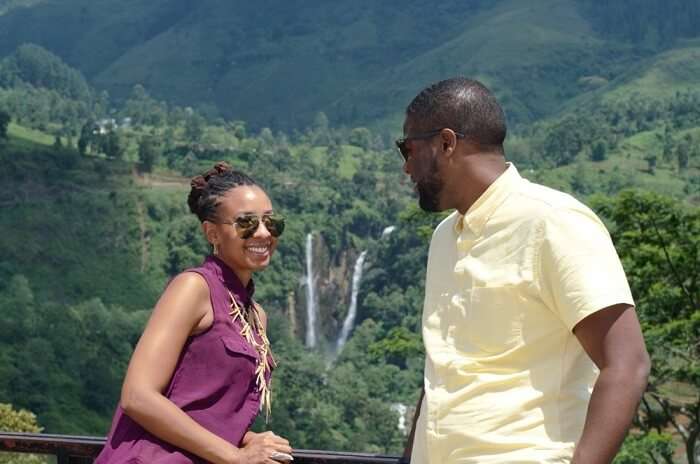 For Ryan and her partner, a 4 nights/5 days romantic getaway in Sri Lanka was the perfect glue to strengthen a long-distance relationship. They spent some quality time with each other on a beautiful tropical island that offered them beaches, wildlife, delicious food, and much more.
After three months apart, my partner and I thought that an excursion away from our 'normal' lives would do us some good. The only problem was that he is based in the USA and me in Dubai. I was able to motivate him enough to fly halfway across the world and reach Dubai just in time for an extended Eid ul-Fitr (end of Ramadan) break with me.
We decided to spend our time together on a romantic getaway in Sri Lanka. All that was left was finding a suitable holiday planner that could give us a great deal on a vacation of our choice.
Suggested Read: Theirs Was An Ideal Honeymoon Trip To Sri Lanka & They Couldn't Have Planned It Better!
About our Sri Lanka holiday package
Thanks to the customization feature and amazingly affordable packages we saw on the Travel Triangle website, we were able to make a 4 nights/ 5 days romantic trip to Sri Lanka happen without any fuss. We modified the itinerary to cover the exact places we wanted to visit.
Trip Cost: INR 50,000
Trip Duration: 4 nights 5 days
Agent Name: Udani Holidays
Inclusions: Transfers, accommodation, breakfast, taxes, sightseeing, and sim card
Exclusions: Flights, meals, entry tickets, and other expenses
In the same time it takes to travel between New York and Miami, my partner and I were able to fly from Dubai to the gorgeous island nation of Sri Lanka. Our excitement levels were pretty high, as we were about to experience a unique type of Asian culture.
Day 1: Flying-in super fast from Dubai
We took a flight from Dubai and landed at 6 am in Colombo where we met our driver, Ravi from Udani Holidays.
Our first stop en route was the Pinnawala Elephant Orphanage. This place was nothing like a zoo as we saw elephants living on 25 acres of coconut property with more than enough room to graze, rest and socialize. There is a lot of human interaction, but it really did seem like they were able to enjoy their lives without the cage. Watching the "babies" get fed was also a treat the locals got to share with us at various points in the day.
Pinnawala Ticket Price: INR 1,300 per person
On the way to Dambulla, we ordered way too much for our first meal. Two grilled fish and two chicken biryani for the table. All this was food was supposed to feed the three of us, but it was such a shame that we didn't have the portion sizes down yet and had to leave without finishing it all.
After reaching Dambulla, we visited the famous Rock Temple which houses some of the unique paintings and 150 statues of Buddha. For our first night, we stayed in the 5-star Jetwing Lake Hotel. It was so amazing, I had to write down about it in my blog.
Suggested Read: Best Things To Do On A 4D/3N Family Trip To Sri Lanka!
Day 2: Climbing up to the Lion's den
After a delicious breakfast, we checked out and drove about 40 minutes to reach Sigiriya (Lion's Rock). This city is a bit out of the way, but after reading reviews, it seemed apparent that we'd kick ourselves to visit the island and not climb this monstrous monument for INR 2,100
More daunting from afar than during the actual climb, the views from the top were breathtaking. Some people took breaks at odd points, others took heed for us to brace ourselves for the wind.
Next up, we visited Isiwara Ayurvedic Village in Matale near Kandy. Along with having seen the cultivation of tea, vegetables, rubber, and spices, we learned about how at least 40 spices are made including each of their therapeutic value.
In the evening, we checked into Earl's Regent Hotel in Kandy for the night. Another slam dunk. Amazing staff, welcome, accommodations, food, entertainment, spa, scenery. The manager looked so pleased to share that we were his first American guests since he started not too long ago.
Before dinner, I couldn't help but make our neighbors chuckle while singing along to cheesy renditions of "Lady in Red" and "Everything I Do, I Do It For You" played live on the saxophone during our delicious dinner buffet. Before calling it a night, we took advantage of the spa with some nice massages to heal our sore hamstrings.
Day 3: Learning about the legend of Ramayana
The next morning, we got to eat breakfast on the patio in front of an amazingly lush garden. After checking out from Kandy, we moved towards Nuwara Eliya. There were so many tea plantations we saw that we lost count along the way up the mountains to Nuwara Eliya. We learned how tea is processed and graded for international markets.
Tea and waterfalls in Sri Lanka contributed greatly to a fresh atmosphere. We stopped at several of them to take pictures and even got out to play at Ramboda Falls. The car rides made me feel sleepy, but the stops were all wonderful.
So far, temperatures had been in the range of 25-30 degrees but the weather got cooler as we neared the hill station city of Nuwara Eliya. When we finally reached, we started seeing people in coats and boots around Gregory Lake. Over there, we started with a visit to Seetha Amman temple. This was the place where Goddess Sita was held captive by King Ravana who had kidnapped and brought her to Sri Lanka from India.
This night's stay in Nuwara Eliya was less luxurious than the first two, but the old-fashioned aligned with the rest of the city. The grounds were beautiful, staff was lovely, but the room left much to be desired at Jetwing St. Andrews.
Suggested Read: Charming Places To Visit On A Trip To Sri Lanka
Day 4: A turtle hatchery I'll never forget!
On the fourth day of our romantic getaway in Sri Lanka, we checked out of Nuwara Eliya and traveled for Bentota. On the way, we stopped by at the beautiful St. Claire Devon Waterfall.
Next up, we paid a visit to the lovely and memorable sea turtle hatchery in Kosgoda. Apparently, this place was very important because the other animals on the island feed on turtle eggs/hatchlings and put their species in danger. Several conservatories popped up to aid their survival, and allow visitors to check on their progress in the meantime.
And now off we went to one of my other favorites of this romantic getaway in Sri Lanka- the Madu River Safari. It felt nice to stretch out in the sun after the cold weather in Nuwara Eliya. The boat ride was eventful as we learned about the cultivation of cinnamon from locals living near the river, and got the dead skin eaten off our feet with fish therapy.
In the evening, we ate as the sun set on Amal Villa Restaurant. I could see why Bentota was known for its beaches and seafood because the fresh red snapper and lobster we picked out were delicious.
At night, we checked into the five-star Cinnamon Bey Hotel in Dambulla. We definitely did not get to enjoy the property as much as I would have liked, but I would come back a thousand times.
Day 5: Final day in magical Sri Lanka
On the final day of our romantic getaway in Sri Lanka, we checked out from Bentota and toured through Colombo, stopped at some local stores for fabric, and slowly made our way to the airport.
During our romantic getaway in Sri Lanka, we were often mistaken for Arabs, not due to any of our actions or attire, but most likely the timing of our vacation. I was grateful to borrow some of the unwarranted respect for those few moments until we could not respond in kind to Arabic greetings. But upon learning our true origin, the people of Sri Lanka were equally intrigued as we gushed over how beautiful a country we were visiting.
There was so much to see and do on this gorgeous island. However, I'm glad I got to experience so many different parts of it. Our driver Ravi was very informative and helpful towards us, which helped a long way in making this trip to Sri Lanka a memorable one.
Suggested Read: Beautiful Places To Visit On A 6 Day Trip To Sri Lanka
High point:
Climbing the Sigiriya Rock Fortress was an amazing experience
Low point:
Wifi in most of the hotels was really poor.
Tips for travelers:
In restaurants in Sri Lanka, to avoid wastage of money and resources, tourists must be clear about what they're expecting and what it is they are ordering.
My experience at restaurants in Sri Lanka has been that when they ask if you'd like rice or sauce with your meal, they are not talking about a side.
Small in size, but big on surprise! Book your Sri Lanka tour package  and witness the rich landscape and cultural heritage of the emerald island
---
Looking To Book An International Honeymoon?
Book memorable honeymoon on TravelTriangle with 650+ verified travel agents for 65+ domestic and international destinations.
---