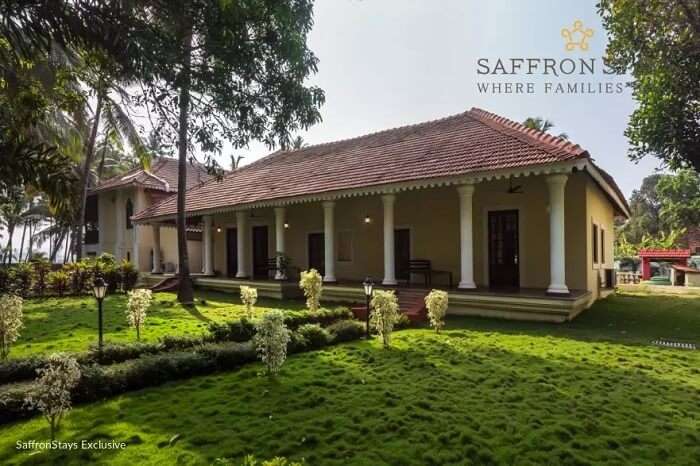 Cover Image Courtesy: Nilesh Dighe for SaffronStays
Adding the much needed charm to the silent shores of Cuelim, this stunning 350-year-old beach bungalow called SaffronStays Nossa Bela Casa in Goa is now ready to welcome the beach babies with its arms wide open. A proud property of the Saffron Stays, Nossa Bela Casa is a unique heritage stay option in the heart of South Goa.
With a cultural past that is rooted deep in its rich history, SaffronStays Nossa Bela Casa had previously served as the home of the most respected father of Goa Liberation Struggle, Mr. T.B. Cunha.
Suggested Read: The Mumbai To Goa Cruise Ferry Starts In Feb End @ INR 5000 & We Can't Keep Calm
Features Of SaffronStays Nossa Bela Casa In Goa
An arched entrance
A central hall decorated with ancient artefacts, and intricate paintings
The amazing wooden staircase
A ballroom that features huge French windows, furnitures made of ornate rosewood, and chandeliers carved out of Belgian-glass
One of the 6 suites features a balcony decked with Baroque-style carvings
Two of the suites have been renovated from what was earlier a kitchen, and a cellar respectively
Earlier there were two reception halls, of which, one has now been converted into a swanky dining hall
A swimming pool, a badminton court, and a library
Lastly, the most remarkable feature of Nossa Bela Casa in Goa is that of the second chapel which traces its history back to about 150 years and houses the statue of Mother Mary that has been imported from France
Suggested Read: 15 Best Cafes In Goa That Let You Taste The Food Of Heaven!
While Dean D'Cruz – the famous architect in Goa has managed to restore the SaffronStays Nossa Bela Casa in Goa into a six-suite boutique hotel, the bungalow still houses the remnants from the time of Mr. T.B. Cunha in the inner central courtyard that encompasses of unique blue & white Chinese ginger jars, his office desk, and much more.
Other Details
Location: Cuelim, Goa
No. Of Suites: 6
Avg. Price/Night: INR 7,499 (on double-sharing basis)
Nearby Attractions: Velsao beach, Cansaulim beach, St. Thomas Church, Abyss Marine Fish Aquarium, Three Kings Chapel, and more
How To Reach: One can reach SaffronStays Nossa Bela Casa in Goa in about 20 minutes from the airport.
Website
However, today the SaffronStays Nossa Bela Casa in Goa serves as a perfect getaway for peace-seekers, and is spread across an area of three acres in the scenic, and serene Cuelim village. Being high on its vintage quotient, a stay at this refreshing bungalow is sure to take you back to the start.
Fancy a trip to Goa anyone?