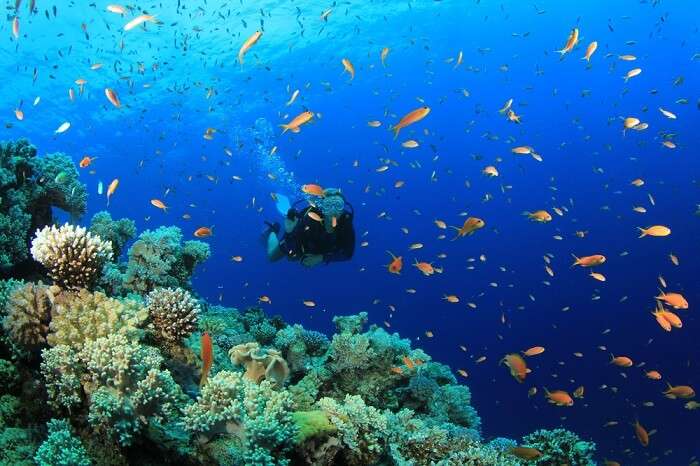 What lies beneath the surface of the soothing ocean waves intrigues many people. While you can find the best of coral reefs, enchanting marine life and vibrant sea creatures near the tropical areas, India has many coastal areas where you can try the same. If you're planning to try scuba diving in Kerala, stay assured that the exquisite charm of this place might make you crave for more! With some of the best sites included in the list, the following guide will help you plan a fun packed vacation. Looking for some extravagant underwater adventure? Well, make sure you don't miss out on anything in Kerala!
Best Scuba Diving Sites In Kerala
Some of the best experiences come when you expect them the least. With these best sites to view the splendid underwater creatures and their life, you'll surely crave for more!
1. Kovalam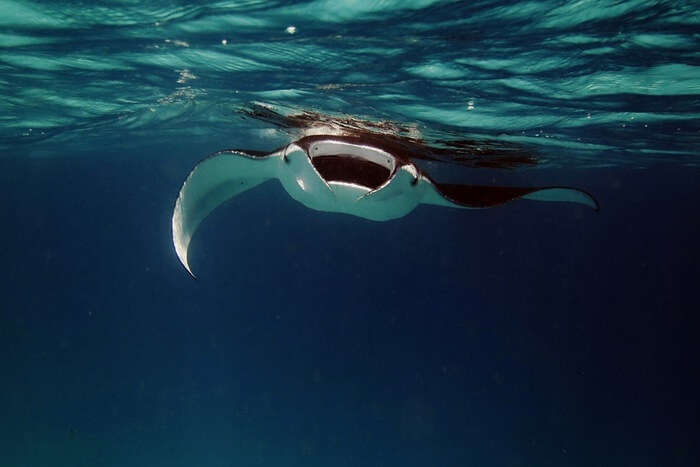 Image Source One of the best beaches in Kerala is Kovalam. The fact that there are plenty of water sports available at this site such as sofa ride, snorkeling, scuba diving, and scooter ride. If you're up for some adventure, make sure you don't miss out on this beach as it has something in store for everyone in your group. Some of the scuba centres here provide fresh equipment with safety gear and accessories, making your experience even better underwater! Bond safari scuba diving in Kovalam Kerala is the best way to see the beauty of the marine life here. . Price: Bond safari scuba diving cost starts from INR 4500 per adult Best Time To Do Scuba Diving: September to February How to reach: Nearest airport: Trivandrum Airport | Nearest railhead: Trivandrum Central railway station
4 Days In Kerala: Best Places To Visit And Amazing Things
2. Kochi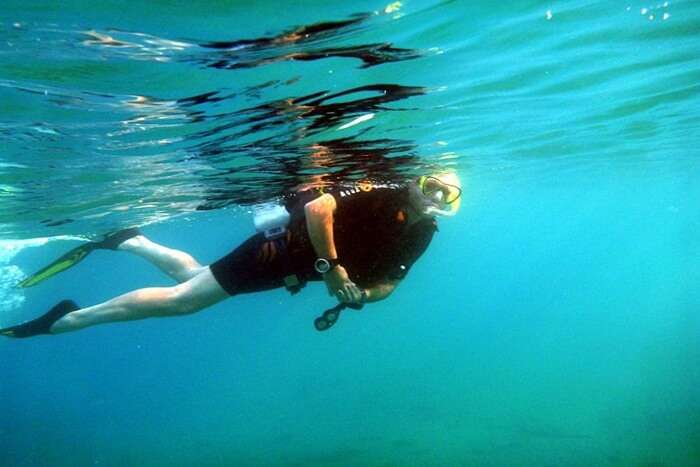 Image Source To witness some of the best views near the sea bed on your scuba experience, head to scuba diving in Kochi Kerala. Not only do you get to see beautiful corals and stunning marine life, but the Scuba diving centres also offer excellent services. Some of these centres have an in-house pool for the lessons and you can obtain a certificate that is internationally recognizable at this place. This is the most amazing spot to pamper the water-baby in you! If you're looking for, 'scuba diving in Kerala price', then some of the special offers starting at INR 4500 will surely blow your mind. Price: starts from INR 4000 per person Best Time To Do Scuba Diving: September to February How to reach: Nearest airport: Cochin International Airport | Nearest railhead: Ernakulam Town Station
---
Kerala Holiday Packages On TravelTriangle
---
Best Time For Scuba Diving In Kerala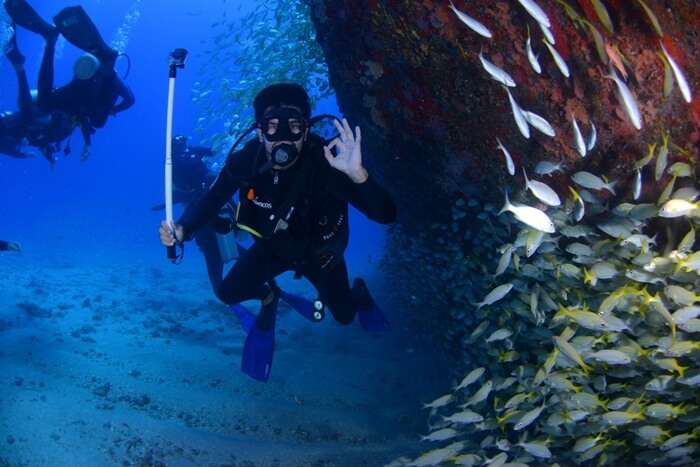 Image Source With a vast variety of vegetation and a perfectly soothing tropical climate, Kerala is one of the most preferred destinations in India. A scenic backdrop will offer you more than what you'd wished for in this God's own land! Even though this state enjoys a pleasant weather all throughout the year, the best time to explore this place for a fun packed scuba adventure is starting from the month of September till February. The month of March witnesses a slight change in weather here and this summer heat is not favourable for tourists.
8 Best Hill Resorts In Kerala For An Enthralling Escapade In This Heaven
How To Reach Kerala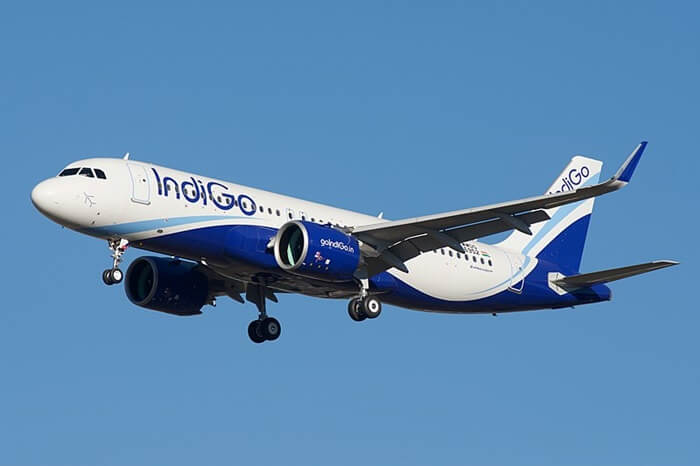 Image Source Knowing beforehand which mode of commute to include in your list for a thrilling vacation in Kerala is always a good idea. Here are some of the ways to make it to your destination. By Air: International airports like Thiruvananthapuram, Kozhikode and Cochin have regular domestic and international flights. You can book a flight to reach Kerala as this is the fastest mode of commute to reach this paradise and booking well in advance can help you save money. Flights such as Vistara, Jet Airways, Indigo etc are available to reach your destination. By Train: One of the major rail heads include Thiruvananthapuram Central Railway Station which connects Kerala to major cities like Delhi. If you're visiting this serene place from the capital city, a train journey will allow you to witness some of the spectacular views despite being a longer mode of commute as it takes approximately 2 days from Delhi. By Road: A journey as long as 40 hours from Delhi is what constitutes to reaching Kerala from the capital city. Although this mode is not preferred by most tourists, it has its own pros and cons. You get to see the different states that you cross on your path, making stopovers and memories with your friends and family. However, by the time you reach Kerala, you might be exhausted too!
15 Amazing Things To Do In Kerala [Infographic]
We hope this guide helps you have an amazing time with your loved ones in Kerala. The vibrant culture, exquisite cuisines, and stunning views of this land will surely woo your senses. To top it up, a scuba diving experience is always a good idea! So, did this entice you enough? Plan a trip to Kerala for an extraordinary vacation like never before! For our editorial codes of conduct and copyright disclaimer, please click here.
Frequently Asked Questions About Scuba Diving In Kerela
Is Kerela good for diving?
Kerela has some of the most amazing natural diving locations along the beaches of Kovalam and Varkala which are quite popular among scuba divers from far and wide places.
What can you do in Kerela?
A few of the most amazing things to do in Kerela are: 1. Watch The Neelakurinji Bloom in Munnar 2. Stay In A Houseboat in Alleppey 3. Watch The Snake Boat Race 4. Take A Spice Tour in Thekkady 5. Go on a safari at Periyar Wildlife Sanctuary
Where else can I scuba dive in India?
Other than Kerala, some of the places where one can enjoy scuba diving in India are Goa, and Andaman and Nicobar Islands.
Is scuba diving in Kerela safe for first-timers?
The waters in Kerela are very shallow making it absolutely safe for scuba diving even for the first-timers.
How much does scuba diving cost in Kerela?
Scuba diving in Kerela can cost you a minimum of Rs. 4000 and the price can reach up to Rs. 6000 depending on the location and equipment.
Which is the best time to visit Kerela?
The winter season is the best time to explore the beautiful landscape and enjoy water sports activities in Kerela. If you wish to make the most of your holiday in Kerela, make sure you plan your trip around the months of September and March.
Is a diving certificate necessary for scuba diving in Kerela?
No certifications are required for scuba diving in Kerela but having basic training is recommended for scuba diving.
Is scuba diving dangerous?
No, Scuba diving isn't dangerous and if done with proper guidance and gear, it can be a really thrilling experience.
---
Looking To Book A Holiday Package?
---
People Also Read
Scuba Diving In Sri Lanka Scuba Diving In Mirissa Scuba Diving In Seychelles