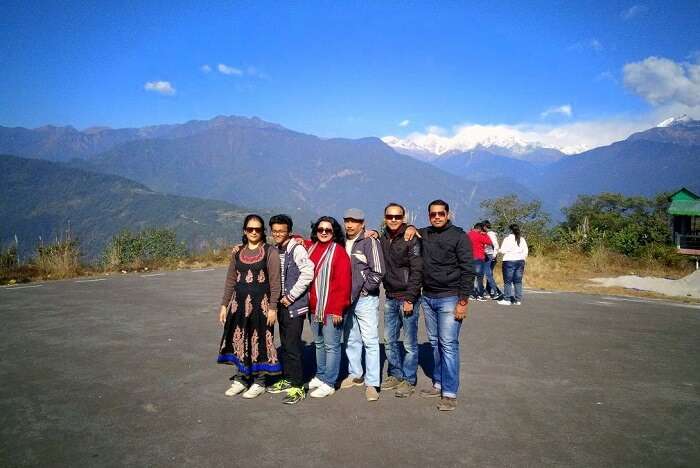 For Shantanu, escaping to a land unknown and engaging in soul-pleasing adventures is the best way to strengthen bonds. So, he booked himself and his kins a splendid 4 nights 5 days North East family tour package and set off to make memories in the splendid landscapes of Namchi and Pelling.
Trip Type: A fun and frolic family getaway!
Trip Duration: 4 Nights 5 Days
Agent Name: Wecare Holidays
Trip Cost: INR 44,600/-
Inclusions: Breakfast and Dinner, Non AC Local & Airport Transfers, GST, Transport Tax
Exclusion: Lunch, Flights, Insurance, Entry Fees


More than a hobby, travel for me is a passion. It is a journey from the world we are living into a world that is yet to be discovered. For me, the prime motive of going on a holiday is to relax and spend quality time with family and friends. It lets me recharge my body and revive my soul to regain the energy I lose during my hectic work schedule.
I and my family were already certain on the location – the blissful North East. All we now needed was a tour package within our specified budget. I had come across TravelTriangle through Google search, but it was only after a friend of mine confirmed it to be a good option through his own experience did I actually go ahead with it. I finalised upon Wecare Holidays and thankfully, they did not give me any reason to regret it throughout the tour.

A Detailed Account Of My 4 Nights North East Family Trip
Here's what all me and my family experienced in Pelling and Namchi:
DAY 1: Transfer To Pelling From New Jalpaiguri
Since we had stayed the previous night at a hotel near the NJP Railway Junction (we had arrived a day earlier than planned), we woke up refreshed and ready for the adventures that awaited us on our North East family trip. Our trip representative, who had met us with a broad smile on his face at the train station the day before, drove us all the way to our hotel in Pelling.


 Things To Do On A Northeast Holiday For Experiencing Bliss Amidst The Hills
The drive was a wonderful one! We rode through the hills and valleys. We stopped by the stunning Teesta River to click pictures in the company of snow-capped mountains behind us!



Upon arrival at the hotel in Pelling – BluBen Sodizang Retreat – we completed the check-in formalities and took some rest in our rooms. We spent the day at the hotel itself, checking out the superb property and admiring the views.
DAY 2: Sightseeing In Pelling – From Rivers To Ruins


After breakfast, we proceeded for a full day sightseeing tour of Pelling. Nestled at an altitude of 7,200 ft above sea level, Pelling is an offbeat town in the state of Sikkim that offers mesmerising views of the Himalayas and the Kanchenjunga range. We first visited the Khangchendzonga Waterfalls which was cascading in full force at this time, followed by the Pemayangtse Monastery, that seemed to have a calming aura about it.



Lying close to the monastery was the next stop of our North East family trip itinerary – the Rabdentse Ruins – the erstwhile capital of Sikkim that was destroyed after the Nepalese invasion.



The site of the Rabdentse Ruins offers breathtaking views of the deep valley all the way to the Khangchendzonga ranges. Then we visited other attractions like the Sewaro Rock Garden, the alluring and tranquil Darap Village, the charming Rimbi Waterfalls, and the Pelling Helipad ground.


On A Mesmerizing Trip To Northeast, We Found Our Winter Wonderland
We also paid a visit to the scenic Khecheopalri Lake which is considered sacred by the locals and is surrounded by thousands of prayer flags. It is believed that birds do not let even a single leaf float on the surface of the lake. Overnight stay was at Sodizang Retreat.
DAY 3: Transfer To Namchi Via Ravangla


Post a delicious breakfast, we proceeded to Namchi, the next destination of our 5 days North East family trip. We rode through fresh and aromatic tea gardens and it all seemed more like a dream than reality.



Apart from the greenery, we could also the overwhelming beauty of the snow-capped Kanchenjunga. Soon we reached Siddheshwar Dham, situated on Solophok hilltop, where we were welcomed by an enormous statue of Kirateshwar, an incarnation of Lord Shiva in the form of a hunter.



 On A Solo Trip To Sikkim, Krishna's Lens Captured The True Beauty Of The Himalayas
Upon checking into our hotel in Namchi – Mount View – we freshened up and took off to check out our localities in this gorgeous town.
DAY 4: A Sightseeing Tour Of Namchi
We had a sumptuous breakfast at the hotel and then proceeded for a sightseeing tour of Namchi. We visited the world's largest statue of the Buddhist Padmasambhava (at 118 feet), also known as Guru Rinpoche, the patron saint of Sikkim.



Rising up over the Samdruptse Hill (the Wish Fulfilling Well), the majestic statue can be seen from far off and draws travelers to itself with its beauty. Next, on our Namchi Pelling family vacation, we visited the Ralang Monastery and the Ngadak Monastery, two most colourful and peaceful sanctums in Namchi.


 Ours Was The Perfect Romantic Trip To Meghalaya For Nature Lovers
Dinner and overnight stay were at the Mount View Hotel in Namchi.
DAY 5: Transfer To Bagdogra For The Journey Home
We checked out of Mount View hotel and were driven over to the Bagdogra Railway Junction, from where we boarded our train back home with joyous memories of our family trip to Pelling and Namchi.


We heartily thank TravelTriangle and WeCare Holidays for being so supportive and committed to making our trip the most memorable part of our lives. Would definitely visit this paradise again as it offers so much more than we could experience in this short duration.


WOW Moments Of The Trip Everything about this trip was WOW for us!
Tips For Future Travelers:
Do not stay at Mount View hotel in Namchi. Pick a better option
Ravangla is equally stunning. One should definitely stay one night there as well
Avoid feeding the fish to maintain cleanliness at the Khecheopalri Lake
Rabdentse Ruins are a little tricky to locate. When descending from Pemayangtse Monastery, take a left turn and walk down the forested path for 10 minutes to reach the gateway of Rabdentse Ruins. The location lies hidden from the main road
Stay at Sodizang Retreat in Pelling for a lavish and enjoyable Pelling family trip experience
Best Things To Do On A Family Trip To Sikkim And Darjeeling
Wish to embark on your own North East family trip? Book your Pelling tour package with TravelTriangle right away for the best deals and lowest of prices!