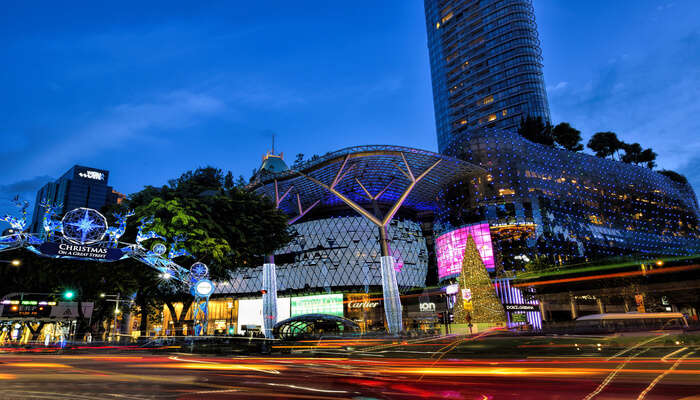 Often called the Lion City, Singapore is one of the top tourist destinations. You can literally do anything here from mega shopping to visiting world-class zoos, enjoying delicious multicultural food to thrilling amusement parks. Being an island country, the weather in Singapore is moderate all year round. However, there is definitely something special about visiting Singapore in December. The weather in December tends to be comparatively cooler and less humid and the Christmas vibe adds to the beauty of the place. Read further to know about all those places you can visit during this month and what you can expect to see or do.
Table Of Content
Why Visit Singapore In December
Singapore in December is a great time to witness the sparkling side of the country. The atmosphere all around is very festive and lively during this time because of Christmas, New Year and Chinese New Year falling in December and January. It is during this time Singapore hosts many festivals like carnivals, Pongal, Christmas, Marina Bay Singapore, New Year's celebrations and fireworks, and Fringe Festival.
This time of the year also experiences pleasant weather making it a perfect time to stroll around the city and admire the beauty that Singapore is popular for.
9 Photography Places In Singapore That Are In Every Shutterbug's Wishlist
Weather In Singapore In December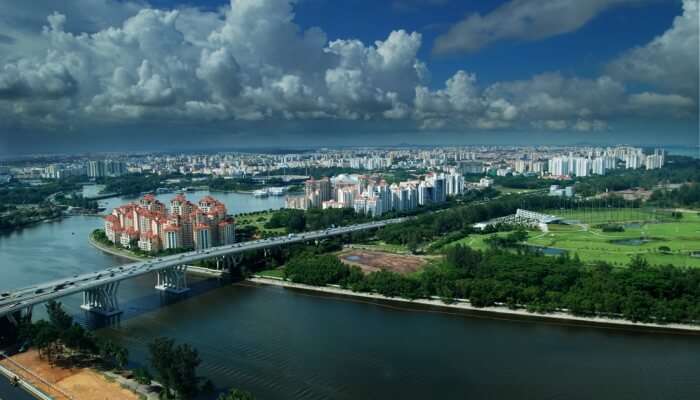 Though Singapore has consistent weather throughout the year for sightseeing, the best time to visit Singapore is in December as the weather is comparatively cooler. Singapore weather in December has a daily average temperature of 26°C with a relative humidity of 86.5%. December is likely to be the wettest month of the year as there are high chances that it will rain for 21 days in a month.
Places To Visit In Singapore In December
Thanks to the pleasant climate of Singapore in December which allows one to witness many famous places. We have curated a list of some of the best places you can visit during this time.
1. Sentosa Island
Apart from all the Christmas vibes at Sentosa island, there are many other tourist places in Singapore in December you can visit with your close ones. Enjoy rides or swim with dolphins at Adventure Cove Waterpark, learn about marine creatures at the SEA Aquarium, take selfies with celebrity wax statues at Madame Tussauds or a fun ride at the Singapore Cable Car. Without a doubt, it is one of the best places to visit on your Singapore trip in December.
Location: Sentosa Island
Specialty: Resort Island with amusement and theme park 
Price: $35 onwards
9 Things To Do In Singapore In 9 Days To Ensure A Memorable 2022 Vacay
2. Orchard Road
Popularly known as the shopping street of Singapore, Orchard Road is among the must visit places in Singapore in December. You can indulge in crazy shopping at Ngee Ann City, Plaza Singapura, Forum The Shopping Mall and more. During this time the Orchard Road turns lively with different kinds of events taking place and the splendid Christmas decorations, stores and rides. You can also visit the Endless Wonder Christmas Village inside Ngee Ann City or take a stroll through the 'Walk of Wonder' to soak in the party vibes.
Location: Central Singapore
Specialty: Shopping
Price: No entry fee
3. Jurong Bird Park
Asia's largest bird park, Jurong is home to 400 different species and as many as 3500 birds. Being one of the best places to visit in Singapore for kids in December, this park is a haven for bird lovers as it offers the opportunity to spot birds in an incredible manner. Even if it rains, you can enjoy the view easily so you need not worry about the weather condition. Moreover, you will be visiting these types of places usually in the morning while it generally rains in the afternoons or evenings. The timing of the park is from 8:30 am in the morning to 6 pm in the evening so plan your visit well in advance and carry a camera to click some amazing pictures.
Location: 2 Jurong Hill, Singapore 628925
Specialty: Exotic birds
Price: $6 onwards
3 Places To Visit Near Jurong Island In Singapore In 2022 That You'll Fall In Love With
4. National Library of Singapore
The National Library is one of the best places to visit in Singapore in December 2022. The place is not just for book lovers but has numerous educational and historical exhibits to learn about the city-state for first-time travelers. Children visiting the library can spend time in the kids' section which contains their favorite books as well as interactive activities to keep them entertained. It is also a perfect escape for any rainy December day.
Location: 100 Victoria St, Singapore 188064
Specialty: Library
Price: $10 onwards
5. Singapore Zoo

One of the most popular places to see in Singapore in December is the award-winning Singapore Zoo. Set in a rainforest environment, it is home to more than 300 species. Experience the wildlife creatures closely and in their natural habitat. This crazy adventure is something you cannot simply miss on your trip to Singapore.
Location: 80 Mandai Lake Rd, Singapore 729826
Specialty: Zoo
Price: $41 onwards
Singapore In November: A Handy Guide on Weather, Places To Visit And More
6. National Gallery Singapore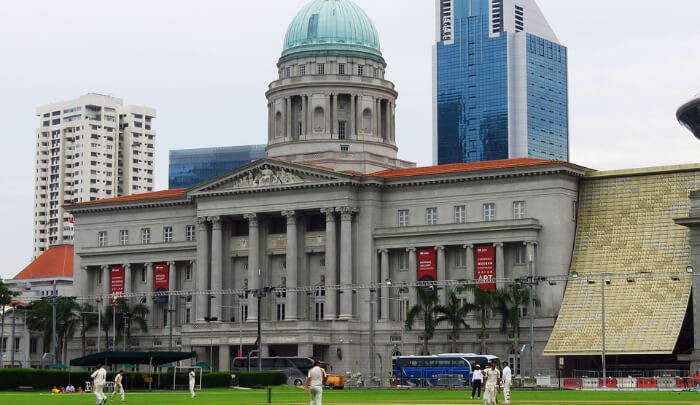 National Gallery Singapore is one of the best places to visit in Singapore in December. It is the world's largest public collection of Southeast Asian and Singaporean art. If you are interested in learning about Singapore's culture, make sure you visit this place which displays over 800 artworks. It is open to the public from Saturday to Thursday from 10.00 am to 7.00 pm and on Friday from 10.00 am to 9.00 pm.
Location: 1 St Andrew's Rd, #01 – 01, Singapore 178957
Specialty: Public collections
Price: $20
7. Marina Bay Sands Skypark

Marina Bay Sands Skypark is the most lavish observation deck situated on the 57th floor of the hotel offering panoramic views of Singapore. Enjoy the beautiful views of Singapore in the cool December air and try spotting the iconic landmarks of the city. Also, there is a souvenir shop from where you can take keychains, bags, and magnets. Make memories that will last a lifetime at this one of the most beautiful places in Singapore in December.
Location: 10 Bayfront Ave, Singapore 018956
Specialty: Sands SkyPark Observation Deck
Price: $23
Singapore Visa For Indians: Requirements For Application Process
8. Gardens By The Bay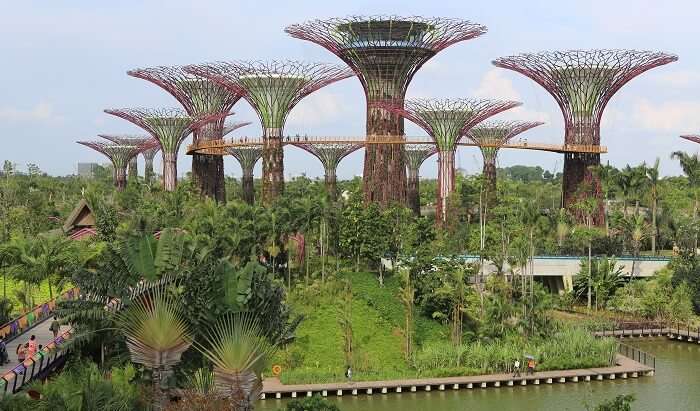 Located in the heart of the city, Gardens by the Bay is a futuristic nature park in Singapore. The beautiful and inspiring garden has three waterfront gardens. The garden is the most-visited attraction and is the favorite leisure destination for many tourists. What makes this Singapore sightseeing in December special is that there are a number of exciting events taking place including Christmas Wonderland during this time.
Location: 18 Marina Gardens Dr, Singapore 018953
Specialty: Nature park
Price: $28
Events In Singapore In December
There are numerous events taking place in Singapore in December which you must attend. Some of the popular events are listed below.
1. ZoukOut
Sentosa islands attract a number of tourists in December month with various events like ZoukOut taking place during this time. It is a beach dance festival. To see the madness of the event, visit Siloso Beach for two days every December and get to see the musicians performing, incredible DJs, and visitors pouring in from all over the world.
20 Romantic Places To Visit In Singapore For Honeymoon In 2022
2. A Universal Christmas
A Universal Christmas is a dazzling Christmas carnival held on this island itself. You can witness the theme park lit up inside the Universal Studios Singapore and enjoy live performances. There is something for the kids as well. They can take part in Santa's workshop or visit Santa's Christmas Tree House. If you plan to stay till the end of the month, then you can take part in the amazing new year by countdown at the Siloso Beach Party. Joining in the Christmas festivities is one of the best things to do in Singapore in December.
3. Christmas Wonderland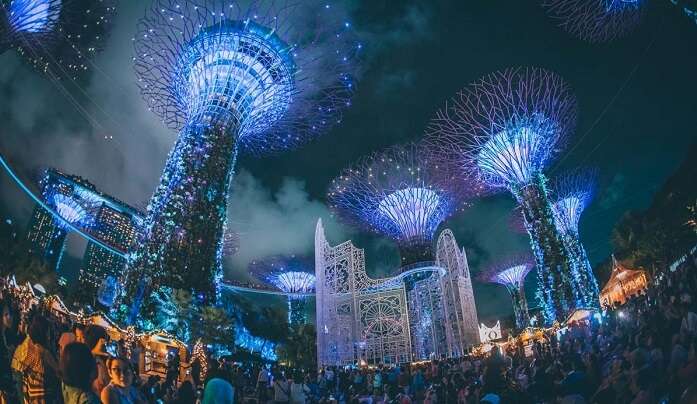 Christmas Wonderland at Gardens by the Bay is taking place from November 2022 this year and the dates will be announced soon. This crazy festival is the most popular year-end event in Singapore. The highlights of the event are carnival games and fun rides, shopping at the festive market, meeting Santa, singing Christmas carols, and experiencing snow and much more. It is one of the best places to visit in Singapore for couples in December.
Singapore Aquarium: Immerse Yourself In The Magical Marine World With This Handy Guide
Tips For Visiting Singapore In December
Make sure to keep these valuable tips in mind if you plan to visit Singapore in December.
1. Book all your attraction tickets online well in advance considering December is peak tourist season Singapore. By booking your tickets online, you can save a lot of your time and energy at the attraction itself.
2. Don't forget to carry an umbrella or raincoat with you at all times as December is known to be the wettest month of the year.
3. It is important to check the weather forecast before heading to any of the attractions.
4. Regarding clothing, do carry a sweater at all times and also some loose and airy clothing as humidity will be high during this season.
5. Try attending maximum public events that take place during this month to witness the place in its truest form.
3 Exciting Things To Do In Somerset In 3 Days In Singapore
Getting Around Singapore in December
Singapore has a well-connected public transportation system. You can travel to any part of the city by bus, taxi or the MRT (mass rapid transit). MRT is the fastest way of getting around the city. Majority of Singapore's attractions are within walking distance from an MRT station. Also, to make commutation easy, you can purchase the Singapore Tourist Pass and avail yourself unlimited rides on the Singapore transportation network depending on the number of days you choose (1, 2, or 3-day pass).
8 Alluring Things To Do In Tuas Promenade In Singapore For Fun Vacay
Ready to visit Singapore in December? Now you have a fair idea of what you can expect from this place in December. Plan a trip to Singapore and have an amazing time in this island country with your friends and family. Welcome the new year in style and create awesome memories for a lifetime.
For our editorial codes of conduct and copyright disclaimer, please click here.
Frequently Asked Questions About Singapore In December
Is December a good time to visit Singapore?
September is a great time to visit Singapore since the weather is sublime, there is less crowd, and hotel prices are at their lowest. The Singapore weather in December offers visitors the opportunity to indulge in various activities like exploring the nightlife, water sports, and shopping in Singapore.
How hot is Singapore in December?
It is mildly hot in Singapore in December. The daily average temperature is about 26°C (79°F).
What is the best time to go to Singapore?
Though Singapore is a year-round destination, the best time to go to Singapore is between February and April.
What is the coldest month in Singapore?
January is the coolest month in Singapore, while April is the hottest.
What should I wear in Singapore in December?
Most Singapore travel tips for packing will suggest you to wear light and comfortable clothing at all times. So, make sure you pack the following things before getting on a flight for Singapore in the month of December. 1. Light linen and cotton clothing 2. Loose sundresses or skirts 3. Shorts 4. Tee-shirts, tanks, or tunics 5. Umbrella 6. Raincoat 7. Sunglasses 8. Hats 9. Sarongs 10. Flip flops or sandals 11. Trekking shoes
Is it humid in Singapore in December?
It is a little humid in Singapore in December, but pleasant and comfortable enough for you to step out and explore. Just make sure you carry a bottle of water around and keep your skin hydrated.
What is the season in Singapore in December?
December marks the onset of the monsoon season in November.
Does it rain in Singapore in December?
Yes, you will encounter frequent and rather soothing showers in Singapore in December. Make sure you carry an umbrella and insect repellent.
What is the best time of year to visit Singapore?
Though Singapore is a year-round destination, the ideal time to visit it is between February and April. The weather is dry and pleasant at this time and there's occasional rainfall.
What is the cheapest month to fly to Singapore?
September is considered to be the cheapest month to fly to Singapore. All major Singapore travel tips will tell you to visit Singapore in September if you wish to see Singapore on budget.
What is the most beautiful place in Singapore?
The Marina Bay Sands, Merlion Park, Fountain of Wealth, Buddha Tooth Relic Temple, Gardens by the Bay, Henderson Waves Bridge, Esplanade, and Sentosa are considered to be the most beautiful and fun places in Singapore.
What can you see in Singapore in 3 days?
There's plenty to do in Singapore in three days. You can visit Colonial District, wander on the Orchard Road, eat at the restaurants in Little India, go on a Night Safari, enjoy rides at Sentosa Island, shop at Chinatown, see vivid animals and bird at Singapore Zoo, and be one with nature at Singapore Botanic Garden, among other things.
Should I travel to Singapore in December?
Yes, November to January is considered to be the best time to visit Singapore. December is the coldest month of the year in Singapore. The air is clean and you will experience no or very little haze. The temperatures ranges between 24°C to 29°C. There is just one drawback, December is the month which experiences the maximum rainfall in Singapore.
What is there to do in Singapore in December?
Relatively cool weather, festive charm in the air, amazing events and incredible decorations is what you will make you fall in love with Singapore in December. With Christmas around the corner, here a few events & attractions that you must visit in Singapore. 1. Christmas Wonderland, Gardens by the Bay 2. A Universal Christmas, Universal Studios Singapore 3. Christmas Eve Countdown Party, Orchard Road 4. Poinsettia Wishes at Flower Dome, Gardens by the Bay 5. Savour: Christmas Wonderland, Gardens by the Bay 6. Christmas Village, Ngee Ann City Civic Plaza 7. Merry Fishmas, SEA Aquarium
---
People Also Read:
Bhutan In December Los Angeles In December Manila In December