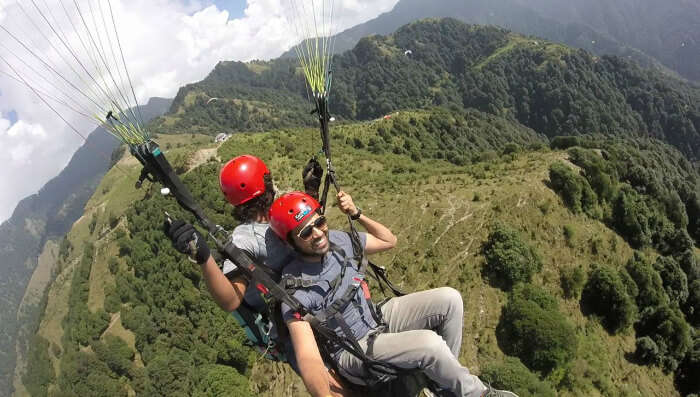 Soumya gives an account of his high-on-adventure trip to Bir Billing that he took with his three traveler buddies. عدد بطولات اتلتيكو مدريد He had booked a 1 night 2 days Bir Billing tour package from TravelTriangle that included his transfers, accommodation, meals, and adventure activities like paragliding.
Trip type: Four friends out on an adventure!
Duration: 1 night 2 days
Budget: INR 5,599/- (per person on double sharing)
Destination: Bir Billing
Inclusions: Transfers, accommodation, meals and a thrilling session of paragliding
My friends had come across an advertisement on Facebook of TravelTriangle's weekend trip to Bir Billing, and that was when they called me up. I saw it as an opportunity to turn the coming weekend into something fun, hence with the prospect of paragliding high up in the hills, I agreed to their plan. Then it was just a matter of filling in our details, right after which we got back a call from Akash, their representative, who explained the entire trip plan with ease. Before the booking formalities and payment was in place, we were already looking forward to the couple of days we'd be spending in Bir!

Riding off to Bir in a comfortable bus, and making friends along the way

We boarded our bus from Akshardham metro station and started our journey at around 8 pm in the night. We made a stopover for refreshments at Chandigarh, where another of our friend joined us! Our coordinator, Ankur introduced everybody on the bus and that was when we started blending in. In no time, the atmosphere had changed from inaudible whispers to chit-chats and laughter. After a bumpy, yet joyful bus ride, we reached our homestay in Bir at around 11 am the next day. We freshened up and had some rest. Post a delicious lunch in the afternoon, we started our trek uphill.
Trekking 7 kms for 3.5 hours to witness incalculable amounts of natural beauty

Get A Bird's Eye View: 5 Splendid Destinations To Enjoy Parasailing In India
We walked up the mountain through lush green jungles and tough trails, enjoying the blooming natural goodness and the stunning views before us. It had started getting dark before we got to the top but we managed with the help of flashlights. كأس العرب 2022
A bowl of Maggi and a trek to the campsite in the dark

Famished and shivering, we reached the top at about 6:30 pm. At first we were annoyed that our luggage hadn't arrived yet, but then a steaming bowl of maggi in one hand and a piping hot cup of 'chai' in the other made us forget all about the cold! And then our luggage finally arrived while we sipped and slurped, thanks to our awesome trip coordinator Ankur.

The distance from this point to where our campsite was located was still about 5 minutes away. We covered that distance in pitch black. It was scary as hell to walk in the dark, but maybe that's what made it so exciting and stimulating.
Bonfire, music, and a breathtaking view of the Milky Way over us!

We got to our campsite and were allotted tents, where we changed into warmer clothes. Once the bonfire was lit, people in our group started singing songs and dancing. العاب اون لاين للايفون

10 Terribly Overrated Destinations In Himachal And Where To Travel Instead In 2022
For someone watching from the adjacent hill, it may have been a scene right out of fantasy novels: Tents of many colours, people partying around a lively bonfire, and a never ending expanse of the beautiful star studded Milky Way overhead!

Post a delicious dinner prepared by the camp staff, we chilled out with our 'new friends' and then settled into our tents to sleep.
Waking up to a beautiful morning…and waiting in line for our turn outside the loo!

The views of the valley were awe-inspiring in the morning, but just as amusing were the faces of people who had stayed in camps for the first time and were now standing in queues outside the restroom.

After we had freshened up, we treated ourselves to some more views of the place, clicked pictures, and laughed away at the sight of people fighting for their turn to be able to attend to their morning chores. We indulged ourselves in a spot of delicious breakfast and gathered to trek for the ultimate adventure.
The paragliding adventure begins: Watching my friends grow wings and take off into the massive sky

We trekked uphill to the paragliding site, which was a mere 5 minute walk. I got assisted into wearing my paragliding gear as one by one everyone soared into the sky, screaming with delight and fear (mostly fear, I'd say!) I waited for my turn just as my friend started running towards the edge on her turn and her foot caught up into something.
Camping & Paragliding On A Trip To Bir Billing: Aman's Passionate Adventure Will Have You Daydreaming About The Hills

It was a fleeting moment of horror for us (and her, of course), but her wingman skillfully controlled it with a click of his fingers and a second later, she was in the sky, while we stood frozen at our places.
It's finally my turn for paragliding: That letting it go moment!

I discovered it isn't either fear or excitement, it's a mix of both. Because that is exactly what I felt as I clung on to my glider as I ran towards the edge.

And as soon as I was off, I forgot everything else in life before the cold wind blowing in my face, the outright phenomenal aerial views of Himachal below me, and the unmatched feeling of soaring at a height of around 10,000 ft in the sky.
Paragliding In Bir Billing: Live The Fantasy Of Flying In 2022

The entire experience lasted for 30 minutes (my longest paragliding experience yet) in which we covered the whole 15 km by-road distance between Bir and Billing in the air! The adrenaline rush and utter fulfilment that those 30 minutes in the sky gave me will definitely give all Thumbs Up advertisements a run for their money.

Right from making new friends on bumpy bus rides and scary treks up a mountain to taking off into the air with my heart in my mouth, this trip has given me some of the most precious moments of my life. I am already looking forward to going on another adventure with TravelTriangle!
The awesome parts of the trip: The fun-filled bus journey; dancing and sharing stories around the bonfire; trekking to the campsite amidst lush surroundings and then in the dark; the unbeatably magical views of the star-strewn sky; pulling legs of people struggling to use the loo in the morning; gliding over the hills; and the fact that our campsite had no network, which provided us an opportunity to be away from the rest of world without any worries!
The not-so-awesome parts of the trip: The delay in arrival of our luggage at the campsite; the confusion regarding allotting of seats in the bus, which was quite annoying though it was solved pretty soon.
Tips for future travelers: Carry warm clothing, as it tends to get a little chilly up there; book your weekend adventures only from TravelTriangle for a value for money experience and maximum enjoyment.
Need something to beat the winter blues? How about some short, soul-stirring weekend escapes from urbanisation? Explore the range of TravelTriangle's weekends getaways and book your adventure right away.
---
Long Weekend Trips Starting @ Rs 3499/-
Take a trip to spend the upcoming long weekend with your buddies.
✓ Stay at 4 star rating hotels with local sightseeing, meals and transfers.
✓ Travel in AC coach round trip (from Delhi).
✓ All Inclusive Deal– Camping, Jeep Safari & Trekking as per itinerary
✓ Sign up NOW to celebrate the long weekend out of town!
---