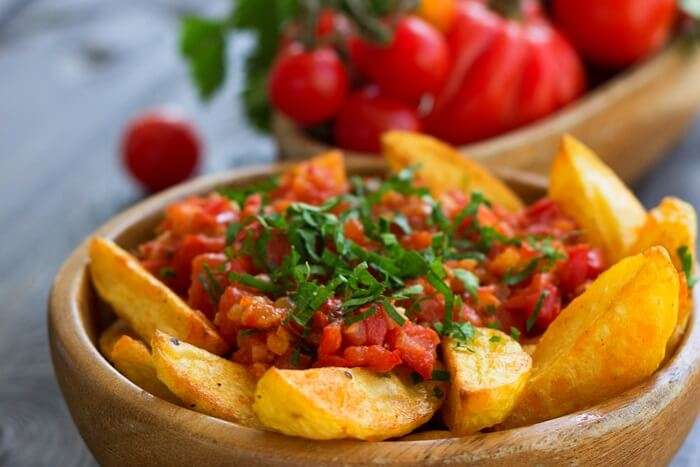 Spain is a delightful Mediterranean country, popular with hitchhikers and travelers chasing their bucket list dream of a Eurotrip. While the cities of Madrid and Barcelona pack a punch as far as culture goes, the Spanish countryside and the coastline is a paradise for people looking for peace. However, all things considered, what may be most striking on your Spanish sojourn is the unique and delicious food that you find here. While it may be worthwhile to try the traditional Spanish dishes at good restaurants, Spanish street food has a reputation of its own. Read on to know more about the best street food dishes that you should take the time out to try in Spain:
10 Must-Try Street Food In Spain
Without further ado, let us make you familiar with some of the most popular types of street food that you can gorge on while on your holiday in Spain.
1. Bocadillo
This is the Spanish lunch sandwich, noted for its distinctly Spanish bread that is a little sweet, and the lengthwise cut that makes it a little hard to handle. You will find the bocadillo Spanish street food at most tapas bars and restaurants, and you will also find Spanish people munching on this tasty sandwich for lunch. Most seasoning includes mustard, tomato sauce or just mayonnaise. And the best thing is that almost everything tastes good with it, so choose between beer, wine or for that matter, just coffee will also be great.
Where to try: Pearlyn Min, Barcelona
Must Read: Your Stays Made Easy With These Hostels In Spain
2. Patatas Bravas
Disclaimer 2: The image is for representation purposes only.
A very Spanish thing, the Patatas Bravas is Spain's answer to potato fries. Very irregular shaped potatoes, super deep fried and seasoned with all kinds of spicy sauces, you will find this being served as tapas in most bars in Spain. For one, they are not very expensive and serve well to satisfy the cravings of the tummy. This simple street food is ubiquitous in Spain and if you are visiting, you should definitely make sure you try this one!
Where to try: Bar Tomas, Barcelona
3. Churros
Churros are quite popular worldwide, but you will be surprised to know that they are basically a Spanish export. While they may not be a novelty forhe tourists now considering how popular churros are everywhere(especially the US), one thing that street shops in Spain do is add melting chocolate to the already yummy dish. One could say that it is a very different experience getting to eat authentic churros on the streets of the Spanish cities.
Where to try: Old Churreria, Madrid
Suggested Read: 10 Sensational Wedding Venues In Spain That Will Give You Major #WeddingGoals
4. Jamon Iberico
The Jamon Iberico is a particular variety of cured ham that is made of pork. The novelty is that the pork comes from the famous Iberian black pig that is only found in Spain and is renowned for its tasty meat. While you can have the Jamon Iberico at the variety of food stalls in the streets of Spain, you will also find quite a lot of people putting the Jamon Iberico in their bocadillo. Talk about an explosion of taste!
Where to try: Mercado Jamon Iberico, Madrid
5. Paella
The paella is quite popular worldwide, and you will find them in lieu of Spanish street food in London, New York, and Hong Kong. However, it is very hard to find really good paella outside of Spain, so you should take the opportunity to hunt for some really good paella. The Venetian-style paella is a tourist attraction in itself and is usually served with meats of rabbits as well as chicken. Also popular are the seafood paella, especially near the Mediterranean coast. Served for lunch and dinner, you will find paella everywhere in Spain.
Where to try: Casa Alias, Alicante
Suggested Read: Winter In Spain: A Guide That'll Help You Curl Up Amid The Country's Eternal Charm
6. Pinchitos
This is the Spanish take on the famous kebabs. The skewered meat is usually that of lamb or chicken, and the tasty snack is served in all kinds of tapas bars all over Spain, cooked in the traditional way over braziers of charcoal. Served very hot and spicy, these tasty cubes of meat are usually marinated in olive oil as well as herbs and spices. Pinchitos Spanish street food is found easily on the streets of Spain, but you will be surprised to know that they are also wildly popular in Venezuela, where they are usually served with rice.
Where to try: La Sirena, Madrid
Suggested Read: Trekking In Spain: 10 Best Places For Indulging In An Ultimate Adventure Like Never Before!
7. Chorizo
Chorizos are a kind of sausage that has been fermented, smoked as well as cured, available all across Europe. However, what makes the Spanish chorizos stand out are their distinct red color as well as smokiness that comes from the addition of paprika, the Spanish spice that is made by dried and smoked red peppers. Chorizos are usually eaten with sandwiches, or simmered in liquids(popular amongst these is apple cider) and are widely regarded amongst the best street food in Spain. While chorizos are gaining popularity elsewhere, the best place to have them are the streets of Spain inEurope.
Where to try: Bocadella Tapas, Valencia
8. Tortilla Espanola
This Spanish street food is quite new for travelers who make their way here, and is basically like an omelet but made a certain way. Made in olive oil, the tortilla Espanola has potatoes, mozzarella cheese and, of course, eggs. The perfect snack, it can be found in tapas bars everywhere in Spain. Remember, the tortilla Espanola is nothing the tortilla flatbread that is popular in Mexican cuisine. Depending on where you are, the thickness of the omelet as well as its texture will vary.
Where to try: Meson de la Tortilla, Madrid
Suggested Read: 10 National Parks Of Spain That Will Take The Travelers To Another World
9. Empanada
The empanada is one of the traditional Spanish foods. Basically, a thick tasty dough folded over a variety of fillings and then baked, your empanada consists of all kinds of different cheese, fruits, vegetables(potatoes are pretty popular) as well as minced meat. Empanadas are pretty common in Mexican as well as other Latin American cuisines, but the Spanish empanada has a class of its own. The dish originated in the Spanish region of Galicia, mentioned for the first time in a cookbook that came in the 1500s. You will find these at all restaurants in the Spanish cities.
Where to try: La Farbrica, Barcelona
10. Tortillitas de Camarones
Originating from the province of Cadiz in Andalusia, the Spanish shrimp fritters are one of a kind. The batter usually consists of chickpea as well as wheat flour, shrimp and parsley as well as water and onion. Deep fried with plenty of olive oil on both sides, these munchies are best tried in the Mediterranean areas. The particular variety of shrimp that has made this street food popular is the cameronese, hence the name. This is a must try for seafood lovers, and if you are in Spain, this is one of the delectable dishes that you much have.
Where to try: Ramon Freixa, Madrid
Further Read: 8 Best Spanish Cuisines That Will Make You Fall In Love With Spain All Over Again!
These dishes representing the heart of Spanish street food is as much an expression of culture and way of life as historical buildings or museum exhibits. If you are traveling to Spain, you have to make sure you have time enough to try all these dishes and more. So don't wait around and book your tickets to the dreamland of Spain by getting in touch with Travel Triangle today!
---
Looking To Book An International Holiday?
Book memorable holidays on TravelTriangle with 650+ verified travel agents for 65+ domestic and international destinations.
---