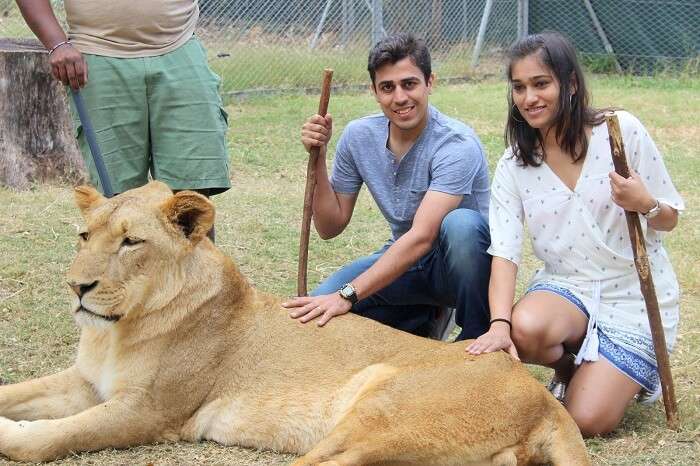 Sumit Chaudhary talks about his romantic trip to Mauritius that he took with his wife. Calling it one of the most enjoyable trip undertaken, he elaborates on their beach holiday in the picturesque island nation. He booked his package from TravelTriangle and it included their flights, hotel, sightseeing, and transport – all for a cost of INR 127500. Let us hear his story.
My wife and I were looking for a beach holiday and were keen to spend it at a destination that would offer us both leisure and adventure! Upon our research, Mauritius shaped up to be that destination and was soon given a green signal when we saw how beautiful it was.
All that was left now was a travel package to Mauritius and that was taken care by TravelTriangle (found on Facebook) since I liked their concept of connecting us to local agents for customization and competitive quotes.
We soon chose a nice package from their agent and were now all set for our holiday!
Day 1 : Staying at the lavish Radisson Blu Poste Lafayette Resort & Spa

We took our flight from Mumbai and arrived at the Mauritian airport at noon. It was a 6-hour flight and our flight experience with Air Mauritius was average. What we really liked was the airport since it was small, well maintained, and had good ambience. Furthermore, all of our checkout formalities were completed without any hassles and by the time we were done, our luggage had already arrived. We soon found the driver of the minibus who would take us to our hotel –Radisson Blu Poste Lafayette Resort & Spa and the journey began.
We were accompanied by many other travelers from India in the mini bus and it was a nice and entertaining journey.

Upon reaching the resort, we were greeted with smiling faces and welcome drinks and were shown our beautiful rooms. After we had settled in, we wanted to have lunch but since the timing for lunch was over, we decided to order from outside.
In the evening, we proceeded to explore the lavish resort and it turned out to be an incredible property. Spending time here with my wife felt heavenly and we were awestruck by the sheer beauty that surrounded us.
Everything looked picturesque however the climate was on a chilly side. There was cool breeze flowing around and it almost appeared as if it was winter in Mauritius.
Later, we  had our dinner at the resort and then proceeded to our room for a refreshing sleep.
Day 2: Experiencing the best of Ile Aux Cerfs

Our morning in Mauritius started off on an excited note since we were to visit the famous Ile aux Cerfs Island today for water activities. So post a delicious breakfast at the resort, we were driven to Belle Mare region and then to the island where to indulge in water activities.
The island had many activities on offer and was filled with tourists doing the same. We could choose from Parasailing, Tube ride, Banana boat ride, Undersea walk, and Speed boat ride among others. My wife and I were more inclined towards Undersea walk and Speed boat ride and so the decision was unanimous.

The undersea walk turned out to be one of the MUST DO water activities in Mauritius since it offered a completely refreshing experience. For this activity, we were taken to a spot in the sea equipped with breathing apparatus and were immersed underwater to witness the pristine marine life. It was a mesmerizing experience and we felt as if the whole marine life had come alive.
There were patterned fishes and other gorgeous sea creatures to look at and it was really enchanting. And although this activity lasted for 15 minutes, we were more than thrilled with the experience.

Later on, we had our lunch before proceeding on for the next adventure – Speed Boat ride.
The speed boat ride lasted for about 30 minutes and it was a thrilling experience for us since we had never traveled in water at such high speed.
This boat then dropped us to a waterfall for sightseeing and although the waterfall was smaller than the ones we usually see in India, it was still nice.

Post a day full of excitement and activities, we were transferred back to our resort.
We reached the resort in the evening by 6 PM.
Day 3: Interacting with nature and wildlife in Casela Nature Park

Since we had a customizable itinerary, we decided to head to Casela Nature Park today. We had informed our trip agent one day in advance and he had already arranged a seat in coach and tickets for us.
We reached our destination by 11 a.m. and were accompanied by many others in the coach.
Casela Nature Park was an amazing experience and we did two major activities here  –  Interaction with Lions and other animals (like rabbits, turtles and more) and the zip lining.

Interaction with Lions was a thrilling experience since standing with the 'king of the jungle' not to forget petting him required great courage. We were in awe with the royal charm of this beast and were glad for the opportunity. Apart from the lion, we also saw other animals like deer and turtles. It was a fun experience!

Next adventure on our list was zip lining and it was one of the most exciting things we had ever done. There were ropes attached from one hill to another and a narrow bridge on which we had to walk. Apart from this, there was also a stream flowing below and it was really cliff hanger situation for us.

We absolutely loved it!
We also wanted to visit the bird park and try other activities at the park like quad bike safari but since there was a shortage of time, we decided to skip them.

In the evening, we returned to the resort and took pleasure in the several services offered by the luxurious property like gym and pool.

Casela park was a mix of nature and adventure. It was an exciting experience since it got us encountered with wildlife in close proximity.
Day 4: Sightseeing- South Island Tour

Post a sumptuous breakfast this day, we set out for the South Island tour of Mauritius. Our first stop was Chamarel Waterfalls which was a grand yet soothing experience and was followed by a visit to the Seven Colored Earth.  This was again a fascinating experience and we loved the geographical attraction that this place held.
Next up was the Ship Building Factory where we learned about how ships are made and what all efforts go into its production. There was even a shop outside this factory where we could buy miniature ships as souvenirs.
This was followed by Trou aux Cerfs, a volcanic crater that offered us a fascinating glimpse in the geography of Mauritius.

Later on, we paid a visit to the Shiva temple as well. It was a soothing experience for us but we felt that the elderly enjoyed the place more than we did.
Our trip to the south island turned out to be a moderate experience for us since we are more of the adventure lovers!
Day 5 : Exploring the North side of Mauritius

Suggested Read: Shopping in Mauritius: 12 Spots That Offer Both Luxurious & Crafty Items!
This was the day when we were to go on a North Island tour of Mauritius. We were looking forward to discovering the urban side of Mauritius in Port Louis however as we arrived in the city, we realized everything was closed due to the holiday for Eid.
We were dropped at the Le Caudan waterfront, a modern hub full of restaurants, shops and other modern amenities and we spent our remaining time here. Since most of the restaurants were open, we were able to grab a delicious lunch post which we returned to our resort.
Day 6: Soaking in the local culture of Mauritius

Suggested Read: Mauritius Vs Maldives For Holiday: Which One To Pick For Your Holiday?
Having taken our breakfast at the resort, we wanted to visit and feel the local aura of Mauritius. So we decided to explore the nearby area on our own and set out on foot. Marching some distance from our resort, we spotted a bus stand and soon boarded a bus to the nearby supermarket. Traveling with local people was a fun experience and doing this we got to know about how people lived there.
We spent a lot of time at the store and bought a few local items for ourselves. The whole point was not to visit the store but to experience the local ambience which was good.
We later returned to our resort and spent the rest of the day relaxing.
Day 7: Bidding adieu to Mauritius

This was the departure day of our tour and post breakfast, we checked out from the resort and proceeded to the airport for our flight back to India.
Mauritius turned out to be a perfect mix of nature, wildlife, adventures, beaches, and more. We had a gala time here and created both romantic and adventurous memories. Mauritius truly was a heaven!
High Points: 
Underwater sea walk and Speed boat ride at Ile aux Cerfs Island.
Zip lining and Interaction with Lions at Casela Nature Park
Our stay at the resort – Radisson Blu Poste Lafayette Resort & Spa
Low Points:
We could experience more of the activities at Casela Nature Park
We felt  that the menu for our meals at the resort was biased based on type of travelers
Tips for the travelers: Currency exchange should be done at the airport and most people in Mauritius accept local currency.
Spend an exciting romantic holiday in Mauritius! Feel the tropical ambience and relax in luxury. Book your package now!
---
Looking To Book An International Honeymoon?
Book memorable honeymoon on TravelTriangle with 650+ verified travel agents for 65+ domestic and international destinations.
---