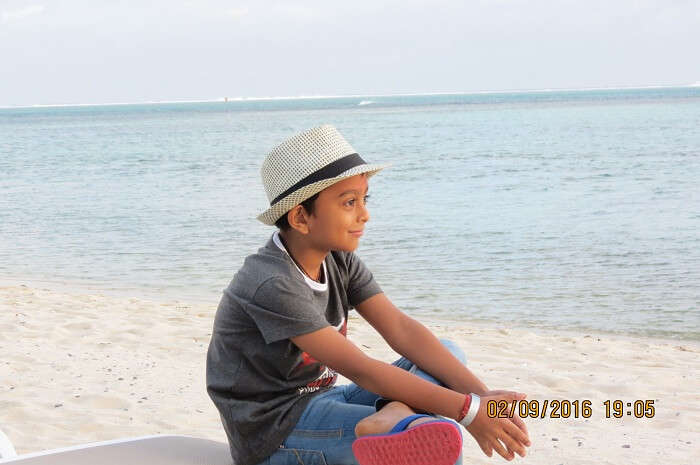 Suranjan decided to put his feet up and bask in the sun, sand, and aqua blue waters of Mauritius. Read his account  on their family vacation to Mauritius in his own words"sailed as smooth as the wind". He booked a 6-night/ 7-day package via TravelTriangle for INR 1,80,000 which included their flights, meals, transfers, accommodation, and sightseeing.   

Having traveled far and wide in Asia, my wife and I wanted to explore an exotic location with beautiful beaches. Mauritius came up as an option we both agreed on. While searching for packages, a few of my colleagues recommended me to try TravelTriangle as they had a pleasant experience.
I got in touch with TravelTriangle and got a prompt response on my query. A representative understood the specifications for my vacation and soon gave me an option to customize it as per my needs. I was connected to various travel agents and they all gave me multiple quotations for my trip. Finally,  I selected the best quote given by 'I Need Trip' and was soon sorted when it came to Mauritius Family Tour Package.
Day 1: Arrival in Port Louis
We took a direct flight from New Delhi and landed in Mauritius at 2pm. The driver was present to receive and take us to the resort. After an hour-long ride, we reached the resort and checked in to a very warm welcome. We were even served welcome snacks and drinks on our arrival.
Right from the start, we loved the ambience in the resort. In the evening, the place livened up with a band playing and lots of people enjoying in the bar area. We spent our first night relaxing in the hotel and enjoying our stay.
Day 2: South Island Tour
After breakfast, our taxi was present at the resort to start the tour at 9 pm. Although it was raining on and off throughout the day, it didn't affect our spirit nor our plans.
The tour started with a stop at the souvenir market. Afterwards, we visited the beautiful Chamarel Waterfalls and the massive Mangal Mahadev statue. Later on, we drove to the beautiful city of Curepipe where we saw the massive crater of an extinct volcano.
The South Island tour ended at 5pm and we proceeded back to the resort. In the evening, we had dinner, relaxed around the beach and called it a night.
Day 3: Leisure at the Resort
Suggested Read: 12 Exciting Water Sports To Try In Mauritius For An Out-of-the-world Experience
Initially, we had this day planned for the North Island tour, but we decided to stay back at the resort and enjoy the day at the beach.
During the day, I explored the resort and went by doing things at a very slow pace. It also gave me a chance to make friends from all around the world. Such days rarely come in my day-to-day life and I felt lucky to be in that moment.
Day 4: Ile Aux Cerf
Post breakfast, we got ready for the Ile Aux Cerf Island tour. We were taken by a speed boat to Ile Aux Cerf. The island had a lot of water sports activities, but we chose not to take part in them. I found Ile Aux Cerf to be a very charming and serene island away from the tourist hotspots.
After a few hours, it was time for us to depart back to the mainland via speed boat. Once we got back, we enjoyed food, live music, and the drinks at the resort for the rest of the evening.
Day 5: Catamaran Tour
Suggested Read: Shopping in Mauritius In 2022: 12 Spots That Offer Both Luxurious & Crafty Items!
Since the final 2 days were leisure days, I booked a half-day catamaran cruise. The tour began at 8.30am with around 15 people onboard the luxury boat.
The tour was a lovely experience for us as we got to see dolphins swimming around us as we were sailing around the island. We were also allowed to jump into the shallow part of the sea where the water was very clear. In the water, I saw some incredible corals and fishes.
After having lunch, our tour ended at 4pm. In the evening, we decided to take a stroll down the other part of the beach which we hadn't seen.
Day 6: Leisure Day
We had yet another leisure day. Having been in Mauritius made me realize, I could never get bored of spending days on this island doing nothing.
This day I walked around the different parts of the big resort we stayed in. Indulged in some photography and used the facilities in the resort like pool, spa, and aqua gym.
Day 7: Departure
The final day of our vacation was upon us. We checked out of the resort at 12 noon. The hotel manager was generous enough to let us use the hotel facilities and the lobby till we left for our flight.
We were dropped at the airport by our driver and for our 5pm flight back to New Delhi.
High Points:
Riu Creole- one of the best resorts I've ever stayed in.
Tips to travelers:
Don't pre-book pick up and drop facilities, as the agencies will give you an expensive rate.
Fly yourself to paradise on Earth! Click here for best packages to Mauritius!