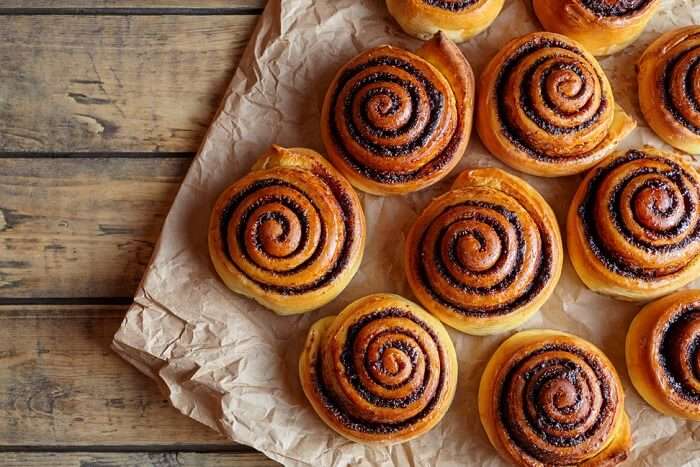 Sweden is a Scandinavian country known for its fish-based delicacies. Apart from the fish dishes, there are many flavorsome Swedish food items which can be explored in this vibrant country. Many top-class restaurants are accommodated here which serve specially curated dishes by world-class chefs who use the best fresh ingredients. Even the local Swedish cuisine dishes served at the streets are good enough to satisfy any food lovers taste buds. This Sweden food guide will help every traveler in exploring the traditional Swedish food.
The Best Food In Sweden
Wondering what to eat (and where) on your trip to Sweden? Here's a list of the best food items in Swedish cuisine that is sure to leave you asking for more!
1. Köttbullar
Meatball based dishes are the most famous Swedish food and are worth trying when in this country. Köttbullar is a meatball delicacy is the first thing the locals will recommend any traveler to try here. Beef and pork meat are perfectly blended together with varied ingredients to form meatballs and then a flavorsome gravy is poured on top of them and then it is served beautifully garnished with coriander leaves. A variety of accompaniments are served along with this which include mashed potatoes, cucumber pickles and lingonberries.
Where to try: Bakfickan, Jakobs Torg 12, 111 52 Stockholm
Must Read: 10 Beaches In Sweden That Are Worth Going On A Vacation To Europe
2. Jansson's Temptation
Jansson's Temptation is a popular Swedish Christmas food which makes for a comforting holiday meal. It is also known as the Janssons Frestelse. Potatoes, bread crumbs, onions, sprats and cream are combined well with necessary ingredients and then baked to form the most delicious Swedish food, Jansson's Temptation. This flavorsome baked dish resembles a potato gratin and its name draws inspiration from the beloved and famous opera singer and musician Pelle Janzon. This is a classic Swedish food which is one of the must-try food delicacies in Sweden.
Where to try: Drottninggatan 6, 111 51 Stockholm
3. Surströmming
Surströmming, also known as Pickled Herring is a dish made out of sweet fish which is served along with varied components. Pickled Herring goes well as an entree served along with the many Swedish food and drinks. It even goes well with mashed potatoes and bread and is sometimes even savored as a Swedish snacks option. The Herring is generally meatier for a fish and the pickling is done with a sweet sauce. This sweet sauce seeps into the fish meat making it an incredible combination. One can find this dish almost at every authentic Swedish restaurant and also in many of the street food stalls housed by the country.
Where to try: Salt & Sill Deli, Central Station, Central Hallen, Malmo 21120
Suggested Read: Guess Which European City Gets The Title Of World's Most Liveable City This Year!
4. Toast Skagen
Toast Skagen is one of the popular Swedish starters which is a favorite among the food lovers. It is served as an entree in many restaurants and is loved by the locals and expats. It is best enjoyed during the summers along with a cold refreshing beverage. A piece of bread is toasted till it is crunchy and a mixture of mayonnaise, flavored prawns dill, and a lemon slice is perfectly placed on it to make give it a mouth-watering presentation. It is generally served cold as an appetizer.
Where to try: Lisa Elmqvist, Östermalms Saluhall, 114 39 Stockholm
5. Reindeer Paté
This is a classic Swedish delicacy which is made out of reindeer meat. This Paté can be enjoyed in several ways, one can either spread it over a slice of bread or on crackers. This dish made from reindeer meat is full of flavor and melts in the mouth. It has a very creamy texture and tastes absolutely delicious. It is sold even in many Swedish food stores on the streets of Sweden and is quite popular among the local non-vegetarians.
Where to try: Hellbergs Fågel & Vilt, Hötorgshallen 46, 111 57 Stockholm
Suggested Read: A View From This Europe's Tallest Skyscraper Will Leave Your Jaw Dropped!
6. Raggmunk
This a famous Swedish pancake which is served for breakfast in almost every Swedish house. This traditional Swedish food looks like a frisbee and tastes delicious. These salty fried pancakes are best enjoyed during the winter season. It can be eaten along with sweet jams as well as sour cream. It is traditionally served with sour cream and applesauce. These classic potato pancakes are made crispy by frying in butter and are then served with lingonberries and fried salted pork.
Where to try: Lasse I Parken, Högalidsgatan 56, 117 30 Stockholm
7. Svenska Fisksoppa
Svenska Fisksoppa is one of the best Swedish food which is served in the form of soup. It is also known as the Swedish Fish Soup with flavorsome chunks of fish meat in a creamy soup. It makes for a soul-satisfying meal with the most amazing Swedish ingredients perfectly curated together into a classic fish based soup. It is very filling as well, one bowl of this soup will keep one's hunger pangs in perfect check. Only a few places in Sweden (and all of Europe) offer the perfectly seasoned and flavorsome Svenska Fisksoppa.
Where to try: Kajsas Fisk, Hötorgshallen 3, Stockholm 111 57
Suggested Read: 10 Most Beautiful Churches In Madrid That Are On Every Globetrotter's Bucket List
8. Cinnamon Buns
Cinnamon buns are the perfect snack for every traveler and explorer. It is popularly known as Kanelbullar in Sweden. It makes for an excellent accompaniment with the hot beverages had during breakfast. The best part is, these Sweden originated buns are found literally anywhere and everywhere in Sweden. Many flavored buns are also sold but the best one remains the classic coffee flavored cinnamon buns. These sweet treat snacks are baked in every Swedish home regularly. It was first traditionally introduced during the tea parties in various homes in Sweden, after which it has become a popular flavor-packed snack all across the world.
Where to try: Valhallabageriet, Valhallavägen 174, 115 27 Stockholm
9. Varmrökt Lax
Varmrökt Lax is popularly known as Smoked Salmon. These smoked salmon is cured with many rich ingredients and then lightly smoked with Alder Wood to give a very mild smoked flavor. These salmons are really tender and smooth in texture and taste divine unlike the heavily smoked dry salmons made in other places. It is so delicate and light that it melts in the mouth and can be enjoyed with a variety of accompaniments. The best Varmrökt Lax can be had in the many local restaurants in the Southern part of Sweden.
Where to try: Blå Hoddans Fisk, Banérskajen, Malmö
Suggested Read: Top 9 Places To Visit In Zagreb To Savor The Best Of South Europe In 2022
10. Västerbottensost
Västerbottensost, also known as Västerbotten is a traditional Sweden made cheese variety. Sweden makes its own cheese of different flavors. This variety of cheese is made from the hard cow's milk which is aged for almost 1 year before serving. It is also sometimes referred to as Swedish Parmigiano. It has several little crystal kind of bits which give out a strong flavor. One can sample this unique flavored cheese in many Swedish restaurants.
Where to try: Fromagerie, Hötorgshallen, 11157 Stockholm
Further Read: 10 Best Airports In Europe For An Enjoyable Journey To Your Dream Destination
Amazed by the volume of gastronomic experience Sweden can give you? Now you must make sure you try all these Sweden food items on your holiday in Europe! We bet you'll want to stay there forever once you've tasted the delightful cuisine of Sweden with your loved ones.
---
Looking To Book An International Holiday?
Book memorable holidays on TravelTriangle with 650+ verified travel agents for 65+ domestic and international destinations.
---
Comments
comments