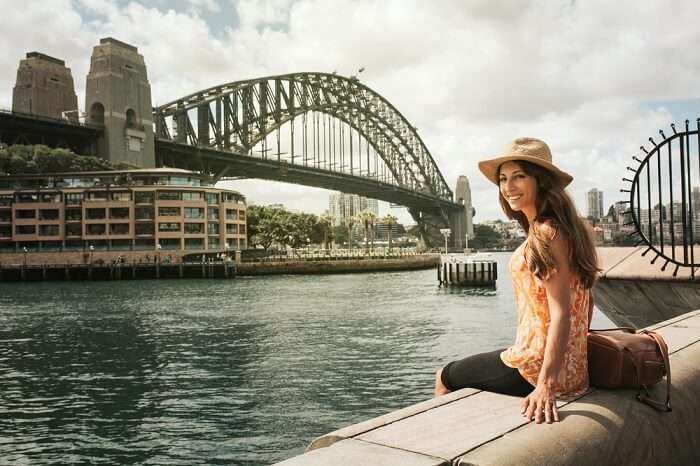 One of Australia's largest and most populous cities, Sydney is the capital of New South Wales and one of the most bustling and popular metropolitan cities in the entire world. Inhabitants of Sydney are called 'Sydneysiders', and a 2011 census estimated that over 250 different languages were spoken by these Sydneysiders, 40 percent of whom speak a different language than English. This melting pot of various cultures is ranked tenth in the world for its standard of living and Sydney is considered one of the most expensive cities in the world.
Traveling to Sydney isn't cheap, but be rest assured because this Sydney travel guide is quite handy. If you choose to travel to Sydney, you are bound to have a blast as its gorgeous landscape and cultural diversity makes for one hell of a trip, thereby drawing in a vast amount of tourists from various parts of the world. It ranks 15th as the most – visited city in the entire world. It should come as no surprise that its market economy derives a lot of its strength from tourism, along with manufacturing and finance. Keeping in mind that you may someday visit Sydney, if you haven't already, featured in this article is a brief travel guide to help you make this holiday a memorable one.
Best Time To Visit Sydney

Sydney is a fun place to visit all year round. But the months from December to February are considered ideal, i.e., the summer months when you can experience the beaches in all its pristine glory. As it never really gets too cold the rest of the year, you can visit Sydney anytime you like. But, the summer months are when you can experience the various festivals that light up the city like the New Year's, Christmas and the Sydney Festival.
Must Read: Street Food In Sydney: 10 Delicacies That Will Make You Fall In Love With The City
Best Places To Visit In Sydney
Sydney is one of those perfect destinations in Australia for you to explore whether you're with family or a partner. It's also a great place to go backpacking and being a metropolitan city it is host to several popular attractions.
1. State Library of New South Wales

Established in 1826, this is the oldest library in Australia. It is magnificent enough to accommodate the Mitchell Library as well. It's a rather significant monument and has been listed as a heritage site in the New South Wales State Heritage Register. So if you're a bookworm this is just the place for you. It also hosts several talks and discussions by various scholars, historians, authors, and more. If you are interested in the early 20th-century style architecture do visit the State Library of New South Wales.
Address: Macquarie St., Sydney NSW 2000, Australia
Timings:
Monday to Thursday – 9 am to 8 pm
Friday – 9 am to 5 pm
Weekends - 11 am to 5 pm
2. Sydney Opera House

The Sydney Opera House is one of the most recognized modern structures in Sydney, visible on various placards, stamps, and boards advertising a vacation to Sydney. Designed by the Danish architect, Jørn Utzon, it is considered a World Heritage Site by UNESCO. It hosts multiple venues that organize over 1500 performances every year. The three most popular performances shown at the Sydney Opera House are the Sydney Theatre Company, Sydney Symphony Orchestra, and Opera Australia. So if you are ever in the mood for some highbrow theatre, ballet or classical music, head over to the Sydney Opera House.
Address: Bennelong Point, Sydney NSW 2000. Australia
Suggested Read: Sydney Opera House: A Mini Guide To Traverse Through The Most Iconic Place In Sydney!
3. Bondi Beach

Do not forget to pack your best swimming suits and your favorite surfboards, for Bondi Beach is one of the most pristine beaches in the entire world. It draws in a lot of public and surfers as its waves are ideal for riding. It also has the Bondi Surf Bathers' Life-Saving Club which is considered to be the world's first surf lifesaving club. It is also home to several other clubs such as the Bondi Icebergs Swimming club and it also has a park for skating called the Bondi Skate Park. There can't be a better place for having some fun in the sun than Bondi Beach.
Location: 7 km east of Sydney CBD
Best Things To Do In Sydney
There's just so much to do in Sydney that one trip probably won't be enough. Nonetheless here are the three things that most visitors do not dare to skip.
1. Camden Valley: Fly in a hot air balloon

There can't be a more romantic getaway than flying miles above the ground in a padded basket offering extravagant views of the beautiful landscapes Sydney has to offer. View the sun bordering the vast skyline on the horizon, in the process of rising. You can also see the Razorback Ranges as well as the church steeples of Camden. It's a three-hour trip that usually starts at 4 in the morning, charting a course through the various country towns and also offers a delightful breakfast.
Cost: An hour-long ride is somewhere in the range of 300$..
Suggested Read: Top 10 Sydney Road Trips That Will Make Your Trip Extraordinarily Adventurous!
2. Sydney Harbour Bridge : Make it to the top

The Sydney Harbour Bridge is a heritage – listed site that has been nicknamed "The Coathanger". Several tourists scale the coathanger every year to get a magnificent, panoramic and iconic view of the harbor, Sydney Opera House and the bridge. The express climb is often recommended because it takes you through the insides of the metallic skeleton of the bridge, giving a more detailed tour of the structure.
Cost: Prices start at 163$ for adults and 138$ for children.
3. Manly to Spit : A coastal trek

There are two options, a 9 km and an 18 km walk that offers an exploration of the sandy beaches, rocky mountains and the magnificent blue ocean waters. Walking is often considered the best mode of transport to get a more intimate exploration of the landscape of a place. There couldn't be a better opportunity than this coastal walking tour that gives you access to four secret beaches that cannot be reached by car or any other vehicle, except for boats.
Cost: In the range of 3$ to 8$
Suggested Read: 10 Safaris In Sydney Where One Can Go On A Splendid Food Spree And Wildlife Sightseeing In 2022!
Where To Stay In Sydney
Being a metropolitan city, there is a wide range of options for accommodation in Sydney. If you're a backpacker, there's a myriad of hostels you can choose from but there are also quite a few luxury hotels that offer some of the best serviceS and rooms you could ever experience.
1. Shangri – La Hotel, Sydney

One of the best 5 – star hotels in Sydney, Shangri – La will not disappoint you. Some of the best service and hotel rooms in all of Australia; this establishment is worth every penny it charges. It's high – end hotel offers extravagant room and suites, exquisite spas and a restaurant serving sumptuous food.
Address: 176 Cumberland Street, The Rocks, Sydney NSW 2000, Australia
Price: INR 13,167
2. Park Hyatt Sydney

A 5 – star hotel located right by the harbor, its rooms offer the most scenic vistas of the glorious waters. It's a high – end establishment that has a rooftop pool from where you can view the Sydney Opera House. It has also got one of the most extravagant restaurants offering an ambient setting to enjoy your meal.
Address: 7 Hickson Road, The Rocks NSW 2000, Australia
Price: INR 58,374
Website
Suggested Read: 10 Best Sydney Cottages That Will Compel You To Take A Break And Fly Away Right Now!
3. Pullman Quay Grand Sydney Harbour

Situated on the East Circular Quay, Pullman Quay Grand is a refined establishment offering some of the most exquisite hotel rooms for you to experience the most luxurious treatment you possibly could for reasonable rates. The views from the property are amazing and the service impeccable. The staff is hospitable and friendly.
Address: 61 Macquarie St, Sydney NSW 2000, Australia
Price: Rs. 18,000
Website
How To Reach Sydney

By Air: The Sydney Airport is at a distance from 8 km south of the Sydney city center. It is an international airport that receives international flights all year round, direct as well as indirect, from various other parts in the world.
By Road: Australia is an island continent, and it isn't really accessible by road but if you happen to be in another state, city or town within Australia you can choose to travel by road or take a train. You can check for more details on the internet regarding buses and trains that connect Sydney to the city you're in.
By Sail: Yes, you can take a cruise to Sydney and travel by sea as the Port Jackson is a natural harbor in Sydney that receives visitors from various countries all year round.
Further Read: Kickstart A New Phase Of Your Life With An Awesome Honeymoon In Sydney
Sydney will surely be one of the best vacations you'll probably ever have. With the help of this Sydney travel guide, you've probably already decided to book your tickets to Australia, if you haven't already. Its genial vibe and many popular attractions will surely entrance your spirits. So, what are you waiting for? Plan a hassle-free vacay to Australia with TravelTriangle!
---
Looking To Book An International Honeymoon?
Book memorable honeymoon on TravelTriangle with 650+ verified travel agents for 65+ domestic and international destinations.
---