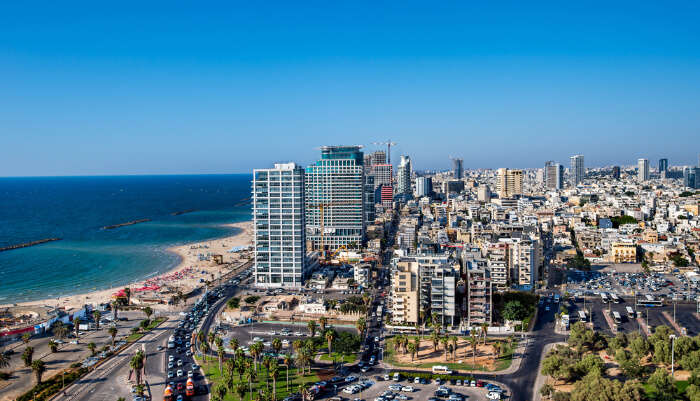 Are you fed up of being wrapped up in a blanket and napping all day? Well, then you seriously need a vacation to the mesmerizing city of Tel Aviv. Tel Aviv, a paradise located in Israel is the solution to your drowsiness during the winters featuring some jaw-dropping beaches, historical museums, and natural wonders proving to be a complete package for a traveler.
When thinking about what to do in Tel Aviv in winter, there is a mix of thoughts flowing through the traveler's mind. Someday, you can relax under the sun at the beach and the other day you relish some piping hot delicacies at some of the finest restaurants and cafes in the city. The list of sites and things to do in Tel Aviv never seem to reach an endpoint.
Weather In Tel Aviv In Winter
Winters in Tel Aviv are mild. So, in Tel Aviv, winter temperature is relatively warm and pleasant as compared to other cities. However, the occurrence of rainfall is highly probable. Tel Aviv receives an average rainfall upto 20 inches annually.
Things To Do In Tel Aviv In Winter
1. Christmas – Celebrate In The City Of Jaffa

The beauty of the Old City of Jaffa is beyond perception and is surely the thing you might be craving for on your next trip to Tel Aviv. The city features a mixed population comprising of Jews and Muslims. During Christmas, the city looks even more colorful, decorated with lights around the streets. A huge Christmas tree is installed outside the Jaffa Clock Tower accompanied by fireworks and parades through the city streets. One just cannot miss out on this environment at Jaffa during Christmas.
Date – 17 December
Location – Tel Aviv, Israel
Must Read: 10 Top Things To Do In Tel Aviv For An Exceptional Vacation
2. Hanasich Hakatan Cafe – Grab A Cup Of Coffee

The icy-cold weather calls for a hot cup of coffee. At the Hanasich Hakatan Cafe, you can sip into a huge variety of coffee ranging from some concentrated espresso to one of their specialities, Cappuccino. Not just this, you can also read your favorite books while savoring a fine cup of coffee at the cafe. The cafe features a lively ambiance giving you feel like home. This place must be in your wishlist on your trip to Tel Aviv in winter this 2022.
Location – 19 King George Street, Tel Aviv-Yafo, Israel
Timings – Mon – Thu: 9:00 am – 12:00 am
Fri : 9:00 am – 6:30 pm
Sat: 8:00 pm – 12:00 am
Sun: 9:00 am – 12:00 am
Suggested Read: 10 Tel Aviv Museums That Will Leave You Intrigued
3. Hanukkah – Rejoice During The Happening Festival

The festival of Hanukkah calls for merriment and doughnuts! During this festival, you can relish an immense variety of exotic doughnuts from the city bakeries. The best bakery you can find at Tel Aviv when it comes to some sweet and savory doughnuts is the Roladin Bakery where you can try out from a wide collection of luxurious doughnuts. Tel Aviv weather in winter is perfectly synchronized with doughnuts. Sounds tempting, right? So, what are you waiting for?
Duration – 22 December – 30 December
Suggested Read: 7 Incredible And Classic Places Near Tel Aviv For A Perfect Vacay
4. Tel Aviv Promenade – Dawdle Around With Your Loved Ones

If you love the sea, you'll love this spot even more. Just imagine a scenic view of the sea on one side and staggering buildings on the other. Doesn't that excite you? This site in Tel Aviv runs along the Mediterranean shore and features some lovely restaurants and bars where you can savor some flavorsome food and have a chilled mug of beer while witnessing the serene sunset. The site gives a fun and romantic feel at the same time and is thus, an ideal spot to spend some quality time with your loved ones.
Location – Tel Aviv, Israel
Suggested Read: At The Setai Tel Aviv, You Can Now Stay & Experience The Charm Of A 12th Century Fortress!
What To Pack For A Tel Aviv Winter Trip
Winter in Tel Aviv is quite mild. So, one doesn't need to carry heavy woolen clothes. A warm jacket or a sweatshirt would do the job for you.
During winter, there are chances of heavy rainfall and sometimes, even storms. So, it is recommended to take along an umbrella.
Since the drainage system in Tel Aviv is not up to the mark, roads may get flooded during heavy rainfall. Carry a waterproof jacket and a water-resistant footwear along.
Further Read: 10 Hip And Historic Hostels In Israel Perfect For Exploring Its Cities
Tel Aviv is surely a paradise for the traveler bringing you across diverse wonders and scenic beauties guaranteeing a fun-packed vacation. During winters, one might feel reluctant to travel but not in case of this beautiful city. Tel Aviv in winter becomes even more beautiful and serene offering various opportunities for sightseeing, exploring, and adventure.
People Also Read