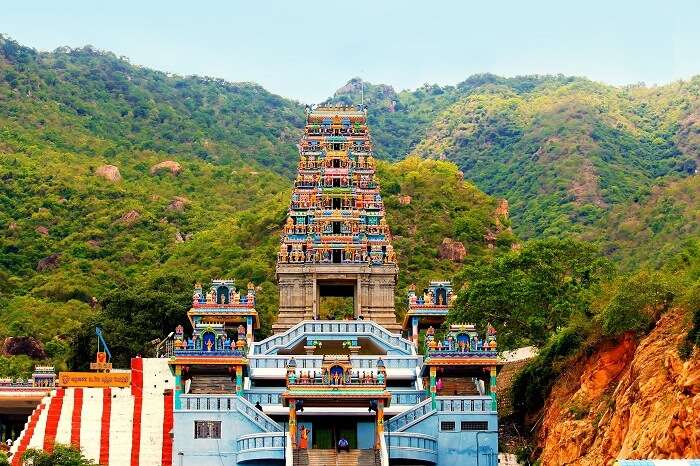 Known as the 'Manchester Of South India', this bustling city is not only famous for its textile industry, but also for the temples in Coimbatore. The marvellous architectural designs, and the religious beliefs attached to these temples beckon you to visit them, and peep into the rich culture of the natives of Coimbatore.
11 Famous Temples In Coimbatore
These popular temples in Coimbatore city are magnificent and have a blissful aura. Take a look to know why you ought to visit them on your next trip.
Eachanari Vinayagar Temple
Arulmigu Patteeswarar Swamy Temple
Palamalai Ranganathar Temple
Arulmigu Maruthamalai Murugan Temple
Dhyanalinga Temple
Sree Ayyappan Temple
Koniamman Temple
Ramar Temple
Kottai-Easwaran Temple
Naga Sai Mandir
Thirumoorthy Malai Temple
1. Eachanari Vinayagar Temple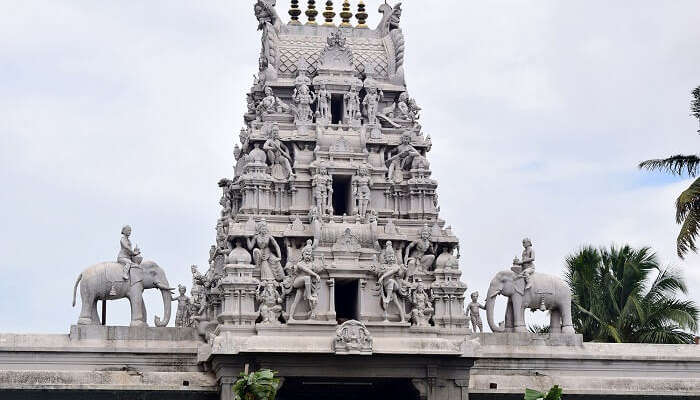 One of the most mystical temples in Coimbatore, the Eachanari Vinayagar Temple is situated on the Coimbatore to Pollachi National Highway road. According to mythological tales, when the prodigal 6-feet tall idol of Lord Vinayaga was being transported from Madurai to Patteesawarar Temple, the axle of the cart broke, and the idol became immovable from that place which is now known as the Vinayagar Temple.
Location: Coimbatore to Pollachi NH-209 Road, Eachanari
Website
Suggested Read: Best Places To Visit In Coimbatore And Around For Tourists Of Every Interest
---
South Weekend Holiday Packages On TravelTriangle
A trip to South India has a lot to offer – from tranquillity of forests to charm of sizzling beaches and from lost kingdoms to chills of a hill station. Visit Kerala, Coorg, Ooty, Mysore, or Kodaikanal. Book holiday packages inclusive of airport transfers, cab, resort, sightseeing, and meals.
---
2. Arulmigu Patteeswarar Swamy Temple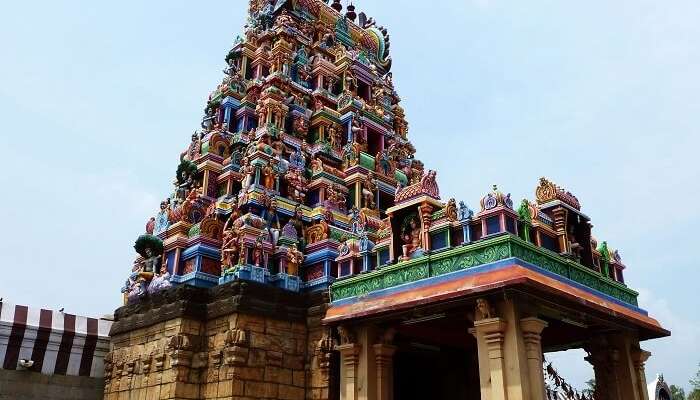 It is one of the most famous temples in Coimbatore commemorated in the memory of Lord Shiva. Built by Karikala Chola of the Chola Dynasty, it is one of the most famous old temples in Coimbatore, dating back to prehistoric ages. The marvelous architecture of the temple features stone carving, wooden carving, and gigantic pillars with carvings of manifestations of Shiva.
Location: Siruvani Main Road, Siruvani, Perur, Coimbatore
Website
Suggested Read: 5 Best Resorts In Coimbatore And The Neighboring Areas
3. Palamalai Ranganathar Temple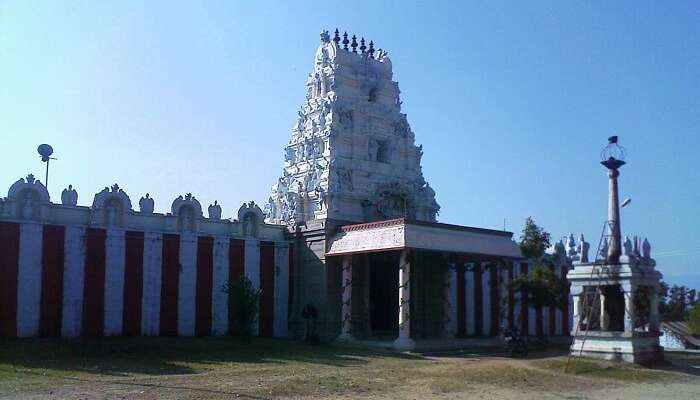 Dedicated to the God of mercy, Lord Ranganathar, Palamalai is one of the most picturesque hill temples in Coimbatore. This temple is a synonym of mercy and is also considered as the worship place for liberation of diseases, illness, and sins. If you wish to see a unique place, this is where you must go.
Location: Palamalai, Naicken Palayam, Coimbatore
Website
4. Arulmigu Maruthamalai Murugan Temple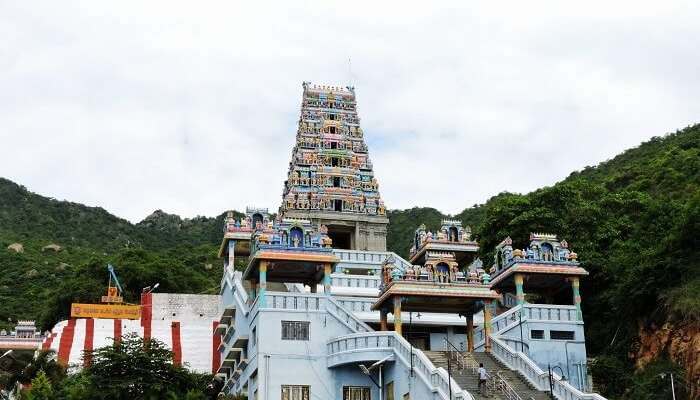 Situated atop a hill, amidst serene surroundings, Arulmigu Maruthamalai Murugan is one of the famous temples in Coimbatore. This temple is of great significance to the married couples who face issues in giving birth to a child. It is said that such couples can be blessed with children only after worshipping Lord Maruthamalai Muruga. So, make sure you visit this Murugan temple in Coimbatore on your next trip.
Location: Marudhamalai, Coimbatore
Website
Suggested Read: 10 Tourist Places Near Coimbatore That Flaunt Vibrant Colors Of The Ghats
5. Dhyanalinga Temple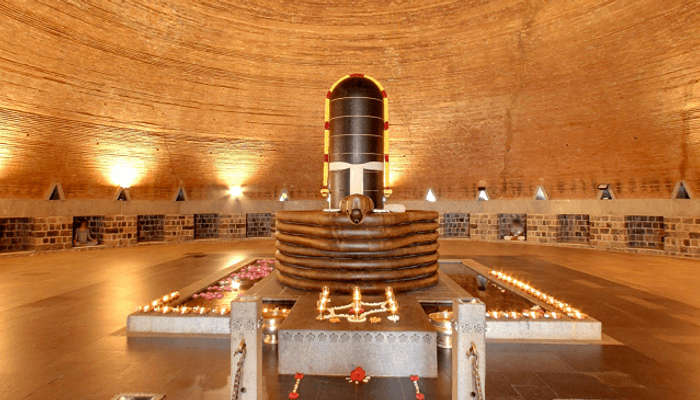 Dhyanalinga is one of the most prominent yogic temples in Coimbatore consecrated by Sadhguru Jaggi Vasudev, who is a yogic himself. This temple an important meditation site built according to a certain science that creates a powerful energy around you, which in turn facilitates inner transformation.
Location: Isha Yoga Centre, Velliangiri Foothills, Isha Vihar Post, Coimbatore
Website
6. Sree Ayyappan Temple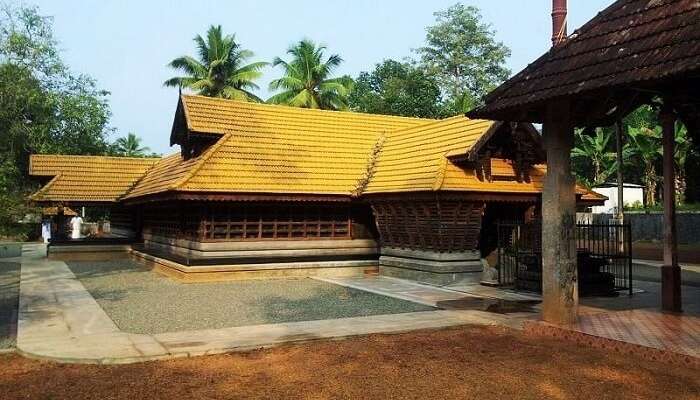 One of the most prominent Coimbatore temples, Sree Ayyappan temple is dedicated to Lord Ayyappa. Pilgrims from all over India hail to this place during their Sabarimala Pilgrimage, a religious tour which requires which requires procedural diet restrictions. This place serves as a mid station as all the pilgrims stop here for rest during the pilgrimage.
Location:100 Feet Rd, Venkatasamy Layout, New Siddhapudur, Coimbatore
Website
7. Koniamman Temple
Located in the heart of the city, Koniamman temple is one of the principal Hindu temples in Coimbatore. This temple is considered as a sacred place for marriages, and it is believed that Mother Koniamman would help her kids lead a smooth married life, bless them with kids, protect them from diseases, and ensure business development.
Location: Poompuhar Nagar, Ukkadam, Coimbatore
Website
Suggested Read: 10 Best Hotels In Coimbatore That Redefine Class, Luxury, And Design
8. Ramar Temple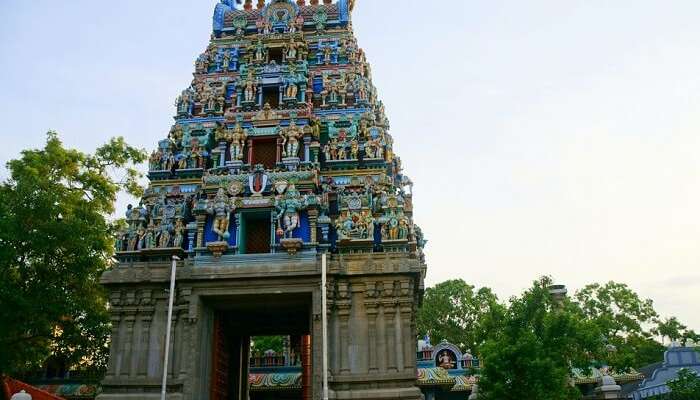 Ramar temple is one of the most significant temples in Coimbatore, devoted to Lord Ram. It is the only temple where one can spectate Lord Rama and Sri Anjaneya appear together facing each other. The best time to visit this temple is during the 10 day festival of Ram Navmi which is celebrated with huge pomp and show.
Location:Ramar Kovil Street, Ondipudur, Coimbatore
Website
9. Kottai-Easwaran Temple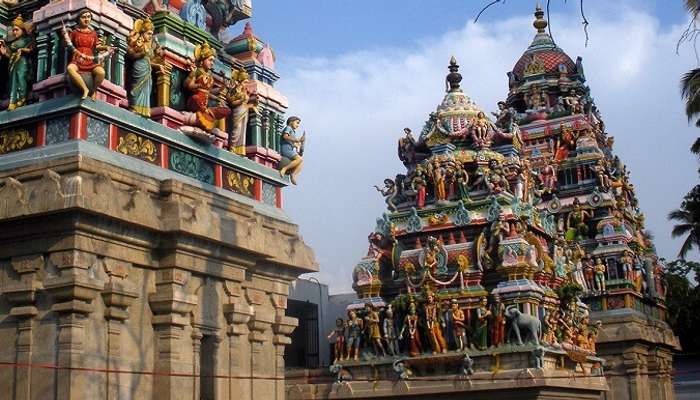 Kottai Easwaran Temple is one of the best Shiva temples in Coimbatore, built by the Chola king, Karikala, as a devotional offering to Lord Shiva. The temple houses a huge Shivling with line of Brahma Sutra carved on it. Hence, it is believed that praying to Lord Shiva at this temple would would save people from adverse destiny and bless them with a prosperous future.
Location: Ukkadam, Coimbatore
Website
10. Naga Sai Mandir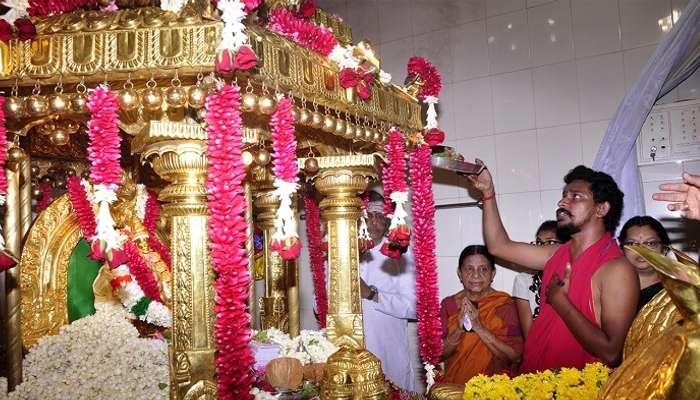 The Naga Sai Mandir is so called because of the event that occurred in 1943, when a snake randomly rose from a heap of flowers to listen to the prayers offered to Sai Baba. From that day onwards, Shirdi Sai Baba has been worshipped as 'Nagasai', in all the temples in Coimbatore dedicated to Sai Baba.
Location: NO.1262 , Mettupalayam Road, Coimbatore
Website
Suggested Read: Beautiful Temples In South India That Are A Perfect Amalgamation Of Art & Divinity
11. Thirumoorthy Malai Temple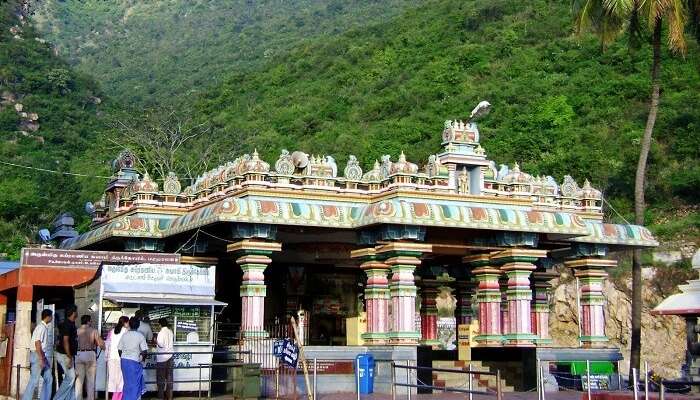 Situated at the foot of a hill next to Thirumoorthy dam, it is one of the most picturesque temples around Coimbatore. People believe that Lord Thirumoorthy appears here in the disguise of a child and blesses all the devotees by fulfilling their desires. This place was indicated by Lord Shiva to Sage Agasthya for his Kailash wedding darshan and is, therefore, known as the Kailash of South. If you specifically wish to visit Shiva temples in Coimbatore, put this one on your list.
Location: Thirumoorthy Temple Road, Udumalpet, Tamil Nadu
Website
Suggested Read: 9 Ayutthaya Temples That Are A Must-Visit To Experience The Best Of Thailand
Planning to go on a pilgrim tour to Coimbatore? Do not forget to include these popular temples in Coimbatore in your itinerary to witness the architectural charm of the city. You'd surely have the best holiday in Tamil Nadu ever irrespective of whether you're religious at heart or not!
Frequently Asked Questions About Temples In Coimbatore
Q. Are these temples in Coimbatore open for people from all religions?

A. Yes, everybody is welcome to visit these temples in Coimbatore and take blessings from the almighty.
Q: Do these temples in Coimbatore provide accommodation?

A. A few temples in Coimbatore do provide accommodation facility to the devotees.
Q. Do these temples in Coimbatore charge any sort of entry fee?

A. None of the temples in Coimbatore which are mentioned above, charge an entry fee.
Q. Which are the most famous temples in Coimbatore dedicated to Lord Shiva?

A. Kottai-Easwaran-Temple, Arulmigu Patteeswarar Swamy Temple, and Arulmigu Patteeswarar Swamy Temple, are some of the most famous temples in Coimbatore dedicated to Lord Shiva. Other temples near Coimbatore railway station are Ponni Amman and Vinayagar Temple that can be easily reached and visited.
Comments
comments