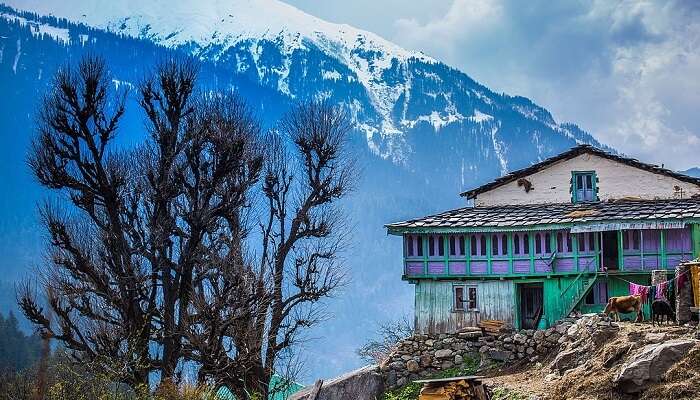 Himachal Pradesh, is known for its breathtaking sights, hill stations, and its grand temples. The state is full of magnificent temples and diverse cultural history. The land of gods, with its beautiful temples tells a fascinating story. If you want to have a spiritual awakening, this is the best destination.With a rich mythological history and grandeur, temples in Himachal Pradesh are a story waiting to unfold. With pilgrims flocking around the temples, these entail sights that behold beauty. Here's a curated list of the best temples in Himachal Pradesh that possess stories waiting to be told. Let us take you one step closer to your spiritual awakening.
16 Temples In Himachal Pradesh
These famous temples in Himachal Pradesh boast of rich cultural history. Pilgrims from around the world visit these heavenly places and seek blessings. Alongside the religious significance, these temples are beautiful in architecture and offers a beautiful view of the Himalayas. 
1. Baba Balak Nath Temple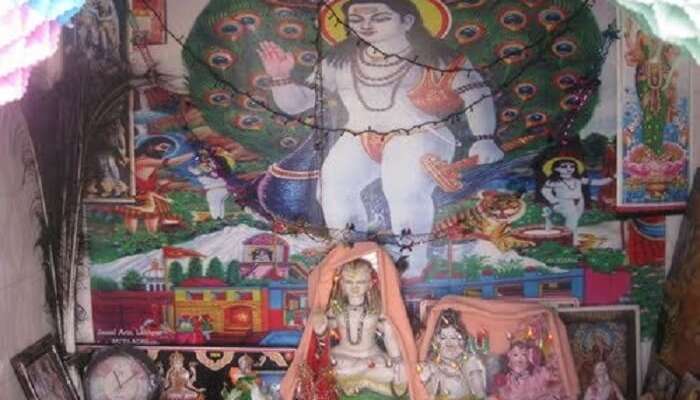 An ancient Temple and caves located in the Dhaulagiri range of the Himachal. Situated in the village chakmoh near Kasauli, this temple is an enchanting site for pilgrims. This temple is thronged by tourists during the Navratri when the devotees travel Myles to worship the Babaji. The temple is an architectural wonder and is carved out of a beautiful hill. It is said to be the residing spot for baba Balak Nath. Babaji was an ardent devotee of Lord Shiva and all his pilgrims fast on every Sunday for their faith.
The famous legend states that couples who are unable to bear children upon Babaji are blessed with a baby. Women pilgrims are prohibited from entering the cave and worship deity from outside the cave. Babaji is offered rota, which is sweet bread made of jaggery and wheat. This is counted among the famous temples in Himachal Pradesh.
Timings: 5 AM to 8 PM
Best time to visit: Sundays are the auspicious days of Babaji, and pilgrims usually flock to the temple on Sundays.
Address: Deotsidh Rd, Shahtalai, Himachal Pradesh 176039
Must Read: 14 Best Adventure Sports In Himachal Pradesh For Couples That Will Make Your Heart Skip A Beat
2. Chamunda Devi Temple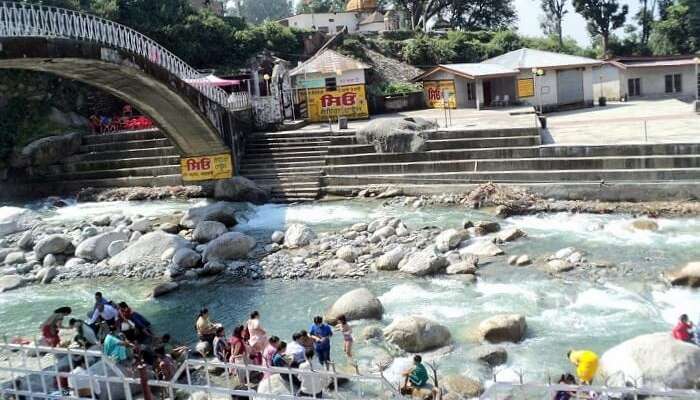 The beautiful holy shrine of Devi chamunda, which is a form of forest Durga, is located in the Kangra valley of Himachal Pradesh. It's a beautiful temple always filled with Hindu pilgrims who worship Devi chamunda. The mythology behind this temple contains an old story of goddess chamunda who killed two demons, shumbh, and nishumbh. The temple is constructed on the same spot where the goddess ended the evil. Surrounded by the Himachal valleys and hills, this place is your go-to place for spiritual awakening.
Timings: 6:00 am to 12:30 pm and 3:30 pm to 8:00 pm
Best time to visit: The nine holy days of Navratri are the best time to worship and bask in the blessings of Devi.
Address: Chamunda, Padar, Himachal Pradesh 176052
Suggested Read: 10 Surreal Hill Stations Near Pathankot One Must Explore To Get The Best Vibe Of Himachal Pradesh!
3. Sankat Mochan Temple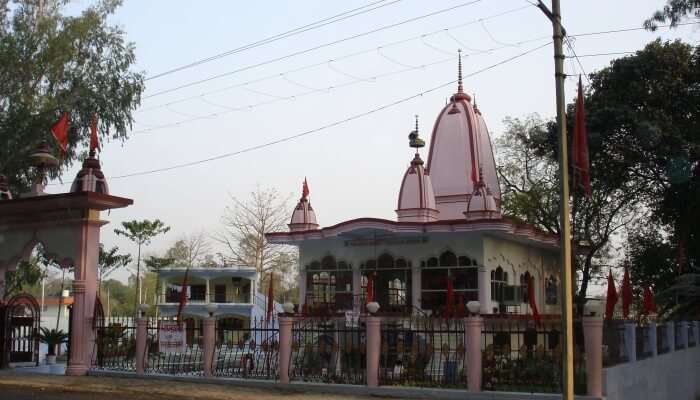 Located in the beautiful valley of Shimla, Sankat Mochan temple is the heavenly abode of Lord Hanuman. Created by Baba Neeb Karori Ji, these temples are a significant tourist attraction of Himalayas. It has many small temples of Lord Rama, Lord Shiva, and Lord Hanuman. The temple also distributes langar every Sunday. This is listed amongst the most famous temples in Himachal Pradesh.
Timings: 6:30 am – 8:00 pm and 7:00 am – 6:30 pm
Best time to visit: Visit at the time of "pratah aarti" at 5 am and the beautiful sandhya aarti at 8:30 pm
Address: Sankat Mochan, Bagh, Shimla, Himachal Pradesh 171010
Suggested Read: 25 Best Hill Stations In Himachal To Experience Pure Bliss In 2020!
4. Jakhoo Temple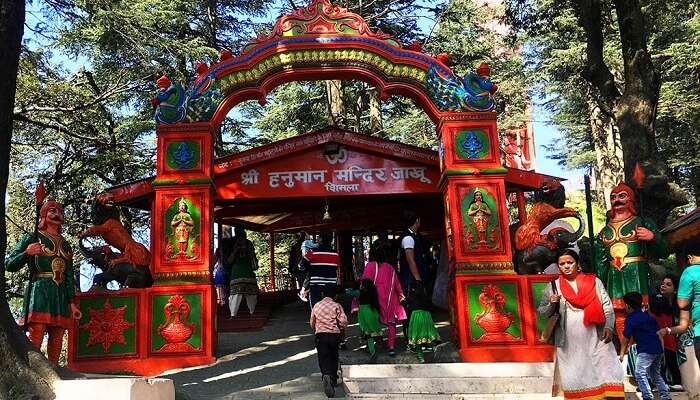 The most famous tourist attraction of Shimla, Jakhoo temple, is a magical and mythological wonder. It is dedicated to Lord Hanuman. Located at the height of 2455 m above the sea level, this temple has stunning views of Shivalik. The story behind the temple is that Lord Hanuman rested here when he flew to collect the Sanjeevani Booti for Lakshmana.
The word jakhoo comes from the name of sage Yakoo, who built this temple. A majestic ropeway with panoramic views will take you to the temple. This temple has the world's largest statue of Lord Hanuman. The temple is a home for hundreds of monkeys.
Timings: 5:00 AM – 12:00 PM, 4:00 PM – 9:00 PM
Best time to visit: Visit at the time of Dussehra when the Hindus celebrate the killing of Ravana
Address: Jakhu Temple Park, Jakhu, Shimla, Himachal Pradesh 171001
Suggested Read: Here's A Complete Guide For Paragliding In Solan For Adventure Junkies In Himachal Pradesh!
5. Hadimba Temple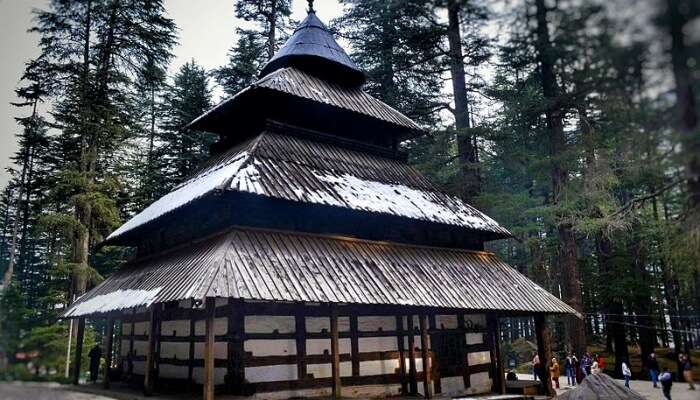 Nestled between the snow-covered mountain peaks of Manali Hidimba temple is a stunning rendition of Goddess Hadimba, who was the wife of Bhima and mother of ghatotkach. She possessed supernatural powers after her severe penance. Temple is built entirely out of wood and wooden carvings. The carved walls tell a story of eras bygone.
Timings: 8:00AM -6:00 PM
Best time to visit: During the Dhungri festival. Enjoy the local festivities and the Kullu Natto dance and processions.
Address: Hadimba Temple Rd, Old Manali, Manali, Himachal Pradesh 175131
Suggested Read: Don't Miss Out On These 8 Awesome Things To Do In Kasol On Your Getaway To Himachal Pradesh!
6. Narvadeshwar Temple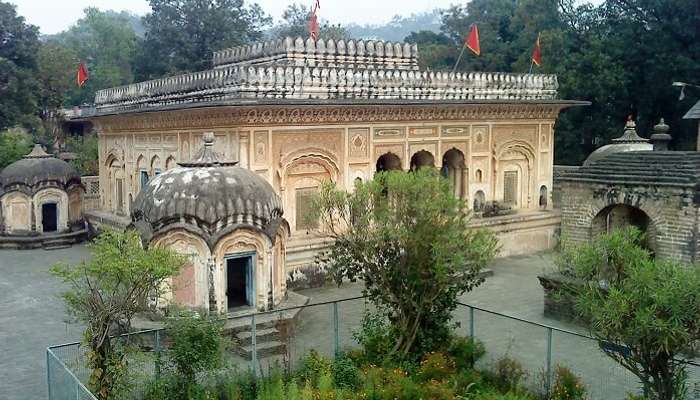 The 200-year-old architectural wonder Narvadeshwar Temple is a sight to behold. The temple, with its rich cultural history, has magnificent paintings adorning its walls. It was built by Maharani Prasanni Devi in a traditional bhitti architecture. The murals tell the stories of epics like Ramayana and Mahabharata. Visit temples in Himachal Pradesh and bask in the culture shower of different eras of ancient Indian history.
Timings: 8:00AM -6:00 PM
Best time to visit: During the Kullu festivities
Address: SH 39, Sujanpur Tira, Himachal Pradesh 176110
Suggested Read: 11 Spectacular Places To Visit Near Himachal In 2020 For A Serene Getaway
7. Tara Devi Temple
Situated between the lofty scenic Himalayas, Tara Devi temple is dedicated to the goddess of stars. It was dedicated to the goddess Tara who visited Himachal from Bengal. Her idol is made of a blend of eight elements called the "Ashtadhatu." The peaceful backdrop and the serene, tranquil air is your go-to place for peace and spiritual retreat. This is one of the historical temples in Himachal Pradesh.
Timings:7:00 AM – 6:30 PM
Best time to visit: During the Navratri and Ashtami when processions are held
Address: NH.22, Kachi Ghati, Bagh, Shimla, Himachal Pradesh 171001
8. Maa Sharvari Temple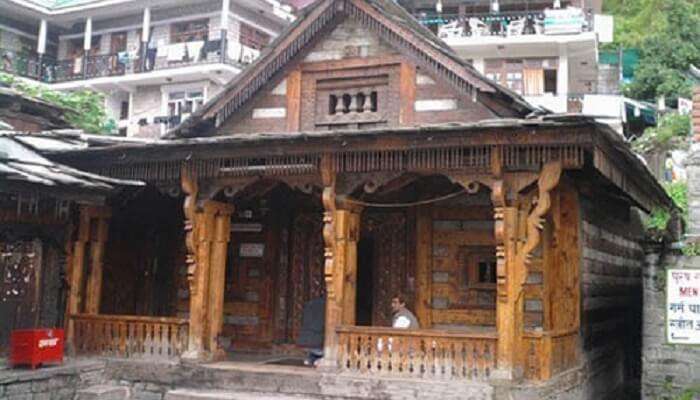 Image Credit: TourtravelsIndia
This temple is devoted to Maa Sharvari and considered to be quite an important and one of the famous temples in Himachal Pradesh. It is believed that the goddess was an incarnation of Goddess Durga and visited by many devotees to seek blessings. Located at a distance of 5 kms away from Manali by the bank of river Beas, this temple can be visited by hiring a cab. The goddess is believed to be worshipped by the Kullu kings.
Location: 5 Kms away from the main market 
Best Time To Visit: During the festival of Dussehra
Timings: 5AM-12PM, 4PM-9PM
9. Vashisht Temple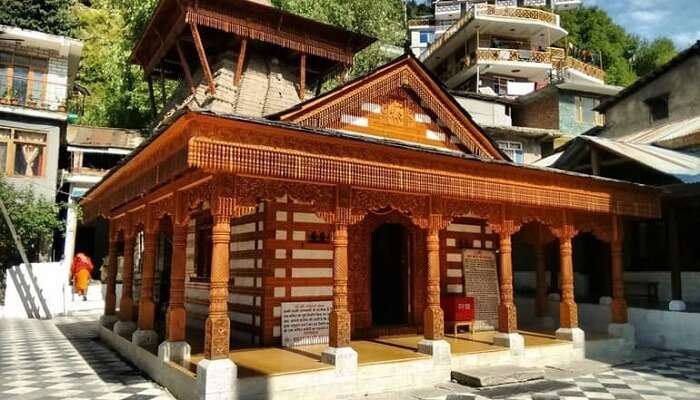 Image Credit: Hindi.holidayrider
This is one of the temples in Himachal Pradesh which is known for having a natural hot spring or sulphur springs. It is dedicated to sage Vashisht who once came here and meditated. They have a separate bathing zone for both men and women and people flock down here to take a bath in the boiling water which has healing properties. Another fascinating thing about this temple is that it is 4000 years old.
Location: Near Manali, Vashist, Himachal Pradesh 175135
Best Time To Visit: During the winter season to enjoy a bath in the warm water
Timings: 7AM-9PM (For bath – 7PM-1PM and 2PM-9PM)
10. Naina Devi Ji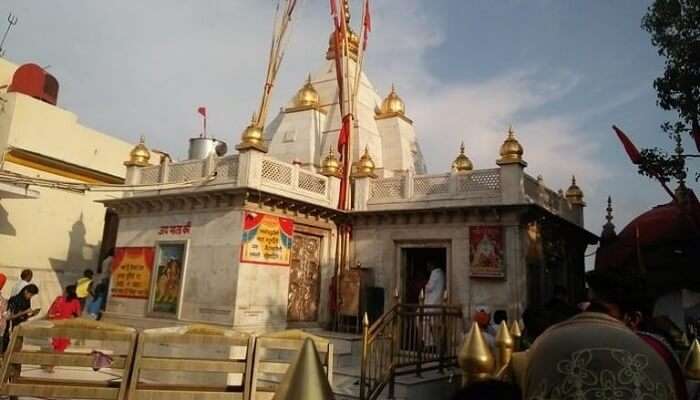 Image Credit: Hindi.holidayrider
This is considered to be one of the important temples located in Bilaspur, Himachal Pradesh. Located at a distance of 70 kms from Bilaspur, this place is often crowded by devotees who come from far and wide. The Naina Devi is considered to be the incarnation of the Goddess Durga and according to the legends Lord Vishnu cut Maa Durga (Sati) in 50 pieces to pacify Shiva and her eyes fell here. This temple was built by Raja Bir Chand in the 8th century.
Location: Matrianchal Bhawan, Himachal Pradesh, 174310
Best Time To Visit: April – October
Timings: 5AM-9PM
11. Vyas Gufa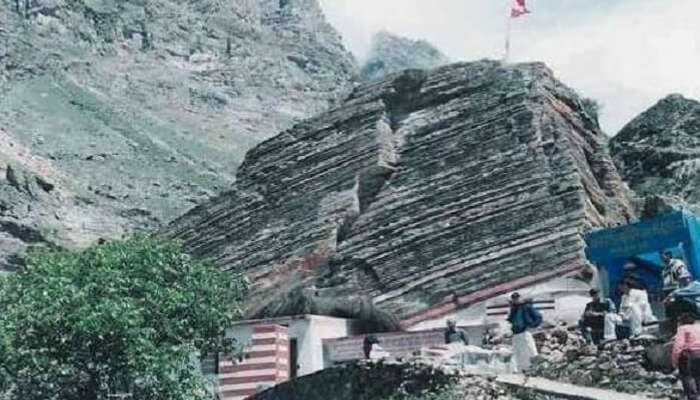 This is one of the oldest temples located in Bilaspur which is famous among the pilgrims who plan to visit every year. According to the legends, at this Sage Vyas meditated for many years and later wrote the epic Mahabharata. Located alongside the River Satluj, this place lies between the old and new town of Bilaspur. Situated at a height of 610 meters above sea level, this place has its own importance.
Location: Bilaspur, Himachal Pradesh 
Best Time To Visit: October-March
Timings: NA
12. Baba Balak Nath Temple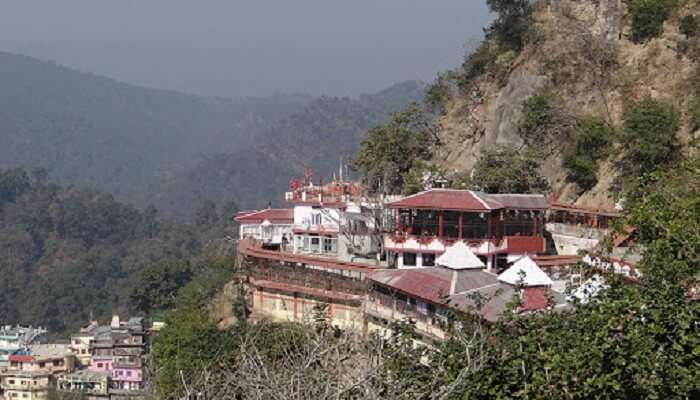 This is one of the famous temples located in Himachal Pradesh which is actually a cave temple carved out of a rock. The entry of the females is restricted inside the temple, but the place grabs its attention during the Holi Festival when a fair is organized.
Location: Deotsidh Rd, Sidh Baba Balaknath Mandir Complex, Deotsidh, Himachal Pradesh 176039
Best Time To Visit: October-April
Timings: 5AM-8PM
13. Bhootnath Temple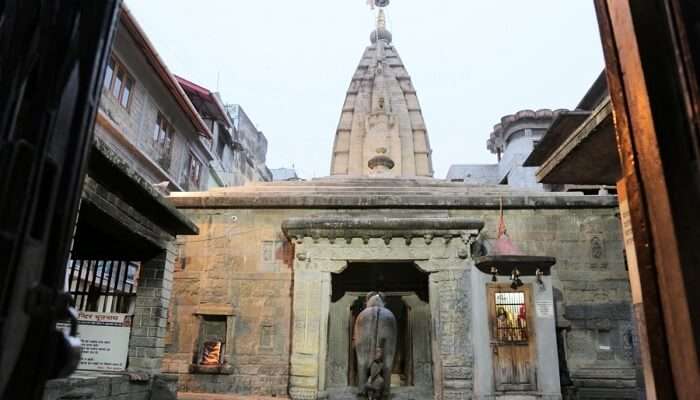 This is one of the famous temples in Mandi, Himachal Pradesh which is devoted to Lord Shiva. The place is seen to be in its full glory during the Mahashivratri fair which is celebrated here with grandeur. Visitors flock here from all over the world to seek the blessings of Lord Shiva. It is believed that the temple was built by Raja Ajber Sen in 1527.
Location: Baghpur – Falaida Rd, Bagpur Khurd, Haryana 121102
Best Time To Visit: During the Mahashivratri
Timings: 8AM-11PM
14. Jwala Devi Temple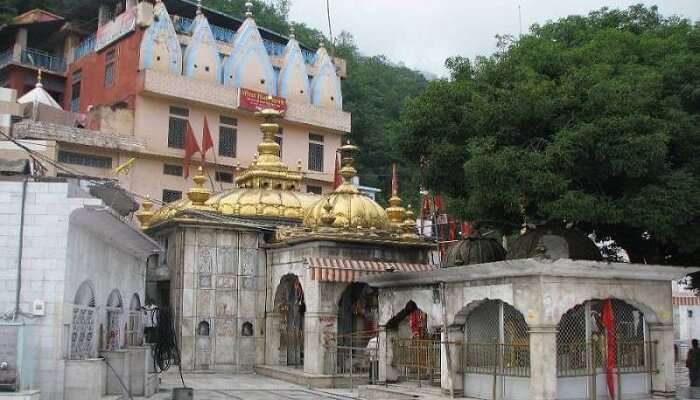 Jwala Devi temple is situated at the Kangra district in Himachal Pradesh and known for being one of the 51 Shaktipeeths in India. Located at the Jwalamukhi village in Kangra, this temple is believed to be the place where the tongue of Sati has fallen. According to the legends said by the locals a shepherd first saw a raging fire on top of the hill and told the king. Later the king went and saw Goddess Jwala Devi and later decided to build a temple.
Location: Kangra District, Himachal Pradesh 
Best Time To Visit: October-February 
Timings: 5AM-12PM, 4PM-8PM 
15. Chintpurni Temple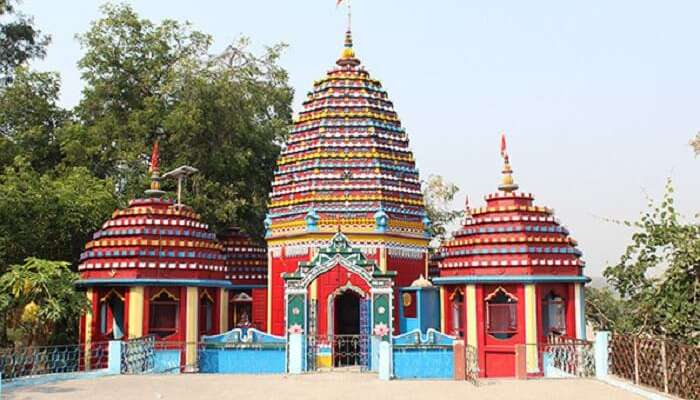 This is another in the list of Shaktipeeth where the Goddess Chinnamastika is worshipped by the locals and the devotees. It is said that the goddess is headless as she beheaded and offered the blood to her two companions. The goddess is also considered to be a symbol of sacrifice as she can do anything for the people she loved. Located at the Una district, this temple is believed to be where people flock to get their wishes fulfilled.
Location: Vpo chintpurni, teh Amb, Moien, Chintpurni, Himachal Pradesh 177110
Best Time To Visit: October-March
Timings: 4AM-10PM
16. Bhimakali Temple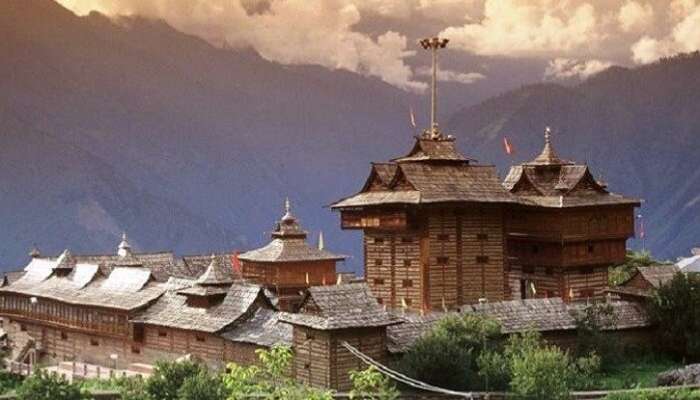 This is another Shaktipeetha temple which is situated at the Saharan town in Himachal Pradesh. Built with wood, one can enjoy the amazing view of the snow-clad mountains in the backdrop. As per the legends, the ear of Goddess Sati fell here and later a temple was built over it. The thing to admire here is to witness the intricate wood carvings and also the view surrounding the place which is extravagant and worth witnessing.
Location: Sarahan, Himachal Pradesh 172102
Best Time To Visit: October-March
Timings: 6AM-5:30PM 
Suggested Read: 15 Places To Visit In Himachal Pradesh In December 2020
Himachal is indeed the Land of gods with peaceful valleys, architectural wonders, and divine tranquility. The best temples in Himachal Pradesh are the ones that tell a story and involve you in it. So, pack your bags and leave to discover your spiritual awakening on your trip to Himachal Pradesh.
Disclaimer: TravelTriangle claims no credit for images featured on our blog site unless otherwise noted. All visual content is copyrighted to its respectful owners. We try to link back to original sources whenever possible. If you own rights to any of the images, and do not wish them to appear on TravelTriangle, please contact us and they will be promptly removed. We believe in providing proper attribution to the original author, artist or photographer.
Frequently Asked Questions For Visiting Himachal Pradesh
Q. What should I pack for the trip?
A. Carry warm woolen clothing, gloves, raincoats and umbrellas, and a good pair of sports shoes. Always wear decent clothing.
Q. What time of the year should I plan my trip?
A. The peak tourist season is April-June. From November to February, Himachal is snow-covered and picturesque. This is the best time for those looking for adventure. Navratri is the ideal time to plan a pilgrimage tour.
Q. What are some Himachali delicacies?
A. Pilgrims that visit Himachal should try Dham and Madra. Special treats are also given in temples and during festivals.
---
Looking To Book A Holiday Package?
---
People Also Read
Temples In Karnataka Temples In Chennai Temples In Hyderabad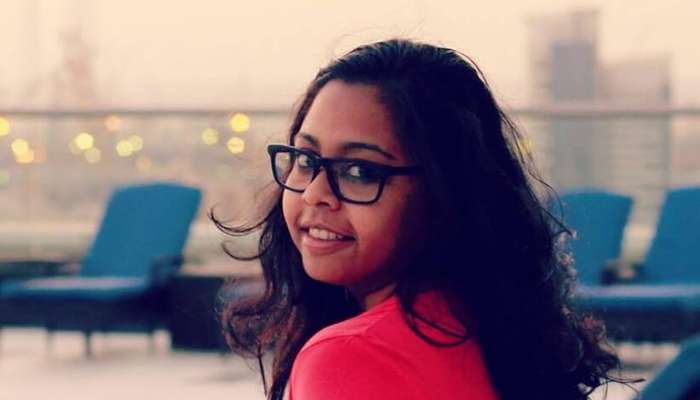 Comments
comments