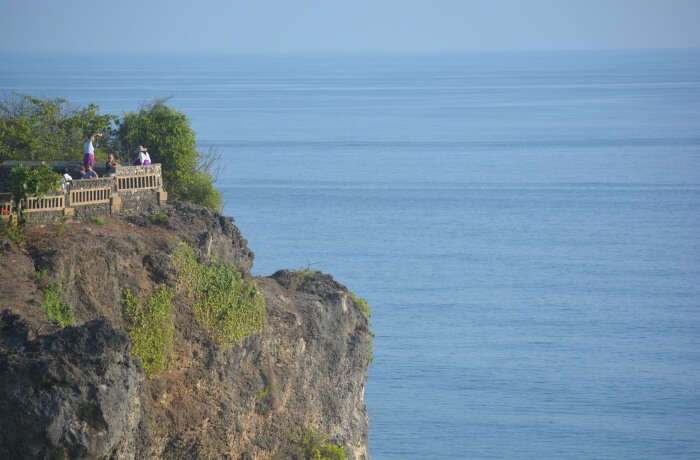 Bali is an exotic destination that houses over 10,000 ancient temples which make this destination culturally and historically valuable. These magnificent and architectural marvels are some of the most iconic landmarks in Bali that are set against a stunning backdrop of the beautiful coastline of Bali and the palm-fringed beaches. These temples in Tabanan Regency Bali are a gem to
explore for travelers looking for a place to unwind after a tiring day of sightseeing out in the sun.
4 Temples In Tabanan Regency Bali
Check out this list of 4 amazing temples in Tabanan Regency Bali that are a perfect place to unwind and catch breathtaking views of the picturesque scenery of Bali.
1. Pura Taman Ayun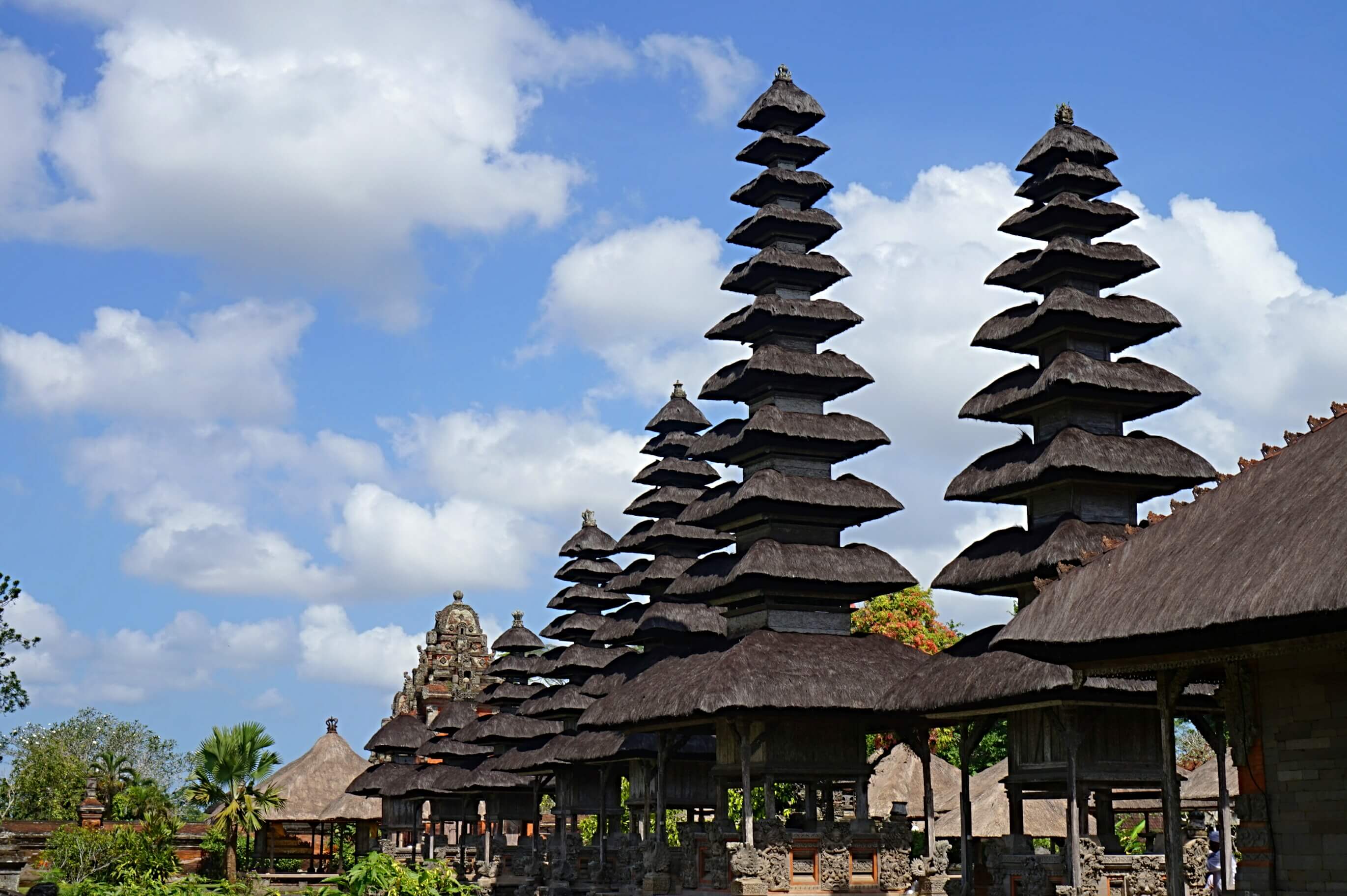 Constructed in 1634 by the kind of Mengwi dynasty so as to honor his ancestors, the Pura Taman Ayun, translated to Beautiful Garden is an ancient temple located in Mengwi, Bali. The gateway of the Temple is beautifully ornamented and leads to a beautiful fountain that sprouts water through its nine jets. These nine jets represent the nine gods in the Hindu Pantheon. There is an old world charm to this place like it belongs to a time of past and perhaps that is the reason why visitors flock here throughout the whole year.
Things to do: Look at the carvings and sculptures, take pictures.
Can't-miss: The Fountain.
Must Read: 60 Spellbinding Bali Tourist Attractions To Visit In 2022
2 .Tanah Lot Temple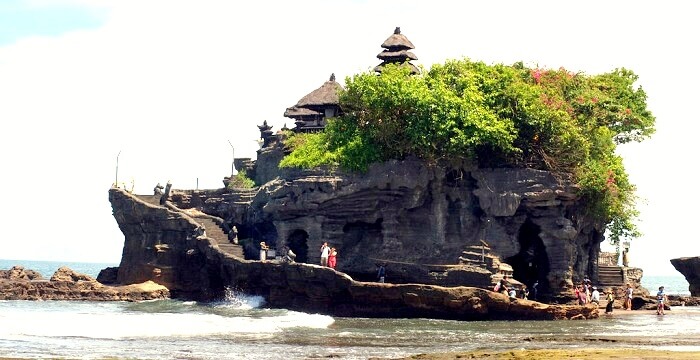 Tanah Lot Temple is one of the best places to go in Ubud. A renowned Hindu temple, it has a great significance among Balinese. Famous worldwide for its offshore spectacular settings, it is formed from the rock amidst waves. A truly picturesque setting of this temple will make you stay longer here. An ideal place for spending quality time and find inner peace. This is along among the top Ubud tourists attractions and very popular among shutterbugs as well.
Location: Beraban, Kediri, Tabanan Regency, Bali 8217, Indonesia
Timings: 7AM to 7PM
Entry Fee: Child (6-12) : Rp. 30.000, Adult : Rp. 60.000
Suggested Read: 17 Amazing Places To Visit In Ubud To Savour The Best Of Your 2022 Bali Vacay!
3. Puseh Batuan Temple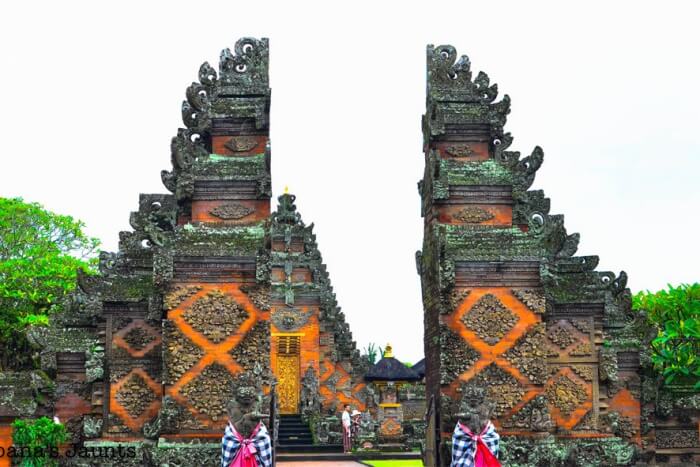 This temple is situated in the Batuan village and owned by the villagers. This is Balinese Hindu temple and it includes 3 temples. These three places are the temples of Brahma, Vishnu and Lord Shiva. To check the local religion this place is the must visit. You will get to experience the old traditions there and will get a surreal experience.
Suggested Read: Ubud Celuk Village: An Ultimate Guide To Enjoying A Peaceful And Romantic Getaway In 2022
4. Pura Luhur Batukaru Temple

Pura Luhur Batukaru is a standout amongst the most hallowed temples on Bali and was worked in the eleventh century. Situated amidst the wilderness and unquestionably a supernatural place. It is mandatory to wear a scarf and a sarong, you can acquire both for nothing out of pocket at the entry of the temple. Sightseers are allowed to enter the first yard, the entrance to the main temple zone is disallowed. Because of the foggy evening, the best time to visit Pura Luhur Batukaru is toward the beginning of the day.
Further Read: A Visit To Lush Greenery Of Jatiluwih Green Land In Bali Will Calm Your Mind & Soul
We hope that this list enticed you enough to book your tickets for this exotic destination right away! Explore the cultural side of Bali apart from its stunning beaches and exhilarating nightlife. These temples in Tabanan Regency Bali will be the perfect chance for you to unwind after a tiring day of sightseeing and water sports activities during the day on your Balinese vacation. Plan a holiday to Bali and get to indulge in these experiences on your trip with friends and family.