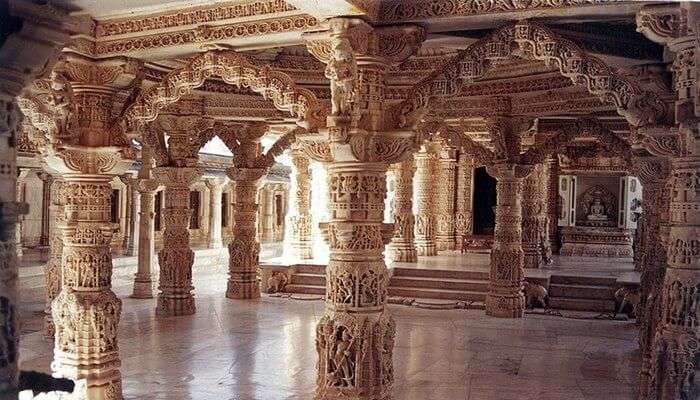 Visakhapatnam, Vizag, or Waltair is the financial capital of Andhra Pradesh. It is the administrative headquarters of Visakhapatnam district and state headquarters of the Indian Coast Guard. Visakhapatnam is present amid the Eastern Ghats on the Bay of Bengal coastline.
The beaches, hills, and valleys make it the most sought-after tourist spot. While visiting, go for darshan at some of the grand temples in Visakhapatnam. Most of the famous temples are within city-limit, while others located a few miles away are reachable via vehicles.
6 Temples In Visakhapatnam
Here is the Visakhapatnam temple list.
Varaha Lakshmi Narasimha temple – Simhachalam
Kanaka Maha Lakshmi Temple – Burujupeta
Sampath Vinayagar Temple – Asilmetta
Kala Bhairava Temple – Adavivaram and Simhachalam
Sai Baba Temple – Chinna Waltair
Venkateswara Swamy Temple – Srungamani Hill
1. Varaha Lakshmi Narasimha temple – Simhachalam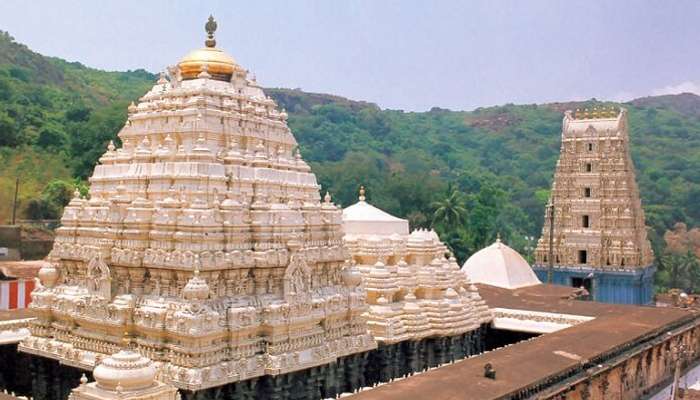 Varaha Lakshmi Narasimha temple or Simhachalam Temple Vizag is on Simhachalam hill, 300m above sea level. The temple architecture is a combination of Kalinga/Odishan, Cholas, and Chalukyas. Although most temples are East facing, this one faces the West. Swami Pushkarini tank is near the temple while the Gangadhara tank is at the bottom of the hill.
Simhachalam Temple Vizag is dedicated to Lord Vishnu in the form of Lord Varaha Narasimha. According to the legend (thirty-two chapters), Lord Vishnu appeared in non-human form. He had boar's head, human being's torso, and lion's tail when he saved his devotee, Prahlad. Prahlad's father, Hiranyakashipu was defeatless because of his received boon — no human form could kill him.
Timings: 4:00 AM to 9:00 PM (Public Holidays – Timing might differ)
Specialty: Except on Akshaya Tritiya, every day, Lord Varaha Narasimha is covered with sandalwood paste.
Address: Simhachalam Road, Simhachalam, Visakhapatnam, Andhra Pradesh, 530028
Must Read: 20 Best Places To Visit In Visakhapatnam In 2020 To Relish The True Charm Of This Coastal Gem!
2. Kanaka MahaLakshmi Temple – BurujuPeta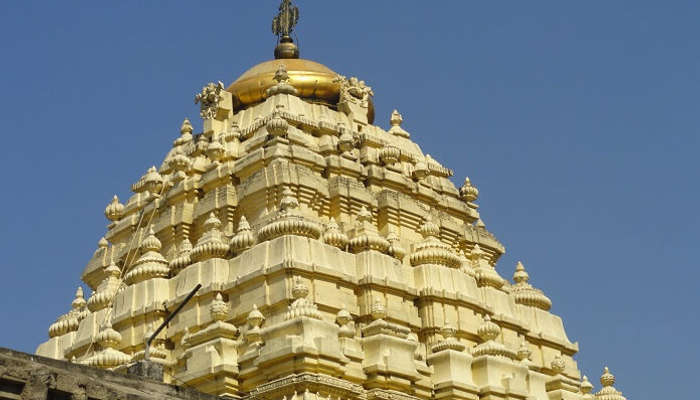 Kanaka MahaLakshmi Temple originally was located inside Burujupeta Fort. Visakha kings were attacked, when enemies destroyed the temple and dropped the deity into a well. Goddess Laxmi appeared in her devotees' dreams, mentioning her desire for a roofless temple. In 1907, Kanaka MahaLakshmi Temple, one of the most famous temples in Visakhapatnam, was completed.
This roofless temple was made at Burujupeta in One Town area, where devotees themselves offer prayer. The well is filled with idols of Ashta Lakshmis. According to Sthala Puranam, its location was in the middle of the road. When the temple was shifted to a corner, residents died of the plague. Again the temple was returned to the original position. Soon plague epidemic vanished, allowing people to lead their healthy lives. People believe that the Goddess removes devotees' problems and fulfills* their wishes.
Timings: Open 24 hours
Specialty: "Margasira Masotsavamulu" (November 30 to December 29).
Address: Town Kotha Road, Burujupeta, Chengal Rao Peta, Port Area, Visakhapatnam, Andhra Pradesh, 530001
Suggested Read: 8 Charming Places To Visit In Vizag In Summer For Your Trip To Andhra Pradesh In 2020
3. Sampath Vinayagar Temple – Asilmetta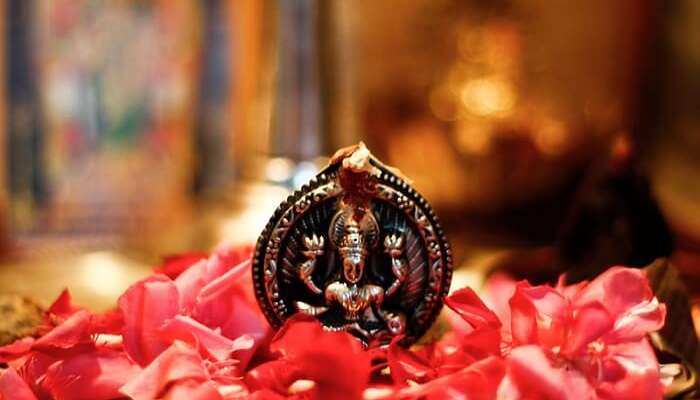 Sampath Vinayagar Temple, one of the famous temples in Vizag, draws local devotees. T. S. Selvaganesan, T. S. Rajeswaran, and late S.G. Sambandan built this temple for themselves. The temple, located in S.G. Sambandan and Co. complex in Asilmetta, was completed in 1962. This temple dedicated to Lord Ganapati attracted fishermen who daily prayed before leaving for work.
In 1967, Kanchi Peetadhipathi and Chandrasekharendra Saraswati commenced Ganapati Yantra within this temple. Admiral Krishnan, in charge of Eastern Naval, broke 1001 coconuts in this auspicious temple. This was after Vizag was saved from the dangerous Pakistani Submarine Ghazi attack in December 1971.
Timings: Open 24 hours
Specialty: Ganesh Chaturthi
Address: 10-1-33 Waltair Appliance, road, Visakhapatnam, Andhra Pradesh 530003
Suggested Read: 33 Romantic Honeymoon Places In South India For 2020 That Cast Utter Magic
4. Kala Bhairava Temple – Adavivaram and Simhachalam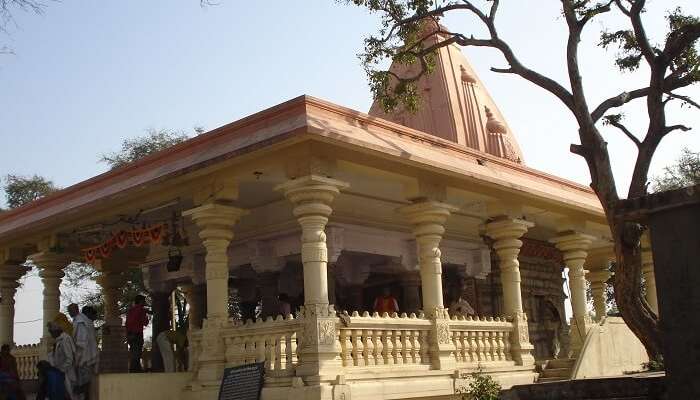 Kalabhairava temple in Vizag, also called Sri Kala Bhairava Swamy Temple, is surrounded by forests of Simhachalam. This Bhairava corner on Sontyam Road is 4 km from Adivivaram and 8 km from Simhachalam. Kalabhairava temple in Vizag is famous ever since Lord Kala Bhairava Swamy self-manifested. Devotees overcome all obstructions and offer prayers on Amavasya.
Timings: 7:00 AM to 7:00 PM
Specialty: Karthika Masam and Maha Shivaratri.
Address: Visakhapatnam, Andhra Pradesh 531173
Suggested Read: Araku Valley Guide: 6 Must Experiences To Go Off The Beaten Path In Andhra Pradesh
5. Sai Baba Temple – Chinna Waltair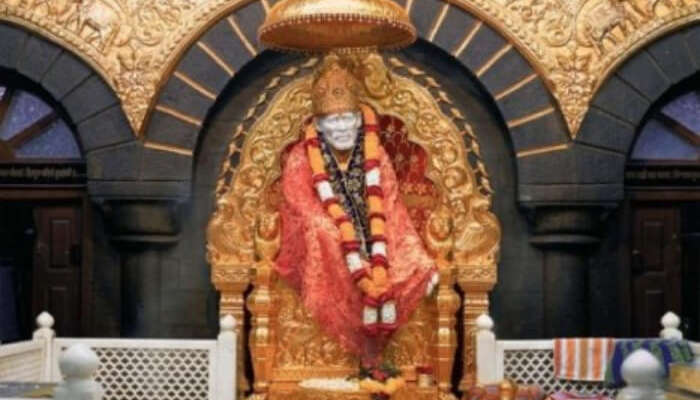 Sai Baba temple at Chinna Waltair is one of the most auspicious temples in Vizag. On 9th February 1977, Bhoomi Pooja of this temple was conducted. Since 18th March 1993, devotees of Sai Baba have been organizing prayer meetings. They worship the 5.5 feet tall idol of Sri Sai Baba located on the first floor.
Sai Baba complex has Visakhapatnam temple list dedicated to Gods and Goddesses worshipped in Southern India. Names include Ganapati, Vishakeswara (Shiva), Parvati Devi, Dattatreya, Rama, Hanuman, Sanishwara, Suryanarayana, Swamy Aiyappa, Dhuni, and Dwarakamai.
Timings: 5:15 AM to 8:30 PM
Specialty: Kakad Aarti on opening while Shej Aarti before closing
Address: East Point Colony, Chinna Waltair, Pedda Waltair, Visakhapatnam, Andhra Pradesh 530017
Suggested Read: Snowfall In Lambasingi In Winter 2020: Your Handy Guide
6. Venkateswara Swamy Temple – Srungamani Hill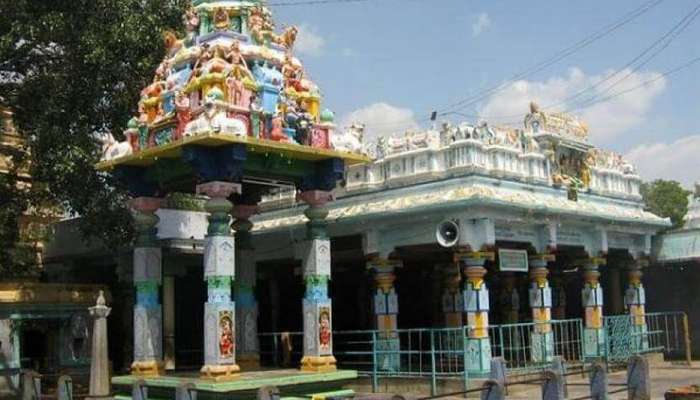 Venkateswara Swamy Temple, one of the temples in Vizag, draws devotees from across the nation. It is located on the Srungamani Hill, where people believe Garuda seated Lord Venkateswara and Lakshmi. Krishana Bhupaluda, King of East Godavari District, constructed it in the 16th century AD. Ramanuja declared the temple as one of the 108 sacred Vaishnava Abhimana Kshethrams.
After that, Venkateswara Swamy Temple is one of the most famous temples in Vizag. The name of this temple has been mentioned in the Brahmavaivartha Puranam (Garudachala Mahatmayam). According to the legend, the deity of Lord Venkateswara was recovered from under the rocks. Other names of the same temple are Swayambhoo and Upamaka.
Timings: 6:00 AM to 12:30 PM, 4:00 PM to 9:00 PM
Specialty: Lord Venkateswara grants the wishes of devotees.
Address: Beach Road, Port Are, Near Post Office, Visakhapatnam, Andhra Pradesh 530001
Further Read: 10 Fascinating Things To Do In Visakhapatnam For A Captivating Vacation
Local residents flock to various temples in Visakhapatnam, located within the Vizag city and Visakhapatnam district. These Holy Shrines are extremely auspicious destinations, primarily because Gods and Goddess protect their devotees. Plan a trip to Andhra Pradesh and make sure you visit them.
Frequently Asked Questions About Temples In Visakhapatnam
Q. What are the other special sight-seeing spots in Vizag?
A. After visiting temples in Visakhapatnam, you might find time for other sight-seeing activities. You can check out the INS Kurusura Submarine Museum in Vizag. This was submerged during the Indo-Pakistan War in 1971.
Q. How safe is it to swim in the sea at Visakhapatnam beaches?
A. Vizag has many beaches (Yarada Beach, Rishikonda Beach, Rama Krishna Beach, and others). These beaches are covered with sand and look calm. But, underneath the water, there are huge boulders that are dangerous for swimming in the sea. Only in the winter season when the sea is relatively calm, swim only in the Yarada Beach.
Q. What to purchase in and around Visakhapatnam?
A. Travel to picturesque Araku Valley by taking a train or bus. Near the Boro Cave, you can purchase roasted coffee beans and spices that are harvested locally.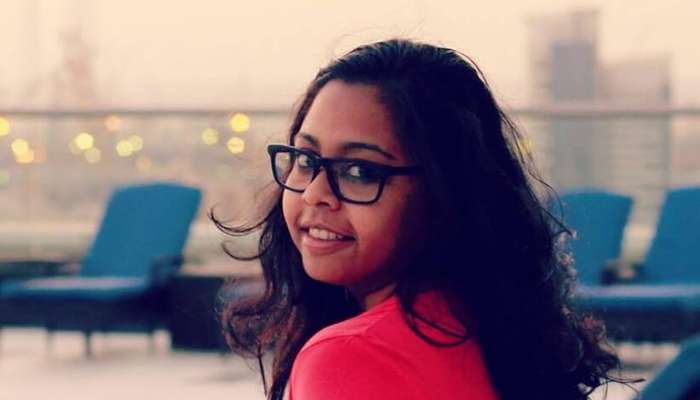 Comments
comments