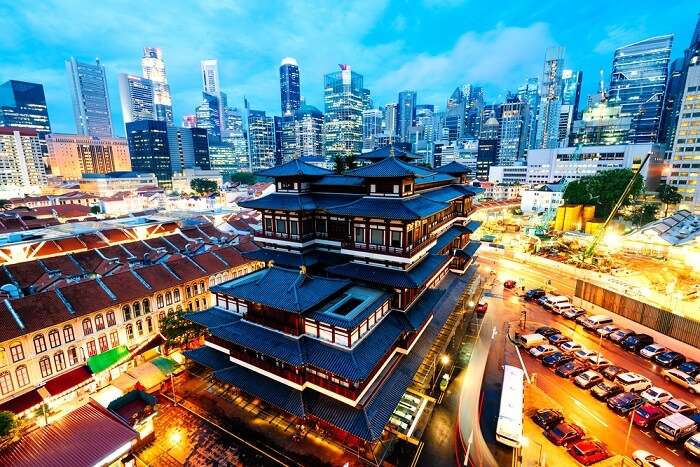 Singapore is a country known for its technological advancements, breathtaking skyscrapers, vibrant culture, and eclectic religious systems. There are various religions followed in this country – Hinduism, Christianity, Taoism, Islam, Buddism, and more. People of Singapore essentially practise Buddhism religion. There are many Buddhist and Hindu temples in the island city state. Moreover, you'll find many temples near National Museum of Singapore that you can visit after learning about the vast history of the Southeast Asian country.
To make the most of your vacation in the country, you must explore the various aspects that form a major part here. Singapore is known to be the most technology-ready nation in the world. Its skyscrapers are considered to be architectural masterpieces. The country has advanced magnificently over the years and still there has been no declination of the religious values that have been a part of this country since times immemorial. The temples, churches, monasteries, and mosques here hold prominent historical, mythological as well as architectural significance.
Best Time To Visit Singapore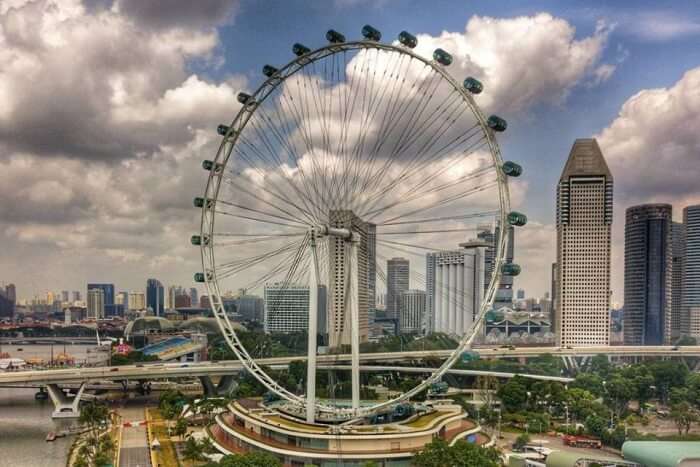 The country of Singapore has a persistent tropical rainforest climate that is more subjected to the Intertropical Convergence Zone than the trade winds. Moreover, the temperature here does not fluctuate dramatically and stays between 25-35 degree celsius. The most ideal time to visit the country is considered to be between February and April – this is when the weather is most pleasant and you can get indulged in outdoor activities. If you'll visit the country in the months of November, December, and January, you'd have to deal with heavy rainfalls.
Planning your vacation here in January or February will be the best if you want to attend the Chinese New Year here. If celebrations are what you want to see in Singapore, then visiting in October can't be a bad idea either, for the mid-autumn festivals are organized during this time of the year only.
4 Temples Near National Museum Of Singapore
The National Museum of Singapore is the oldest museum in the island city state, dating back to 1849. The history buffs would love visiting this place. This is the place where you can familiarise yourself with the vast history of this Southeast Asian country. The museum was first established as a library that was a part of Singapore Institution. This library was named Raffles Library and Museum.
There are many tourist attractions around this museum and you'll even find numerous temples at a close distance from here. If you'd like to know about the religious as well as cultural values followed by the Singaporeans, then visiting these temples after you've explored the intriguing elements at the museum will be the best thing to do!
1. Sri Sivan Temple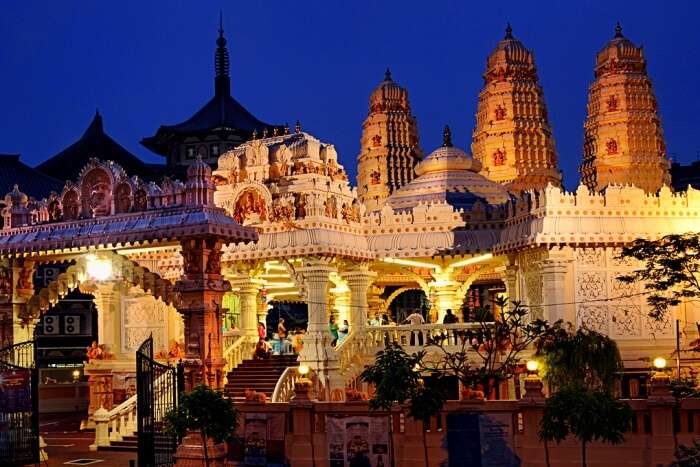 One of the most notable Hindu temples in Singapore, it is dedicated to Lord Shiva. The total cost of building this magnificent structure was a whopping 6 million dollars. The temple was shifted through three locations before finally finding a permanent place at Geylang Avenue in Singapore. A brilliant combination of two most prominent Indian style of architecture, this place of worship is unique in terms of construction, facilities and features. Indian artisans were hired to create the intricate carvings on the outer structure of the temple.
Location: Geylang Avenue
Timings: 6am to 12pm; 6pm to pm
10 Best Things To Do In Geylang For A Rejuvenating Vacay Like Never Before
2. Sasanaransi Buddhist Temple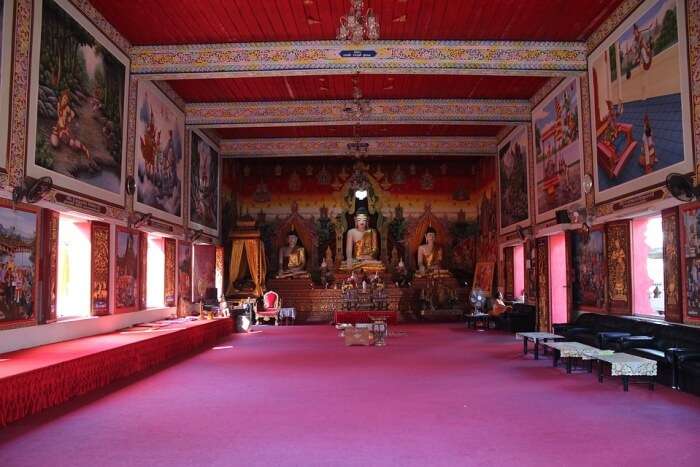 It was built by a Burmese expatriate to serve the overseas Burmese Buddhist community and is, therefore, also known as the Burmese Buddhist Temple. It was previously located in Little India, off Serangoon Road, and was relocated to its current location in 1991. It is a multi-storied building, the interiors of which are embellished with paintings depicting events in Buddha's life and on the third story is a standing gold image of Buddha. Surround by a halo of colorful lights, is a 3.3m tall Buddha statue built from a 10-ton block of marble.
10 Things To Do In Novena To Make Your Singapore Trip More Fun
3. Yueh Hai Ching Temple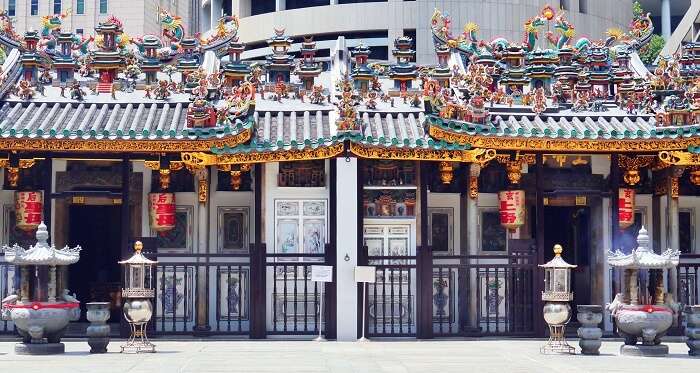 This UNESCO heritage temple reflects Chinas ancient culture and often called out as the Temple of Love. This place is a must visit for couples to make a beautiful start of their new life together. Along with this, the temple is also a home to gold gilded historical ornamentation and ceramic figurines.
Established On: 1826
Address: 30B Phillip St, Singapore 048696
20 Romantic Places To Visit In Singapore For Honeymoon In 2022
4. Thian Hock Keng Temple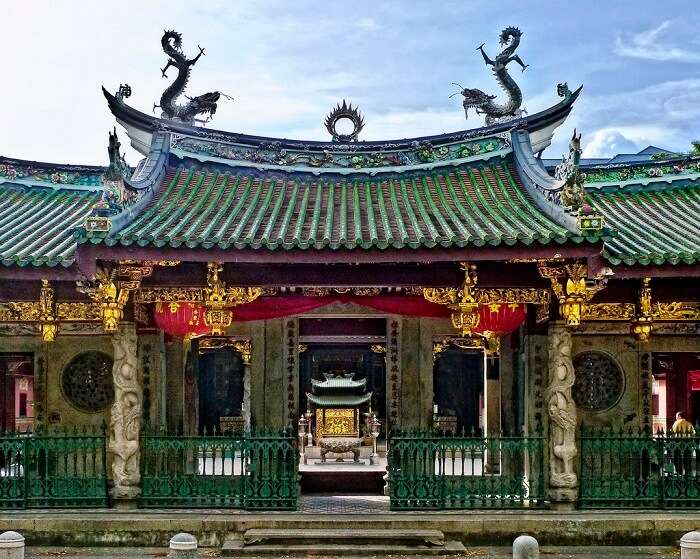 Thian Hock Keng Temple is the oldest Chinese temple and the most prominent Hokkien temple of the country. There are two temples, one is dedicated to Mazuthe Taoist goddess of the sea; and the second one at the back is dedicated to Kuan Yinthe Buddhist god of mercy. The temple has vibrant interiors with bright colored tiles and colorful carvings of peacock and roses. The grand entrance with the lions, tigers and the Door Gods guarding the door feels like a different world altogether.
Being the oldest one built in 1842, it attracts many tourists with its splendor. Famous among the Chinese historical monuments of Singapore, the temple is great place to be at for some calmness and serenity.
Timings: 7:30 am to 5:30 pm
Impressive collection, isnt it- We are sure that there were many unknown historical places in Singapore on this list, about which you did know. Dont hold yourself back and see through the engaging history of Singapore, for your own eyes. Plan a trip to Singapore right away and discover these traces of the past with you family or friends.
Blast From The Past: 11 Spectacular Historical Places In Singapore
A vacay in Singapore would be more than satisfying if you'll add the element of history and mythology. This will help you know about the belief system of the people here that is being followed since long. Visiting the temples near National Museum of Singapore will be the most ideal way to spend your holiday here if you want to know about the historical events and cultural or religious structure of this Southeast Asian country.
---
Looking To Book An International Holiday?
Book memorable holidays on TravelTriangle with 650+ verified travel agents for 65+ domestic and international destinations.
---