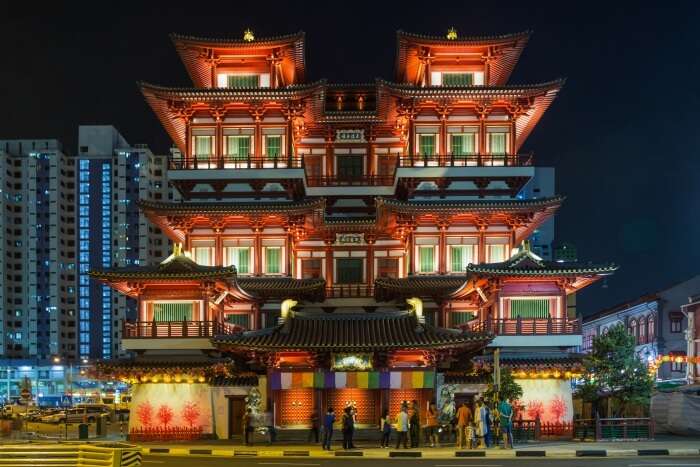 The island city state of Singapore never disappoints its tourists when it comes to sightseeing. Natural parks, skyscrapers, beaches, museums, and several heritage sites, the Southeast Asian country will keep you indulged, making your trip totally worthwhile. Temples in this country are a major part of the various heritage sites here. The religious significance of Singapore has always been intact since long and there are various religions that are devotedly practised by Singaporeans. You can find many temples, churches, monasteries, or mosques here. There are temples near Pulau Ubin that you must visit while exploring this island of Singapore.
Buddhism, Hinduism, Christianity, Islam, and more religions are followed with utmost dedication. The presence of these many religions in this country has contributed significantly in the eclecticity of Singaporean culture. This is why people from all over the world love visiting and revisiting the country of Singapore all round the year. Even though the island city state has developed itself into the most technology-ready nation in the world, the belief system of Singaporeans when it comes to religion has not shaken since years. Visit the various religious sites to know more!
Best Time To Visit Singapore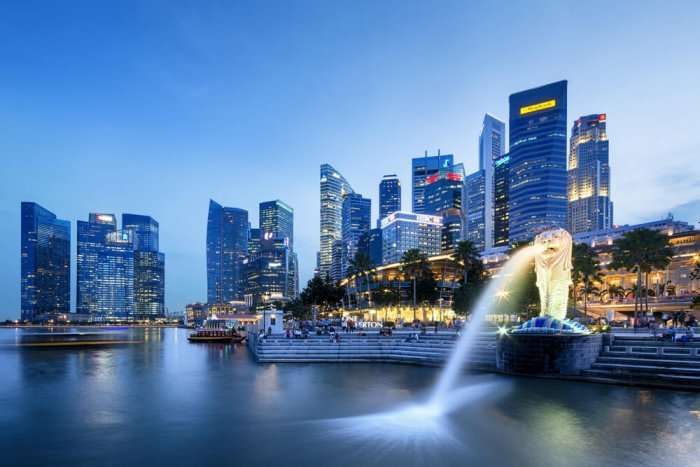 For a celebratory and happening visit to the country of Singapore, make a travel plan for the time period between February and April. The country has a consistent tropical rainforest climate that is more subjected to the Intertropical Convergence Zone as compared to the trade winds. Natural disasters like cyclones are quite rare and the temperature does not rise or fall too much the whole year, always remaining on the scale of 25 °C to 35 °C. The seasonal changes do not happen in this country.
If you want to go for a budget trip, then consider visiting in the months of July and August. This is the time when the places of interest are not that crowded and you get some of the best deals in flights as well as hotels. Nevertheless, due to the consistent climate, any time of the year is considered the best when it comes to visiting Singapore.
4 Temples Near Pulau Ubin
Pulau Ubin is one of the most-visited islands in Singapore. Located in the northeastern region of Singapore's mainland, this island is ideal to try out various activities like cycling amidst the hills and exploring the various villages. This island will let you be a witness to the mesmerising interaction between flora and fauna. On your visit to this island, don't forget to witness the Jejawi Observation Tower.
The island is also known for Fo Shan Ting Da Bo Gong Temple and there are many more temples that are located at a close distance to this island. Some of the major ones have been mentioned below.
1. Yueh Hai Ching Temple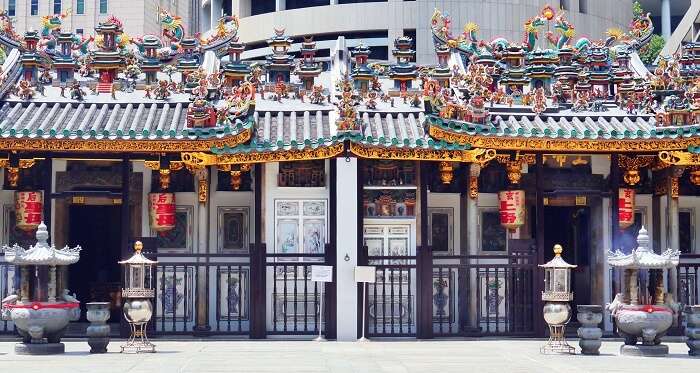 This UNESCO heritage temple reflects Chinas ancient culture and often called out as the Temple of Love. This place is a must visit for couples to make a beautiful start of their new life together. Along with this, the temple is also a home to gold gilded historical ornamentation and ceramic figurines.
Established On: 1826
Address: 30B Phillip St, Singapore 048696
20 Romantic Places To Visit In Singapore For Honeymoon In 2022
2. Wat Ananda Metyarama (thai Theravada)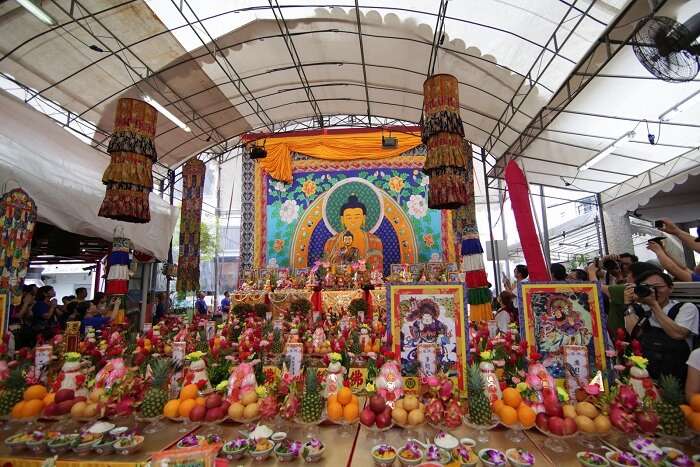 A popular and splendid Buddhist temple in Singapore, this place will take you back to Thailand and its charm. Before renovation, this place was the Thai Theravada Buddhist temple while the new sections, completed in 2014, are a sight to behold with meditation halls, museum, and quarters for monks. All in all, the place is an eclectic mix of the old and the new.
Location: 50B Jalan Bukit Merah, Singapore
11 Stunning Temples In Singapore You Must Visit On Your Holiday
3. Sri Ruthra Kaliamman Temple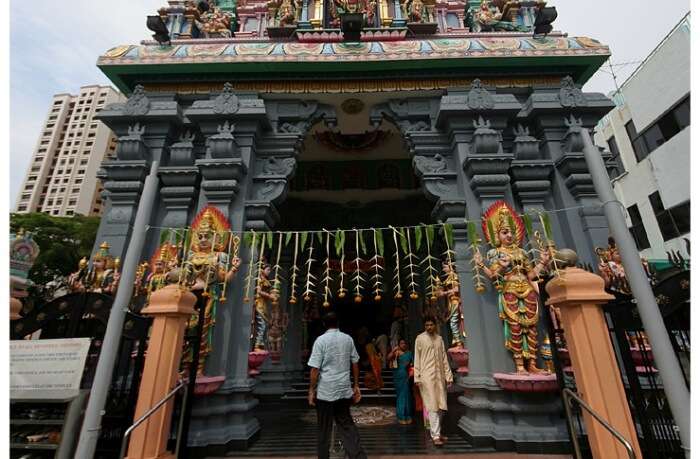 Sri Ruthra Kaliamman Temple in Singapore is dedicated to Goddess Kali. Located amid the scenic beauty, this temple used to be a tiny shrine earlier. The Indian Hindu community members took initiative to reconstruct it to turn into a huge building. It is today famous as a spot for multi-racial yet multi-religious Bhajan listening spot. Weekly classes are also conducted to educate people about the Human values that seek attention of people irrespective of their individual faiths.
9 Popular Hindu Temples In Singapore To Turn Your Trip Into A Mini Pilgrimage
4. Kuan Yin Thong Hood Cho Temple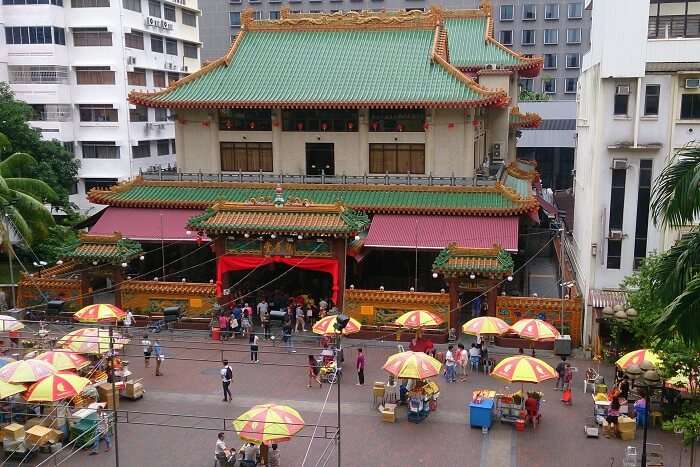 This is a Buddhist temple near Bugis street in Singapore which dates back to 1884 and is built in the typical Chinese style of architecture. One of the most visited temples in the city, it is believed that the wishes of the worshippers are fulfilled after praying at this place. The main deity is Cundi Bodhisattva meaning the God of Mercy. Every year on the day of Chinese New Year, the temple is open for the whole night and a long queue of people can be seen who come here to pray and start the year on an auspicious note.
Location: 178 Waterloo St, Singapore 187964
Timings: 6 AM – 6 PM
Know What Makes Bugis Street In Singapore Every Shopaholic's Delight In 2022
When planning to travel to Singapore, don't forget to visit the main tourist attractions the country is known for. When traveling with family, you can even explore some of the most significant Hindu and Buddhist temples to get enlightened about the importance of religion in this country. The above-listed temples near Pulau Ubin are a must visit when you want to acquaint yourself with the religious system of the country.
---
Looking To Book An International Holiday?
Book memorable holidays on TravelTriangle with 650+ verified travel agents for 65+ domestic and international destinations.
---