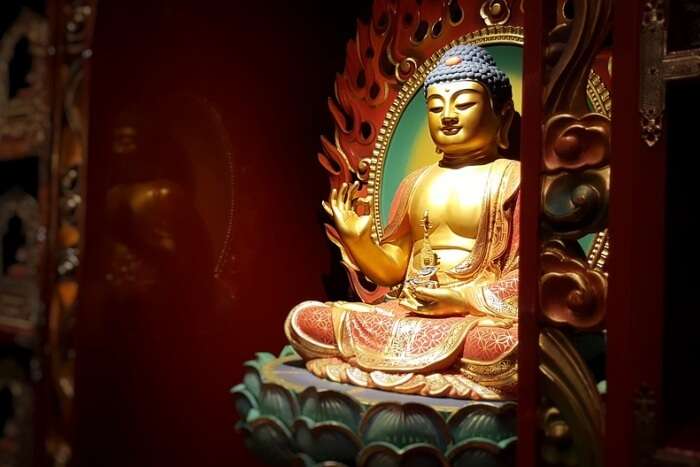 Singapore is not only known for its significant modern developments that began to happen after independence. The country also has a vast as well as strong religious structure. As depicted from the eclectic cultural system, there are various religions practised in this country and Buddhism is apparently followed the most. There are many temples, monasteries, mosques, and churches that can be found in this country. The Buddhist and Hindu temples are widespread. You can even find some of the temples near Raffles Landing Site. Most of the temples in this country are considered to be epic tourist attractions and have awe-striking architecture apart from being mythologically and historically rich.
This Southeast Asian country will surprise you with the presence of a variety of sites it has in store for its tourists. From breathtakingly tall skyscrapers with brilliant architecture and picturesque beaches to museums and various heritage sites. The religious attractions also give tourists and locals a platform to interact and erase the boundaries. If you want to go to a place where you can have fun as well as undergo a religious touring experience, visiting Singapore wouldn't disappoint you.
Best Time To Visit Singapore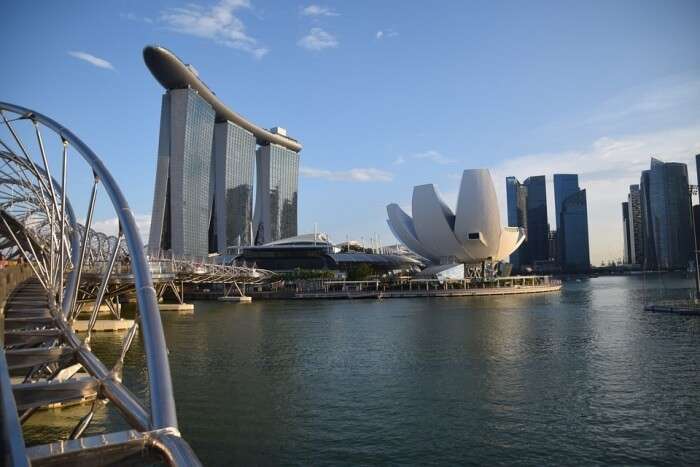 The consistent tropical rainforest climate in Singapore is one of the highlights of this country. There are no exclusive seasons here and the temperature hardly fluctuates, staying between 25 and 35 °C. However, if you want to visit when the country is at its best, then consider the months of February, March, and April – it is during this time that the Southeast Asian country has festive vibes. This time of the year experiences the best weather in the year. The time period between November and January and receives heavy rainfalls. Moreover, the months of May and June are the hottest in the year.
Since the climate does not change in the country, anytime is considered to be ideal to visit. Also, your purpose of visiting the country has a lot to do with the right time to plan your vacation. If you want to visit Singapore for the purpose of shopping and ensure it doesn't make hole in your pocket, then make a plan for the months of June, July, and August, as this is when The Great Singapore Sale happens.
4 Temples Near Raffles Landing Site
Raffles Landing Site is itself a symbol of historical richness of the country of Singapore. At this site, you'll find a sculpture of Sir stamford Raffles – it is at this spot that the British statesman and eponym of this place landed in the year 1809 for the very first time and the rest is history. Located in the Downtown Core at Boat Quay, the sculpture of Raffles stands tall with various tall buildings in the backdrop.
While marveling this sight while touring around in the districts of Singapore, you can also make a visit to the amazing temples located nearby. Some of the prominent ones have been mentioned below!
1. Chua Chu Kang Combined Temple

In the city of Choa Chu Kang, you will experience a mix of culture. The religion of this place is influenced by Chinese, Indian, Malaysian and other different places. They respect all religions and they know how to present it to the world. They have built churches, Hindu temples and mosques all built with the finest of the architectural designs. Take some time out from the ever-bustling city life and soak yourselves in the divine ambiance of these religious places. Visit these places to absorb the positives vibes of this town.
9 Exciting And Thrilling Things To Do In And Around Choa Chu Kang
2. Sri Mariamman Temple

Located in Chinatown, the Sri Mariamman Temple heads back to 1827. It is one of the most favored Hindu Sanctuary in the city. In days of old, the temple was known as Mariamman Kovil or the Kling Street Temple. There people belonging to the Cuddalore and Nagapatnam locale of South India. The goddess Mariamman is housed there and it is known for her powers to cure infections and sickness. It is currently a national landmark. Once the temple was even used as a place for Registry of Marriages for Hindus.
Location: The Sri Mariamman Temple is located at 244 South Bridge Rd, Singapore
Price: The entry is free of cost.
54 Remarkable Places To Visit In Singapore In 2022 Where A Wandering Heart Finds Peace
3. Wat Ananda Metyarama (thai Theravada)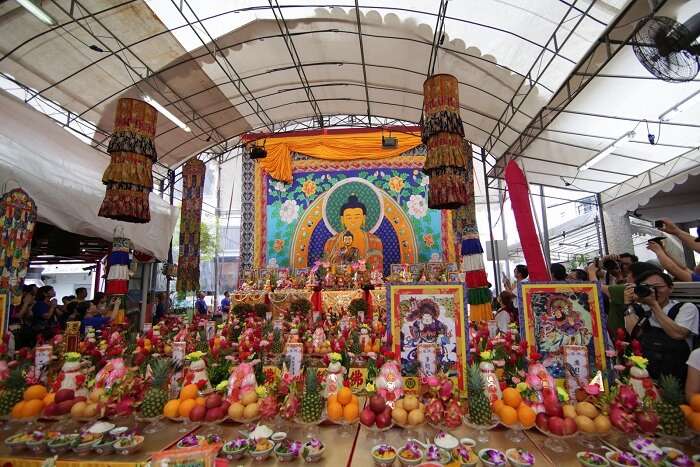 A popular and splendid Buddhist temple in Singapore, this place will take you back to Thailand and its charm. Before renovation, this place was the Thai Theravada Buddhist temple while the new sections, completed in 2014, are a sight to behold with meditation halls, museum, and quarters for monks. All in all, the place is an eclectic mix of the old and the new.
Location: 50B Jalan Bukit Merah, Singapore
11 Stunning Temples In Singapore You Must Visit On Your Holiday
4. Sri Senpaga Vinayagar Temple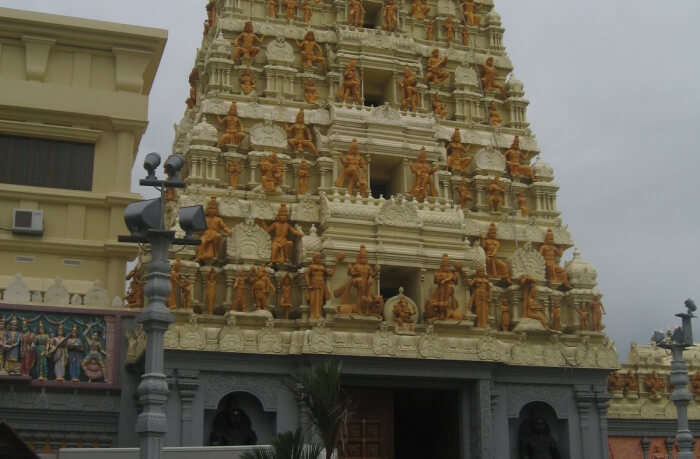 Located in the Ceylon Road in Singapore, Sri Senpaga Vinayagar Temple is devoted to the Hindu God Ganesha which is the presiding deity in this temple. It is visited by hundreds of thousands of travellers irrespective of their religious faiths as they want to have firsthand exploration of its Chola styled architecture. It distinguishes itself as one of the select from oldest temples in Singapore. Previously, this temple used to be a major religious spot under the Chempaka tree. It later got organized with the structure being named as Sri Senpaga Vinayagar Temple and thus attained popularity. Tourists vising the island nation visits many popular Hindu temples in Singapore including this one to remind the memories of those Indians who had migrated to this country to work and live forever.
9 Popular Hindu Temples In Singapore To Turn Your Trip Into A Mini Pilgrimage
Most of us know Singapore as an architecturally and technologically advanced country. However, the country does not lag when it comes to the religious aspects either. To know more about the religious significance of this country while witnessing the prominent tourist sites, visit the temples near Raffles Landing Site mentioned above and make your trip to Singapore worthwhile.
---
Looking To Book An International Holiday?
Book memorable holidays on TravelTriangle with 650+ verified travel agents for 65+ domestic and international destinations.
---