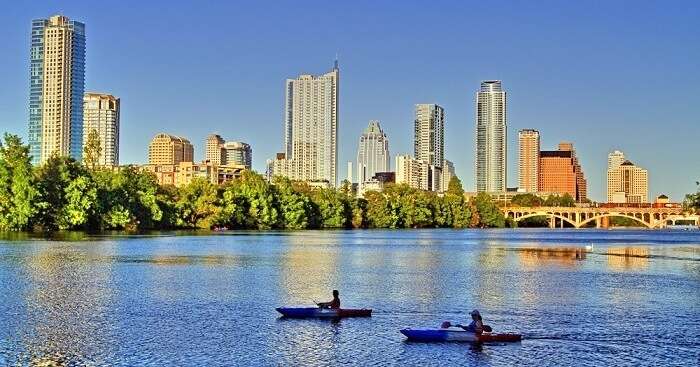 Live music, karaoke bars, historical sites and lakes – Texas' capital is an incredibly lively city and if you're looking for an urban adventure, you'll find it here. There are so many things to do in Austin whether you love getting to know the history and culture of a place or prefer immersing yourself in its natural beauty.
The city is one of the fastest growing in the United States and while urban sprawl is a reality, it still retains a lot of its charm. Explore this amazing destination with our recommendations of what to do in Austin.
10 Best Things To Do In Austin
1. Visit the Mexic-Arte Museum
Suggested Read: 10 Pocket-friendly Hotels In Austin That Are Packed With Amenities
Texas was once a part of Mexico and there's still a strong Latino culture here. The Mexic-Arte Museum is a great place to explore it as it features photos from the Mexican Revolution and art from local artists. One of the best things to do in Austin Texas – if you're visiting the museum – is to head to the gift shop and pick up souvenirs to take home.
2. Explore Sixth Street
Austin's famed entertainment district is a must-visit no matter how many times you've been to the capital. It ranks among the top things to do in Austin today. Bars, live music venues and restaurants create a vibrant atmosphere that will put you in the mood to party. Try to go on Friday or Saturday when the street is closed to vehicular traffic. If you can, plan your holiday in early May to catch the Pecan Street Festival.
3. Visit the Texas State Capitol
Suggested Read: The Largest Mall In USA Is All Set To Open & It's The 'American Dream' You Always Wished For!
One of the more popular Austin activities to do is to visit the Texas State Capitol, home of the state legislature. Much of the historical building has remained unchanged since it opened in the late 19th century. You can go on a self-guided tour or join a free guided tour to learn more about it. Explore the 218-foot rotunda and read the inscriptions on the monuments. Take along a camera as photography is, very fortunately, permitted!
4. Spend time at Barton Springs Pool
Tourists looking for more recreational stuff to do in Austin should head to Barton Springs Pool, spanning a huge three acres and with ideal swimming temperatures all year-round. The depth maxes at 18 feet so swimmers have plenty of options. If you prefer to stay on land, grassy areas create an inviting place to sit down and relax. You can also visit the educational exhibit 'Splash!' to learn about the springs.
5. Shop at Uncommon Objects
Suggested Read: 15 Best Beaches In USA That Will Awaken Your Inner Water Baby In No Time!
Old toys, antique décor, jewelry and oddities fill the quaint Uncommon Objects, a store that seems to have everything. First-timers will be overwhelmed but once you get past that, digging through the stuff is one of the most fun things to do in Austin for shopaholics! It's a place for folks who can spend hours hunting for the best buys. Be prepared to spend a bit as some of the stuff can be a little pricey!
6. Hike to Mount Bonnell
With views of the Colorado River, Lake Austin and the city, hiking Mount Bonnell is one of the best things to do in Austin especially if you love the outdoors and are craving a good walk. The trail itself is short at only half a mile and is a well-trodden one. It takes just about half an hour to complete. Go during sunset when the sky looks like it's on fire!
7. Karaoke at The Highball
Suggested Read: The USA Gets Its First Dark Sky Reserve In Idaho & It's A Visual Treat For Stargazers
One of the top things to do in Austin if you're in the mood for a little singing fun is to make your way to The Highball, a cocktail bar with seven private karaoke rooms, and belt out your best tunes. The rooms even have a synthesizer in case you need a bit of help sounding like a pro! You can choose from several themed rooms including the Black Metal Room, the Glam Room and the Circus Room.
8. Watch the bats at Congress Avenue Bridge
Come summer and Austin becomes home to over a million winged creatures that put on a fantastic show as they leave their roost each night. Congress Avenue Bridge, which spans Lady Bird Lake, is where the action happens. About 20 minutes to sundown, head to the bridge along with dozens of other eager sightseers and wait for the bats to emerge. Watching them fly off into the night sky is an unforgettable experience and one that ranks high among things to do in Austin with kids.
9. Explore Lady Bird Lake
Lady Bird Lake may be right in the middle of the city but you wouldn't guess it with its large trees, cool breeze and quiet. If you're wondering what to do in Austin this weekend, we recommend planning the day hiking or biking the trail around the lake and following it up with a session of canoeing as dusk sets. The eastern side of the trail has amazing views of the city and is less crowded. Take along a camera as you won't want to miss the photo ops!
10. Go on a walking tour
Suggested Read: 10 Destinations In U.S.A For That Perfect American Honeymoon!
It's no secret that the best way to get to know a place is to walk. Rounding up our Austin Texas things to do list is to go on a walking tour of the city. Some, such as those offered by Tipster, are basically free and you pay what you like at the end. Just show up, join the tour and the guides take you on an adventure. You'll get to listen to interesting stories, get tips on the best places to eat and enjoy exploring Austin like a local.
Quite frankly, Austin is one of the best places to visit when it comes to a fine holiday experience. From history to art to culture, shopping, and more – there is something to do for everyone here and this is exactly the reason why it is one of the coolest destination for an avid traveler.