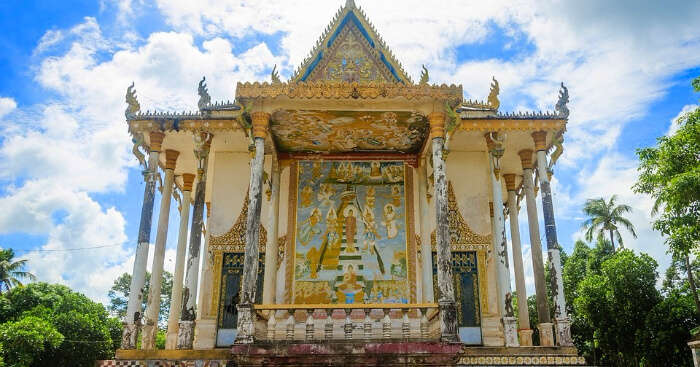 Cambodia's monuments are not only grand and architecturally marvelous, but all of them have a glorious past, rooted to history and heritage of Khmer empire. The design, sculptures, and religious significance of temples, and rich history of statues and other monuments will leave everyone amused and awestruck. Here's the guide which has all the details about the most popular and beautiful Cambodia monuments for you to explore Indonesia like never before.
15 Best Cambodia Monuments
Here is the list of monuments in Cambodia that all history buffs must explore on their vacation. Keep scrolling down and read along!
Angkor Wat, Siem Reap
Bayon Temple, Siem Reap
Banteay Srei, Siem Reap
Lolei Temple, Siem Reap
Preah Vihear Temple, Prea Vihear
Baksei Chamkrong, Siem Reap
The Victory Gate, Angkor
Independence Monument, Phnom Penh
Cambodia-Vietnam Friendship Monument
Phnom Yat, Krong Pailin
The French Tower, Kampong Cham
Statue Of King Father Norodom Sihanouk, Phnom Penh
Kep Crab Statue, Chhak Kep Bay
Golden Lion, Sihanoukville
Ta Dambong Statue, Battambang
1. Angkor Wat, Siem Reap

Spread over sprawling 400 acres, Angkor Wat temple complex is among the largest religious Cambodia sites. Built in the 12th century, the main temple of Angor Wat was dedicated to Vishnu, which later converted to a Buddhist temple in later years. Along with the main temple, the complex has several other Hindu and Buddhist temples as well. Honored as World Heritage Site by UNESCO and one of the seven wonders of World, this temple comprises of a 650 feet wide dugout area, Mt. Meru Tower, seven-headed Naga sculpture and stone doorway with guardian lions.
Opening hours: The temple complex remains open from 5 am to 6 pm
Entrance charge: $20/person. This ticket charge is inclusive of all the temples.
Must Read: 18 Best Things To Do In Phnom Penh On Your Vacay To Cambodia In 2022
2. Bayon Temple, Siem Reap

Image Source
Regarded as one of the most famous religious Cambodia monuments, Bayon Temple is located at the center of the ancient city of Angkor Thom. It is a mountain temple, constructed by King Jayavarman VII, to represent Mount Meru, the center of the universe as per the Buddhist and Hindu cosmology. Originally Bayon was a Buddhist temple, the main shrine being a seated Buddha image protected under the covers of the snake; Mucalinda. A few years later, this temple was transformed to a Hindu religious site, dedicated to Shiva and Vishnu. The most enchanting highlight of the temple is its structure and architecture. Unlike other Khmer temples, Bayon has no moat or Gopura doorways. Instead, there are 54 Gothic towers of the temple, decorated with 216 gargantuan happy faces of Avalokiteshvara.
Opening hours: 7:30 am to 5:30 pm
Suggested Read: 6 Spectacular Beaches Near Phnom Penh To Visit On Your Next Vacation To Cambodia!
3. Banteay Srei, Siem Reap

Dedicated to Lord Shiva, Banteay Srei temple is one of the prime attractions of Angkor Thom. Built with pink colored rocks, this temple boasts of finest stone carvings and most intricate sculptures of various Gods and Goddesses. Legend has it, that unlike other temples, Banteay Srei was not commissioned by a king but by a brahmin, who was the mentor of King Jayavarman V. As the local word Banteay Srei, literally translates into citadel of woman, many historians, and archeologists even believe, that the temple was built by a woman. The three central towers, richly decorated libraries and beautiful filigree relief work on the walls and pillars, have made Banteay Srei- one of the most visited monuments of Cambodia.
Opening hours: 7:30 am to 5:30 pm
Suggested Read: Beautiful Places In Indonesia 2022: 28 Landscapes So Marvelous That It Will Make Your Trip Worth It!
4. Lolei Temple, Siem Reap

Image Source
Visiting the Lolei Temple is one of the most fascinating experiences, during Cambodia tour. This is the third and northernmost temple of Roluos group; the other two being Preah Ko and the Bakong temples. Renowended as an island temple, Lolei was built in the late 9th century, on an island of Baray Indratadaka lake, which have completely dried up now. There are 4 temple towers, beautifully decorated with false doors and central lintels. The temple has sculptures of Indra- the Sky God mounted on his elephant Airavata, multi headed snakes and serpent like monsters like makaras.
5. Preah Vihear Temple, Prea Vihear

One of the most popular temples of Cambodia and another World Heritage Site by UNESCO; Preah Vihear is an ancient Hindu temple, constructed during the reign of Khmer Empire. Dedicated to Lord Shiva, this Hindu temple took 300 years to complete and was built by multiple Khmer rulers like Yasovarman, Suryavarman I and Suryavarman II. Known widely for its hilltop location, on the Dângrêk Mountains, this temple is decorated with incredible sculptures. But what has made it stand out from the rest, is its unique architectural pattern. Preah Vihear Temple consists of a series of sanctuaries connected by a number of pavements and staircases, resting on an 800-meter-long axis.
6. Baksei Chamkrong, Siem Reap

Image Source
This 10th-century temple is located near the south gate of Angkor Thom. The temple resembles a pyramid and has a beautifully decorated Prasat tower at the top and a Hindu sanctuary, dedicated to Lord Shiva. The construction of the temple was started by king Harshavarman and finally completed by Rajendravarman. This gorgeous temple made of lateritic rocks and sandstone has steep staircases on all sides and the magnificently fascinating Gopura structures and sculpture of Indra and Airavata will surely leave you in awe.
Suggested Read: 7 Reasons That Will Compel You To Travel To Cambodia In Summer
7. The Victory Gate, Angkor

Image Source
Of all the 5 gates, guarding the ancient town of Angkor Thom, The Victory Gate is the most popular one to visit. Built by King Jayavarman II, in 12th century, this gate can be accessed through the Royal Road, that extends from the Royal palace. Adorned with marvellous sculptures of Gods and Goddesses, Gopuras and three headed Eyrawana elephants; the victory gate is one of the most beautiful monuments of Cambodia. Legend has it, that this gate was used to send army into the battle, for protecting the Khmer empire.
Suggested Read: Indonesia Honeymoon Resorts: Luxury Indulgence For All Budgets!
8. Independence Monument, Phnom Penh

Built as a memorial to Cambodia's independence from France, Independence Monument, is one of the most significant monuments of Cambodia. The monument was designed in typical Angkorian style and the shape of the monument resembles a lotus shaped stupa. This is a 5-story monument and each level is decorated with snake heads. Every day after sundown, the monument is beautifully lit up by white, blue and red floodlights, similar to the colors of the national flag of Cambodia. This is also considered as a memorial place, devoted to the nationalists of Cambodia, who sacrificed their lives for the country.
9. Cambodia-Vietnam Friendship Monument

Constructed to honour the cordial relationship between Vietnam and Cambodia, Cambodia-Vietnam Friendship Monument, was built in 1970s by the Vietnamese regime, which overtook the authority after Khmer Rouge. This is a huge concrete monument, consists of two soldiers guarding over a Cambodian lady, holding a baby, on a plinth. Located in the Hun Sen Park, this is one of the most beautiful monuments of Cambodia.
10. Phnom Yat, Krong Pailin

The list of Cambodia monuments also has Phnom Yat- an ancient pagoda in Pailin city. Situated at the top of a mountain, which can be ascended by climbing 242 steps, this historical and cultural site attracts tourists round the year. Along with the Kola Pagoda, located on a hilltop; the place has several big and small stupas and asromms or dedicated places for meditation.
Suggested Read: Best Things To Do On An Ultimate Budget Trip To Vietnam And Cambodia!
11. The French Tower, Kampong Cham

Image Source
Also known as the French Colonial Watchtower, this is a red-brick structure, located on the banks of Mekong River. Built in early 1900s, this tower acted as a watchtower, to guard the river against pirates. Counted as one of the vinatge monuments of Cambodia, today, the French Tower is best known for offering majestic views of sunset over the river and Kampong Cham city.
12. Statue Of King Father Norodom Sihanouk, Phnom Penh

Image Source
One of the most famous monuments of Cambodia; Statue of King Father Norodom Sihanouk, is a major tourist attraction of Phnom Penh. The statue represents the erstwhile king and prime minister of Cambodia by the same name. After his death in 2012, this 4.5-metre tall, bronze statue was erected in the following year, under a huge stupa. The statue is placed in a memorial park, located close to the famous Independence Monument.
Suggested Read: 23 Romantic Budget Honeymoon Destinations In Asia In 2022 For Every Budget
13. Kep Crab Statue, Chhak Kep Bay

Image Source
Another name in the list of Cambodia monuments is Kep Crab Statue. Resting on a wooden platform, this life size blue crab statue is the icon of Kep- a small coastal city of Cambodia, famous for fresh crabs. The statue is located near the Kep Bay waterfront, where people visit mostly for leisure strolls, sunbathing and photogenic sunset.
14. Golden Lion, Sihanoukville

Image Source
Locally known as Vimean Tao Meas, the Golden Lion statue in Sihanoukville, was constructed in 1966. The statue consists of two shiny golden lions. The lion stands proud with his mouth wide open, while the lioness looks calm, composed and compassionate. Local people believe that, this statue represents the political scenario of Cambodia. The dominating lion represent the vehemence that affected the country over the years while the calm and serene one symbolises Khmer's inner tranquillity and content. Located at the traffic circle, between Sokha and Ochheuteal beaches, Golden Lion is one of the most important monuments in Cambodia.
15. Ta Dambong Statue, Battambang

Image Source
Ta Dambong is a prominent landmark of Battambang, a quaint city of Cambodia, located by the Sangker River. Legend says that Ta Dumbong was a cowherd. One day he founded a magic stick and used the same to defeat and take over the king of Battambang. In complete fear, the king's son ran away to the woods and converted himself to a monk.
Moreover, Ta Dumbong was also fearful as he had constant dreams of a holy man, defeating him. Consequently, the former king's son, one day rode to the town in his horse and Ta Dumbong attacked him with his magic stick, but his defense went in vain. Since then, neither the magic stick nor Ta Dumbong was ever seen in the town. The statue is a huge colorful figurine of this devil ruler, holding the magic stick. Located at the center of a buzzing crossroad, the statue of Ta Dumbong is also an important landmark of Battambang city.
Further Read: 32 Budget International Trips For Your Holiday In 2022 Which Will Cost You Less Than An iPhone!
From the popular UNESCO world heritage monuments to the intricately designed temples, the island nation has so much to offer. Get ready to explore the ancient side of gorgeous Indonesia this year. Get packed, plan your Indonesia vacation and leave right away!