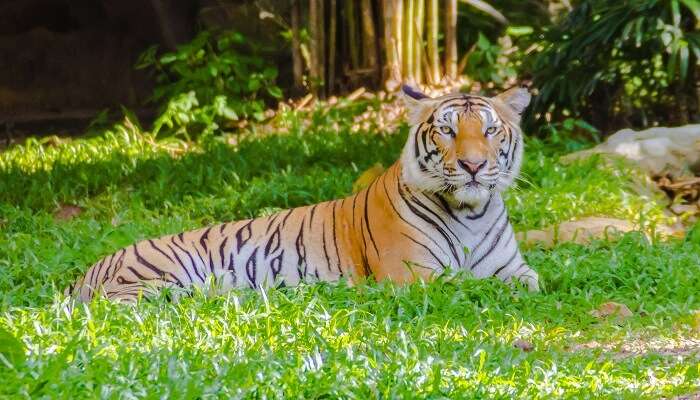 India is home to around 3,000 tigers that makes it about 80% of the world's tiger population. With over 110 big cats, Tiger reserves in Rajasthan are receiving impressive tourism. Regardless of their ferocious and predator-like aura, they still intrigue humans. Although these are endangered species, conservation centers or Tigers reserves are taking painstaking efforts to save them and maintain the harmony of the ecosystem. Currently, there are 4 tiger reserves in the state in Mukundara Hills, Sariska, Ranthambore, and Ramgarh. Embark on a thrilling tour while visiting these wild abodes. Find all the essential information below!
4 Magnificent Tiger Reserves In Rajasthan
If you are fond of this member of the cat family, check out this list of tiger reserves in Rajasthan and head on a thrilling safari with your binoculars and high resolution cameras.
1. Ranthambore Tiger Reserve

Enjoying the vicinity of the Aravali hills and Vindhya plateau, Ranthambore Tiger Reserve in Rajasthan boasts a significant number of Royal Bengal Tigers. Established in 1980, Ranthambore Tiger Reserve was once a private game reserve of the royal House of Jaipur.
Besides tigers, one can spot an array of birds and animals like jackal, hyena, leopard, chital, sambhar, deer, and bear. Jeeps/gypsies and canter (open roof buses) are two kinds of vehicle allowed in the reserves that are 6 seater and 20 seater respectively. If you are planning a safari, make the bookings well in advance.
Location: Ranthambore, Rajasthan
Timings: 7:00 am to 6:00 pm
Best time to visit: October to March
Safari cost: ₹1300 onwards
Time required: 3:5 hours
Nearby hotels: Ranthambore Noor bagh, Sundervan Ranthambore, Hotel Ranthambore Palace
Nearest airport: Sanganer Airport
Nearest railway station: The Sawai Madhopur Railway Station
67 Places To Visit In Rajasthan: Get A Glimpse Of Rajputana Splendor In 2023!
2. Sariska Tiger Reserve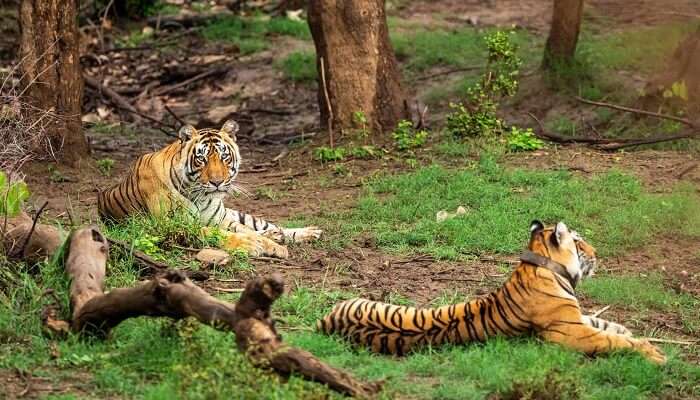 Spanning over an area of 800 square kilometers, Sariska tiger reserve in Rajasthan lets you bask in the major elements of nature—cliffs, grasslands, mountains, and dry deciduous forests. While lying in the lap of Aravalli Hill and being home to Bengal Tigers, Sariska is a heavenly abode for wildlife photographers, adventurers, and nature buffs.
A visit here will give you a glimpse of Bengal tiger, rhesus macaque, jungle cats, sambhar, wild boar, chital, and also an array of bird species, crested serpent eagles, sand grouse, and more. Besides this, Neelkanth Temple, Kankwadi Fort, and Pandupol Hanuman Temple are a few other attractions you can add to your Sariska jeep safari.
Location: Alwar, Rajasthan
Timings: 6:00 am to 9:44 pm
Best time to visit: October to February
Safari cost: ₹1,500 approximately
Time required: 3.5 hours
Nearby hotels: Sterling Sariska, The Dhawala Resort Sariska, Sariska Tiger Camp Resort
Nearest airport: Jaipur Airport
Nearest railway station: Alwar Railway Station
3. Mukundara Hills Tiger Reserve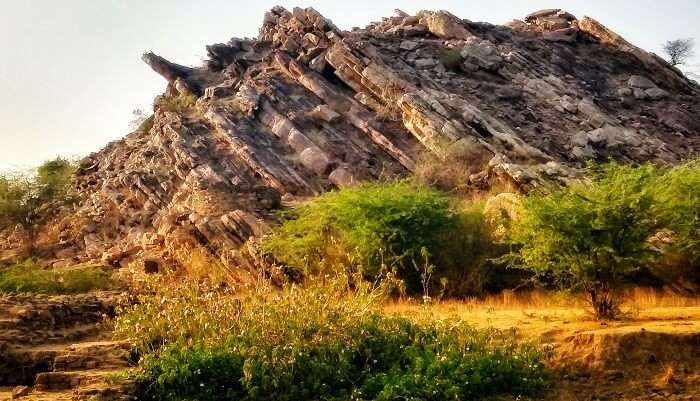 Also known as Darrah Wildlife Sanctuary, Mukundara Hills Tiger Reserve is spread across four districts—Kota, Bundi, Jhalawar, and Chittorgarh. A former royal hunting ground of the king of Kota, the tiger reserve is covered with dense forests. The park is home to a variety of medicinal parts consisting of healing properties.
Besides sightings of tigers, hyenas, wolves, chinkaras, antelopes, and leopards are also famous in the reserve. The months between October and June are ideal to enjoy a safari in Mukundara Hills Tiger Reserve. Notably, the reserve remains closed from July to September, during monsoon season.
Location: Q2W5+HCR, Kota, Rajasthan 325602
Timings: Open 24 hours
Best time to visit: February to May
Safari cost: ₹1,300 approximately
Time required: 2 hours
Nearby hotels: Hotel Clarks Premier, Hotel Rockland, Hotel Lilac, Hotel Surya Prime
Nearest airport: Udaipur Airport
Nearest railway station: Kota Railway Station
20 Things To Do In Rajasthan That Make It The Ultimate Vacation Destination In 2023!
4. Ramgarh Visdhari Tiger Reserve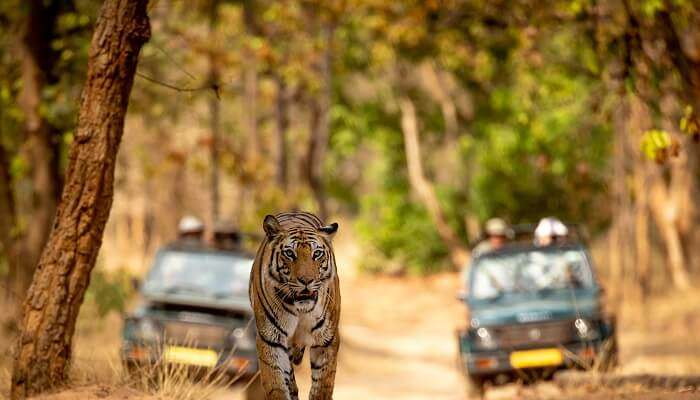 Established in May 2022, Ramgarh Visdhari Tiger Reserve is the 52nd and latest tiger reserve in Rajasthan lying in Bindi district. Boasting the mystical elements of Vindhyan and Aravalli, the reserve features a rich fauna diversity. Apart from tigers, Ramgarh Tiger Reserve in Rajasthan is home to leopards, sloth bears, golden jackals, rhesus macaque, ruddy mongoose, Indian hare, and many other animals.
Moreover, the area also features a good population of herpetofauna including buff-striped keelback, Indian rock python, red sand boa, and cobra. To avoid the crowd and spot animals, go for a safari either during the early morning or in the evening. Post the inauguration of the 4th tiger reserve in Rajasthan after Mukundara Hills, Sariska, and Ranthambore government plans to boost the development and ecotourism in the area.
Location: 172, Raghav Kripa,Gate no:5, Rajat Colony, Bherupura Antri, Rajasthan 323001
Timings: 7:00 am to 6:00 pm (throughout the week)
Best time to visit: November to March
Safari cost: ₹1,200 approximately
Time required: 2 hours
Nearby hotels: Haveli Katkoun Bundi, The Ummaid Bagh Resort, Hotel Bundi House
Nearest airport: Jaipur International Airport
Nearest railway station: Bundi Railway Station
Spotting tigers from just a few meters is an experience of a lifetime. Tiger Reserves in Rajasthan are ideal abodes for these fierce creatures where you can witness them in their natural habitats. So, when you plan a trip to the "Land of Kings", add these tiger reserves to your Rajasthan trip itinerary and indulge in experiences you've never had before with TravelTriangle.
For our editorial codes of conduct and copyright disclaimer, please click here.
Frequently Asked Questions About Tiger Reserves in Rajasthan
How many tiger reserves are there in Rajasthan?
With Sariska, Ranthambore, Ramgarh Visdhari, and Mukundara Hills, the total tiger reserves in Rajasthan is 4.
Which is the new tiger reserve in Rajasthan?
Inaugurated on May 16, 2022, Ramgarh Tiger Reserve is the latest tiger reserve in Rajasthan where you can spot an array of animals and birds as well.
What are the timings of Sariska Tiger Reserve?
Sariska Tiger Reserve opens throughout the week from 6:00 am to 9:44 pm. You can check the official website for jeep safari timings and tickets.
When is the best time to explore Ranthambore Tiger Reserve?
You can plan a trip to Ranthambore Tiger Reserve between October and March when the weather is pleasant and appropriate for sightseeing. The temperature ranges between 10℃ and 30℃ during these months making your outdoor experience hassle-free.
Which are the best hotels near Ranthambore Tiger Reserve?
Here are some accommodation options you can find near Ranthambore Tiger Reserve:
1. Aman-I-Khas
2. Madho Bagh
3. WelcomHeritage Mount Valley Resort Ranthambore
4. Sawai Madhopur Lodge
5. Ranthambore Tiger Resort
6. Omak Tiger Seven
People Also Read:
National Parks In Indonesia National Parks In Spain National Parks In Turkey