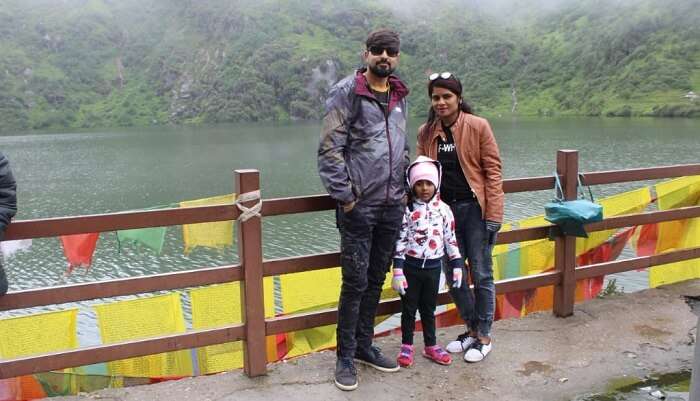 Tucked away in the quaint lap of North-east, Sikkim is blessed with scenic lakes, picterque waterfalls, and peaceful monasteries, and gompas. Also, some exciting trek routes enhance the beauty of this place. Like many, Supreet and his family were immensely awed by the serenity of Sikkim. Hence, they decided to travel to Sikkim to witness the untouched and out of the world beauty of this place. With the help of TravelTriangle, they could make the most of their vacation and created memories for a lifetime
Being an avid traveler and travel enthusiast I love visiting different places around the globe. North east is one destination where I'd never been to, but I was always allured by beautiful lakes, rivers, mountains, greenery, and clamess of Sikkim and that's what became the driving force for this trip. Moreover, I wanted to explore the culture, food, and some places which I've always seen in photographs or movies. Being so much moved by the beauty of Sikkim, I decided to visit here with my family. While looking for suitable packages online, I stumbled upon TravelTriangle and I righway explored their website. Needless to stay, I was surprised to see how well they customize packages. The next step was to get our package customized! I and my wife told them about our budget & requirements and accordingly, they should us what would suit us best. Thankfully, the package we picked had all that we needed and we were able to enjoy a fantastic family holiday.
Details Of Our Family Trip To Sikkim
Trip Type: Family Trip
Cost: INR 31000 (Per person)
Duration: 6 Days
Inclusions: Breakfast, Non-AC Vehicle, Transfer, Sightseeing, GST, All permit fees
Exclusions: Lunch, Dinner, Personal Expenses, Insurance, Entry fees, Guide Charges
A Sneak Peek Into Our 9 Days In Hawaii Itinerary
Day 1: Arrival In Gangtok, Hotel Check in & Explore City
Day 2: Visit Changu Lake & Baba Mandir
Day 3: Reach Lachen & visit Seven Sisters Waterfall
Day 4: Visit Gurudongmar Lake
Day 5: Excursion to Yumthang Valley
Day 6: Departure back home
Weather In Sikkim
We were welcomed by pleasant weather that uplifted not only our moods but overall experience as well. We experienced foggy weather and it also rained every now and then. Sometimes it was difficult for the drivers since the visibility of the roads was very poor due to fog. Nevertheless, that was not a huge obstacle. Also, the average temperature of Sikkim was around 20 °C and in the night time, the temperature would drop down to 2-3 °C.
Some Top Tourists Spots Where We Visited
We went to some of the most famous places in Sikkim lake Tsomgo Lake, Nathula Pass, Seven Sisters Waterfall, Baba Mandir, Gurudongmar Lake, and Yumthang Valley. Check out our adventurous travel to Sikkim that let us relax in the lap of nature.
1. Tsomgo Lake And Baba Mandir





We started off our fantastic journey while visiting Tsomgo lake which is one of the best lakes in Sikkim. Surrounded by majestic mountains, the lake offered us numerous breathtaking views. It was such a magical experience to witness the serenity of this place. And, while residing in metropolitan cities, these sites is something we always crave for.
After enjoying a lovely time by the lake, we headed towards Baba mandir which is devoted to Baba Harbhajan Singh who was a brave army soldier. All in all, we had a great experience while visiting both places.
2. Char Dham In Namchi






For pampering our souls, next we moved towards Char Dham In Namchi which is a famous religious site in Sikkim. The temple is dedicated to Four Dhams and the twelve Jyotirlingas. The moment we entered this soulful place, we felt a unique sense of peace. Moreover, the lushful gardens, mist laden clouds, and beautiful mountain views of the hills was adding a unique charm to this place. Like various experiences in Sikkim, this one also gave us numerous memories that we will cherish forever.
3. Seven Sisters Waterfalls


Out of many reasons to visit Sikkim, one was to witness the beauty of this place with naked eyes and while visiting Seven Sisters Waterfalls, we felt as if we were in seventh heaven. This breathtaking waterfall is an hour from the City. We halted there for quite some time and clicked as many pictures as we could. Needless to stay, the spot is immensely bewitching. We wished we could stay there for some more time (which would have never been enough). Nevertheless, we made the most of our time and enjoyed to heart's content.
4. Zero Point & Yumthang Valley



Our wonderful experience reached its height when we visited Yumthang Valley & Zero Point. The valley was indeed a treat to our eyes with numerous captivating flowers and breathtaking vistas. We spent a delightful time while enjoying a leisurely stroll in the valley of colors & vividness. There were also some tea stalls and shops selling winter clothing and some hand-crafted items. Next, we moved towards zero point that was speaking volumes of the beauty of Sikkim. Honestly, there wasn't even a single place where we found a dearth of natural beauty. Even though the roads we a bit bumpy and there was a risk of landslides, we still enjoyed our vacation to the hilt.
Shopping In Sikkim
We came across various shopping places in Sikkim Gangtok and realised that shopping is pretty cheap in the local market. We got a few nightwears as it was pretty cold there and we also bought some showpieces for our friends and folks. From food to clothes, everything was available at cheaper and affordable prices. All in all, Sikkim street shopping was what we liked the most!
Restaurants In Sikkim
Since I and my family are pure vegetarians, we were looking for vegetarian food that especially included south Indian. Luckily, we came across some eateries where we savored dosas and idlis. We found popular restaurants in MG road market where we got a plate of idli which cost us INR 60 per plate. Overall, whichever restaurant we tried, we found that the food quality was up to the mark. Also, we found various options of food to eat in Gangtok and there was hardly any time when we had to struggle to find suitable food options.
Hotels We Stayed At
In our 6 days trip, we stayed at 3 different hotels namely, Khangsar Villa, Hotel Blue Pine Lachen, and Lachung Deezong. All the hotels were up to the mark and the staff at all these hotels were extremely cordial. They made sure that all our queries were entertained on time. Especially, our stay at khangsar villa was indeed a pleasant experience. The staff at the reception helped us a lot and also suggested some best places to visit.
Some Handy Tips For Future Travelers
Don't forget to carry warm and comfortable clothing
Take over the counter medicines with you in the case of emergency
Carry an action camera to capture wonderful scenic beauty
Keep photocopies of essential travel documents
Our Experience With TravelTriangle
We are immensely delighted with the services provided by TravelTriangle. The org travel was within our budget and nicely planned by organizers. We did bargain a little with travel organizers and brought down the overall cost. From booking the package to the last day of our trip, were got every help we needed. Especially, the travel agents were great at their job and our agent was easy to reach out and also responded well in time, Also, the
Our amazing travel to Sikkim made us realise that this place is indeed a heaven on earth. With breathtaking landscapes, scintillating waterfalls, and peaceful monasteries, this place has got everything what we were looking for⁠—Fun, adventure, and bliss! So, if you also want to have spectacular experiences, like we did, plan a trip to Sikkim reach out to TravelTriangle to get your itinerary customized.
Queries You Might Have On Your Trip
How can I get Nathula Pass permit?
To obtain the permit, you can apply to the Tourism and Civil Aviation Department. To get the permit, all you need to have is 2 passport size photographs and a photo ID proof. Additionally, the Nathula Pass permit will cost your around INR 200/- per person.
Is it safe to travel to Sikkim?
Yes, Sikkim is one of the safest destinations in India. Moreover, solo female travellers can also spend as many days as they wish to without worrying about the safety and security.
Which is best time to visit Sikkim?
As per the reviews of various travelers, the best time to visit Sikkim is between March to May and October to mid-December.
Which are some of the best places to stay in Gangtok?
Development Area and MG Marg are two most popular areas where travelers can choose to stay.