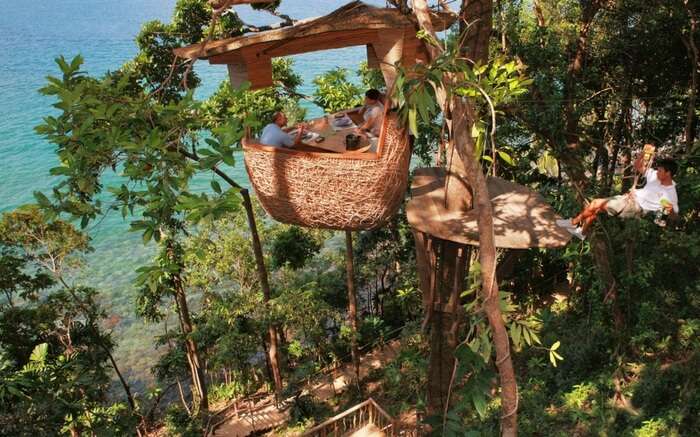 Are you tired of dining in the usual restaurants amidst the chaotic city life and lots of people around? Consider this! You are sitting in an egg-shaped cabin atop a tree 36 feet above the ground, entwined in a jungle canopy, food gets served to you on a zip line, and you are sitting with your beloved sipping on every bit of nature's quietude. Yes, the super-luxe Soneva Kiri eco-resort lets you cherish your long-kept whim.
Located on the remote Thai island of Kood, the tree-pod restaurant at Soneva Kiri in Thailand is special as it maintains a super classy eatery on a eucalyptus tree. With Koh Kood rainforest surrounding the treehouse restaurant from all sides, boulder-covered shoreline in front, and the epic ocean views at the disposal, there isn't much you would ask for!

The tree-pod is made up of steel and woven rattan and can seat 4 people at a time. For an incredible dining experience, the guests are made to sit in a basket alike space which is raised on a pulley-and-lever. The entire setup and surroundings resemble a canopy. To ensure that your dining makes for a remarkable experience, the waiters pull off all the adventure. The food and drinks are brought to you via zip line.

Must try: Soup, Thai classic, fruit salad
Find more information about the tree-pod dining restaurant here | Reviews

All the images have been taken from the Soneva Kiri website
Other attractions at the Soneva Kiri Resort: Observatory, outdoor cinema, sap, private beaches, and jungle
I've marked it on my bucket list already! Have you?