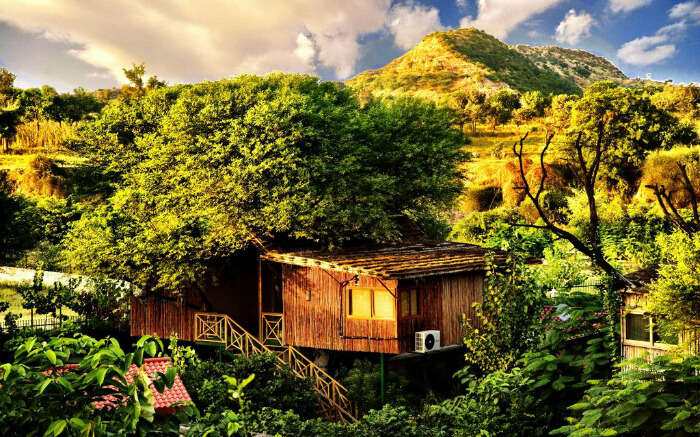 When bespoke luxury meets wild fantasy, a quaint nest takes shape. Carved out of wood and exhibiting nature in its full charm, treehouse resorts near Delhi are retreats that guarantee cozy comfort in the embrace of a tree. A number of such havens are just a few hours away from Delhi and are well-equipped to take care of your fancies.

States of Uttarakhand, Himachal, and Rajasthan have some of the most beautiful treehouses in India. With 360-degree view of the surroundings, they cut the picture of an artist's imagination. Most of these treehouses are run by independent families, that make sure that you have a wonderful stay at their abode, where there is romance embedded in every nook.
Life is beautiful and it becomes even more attractive when seen from the swaying branches of a tree. Stay in a treehouse and experience the best of nature in the woods. 
This quaint treehouse cottage in Rajasthan…
1. The Tree House Resort, Jaipur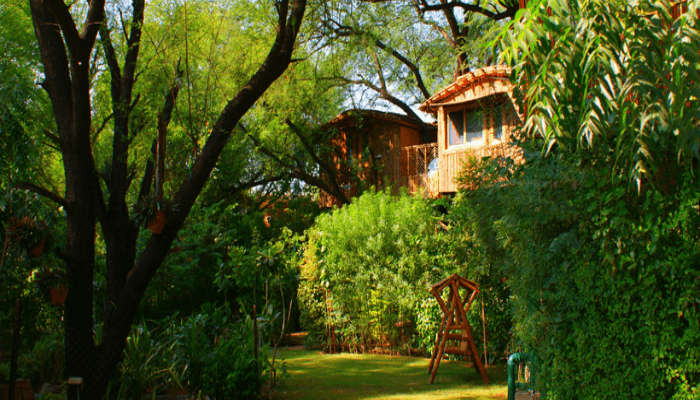 Distance from Delhi: 230 km
Spend a leisure vacation in the Treehouse Resort Jaipur – one of the closest and the most popular treehouses near Delhi. Nature views from the lofted platforms are exceptional while the sleepy environs outside would leave you spellbound. They also arrange for camel safaris for the visitors. Infinity pool, and Peacock Bar add to the glam of the Treehouse Resort Jaipur.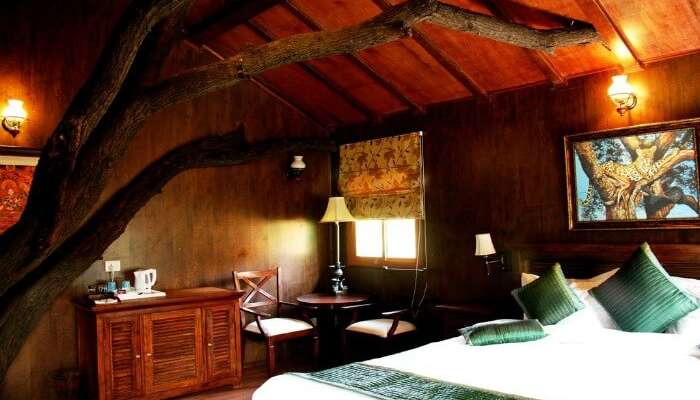 Treehouse and Waterhouse suites make this place an ideal escape for nature enthusiasts. The interiors of the treehouse and bar (peacock) look stunning; someplace where your wildest fantasies and imagination get rekindled. Hospitality is warm and the staff is prompt with their service!
Tariff: INR 20,000 per night onwards approximately
Must Read: 10 Best Resorts Near Delhi To Relax, Rejuvenate And Unwind
Lovely treetop abodes in Uttarakhand…
2. The Den Corbett, Ramnagar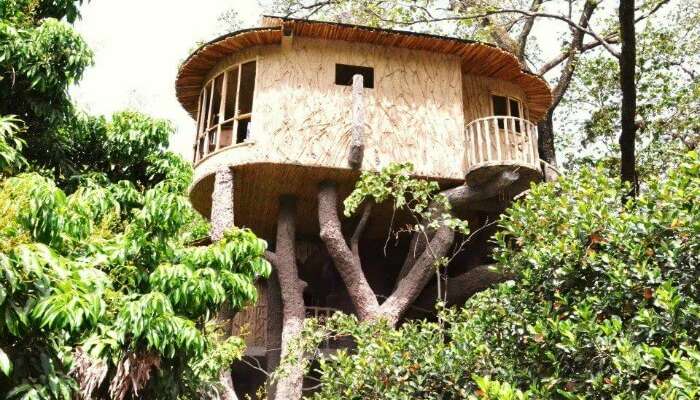 Distance from Delhi: 283 km
One of the popular treehouse resorts near Delhi, the Den Corbett is the place where you need to go to relax and rejuvenate. The treehouse towering 56 feet above the ground gives you spectacular nature views like no other fancy retreat. You can actually behold the grandeur of nature from the confines of your stay.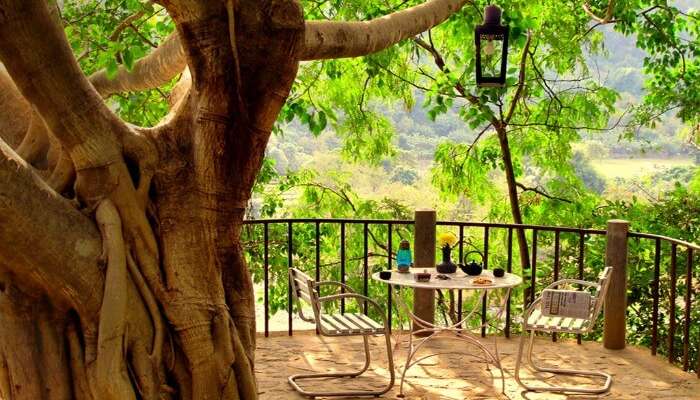 The suites are completely air-conditioned and as good as any other luxury stay in the Jim Corbett area. The wooden interiors are worth a watch and stays are well-complemented by modern facilities.
Tariff: INR 11,000 per night onwards
3. Cottage Nirvana, Nainital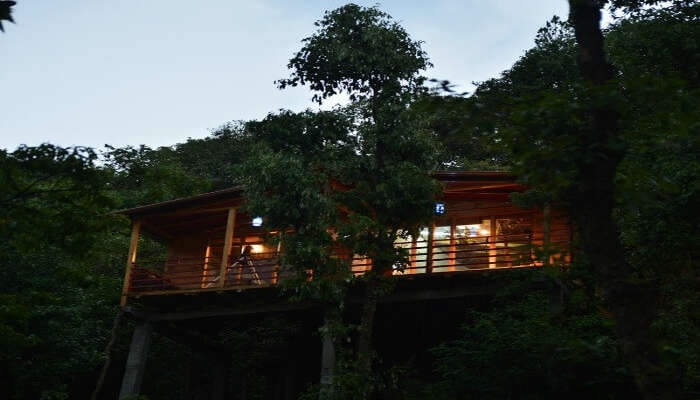 Distance from Delhi: 324 km
How about staying treehouse that has the coveted company of coniferous forests, and overlooks the great Himalayan peaks; snow capped, and majestic? Cottage Nirvana in Mukteshwar is a serene treehouse in Uttrakhand far from the city hustle. As you behold the majestic sun rise in the mountains and embrace the best of secluded nature, your soul is left enchanted with the scattered light from all around.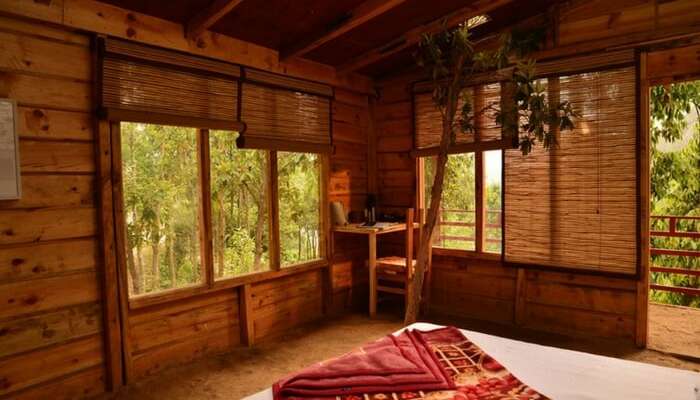 At 2286 m Nirvana Treehouse is the ultimate place to explore nature's serenity. To your advantage, there is a well stocked library and they also organise meditation sessions. Colorful mountains and birds flying around make this treehouse a photogenic retreat.
Tariff: INR 10,000 per night onwards
Himachali treehouse resorts near Delhi…
4. Treehouse Cottages, Manali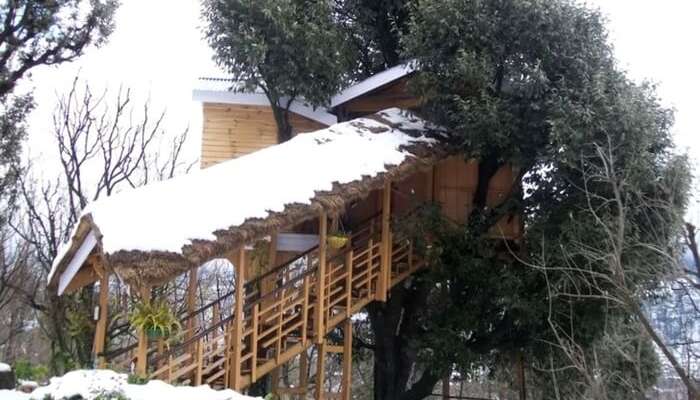 Distance from Delhi: 526 km
The family-run Treehouse Cottages is one of the most coveted properties in Manali, and apparently one of the most romantic stays in Manali. Nestled in the alpine, it is located 32 km from Manali Airport and 21 km from Hadimba Temple – one of the most prominent places to visit in Manali.
Tariff: INR 10, 000 per night onwards
5. Finnish Cottage, Shimla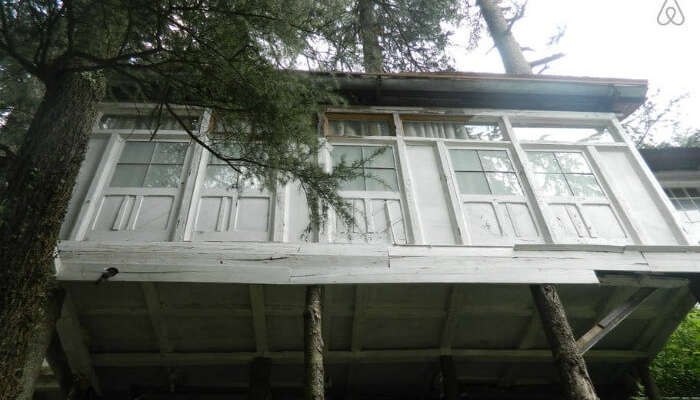 Distance from Delhi: 340 km approximately
Finnish Cottage, tucked amid pine and cedar trees in Shimla, is a highly recommended treehouse resort near Delhi. Surrounded by greenery, the cottage allures nature lovers, adventurers, backpackers, and couples looking for a quiet slip in the hills.
Apart from the tree house, the property also has tea lounge, bar, and seating areas. Take a walk down the forest for or go for a candid photography session only if you have had enough of the mesmerising stay on the tree. The treehouse is highly recommended for every romantic couple.
Consider this one as one of the most exciting and engrossing stays if your are looking forward to booking a Himachal honeymoon package.
Tariff: INR 6,028 per night
Wooden cottages that are as good as treehouse resorts near Delhi
1. Himalayan Village, Manali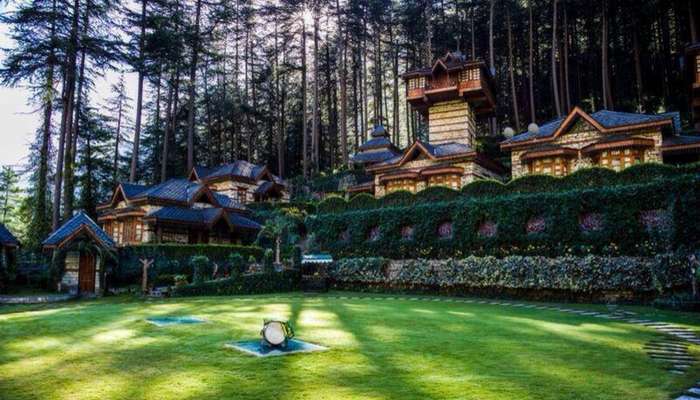 Distance from Delhi: 519 km
The Himalayan Village might not be a treehouse but it's dreamier than a tree house. Considered as one of the top stays in the woods in Manali region, you may consider a stay in the Himalayan Village for a different stay.
Tariff: INR 13, 000 per night onwards
2. Suro Tree House Resort, Shimla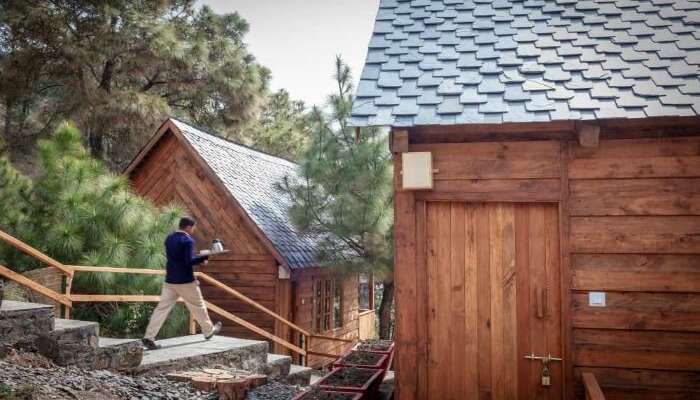 Distance from Delhi: 336 km
One of the top stay in Shimla, the Suro Tree House Resort is rather a wooden retreat with set up in the stunning meadows. Alpines all around and duplex chalets of the resort cut a picture of a classy retreat. Considered as an ideal option for nature lovers, the resort is one of its kind. DO give it a try!
Tariff: INR 10, 000 per night onwards
Reviews
Smart traveler tip: While looking up treehouse resorts near Delhi, common names that come up are Treehouse Queens Pearl Gurgaon, Tree house Resort Bhiwadi, Treehouse Resort Dwarka Neemrana, and Tree house Resort Chandwaji. Sadly, they do not offer any treehouse stay. They are a part of different chains or resorts that go by the name 'Treehouse'. Do not consider these results if you are looking for a real treehouse stay.
Woods are lovely, dark and deep; and the treehouse in it make for an ultimate slip! So which one is your favorite nest?
Further Read: 10 Extraordinary Destinations Around Delhi That No One Talks About
Frequently Asked Questions About Treehouse Resorts Near Delhi
Q. Where can I go near Delhi?
A. There are various tourist attractions located at a close distance from Delhi. Some of them are – Mussoorie, Dharamshala, Manali, Jaipur, Corbett National Park, Rishikesh, Sawai Madhopur, and more. You can also visit some of the places via car or bike for an ultimate road trip from Delhi.
Q. Where should I go for a 2 day trip near Delhi?
A. When planning a 2-day getaway from the capital city of Delhi, you must consider visiting the places like Lansdowne, Ramnagar, Dehradun, Nahan, Kasauli, Nainital, Parwanoo, etc.
Q. Where are tree houses found in India?
A. You'll find some of the best treehouses of India at a number of tourist places like Maharashtra (The Machan), Jaipur (The Tree House), Bandhavgarh (The Tree House Hideaway), Thekkady (Vanya Tree House), Wayanad (The Vythiri Resort), Manali (Tree House Cottages), and more.
Q. Where can I go near Delhi this weekend?
A. You can go to a number of places for a great weekend trip from Delhi. You can make plans for Agra, Chail, Rishikesh, McLeod Ganj, Lansdowne, Kasauli, and more.
Q. How far is Jaipur from Delhi?
A. If you are traveling to Jaipur from Delhi via road, then it will take you around 5 hours, as the two cities are located at a distance of 281 kilometers from each other. If you are traveling via train, then it will take you around 4 hours 30 minutes.
Q. What is the best time to go to Jim Corbett?
A. The weather in Jim Corbett is temperate and therefore you can visit this national park anytime of the year. However, if you want to visit this tourist attraction during the best time of the year, then you must plan your visit during the time period between November and February.
Q. How can I reach Manali from Delhi?
A. The best way to reach the resort town of Manali from Delhi is by taking a flight. You can also visit the hill station by train. Joginder Nagar Railway station is the nearest railway station for Manali, located at a distance of 163 kilometers.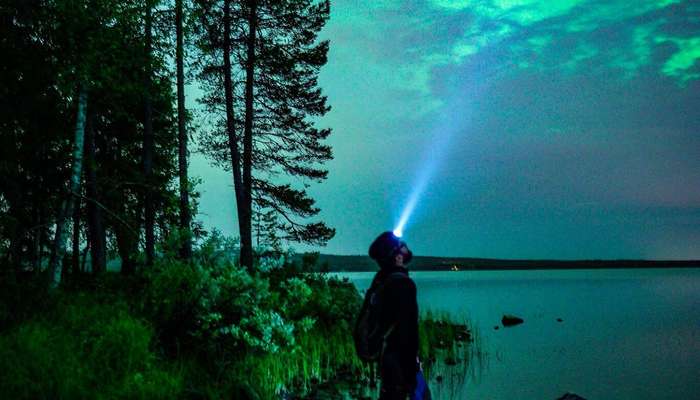 Comments
comments