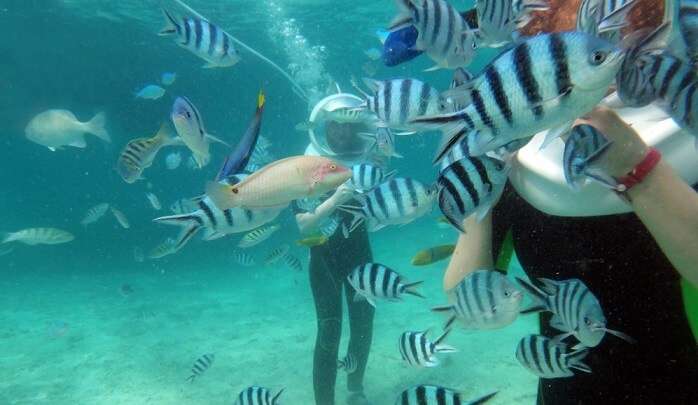 Submerge, surrender, and see forth what it is like to breathe underwater amidst the school of vibrant fish atop the ocean bed. Some experiences are hard to recreate especially when the experience is an underwater sea walk in Mauritius. Witness the underwater world at a depth of around 3 to 4 meters. Nestled with awe-inspiring corals and mystical marine life, Mauritius presents a glimpse of a fascinating world beneath the waves.
Moreover, the feeling of experiencing this is something no words can do justice to. There are a plethora of things for which tourists visit Mauritius but the magic of underwater sea walk surpasses all.
Underwater Sea Walk In Mauritius
Underwater sea walk is one of those adventurous activities that not only give you an adrenaline rush but also something to remember for a lifetime. Many people confuse it with scuba diving, however, this tourist activity is a completely different experience that takes place in shallow waters. You will walk the sea bed for 20 to 25 minutes wearing a helmet that will be connected to a constant supply of fresh air.
Those who are wondering if swimming is a necessity to partake in this activity can relax since it is necessary. Therefore, even non-swimmers can indulge in undersea walk in Mauritius. Moreover, one does not need to take off glasses or contact lenses since the helmet is always dry due to solar-powered electric compressors that keep fresh air pouring. While partaking in this activity, you will be accompanied by a group that will indulge in this activity together. There will also be a trip leader and helmet guide to help you experience it better.
Must Read: 4 Beaches In Balaclava Mauritius That Are Perfect For A Relaxing Sunbath In 2022
Qualifying Kit For Underwater Walk In Mauritius
All the tourists that wish to partake in this activity need to be a minimum of 7 years of age. Remember that it is more important to be comfortable with water than to know how to swim. Once you get comfortable, you will be able to proceed with the tour at ease. Everyone will need to fill a health-related questionnaire so as to inform of any complexities prior to the activity. Some health issues might not allow you to partake in a sea walk in Mauritius.
Suggested Read: Monsoon In Mauritius: A Handy Guide To Gather Experiences Like Never Before!
Where To Do Sea Walk In Mauritius
If you are wondering where can you indulge in this fantastic activity, then head to the tranquil village of Grand Baie in Mauritius. This place though flocked with tourists for its awe-gasping vistas is also famous as a hub for underwater sea walk in Mauritius. Solar Sea Walk Undersea Ltd. provides tourists with a one-of-a-kind experience along with utmost safety. The solar-powered helmet assures complete safety and helps you enjoy the experience at its best.
Apart from bewitching marine life, Grand Baie is home to some awe-inspiring beaches where you can also enjoy swimming and snorkeling. It is a perfect place to relax and spend a calm evening. Moreover, it is ideal to experience the best of solar undersea walk in Mauritius.
Suggested Read: A 2022 Beginner's Guide To The Holy Cavadee Festival In Mauritius
Tips And Travel Essentials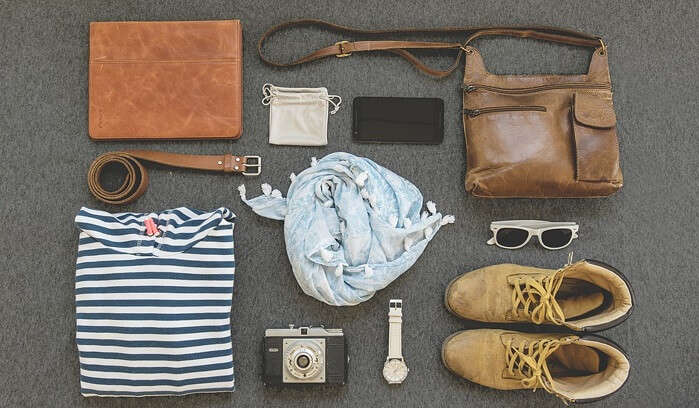 1. However, this activity is considered safe for all to indulge, people with heart diseases are recommended to pass on this underwater activity.
2. Even though it will be a plus point, one need not know how to swim to partake in an underwater sea walk in Mauritius since the activity revolves around walking and not swimming. Just be comfortable in the water and enjoy the experience.
3. Pregnant women are suggested to refrain from this activity.
4. Do not forget to bring your swimming costumes and towels.
5. It is safe to wear glasses and contact lenses since you will be wearing a helmet that will keep the head completely dry.
6. On arrival, you will be provided with underwater shoes free of cost.
7. Make sure to plan your visit anytime between 9:00 am to 5:00 pm. Moreover, Sunday is closed, so visit during weekdays.
8. Once you have stepped down the ladder, you need to equalize the air pressure from time to time. If in case you are not able to equalize the air pressure then you will have to again go up the ladder to adjust it.
9. You will be allowed to capture the underwater world.
10. Pay attention during the orientation of the tour. In case of any unease, reach out to your guide or instructor as soon as possible.
Suggested Read: 5 Best Places To Visit In Moka In March 2022 For An Amazing Trip To Mauritius
How To Reach Mauritius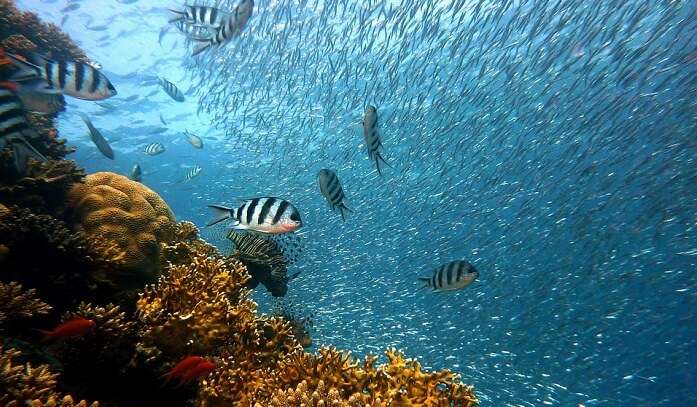 Given below are the ways to reach Mauritius for those who are looking to travel to this beautiful country. Since it is an island nation, one can only cover the traveling distance by air or waterways.
By Air: Located 48 kilometers away from the capital city Port Louis, Sir Seewoosagur Ramgoolam International Airport, the international airport of Mauritius, is a major hub in East Africa. Moreover, it is well connected with many prominent cities around the globe. Some of them of being New Delhi, Vienna, Dubai, Paris, London, etc. The duration of a nonstop flight will be approximately 7 hours and 30 minutes for those who are willing to travel to Mauritius from India. There are also plenty of connecting flights available for this route.
By Water: Those who are looking forward to a more relaxed and luxurious option to travel to Mauritius should opt to travel by water. One can embark on many cruises that sail from Madagascar, Durban, and Rodrigues Island. There is no doubt that sailing through the Indian Ocean will be a tranquil way to reach this enchanting country.
Further Read: 3 Finest Restaurants Near Trou Aux Cerfs One Must Visit While In Mauritius!
Living true to its tourism tagline "the dream that you can afford," Mauritius has become the eye candy of travelers in recent years. This island country offers experiences that are a rare find and an absolute delight. A trip to this country becomes memorable mostly because of its water sports activities and the Underwater sea walk in Mauritius is just the cherry on top. Not only is this an activity to keep you on the edge but also a once in a lifetime experience. Moreover, it is a must-add as you plan your journey for Mauritius.
People Also Read
Scuba Diving In Seychelles Scuba Diving In Tanzania Scuba Diving In Cape Town
---
Looking To Book An International Holiday?
Book memorable holidays on TravelTriangle with 650+ verified travel agents for 65+ domestic and international destinations.
---