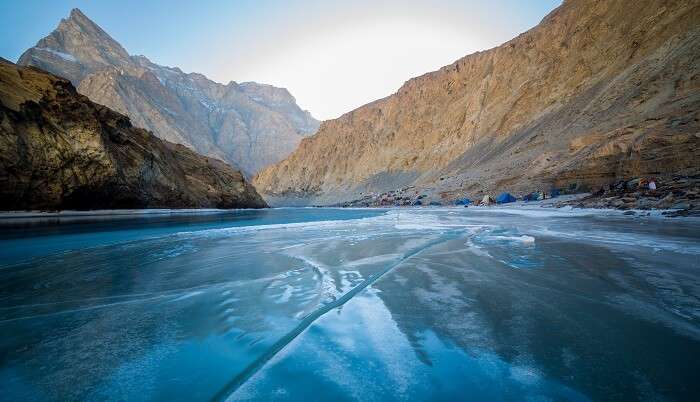 India is known for its diverse terrains with uncountable trails that lead to the spellbinding beauty of nature. Traverse the routes to witness marvelous escapes, the unexplored treks in India, host many offbeat expeditions. Trekking gives a chance to know the mountains closely and allure adrenaline junky to sneak peek at the hidden landscapes. Encountering new challenges and dealing with them efficiently to reach the top, understanding the local cultures of unknown valleys, interacting with residents of quaint villages to know their skills and techniques of surviving through extreme conditions; these excursions cater lifetime memories.
The mystic lands of India feature numerous undiscovered treks. From weekend treks to extensive advanced mountaineering expeditions, the majestic Himalayas has something for all kinds of trekkers. If you are an offbeat traveler and looking for unexplored expeditions, continue reading to get an insight into the best journeys.
Top 7 Unexplored Treks in India
Whether you are an expert trekker or a beginner, proper planning and detailed information about the terrains lead to successful expeditions. Here are the famous unexplored treks in India:
1. Hampta Pass Trek

Hampta Pass is located amid the snow-capped peaks of Himachal Pradesh and is ideal for novice and proficient trekkers. This trail commences from Manali and extends towards Lahaul Valley and extends through lush green surroundings, including alpine meadows, grasslands, glaciers, etc. You can halt at Chandertal Lake and camp beside the pristine beauty of nature.
Altitude: 14,100 ft.
Trekking distance: 26 km
Duration: 4-5 Days
Difficulty level: Easy to Moderate
Best time: May and June
Trek Route: Jobra – Jwara – Balu ka Ghera – Hampta Pass – Shea Goru – Chhatru
Hampta Pass Trek 2022: A Testing 4-Day Expedition Near Manali
2. Chadar Trek

The Chadar Trek of Ladakh is a winter expedition when the Zanskar River transforms into an icy sheet. It is amongst the challenging and tricky treks in the world. However, the surreal sights of this natural ice world are worth capturing in a lifetime. This is amongst the popular unexplored treks in India. The quarreling of waters silences here, and the frozen surroundings give you ample time to embrace tranquility in your own way.
Altitude: 11,123 ft.
Trekking distance: 75 km
Duration: 9-11 Days
Difficulty level: Challenging
Best time: January and February
Route: Tilad Do – Shingra Koma – Tibb Cave – Naerak – Tibb Cave – Shingra Koma
3. Nag Tibba Trek

Nag Tibba trek is amongst the easiest trails in the Himalayas. Known for showcasing the panoramic vistas of the clouds hovering over the mountain tops, the place hosts impeccable sites of untouched nature. This undiscovered trek in India starts near Mussoorie and you traverse through the dense forests that lead to Bandarpoonch peak, followed by Kedarnath peak, Doon valley, and Changabang.
Altitude: 9,915 ft.
Trek distance: 16 km
Duration: 2 Days
Difficulty level: Easy
Best time: Throughout the year
Route: Panthwari – Camp 1 – Nag Tibba Base – Nag Tibba Top – Panthwari
Your Nag Tibba Trek And Camping Guide For 2022 Himalayan Vacation
4. Phuktal Monastery Trek

The Phuktal Monastery in Lungnak valley of Ladakh is an ancient Buddhist monastery that resides over a cliff beside the Tsarap River. The journey to the monastery can only be done on foot and takes through secluded terrains of the Zanskar valley. This offbeat trek in India can be covered in nearly 7-8 days and takes you to the spiritual abode where you can take a deeper look at the Buddhist cultures and customs. This is one of the famous unexplored treks in India.
Altitude: 12,639 ft.
Trek distance: 65 km
Duration: 7-8 days
Difficulty level: Moderate
Best time: July to September
Route: Raru – Chatang – Purne – Phuktal – Purne – Anmu – Raru
5. Japfu Peak Trek

Japfu Peak Trek in Kohima features enchanting vistas of the Dzukou valley, surrounded by meadows, mountains covered with vibrant floras, exotic birds, and more. You also capture a glimpse of the tallest rhododendron tree that has a height of 130 ft. on this expedition. This enormous peak of Nagaland is perched amid emerald green mountains and gorgeous valleys.
Altitude: 10,000 ft.
Trek distance: 17 km
Duration: 4-5 Days
Difficulty level: Easy to Moderate
Best time: October to May
Route: Kohima – Zakhama – Dzukou Valley – Viswema Village – Japfu Base Camp – Japfu Peak
Trekking In Nagaland: 4 Trails That You Can Opt For An Adventurous Getaway In 2022!
6. Tso Lhamo Lake Trek

Tso Lhamo Lake is nestled at 18,000 ft., is amongst the highest lakes in the world. This natural marvel experiences extreme conditions and remains accessible between September to November. It is a short trek of 2 days and one required to take prior permissions from the authorities to explore the region. This excursion remains unexplored due to its hard terrains.
Altitude: 18,000 ft.
Trek distance: 10 km (Approx.)
Duration: 2-3 Days
Difficulty level: Challenging
Best time: October & November
Route: Gangtok – Lachen – Tso Lhamo Lake – Lachen
7. Milam Glacier Trek

Milam Glacier trek in Kumaun district is for those who wish to walk on glaciers, traverse through dense forests, and gaze at the night sky with never-ending sparkles. The glacier is the source of the River Goriganga. It is the longest glacier in the Kumaon Himalaya and takes nearly 10 days. This is one of the undiscovered treks in India.
Altitude: 13,612 ft.
Trek distance: 27 km
Duration: 9-10 Days
Difficulty level: Moderate to difficult
Best time: April – June & September – October
Route: Munsiyari – Lilam – Bugdyar – Martoli – Ganghar – Pachu – Milam – Milam Glacier – Rilkot – Bugdyar – Lilam – Munsiyari
20 Tourist Places In Kumaon You Must Visit On Your 2022 Trip
Everyone has a different reason to go on a trek. It is believed that nature is when in its untouched form gives you time to know yourself and trekking & hiking are the tools that take you to such surroundings. Plan your adventure trips with TravelTriangle and book expeditions to the mentioned unexplored treks in India at the best price!
For our editorial codes of conduct and copyright disclaimer, please click here.
Frequently Asked Questions about Unexplored Treks in India
How many treks are there in India?
There are innumerable treks in India, however, the following are the most popular amongst them - Chadar trek, Stok Kangri trek, Kashmir Great Lakes trek, Pin Parvati trek, Rupin Pass trek, Buran Ghati trek, Hampta Pass trek, Bhrigu Lake trek, Kedartal trek, Kang Yatse II, Goechala trek, Bali Pass trek, Har ki Dun trek, Digar La trek, and many more.
Which forest is banned for trekking in India?
The Stok Kangri trek has been banned from the year 2020 due to issues raised by the Stok village community and All Ladakh tour operators association. The trek remains suspended till date.
What is an offbeat trek?
Offbeat treks are those journeys that are less explored and offers a window to the untouched beauty of nature. Hampta Pass trek, Chadar trek, Naag Tibba trek, Milam Glacier trek, Tso Lhamo Lake trek, etc. are some of the famous unexplored treks in India.
Which trek is best for beginners?
The following Himalayan treks are ideal for beginners:
1. Chatakpur Tiger Hill Trek
2. Triund Hill Trek
3. Chopta Chandrashila Trek
4. Valley of Flowers
5. Hampta Pass
6. Har ki Dun Trek
7. Nag Tibba Trek
8. Parashar Lake Trek
Which is the longest trek in India?
Kalindi Khal Expedition (99 km), Parang La Trek (128 km), Kang La Trek (90 km), Pin Parvati Pass Trek (78 km), and Auden's Col Trek (75 km) are the longest treks in India and referred to be the toughest expeditions in the country.
Is Roopkund trek still banned?
No, Roopkund trek is not banned. However, overnight camping amid the meadows of Uttarakhand is not allowed. This makes impossible to complete Roopkund trek.
People Also Read: