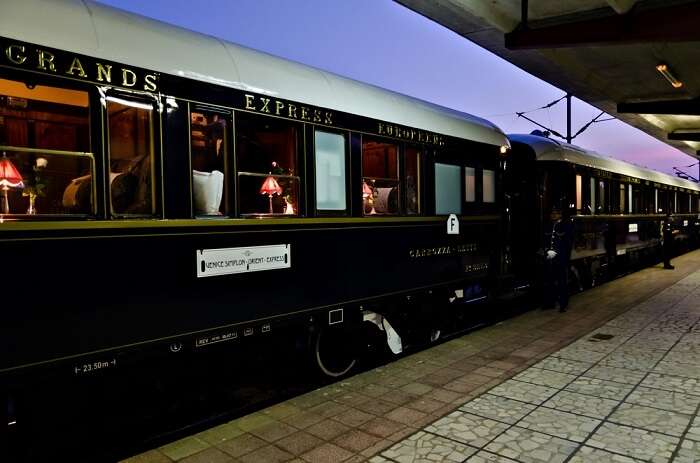 For the ones who are lucky enough to afford it, the Venice Simplon-Orient-Express is perhaps the most luxurious and romantic train ride from London to Venice. The vintage carriages are an absolute delight. The onboard service and food is completely world-class. And if you are to take a trip from London to Venice, then you can have the best traveling experience. It is worth mentioning that the train journey is nothing less than a five-star hotel service. Also, it is guaranteed that you are not going to get disappointed. So, if you ever thought of knowing all about it or even have no idea at all, this Venice Simplon-Orient-Express guide has got your back. Take a look and uncover it all about the luxurious train journey!
About Venice Simplon Orient Express

The Venice Simplon-Orient-Express which is also known as VSOE is basically a privately run train with the 1920s, 30s, and 50s coaches. The passengers can expect to receive a five-star service on the train on their way to Venice. Travelers are sure to get the best experience of their lives on the train. The train is known to run roughly once a week from the month of March to November. It takes around a day or 24 hours from London to Venice which basically means that you get an entire day to spend in the luxury carriages of the train. You can avail food and onboard luxury services. The journey actually comprises of two trains, a historic British Pullman train from London to Folkestone and a Continental train of Classic 1920s sleeping cars from Calais to Venice. It is run by Venice Simplon-Orient-Express Limited. To enjoy this luxurious ride from London to Venice, it is going to cost you 2,365 pounds per person.
Must Read: 35 Best Places To Spend Christmas In Europe 2022: Where Festivities Breathe Magic Into The Air!
The Venice Simplon Orient Route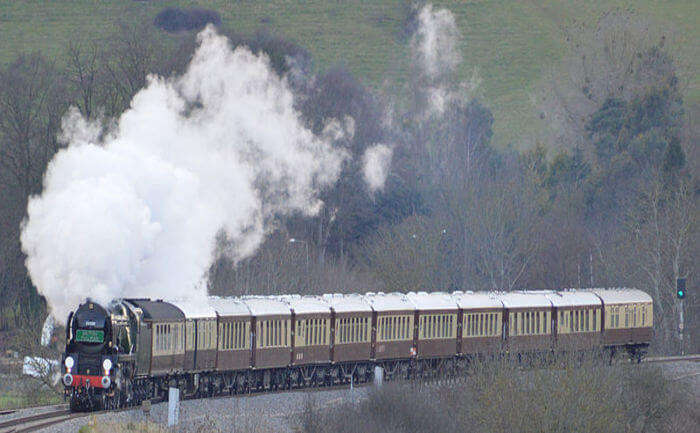 The Venice Simplon-Orient-Express is mainly popular to make frequent journeys from London to Venice and vice versa. Other than that you can also opt for shorter journeys from London to Paris and Paris to Venice. However, the train is also known to make less frequent journeys to other European countries as well. Vienna, Budapest, Berlin, Prague, and Istanbul are the cities that are included in the list. Travelers can avail the 6-day iconic trip from Paris to Istanbul and back only once a year.
The Belmond British Pullman is known to make regular trips within the boundaries of the United Kingdom. This is recommended especially for people who would like to experience the luxury train journey on a smaller budget.
The train ride to and from London to Venice is the most popular trip that is offered by the Venice Simplon-Orient-Express. However, some travelers like to do it only one way. But if you wish to experience the luxurious train journey on a full scale, it is advised that you choose the full round-trip to and from London to Venice.
Many travelers tend to get confused when it comes to deciding between the south westbound and north-eastbound. Well, the service and scenery are going to be the same either way. Therefore, it doesn't make much of a difference. However, it is advised that you take the orient express from London to Venice route as you get to start with the royal British Pullman and travel over the Channel Tunnel at the beginning of your journey and thereafter you can relax and enjoy your entire time on the train.
However, there is more available from the opposite direction and that is from Venice to London. Also, the cost is a bit low when you choose to take the other direction. You also get to enjoy the British Afternoon tea going in the Venice to London direction. That's because it is served abroad the British Pullman.
Suggested Read: 13 Frolicsome Beaches In Europe For All The Excited Beach Bums Across The Globe
Facilities In The Venice Simplon Orient Train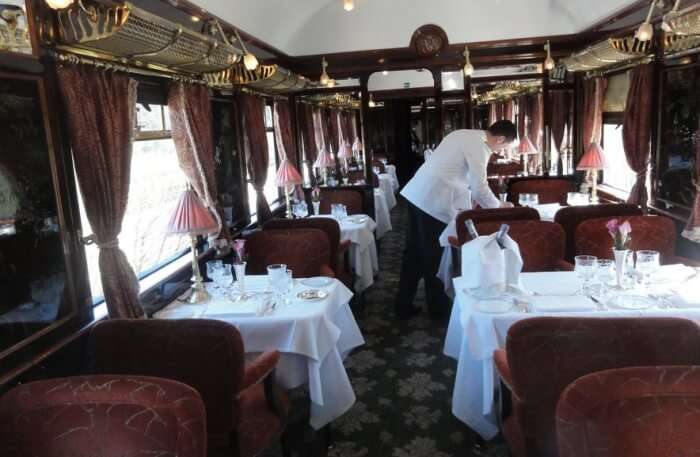 You should be informed that these are restored vintage carriages however, some modern amenities are still added for the comfort of the travelers. There are no showers or bathtubs available in the cars. All you can avail is toilets, washbasins, and sinks.
Each of the carriages is kept warm with the help of coal stoves. You can also find a small radiator in each of the compartments. There are no air-conditioning systems available in the cars however, you can roll down the windows for ventilation. Each of the compartment is equipped with a small fan.
There is no wireless internet connection available on either of the trains that you board. However, you can avail electrical outlets on the buses and in each of the compartments on the VSOE train. This should help you to charge your electrical devices. You need not to worry about cell phone signals as you can expect a decent cell phone reception all along the Venice Simplon-Orient-Express route.
You are allowed to use your electrical gadgets and devices inside your own compartments. However, you are expected not to bring them outside the compartment.
Many of the cabins are also equipped with a safe. If you are to avail of this service then you need to book it first. Current magazines and newspapers are provided to travellers. There is a mailbox located on board where staff is known to post happy guest letters with a special stamp.
Suggested Read: 17 Spots For Snorkeling In Europe Every Underwater Enthusiast Must Visit
Schedule & Price For Venice Simplon Orient Express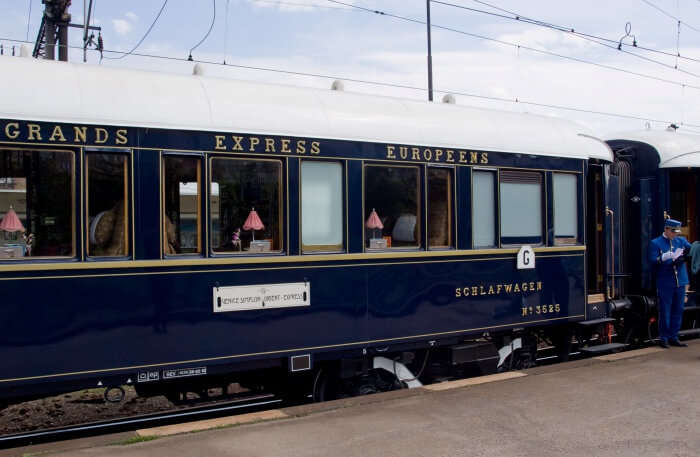 The Venice Simplon-Orient-Express is known to make trips from London to Venice once a week from the month of March to November. The Venice Simplon-Orient-Express cost of the journey is dependent on various factors including route, time of the year and cabin type. The double cabin is priced at 2,210 per person. The rates for the three Grand Suites are priced at 5,500 per person. This is for the London to Venice journey.
You can avail discounts for children under the age of 12 years.
Suggested Read: Guess Which European City Gets The Title Of World's Most Liveable City This Year!
Tips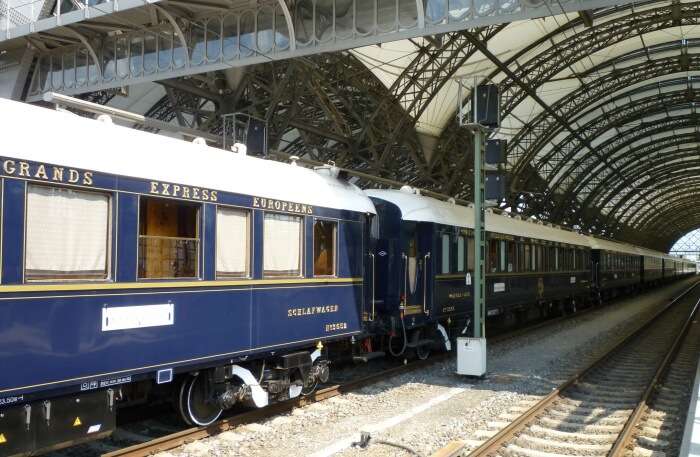 If you are planning to board the Venice Simplon-Orient-Express train, then you need to be aware of the following information.
1. The compartments on the train are pretty small and therefore, you may not have enough space to keep your luggage. The luggage allowance on board is 1 garment bag and 1 piece of hand luggage.
2. You need to follow the dress code as set by VSOE. You cannot be overdressed while boarding the train and particularly in the evening. During the day, you are allowed to wear casual wear however, you cannot wear shorts, jeans, trainers or sneakers. During the evening guests are expected to change into formal wear. Men are expected to wear a dark suit or a tux and dress shoes. For ladies, they can wear an evening dress or a formal pantsuit. So make sure that you carry all the right attires with you.
3. Travelers must be equipped with all the required passports and visas in order to take the Venice Simplon-Orient-Express journey. The travelers must also comply with health, customs or vaccinations policies for all the countries that may have to travel through. The London-Venice passengers will pass through the United Kingdom, France, Switzerland, Austria, and Italy and therefore, passengers are expected to have all the necessary documents along with their visas and passports. In case, if you are an EU citizen, you are exempted from the need to possess any visas. However, travelers from other countries are required to have their health records and visas. So make sure that you have all your documents ready.
Further Read: 31 Traditional Festivals In Europe That Will Up The Fun Factor Of Your Euro-Tour In 2022
Well, now that you know all the required details for the Venice Simplon-Orient-Express luxury train, you can plan your international trip with TravelTriangle accordingly. This is a train ride that you will remember for life, and we can surely bet on that!
---
Looking To Book An International Holiday?
Book memorable holidays on TravelTriangle with 650+ verified travel agents for 65+ domestic and international destinations.
---