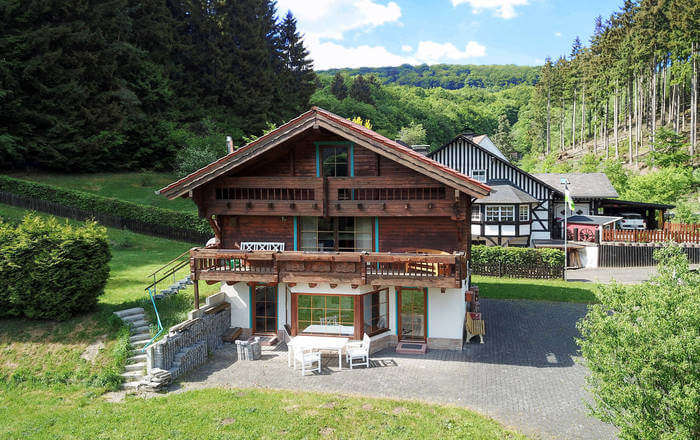 Everything about Europe oozes beauty, serenity, and style. So why should the holiday villas in Germany be any different? With an exemplary vacation home, you and your loved ones can make the full use of the warm hospitality of this pristine country with a great homely touch.
Impeccable Villas in Germany
Finding a perfect nest from thousands of options for your vacation in Europe can often be overwhelming. A wide variety of luxury holiday villas in Germany can be found to match your needs ranging from an adventure, family, budget, or a luxury vacation. The following handpicked villas in Germany are a pristine testament to the beauty, stylishness, and comfort that vacation homes have to offer to travelers who make it to the Rhineland.
1. Chalet Abnona Schwarzwald (Black Forest)
Located in probably the most scenic part of Germany, the Chalet Abnona is located 35 km from Czechia border in the heart of the Black Forest (Schwarzwald) mountainous region. Known for its unforgettable natural scenery, and mesmerizing landscape- this Chalet in the heart of the forest region is sure to captivate your senses and enhance your holidaying experience.
Furthermore, a classy wooden finishing with chic interiors makes this property one of the best villas in Germany for a nature retreat with your family.
Price: INR 12,500 per night
Capacity: 6 Guests
Must Read: 10 Best Berlin Churches To Get Closer To Your Inner Self In The Enchanting Capital Of Germany
2. BEU 352 Inter Chalet, Bernau
For travelers that prefer being situated near a big city and at the same time away from the rush, this villa in the small town of Bernau is perfect for them. Situated 10 km north of Berlin, this holiday home offers a great rural countryside environment in the vicinity of the capital city of Germany. A quiet, charming, and pet-friendly villa, this is an ideal place for travelers to unwind after a hectic day of sightseeing and exploring.
Price: INR 4,000 per night
Capacity: 4-6 Guests
Suggested Read: Germany Nightlife: An Ultimate Guide To Experience A Kaleidoscope Of Drinks And Music
3. Haus Seepferdchen, Zinnowitz
There are many offbeat and unexplored locations for travelers to see in the northern parts of Germany which is generally void of international tourists. This charming house is situated in a small town called Zinnowitz which lies just off the coast of northern Germany on the island of Usedom- a popular tourist destination for locals in the Baltic Sea.
Often the best villas in Germany, as voted by travelers, are the ones situated completely off the known tourists grid, and to rent a vacation home in Zinnowitz would provide travelers with just that comfort, luxury, and peace they were looking for.
Price: INR 2,800 per night
Capacity: 3 Guests
4. BRL 100, Brilon
Travelers who wish to visit the scenic Rheinland of Northwestern Germany can opt to stay in the lap of mountains at this lovely mountain home in the small town of Brilon. The best part about renting luxury villas in Germany is that all of them are located in picturesque spots that give great vantage points for nature sightseeing and relaxing.
This villa offers all the luxurious amenities that one desires during his vacation like a fully wooden furnished house, spacious balconies on both floors, adequate car parking, outhouse for pets, and a front and backyard garden.
Price: INR 6,900 per night
Capacity: 4 Guests
Suggested Read: 5 Waterfalls In Germany To Witness The Charismatic Beauty Of Nature
5. Haus Svea, Illmensee, Lake Constance
This villa is an ideal stop-over point for travelers who are on a multi-country vacation in Europe. Equidistant from Munich and Switzerland, this modern villa is a hidden gem for nature lovers. Located on the Southern edge of Germany and only a 90-minute drive from Zurich, Haus Svea is a pristine lakeside villa that is perfect for family vacations.
A trendy house with old Bavarian architecture, this house comes with all the luxury amenities that travelers would want on a European sojourn.
Price: INR 4,200 per night
Capacity: 4 Guests
Suggested Read: Oktoberfest Germany: Bottoms Up Your Mugs At The World's Largest Beer Fest
6. Ferienresort Lagovida, Störmthaler See
When in Rome, do as the Romans do. A famous saying that holds true to this day in almost every walk of life including travel. Germany is home to numerous lakes, and the locals love to go on vacations at a lakeside house. One of the top villas in Germany is located on the outskirts of Leipzig and on the banks of Lake Störmthaler.
This lakeside villa is surrounded by luxurious sailboats, high-end resorts and an effervescent presence of mother nature to add a surreal experience to your vacation.
Price: INR 8,500 per night
Capacity: 4-5 Guests
Suggested Read: Winter In Germany: Witness The Beauty & Grandeur Of The Country Like Never Before!
7. Wohnung Königssee, Berchtesgaden
It would be almost criminal to visit Germany and not stop by in the ludicrously amazing Bavarian Alps. The most famous mountain range that stretches from Switzerland into Austria and Germany has a great presence in the Bavarian region also. Surrounded by snow-capped mountains on all sides at a vacation home is certainly a dream that many have but only a few are lucky enough to realize.
This villa is situated in Berchtesgaden, a small town that borders with Austria, and is only a 30-minute drive from Salzburg. Along with a nice stop-over point from travelers going between Germany and Austria, this villa also has amenities like an outdoor pool, central heating, and sunshades for relaxing outside in the sun.
Holidaying in Germany is a serene and peaceful experience that few travelers ever end up regretting. Villas in Germany are surrounded by an abundance of natural beauty enhanced by breathtaking mountains, scenic lakes, and charming towns. Although this may seem like an unorthodox way of holidaying in Europe as we have always known it, but the rewards of experimenting with a vacation home are plenty.
Price: INR 5,700 per night
Capacity: 4 Guests
Further Read: Shopping In Germany: A Look At The 10 Best Shopping Boulevards, Flea Markets & More
An unforgettable European adventure awaits. Go ahead and book a vacation to Europe with TravelTriangle and chill out at an amazing vacation home with your loved ones.
---
Looking To Book An International Holiday?
Book memorable holidays on TravelTriangle with 650+ verified travel agents for 65+ domestic and international destinations.
---
Comments
comments