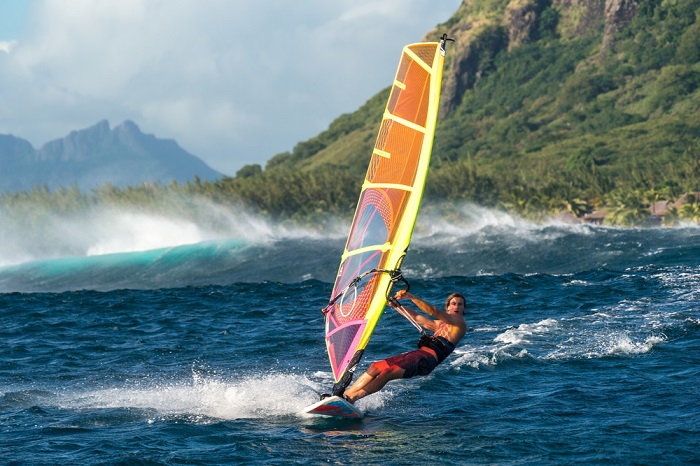 Located in one elegant corner of Mauritius, nestled in the waves and sand across the shore is the beautiful town of Grand Baie. One of the main tourist attractions include the Grand Baie public beach
that is situated in a charming cove. While there's no dearth of restaurants and happening bars in the village, a shopping experience in the Grand Baie bazaar is a must visit if you wish to witness the talent of local artists and take souvenirs of handicrafts home. Get ready to unwind with the best water-sports in Grand Baie, Mauritius to get the best of this place.
When it's time for some dance, music and drinks with your friends, there's no better place than to check out the lively bars in Grand Baie town as the authentic Mauritian food and drinks are surely going to make your experience worthwhile. What's more is that you can also visit Gunner's Quoin and another island called as Flat Island to spot game fish and hammerhead sharks. So, while you're in this serene town, don't forget to try all the water sports too for an amazing time in Mauritius!
5 Best Water-sports In Grand Baie, Mauritius
Whether it's the fun snorkeling, or sailing through the winds attached to a rope and flying high in the sky, the water sports in Grand Baie will be nothing less than a thrilling experience! Check this out!
1. Parasailing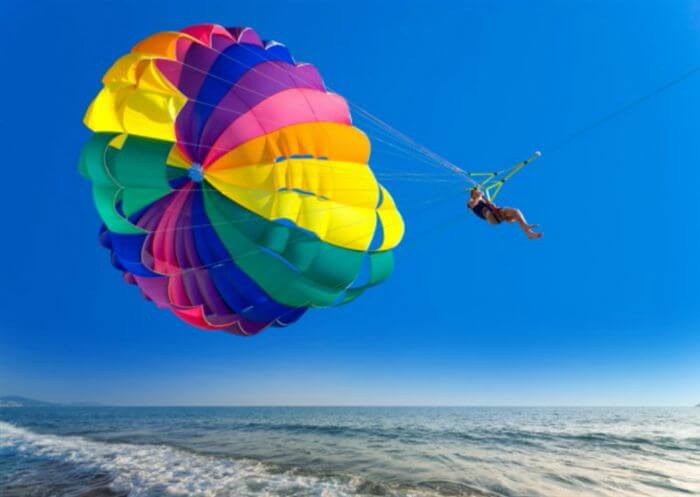 Parasailing in Mauritius is a great sport to start with. It not just gives you a birds-eye view of the lagoons, but also an unmatched thrill. This is the best place to lose yourself in the magnificent turquoise waters and their vastness. The duration differs from place to place, but basically a parasailing flight is about 5 to 15 minutes. Parasailing is a thrilling sport but make sure you double check your safety gears and harnesses before taking off.
Adventure level: Moderate
Where: Grand Baie, Trou deau Douce, and Ile aux Cerfs.
Swimming required: No
Tips: If you carry your camera, make sure that you strap it properly.
Read More: 10 Best Temples In Mauritius
2. Cave Sea Kayaking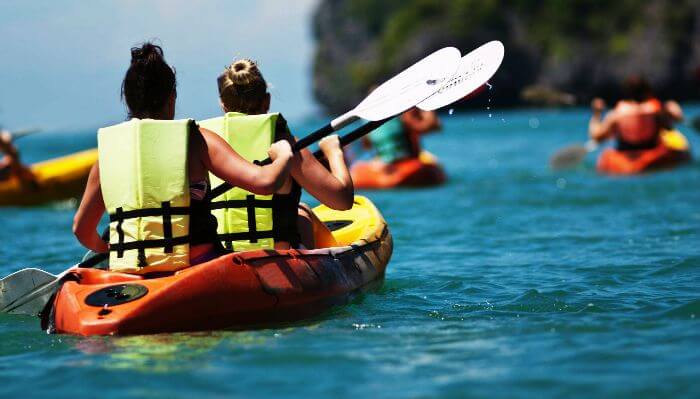 3. Blue Safari Submarine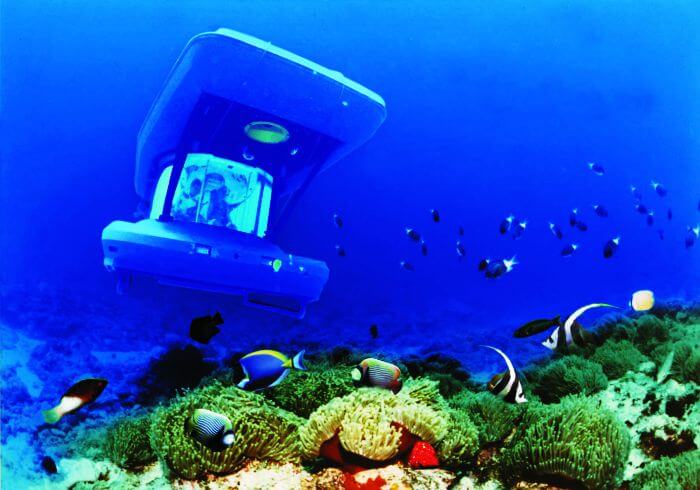 Wish to dive, but don't want to get wet- Try Blue Safari Submarine ride. It is a different one among Mauritius water sports, and takes you among the exotic corals and the ship-wreck Star Hope. Located at Trou Aux Biches & Mont Choisy, Blue Safari Submarine will give you a whirlwind tour of the ocean. So, this like a aquarium but with a twist, as you are inside it!
Adventure level: Moderate
Swimming required: No
Tips: Reservations are recommended at least a day in advance.The price per adult is Rs 39,000 and for children its Rs 23,000.
Read More: 10 Historical Places In Mauritius
4. Underwater Sea Walk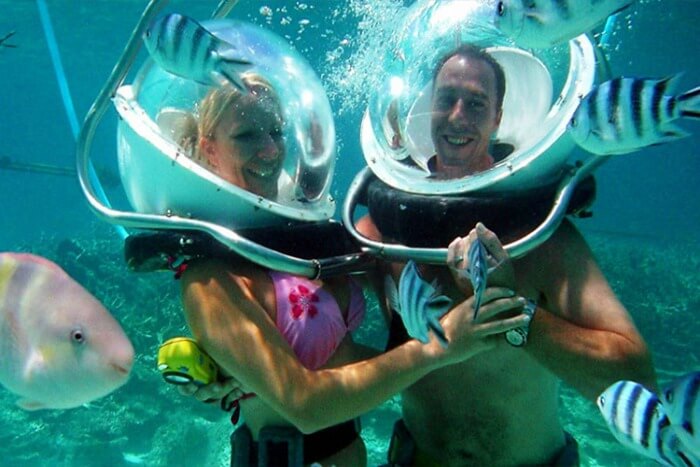 The name says it all! Try underwater sea walking if you want to explore the rich sea life. It might be little scary at the beginning, but its worth it. Compared to other water sports activities in Mauritius, this is gives you the best underwater experience. Going out on a walk on the sea floor can also be a romantic thing to do for sporty couples.
Adventure level: Moderate
Where to try: Trou deau Douce and Port Louis
Swimming required: No
Tips: The underwater walk is not suitable for children below 7. Remember to get a swimsuit and a towel.
Read More: Mauritius Vs Bali
5. Snorkeling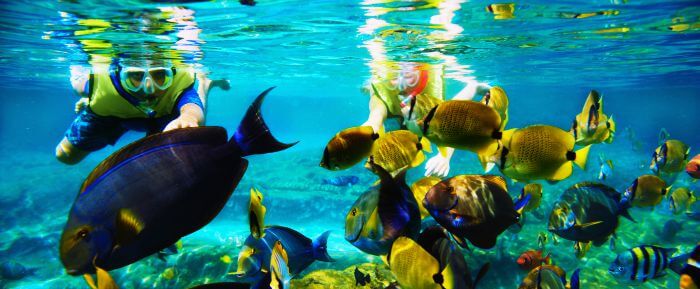 Whats the fun without some snorkeling in Mauritius- Plunge into the blue sea and explore the magical corals and marine life. This is an experience you will never forget, cos the reefs here are spectacular. It is one of the most popular water sports at Ile Aux Cerfs, Mauritius.
Adventure level: Easy
Where to try: Blue Bay Marine Park, Pointe aux Piments, Trou aux Biches, Ile aux Cerfs or Flic en Flac
Swimming required: No
Tips: Wear comfortable light swimwear for snorkeling in Mauritius. If you want to take pictures, get yourself an underwater camera.
Read More: Top 12 Water Sports In Mauritius
Life's all about exploring and while you plan to explore the various water sports, know that these are just some of the ones you get to try in Grand Baie. So, visiting the town and experiencing it all firsthand is something you can do for sure! There's no shortage of activities and places to visit around the town for an amazing holiday. So, what are you waiting for? Plan a trip to Mauritius for an adventurous vacation experience like never before and don't forget to tag your loved ones along! Grand Baie will never fail to surprise you with its abundant fresh vibes and soothing vacay experiences in store. Do check out what's this place has exclusively for you that fits your itinerary well.
Comments
comments