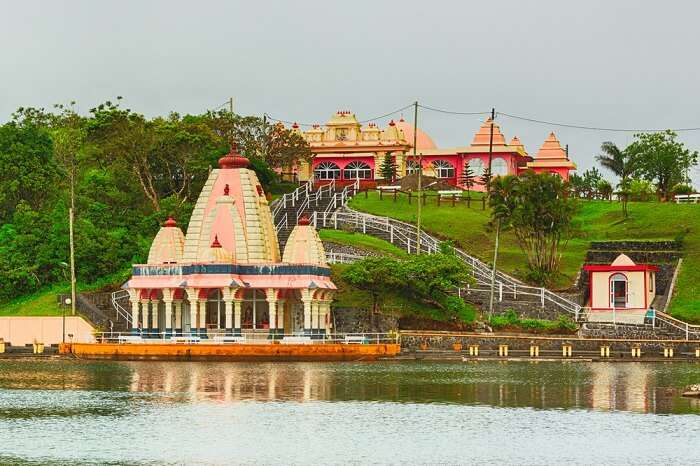 Mauritius, the land of crystal clear beaches, summery cocktails, sandy shores and beach side adventures; this is the impression that most people have of Mauritius. However, there is much more than what meets the eye to this beautiful country, like the many temples that are situated here. For devotees, this country is a must visit place due to the religious sites that are located here, and even those who are not religious can't help but admire the beauty and architecture of these marvels. Here is a list of the most famous temples in Mauritius that you ought to include in your trip itinerary!
Top 10 Temples In Mauritius
While there are a lot of sacred places to see in the country of Mauritius, a visit to these 10 temples is a must on your next holiday. Scroll down to find out why.
Sagar Shiv Mandir
Sri Prasanna Venkateswara Temple
Maheswarnath Shiv Mandir
Pandurang Kshetra Mandir
Kwan Tee Pagoda
Sockalingum Meenatchee Ammen Kovil
Sri Siva Subramanya Temple
Shiv Shakti Mandir
Hare Krsna Iskcon Temple
Ganga Talao
1. Sagar Shiv Mandir
Sagar Shiv Mandir in Mauritius is one of the most popular temples in Mauritius, and was only recently constructed due to the monetary aid of the Ghunowa family, who have invested a huge amount of money to construct this religious site. This is both a place of worship and a popular tourist attraction, the key attraction of this famous Hindu temple in Mauritius is the 108 foot tall, bronze statue of Lord Shiva. Visiting this Mauritius temple of Shiva on your next trip will surely be a good idea if you're looking forward to having some peaceful time.
Timings: 5:00 AM – 12:00 PM, 4:00 PM – 9:00 PM
Location: Ile au Goyave de Chine, Pointe de Flacq, Mauritius
2. Sri Prasanna Venkateswara Temple
This is a famous Hindu Temple in Mauritius, that was constructed in the year 1921 and is dedicated to Lord Venkateshwara – a form of Lord Vishnu, the Creator of the Universe. Tough it was constructed in the early 1900's, the temples went through a lot of renovation in the 2010's with the help of South Indian artists, and now attract a lot of devotees and tourists alike. The highlight of this temple is the large statue of Lord Venkatesh, covered in gold, and other precious gems like rubies, pearls, and more. If you want to see Indian temples in Mauritius, visit this one.
Timings: 5:00 AM – 12:00 PM, 4:00 PM – 9:00 PM
Location: La Laura-Malenga, Mauritius
Suggested Read: Looking For Water Villas In Mauritius? Constance Le Prince Maurice Is A Dream-Come-True!
3. Maheswarnath Shiv Mandir
This is another Shiva temple in Mauritius and is the largest of all the temples in Mauritius. The construction of this magnificent temple began in 1891, just near a sugar factory, and there were more building and structures added later to it. Apart from worshippers of Lord Shiva, devotees of Lord Krishna, Brahma, Muruga and Vishnu also frequently visit this place, and the famous Maha Shivratri festival is celebrated here every year during the months of February and March. This is also a very famous Tamil temple in Mauritius.
Timings: 5:00 AM – 12:00PM, 2:00PM – 7:00 PM
Location: Shivala Rd, Triolet, Mauritius
Suggested Read: Blue Safari Submarines In Mauritius: A Guide For Exploring The Local Attraction
4. Pandurang Kshetra Mandir
Another Mauritius Hindu temple, this one is relatively smaller in size as compared to the other temples in the country, and is located in Cascavelle. Constructed in 1902, after the arrival of the labour workers from Maharashtra in India, the temple is famously known for its three domes. The most worshipped God here is Lord Ganesha, the elephant God, however, there are a lot of idols of other gods as well placed in this temple. This is surely one of those temples to visit in Mauritius where you can soak in the blessed vibes of the place. So, make sure you don't miss this one on your next trip.
Timings: 5:00 AM to 12:00PM, 1PM – 6PM
Suggested Read: A 7 Day Magical Honeymoon In Mauritius
5. Kwan Tee Pagoda
Hindu temples are not the only temples to visit in Mauritius, and there are also a lot of Chinese temples in the country as well. Located in Port Louis, this temple has been the religious centre of Chinese soldiers since it was constructed in 1842 and is associated with Choisan, the Chinese God of wealth. The temple is adorned with color of red, yellow and green, and instantly reminds one of Imperial China. More than the beauty of the temple, the surrounding green gardens are sure to impress you with their beauty.
Timings: 6AM – 6PM
Location: Seraphine St, Port Louis, Mauritius
6. Sockalingum Meenatchee Ammen Kovil
On the list of Tamil temples in Mauritius, is another beautiful temple in Port Louis. This temple is dedicated to Lord Shiva, the Destroyer, and is one of the most impressive temples in the country, with regard to architecture and construction, showcasing impeccable Dravidian architecture that can be seen in every aspect of the temple. Constructed in 1854, this is one of the oldest and most colourful temples in the country, and the beauty of it is admired by both tourists and devotees.
Timings: 5AM – 12PM, 1PM-6PM
Location: Port Louis, Mauritius
Suggested Read: Honeymoon In Mauritius: Enticing Things To Do And Must Experiences For Every Couple!
7. Sri Siva Subramanya Temple
One of the top temples on the list of Hindu temples in Mauritius, is this Dravidian wonder, constructed in the year 1907, because of the idea of Velmurugan, an Indian labourer, who wanted to build a temple on the flanks of the Corps de Garde Mountain. Today, the temple is a big place of worship for followers of Murugan, the God of War and many festivals are celebrated here, the biggest of them being the Thaipoosam Cavadee festival, which is mostly celebrated in South India.
Timings: 5AM – 12PM, 1PM-6PM
8. Shiv Shakti Mandir
One of the important temples of Mauritius, this temple was constructed in the year 1922, and is located in the Vacoas-Phoenix border in Mauritius. The temple is dedicated to the Destroyer, Lord Shiva, although a lot of other Gods are also worshipped in this temple. The white colour of the temples provides a tranquil and serene atmosphere, perfect for prayer and meditation, surrounded by the silence and stillness of the temple. So, are you ready to have some calming time all by yourself too? Head straight to this temple the next time you're out and about in this land to witness the glorious Shiva statue in Mauritius!
Timings: 5AM – 12PM , 2PM-7PM
Location: Vacoas-Phoenix, Mauritius
Suggested Read: Romance Aboard A Catamaran Cruise On Your Mauritius Honeymoon For Memories Of A Lifetime
9. Hare Krsna Iskcon Temple
Located in Bon Accueil in Mauritius, this temple can largely be described as a magnificent work of art, infused with the spirit of Lord Krishna. The whole temple has a lot of paintings depicting the life of the famous God, and legend says that each of these frames took around 6 months to complete. There are a lot of trees bearing fruit surrounding the temple, and due to the large number of tourists and devotees that visit this temple, there are also a few guest houses that provide lodging for visitors there.
Timings: 5AM-12PM, 1PM-8PM
Location: Bon Accueil, Mauritius
Suggested Read: Casela Nature Park In Mauritius: Know About This World Of Adventures
10. Ganga Talao
Situated near Bois Cheri, the Ganga Talao Temple in Mauritius, otherwise known as the Grand Bassin temple, is considered to be one of the most sacred temples in the country. The temple stands on a crater, located around 550 meters above sea level. The temples id dedicated to Lord Shiva, among other Gods, and has a lot of devotees visiting each year during Maha Shivratri. Even tourists enjoy visiting this temple and just walking by the peaceful lake and admire the beauty of this magnificent temple.
Timings: 5AM-12PM,1PM-6PM
Further Read: Feeling The Tropical Love On A 4N 5D Honeymoon In Mauritius
These are just a few of the many temples in Mauritius, and there are also a lot of other Mauritius buddhist temples along with some interesting activities and sights for you to see and do in this beautiful country. So, don't think much and plan a perfect Mauritius holiday with TravelTriangle for an experience like none other!
Frequently Asked Questions About Temples In Mauritius
Q. How many temples are there in Mauritius?
A. There are many temples in Mauritius including major Hindu temples as well as other ones.
Q. Why are there so many Hindu Temples in Mauritius?
A. Around the time when Mauritius was a French colony, several Hindu labourers were brought to the land for work. Later when these immigrants settled in there, it became necessary to have temples of the same religion to perform rituals and ceremonies.
People Also Read:
Family Trip To Mauritius Chiang Mai Temples Trip To Mauritius In April
---
Looking To Book An International Holiday?
Book memorable holidays on TravelTriangle with 650+ verified travel agents for 65+ domestic and international destinations.
---
Comments
comments