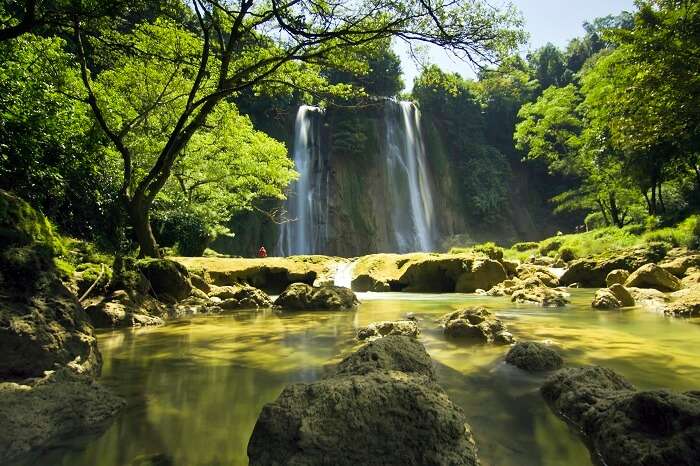 Cover Image Credit: Wikipedia
Did you know that there are over 100 known waterfalls in Malaysia? That is a lot! And the deep and dense jungles, without a doubt, might be hiding many more magnificent ones that are yet to be discovered. If you are a nature lover, you will enjoy a holiday in this beautiful country known for its natural beauty. If you are looking for fun things to do during your stay, you should make exploring the most famous waterfalls in Malaysia a top priority.
Top 10 Waterfalls in Malaysia
And do not forget to carry your camera to capture the beauty of these beautiful pictures and share them with your family and friends. However, take a look at these 10 best waterfalls in Malaysia that you should definitely visit during your stay.
1. Kota Tinggi Waterfalls
2. Mahua Waterfall
3. Rainbow Fall
4. Sungai Chiling Waterfalls
5. Giam Klimau Waterfall
6. Ulu Chepor Waterfall
7. Jelawang Waterfall
8. Sekayu Waterfall
9. Telaga Tujuh Waterfalls
10. Lasir Waterfall
1. Kota Tinggi Waterfalls

A famous weekend spot among the locals, the Kota Tinggi Waterfalls in Johor is a must-see when you are in Malaysia. Located roughly a four-hour drive away from Kuala Lumpur, there are two waterfalls in the same location. The one closest to the entrance is a beautiful cascading falls that has pools below while the other one is a free thundering falls down the valley. One can go on a pleasant walk to access it which makes the man-made slides at this Malaysian waterfall near Kuala Lumpur, a fun spot for kids and grownups alike. There is a lot of green algae formation on the rocks in this waterfall, so make sure you watch-out your every step as there are high chances of slipping.
Location: Sungai Pelepah, Gunung Panti Recreational forest, 81900 Kota Tinggi, Johor
Entrance Fee: RM7.50 for Malaysians and RM10 for non-Malaysians.
Tip: If you like to trek in the wild, go for a light walk to Muntahak Mountain
Must Read: 7 Invaluable Malaysia Travel Tips For First-time Visitors
2. Mahua Waterfall

Open to the public since June 2003, the Mahua Waterfall in Tambunan, Sabah is one of the most well-known waterfalls in Malaysia, attracting visitors from far and wide. It is situated 26 kms from Sabah and 17 meters in height. To get to the Mahua Waterfall, you need to walk the 500-meter trail surrounded by lush green flora and countless pretty butterflies fluttering about. This is a truly magical waterfall that will take your breath away once you lay your eyes on it and its surroundings. Be cautious of the loose rocks on the trail in and around the waterfall.
Location: Kg. Patau, Tambunan, Sabah
Entrance Fee: RM3
Tip: Spot a number of different species, including Blue Hedges, Black-veined Mapwingis, and Monster Skippers
Suggested Read: 10 Handpicked Day Trips For Couples In Kuala Lumpur To Have An Unforgettable Holiday
3. Rainbow Fall

The name itself promises visitors a view they will never forget. If visited at the right time, one can witness how the water and light create breathtaking rainbows within the mist. While hundreds of travelers come to witness this famous phenomena, make sure you start your exploration early in the morning, after a rainfall, or before the sun starts to set. Adventure lovers will definitely appreciate Rainbow waterfall as it can be accessed only by a 4WD for which, the arrangements can be made with local travel agencies at Sungai Lembing village. This fall is one the most picturesque place, so pull out your cameras and click – click!
Location: Sungai Lembing, Pahang
Entrance Fee: RM50 (includes transport, guide, and insurance)
Tip: Camp near the waterfall in order not to miss the magical rainbow phenomena
Suggested Read: 10 Reasons To Visit Malaysia That Will Trigger Your Wanderlust
4. Sungai Chiling Waterfalls

Located in Selangor, the Sungai Chiling Waterfalls is one of the best places to visit for adrenaline junkies looking for thrills and spills in Malaysia. This is because Chiling Waterfalls, which doubles as a fish sanctuary, can only be reached after you take an adventurous trek along the river. There are six river crosses you need to go through, so make sure that you are ready to get your feet wet! Although the current can get strong and the water is deep, the walk is completely safe. Surrounded by dense vegetation, this place feels like nature's hidden treasure.
Location: 44000 Kuala Kubu Bharu, Selangor
Entrance Fee: RM 1.00
Tip: Plan your hike accordingly as the waterfalls are open to the public only on Fridays, Saturday and Sunday due to a Selangor Fisheries Department rule
Suggested Read: 21 Malaysia Islands You Must Visit In 2022 For Having The Best Vacation Ever
5. Giam Klimau Waterfall

Giam means waterfall or rapids in the dialect of the Bidayuh, an indigenous ethnic group from southern Sarawak. What makes the Giam Klimau Waterfall so magnificent is its curtain waterfall. There is a wide, rocky protrusion that creates a shelter below where you can stand behind, and watch one of the best waterfalls in Malaysia, magically cascade down. Arrive hear with your love, family or friends to share the amazement!
Location: South-east of Niah National Park, Sarawak
Entrance Fee: Free
Tip: To access the Giam Waterfall, you need to pass through a privately-owned palm oil plantation, and report at a number of checkpoints
Suggested Read: 27 Kickass Things To Do In Malaysia: Water Sports, Boat Safari, Food & More
6. Ulu Chepor Waterfall

Known for its cool, clean water that flows down from the Kledang Hills, Ulu Chepor Waterfall is a very popular spot for those looking for a place to cool down on a hot day. The famous waterfall in Perak is one of the top waterfalls in Malaysia as it has a picnic area, prayer rooms, small huts, stalls that sell food and beverages, and bathrooms, built by the Ipoh City Council. Ulu Chepor is a fantastic place to relax, enjoy a picnic, and take a dip in the midst of the beautiful natural surroundings. The vastness of this places feels like nature is calling you with arms wide open.
Location: 31200 Chemor, Perak
Entrance Fee: RM2 per car
Tip: Adventurous souls can explore plush green trails, camp around the waterfall, and also stay at one of the chalets in the recreational park
Suggested Read: 18 Places To Visit In Malacca In 2022 That Bring Out The Other Side Of Malaysia
7. Jelawang Waterfall

Being one of Malaysia's top five ecotourism destinations in Malaysia, the Gunung Stong State Forest Park is home to the famous Jelawang Waterfall, which at 160 meters is the tallest waterfall in Malaysia and Southeast Asia. Also known as Stong Waterfall, this waterfall is a superb place to visit as you might be able to spot the world's largest flower native to this region, the Rafflesia. One can either trek to the top of the waterfall or admire its beauty from below. This is one of those rocky cascades that constitute a wonderful picture background.
Location: Dabong Forest Reserve, 18200 Kelantan
Entrance Fee: RM5
Tip: Make sure to spend some time by the limestone caves of Gua Ikan, Gua Pagar, and Gua Gelap near the Dabong train station to see unique rock formations and take an exciting walk through the cave system's narrow passageways
Suggested Read: Best Hotels In Malaysia: For Those Who Love Living Life To The Fullest
8. Sekayu Waterfall

If you are on your way to Terengganu, it is likely that you will hear locals boasting about Sekayu Waterfall, one of the most popular tourist attractions in the northeast of Kuala Lumpur. Located within the Sekayu Recreational Forest in Kuala Berang, the waterfall is a fantastic sight to behold. While it is an excellent place to visit with children, one should definitely stop and spend at least half a day in this amazing park and at Sekayu Waterfall. Do not get overexcited seeing the beauty of this place, and follow the safety instructions.
Location: Hutan Lipur, Sekayu, 21700 Kuala Berang, Terengganu
Entrance Fee: RM1
Tip: The park has loads of other attractions to offer, including beautiful gardens, fruit orchards, fish ponds and mini zoo
Suggested Read: Malaysia In March: A Mini-guide To Know Everything Before Your Trip In 2022
9. Telaga Tujuh Waterfalls

Also known as the Seven Wells, Telaga Tujuh Waterfalls is truly an incredible place to see when you are in Malaysia. It is one of the most famous waterfalls on the Langkawi Island and gets its name from a collection of seven intertwined natural pools that are filled by seven different waterfalls. The area was deemed as a protected reserve called the Machinchang Forest Reserve. Being rich in flora and fauna, one can take a leisurely stroll, and look for Sintuk and lime plants that grow in abundance here and take an invigorating dip in one of the upper pools. The unique beauty of Telaga Tujuh Waterfalls is beyond words.
Location: Telaga Harbour Park, 07000 Langkawi, Kedah
Entrance Fee: Free of charge
Tip: September to October is the perfect time to visit the Telaga Tujuh Waterfalls as it is monsoon season and the waterfalls are at their roaring best
Suggested Read: Once You Try These 12 Malaysian Street Food Dishes, You Wouldn't Want To Come Back!
10. Lasir Waterfall

Lake Kenyir in Terengganu is not only Malaysia's largest man-made lake but is also famous for its one of the largest waterfalls collection in Malaysia, rivers, and streams. The Lasir Waterfall here, is one of the most amazing waterfalls in Malaysia that is set around 153 meters high, and cascades effortlessly through the stone formations, and multi-leveled pools. Each of the five levels has water ponds that are perfect for a cooling and rejuvenating swim. And to visit the Lasir Waterfall, take a boat ride from the main starting point of Pengkalan gawi jetty situated near Hulu Terengganu District's largest town, Kuala Berang. This is a great place to visit with your friends.
Location: Kuala Berang, Terengganu
Entrance Fee: Free of cost
Tip: You can even camp in one of the campsites near the waterfall and enjoy the serene natural environment
Further Read: 10 Best Places For Shopping In Malaysia: Street Stores To Lavish Showrooms
Planning a trip to Malaysia? Make sure you visit some of these best waterfalls in Malaysia while you gear up to get a glimpse of the natural wonders of this beautiful country on a reviving vacation.
Disclaimer: TravelTriangle claims no credit for images featured on our blog site unless otherwise noted. All visual content is copyrighted to its respectful owners. We try to link back to original sources whenever possible. If you own rights to any of the images, and do not wish them to appear on TravelTriangle, please contact us and they will be promptly removed. We believe in providing proper attribution to the original author, artist or photographer.
---
People Also Read:
Waterfalls In Thailand Waterfalls In Vietnam Waterfalls In Bali