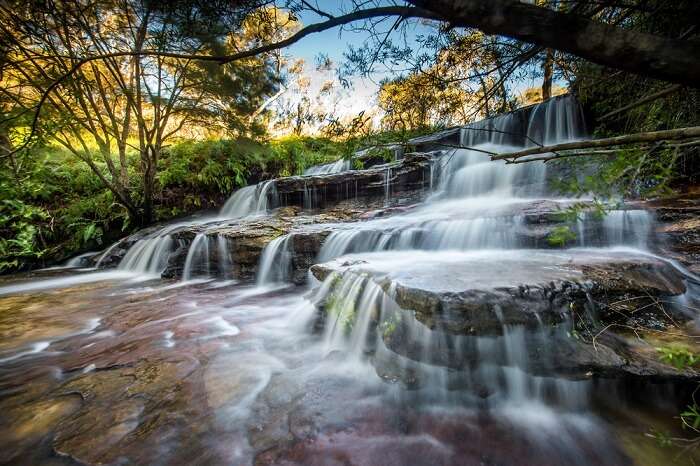 Sydney in Australia as a whole is blessed by mother nature. Amongst beautiful valleys, impressive mountains, and vast expanses of deserted land, lies some rejuvenating waterfalls with swimming spots underneath them. These waterfalls in Sydney are scattered all over the city and offer a blissful ambiance to its visitors. There's absolutely no reason to not visit them if you're the city. Wondering why? Scroll below and find out. But meanwhile, keep a note ready because you surely would want to make some changes in your itinerary.
10 Top Waterfalls In Sydney
These 10 waterfalls in Sydney are mesmerizing and absolutely magical to look at, Take a look at them to know why you must visit them on your next trip to Australia.
1. Upper Gledhill Falls
2. Winifred Falls
3. Carrington Falls
4. Collins Beach Waterfall
5. Kellys Falls
6. Mermaid Pools
7. Wattamolla Falls
8. Minnehaha Falls
9. Silver Cascades
10. Paradise Pool
1. Upper Gledhill Falls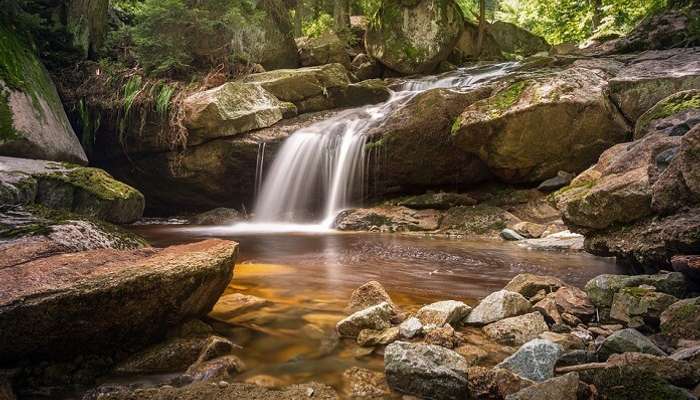 Situated just a little 5-minute walk from McCarrs Creek Road, the Ku-ring-gai Chase is a waterfall that is sure to take your breath away. Surrounded by luscious greenery which is complemented by an azure pool, all of it comes together to create enchanted surroundings. The stream is a little beast after a rainfall, but even if it is, it's pretty easy to navigate either way.
Location: Garigal National Park, Ku-Ring-Gai Chase NSW 2084, Australia
Timings: All Day/ All Year
Entry Fee: Free
Must Read: 6 Best Hot Springs In Sydney That'll Your Soothe And Revive Your Soul
2. Winifred Falls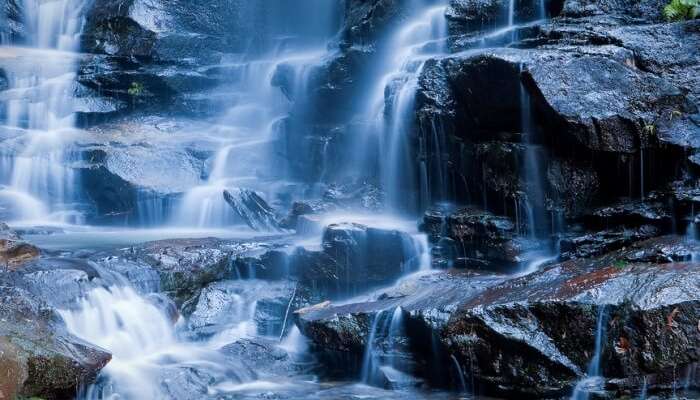 Vacationing with family? Then this is the perfect spot to bring them to. The water is beautifully bright blue and is warm as well, which bodes well for the little ones in your troop. While the fall isn't as high as Wattamolla, but it's just the right height for kids to be safe in a while also finding it enjoyable. To complete the whole nature experience, there are also plenty of native animals to witness on the trek downhill. All of this will enrich your day at this natural waterhole for sure.
Location: Royal National Park
3. Carrington Falls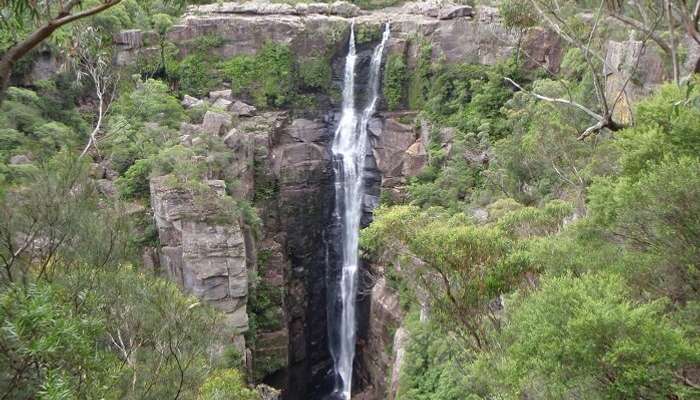 If you are on a short trip and are looking for a must visit waterfall while there, then the Barrington Falls over on the South Coast's stunning Kangaroo Valley is where you should be. This 50-meter waterfall will fill you with wonder and fascination which will only be propounded upon witnessing the sheer number of waterholes, Cascades and rock poles in here. All of it comes together to create just hours upon hours if fun.
Location: 44-48 Hoddle Street, Robertson, NSW 2577, Australia
Timings: All Day
Suggested Read: Casinos In Sydney: Try Your Luck At Some Of These Incredibly Amazing Australian Gamehouses
4. Collins Beach Waterfall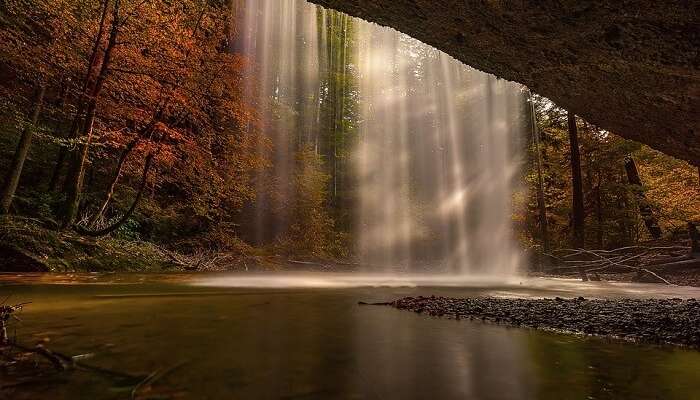 Looking for a hidden Beach which you would like to explore away from the prying eyes of others. Or perhaps you would like something a bit secluded to enjoy with your family or. This is it for you then. This hidden away Beach is located between North Head and Little Manly and is the most perfect spot for and one of the waterfalls in Sydney to swim underneath a towering waterfall. While the beach may be hidden, but it's still pretty easy to reach and so also makes for a little bright spot for a sweet afternoon picnic or perhaps come for a dip when Sydney's temperature rises sky high.
Location: Collins Beach Rd, Manly NSW 2093, Australia
Timings: 24 hours
5. Kellys Falls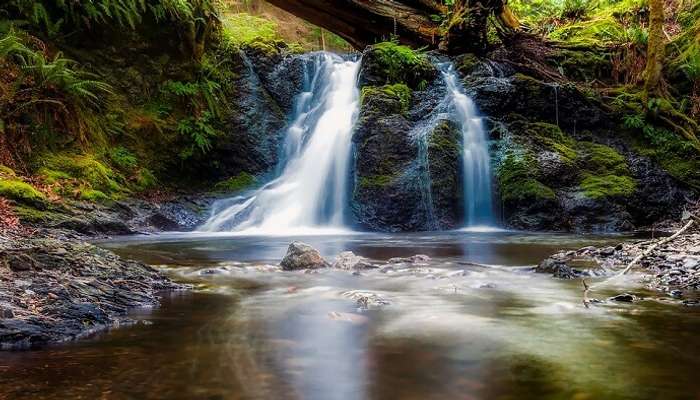 If you can't bear the heat of Sydney any longer and would like to get out as soon as you can then Kellys Falls is it. It's an even amazing location is you are up for a small drive to reach the outskirts of Wollongong. One of the most perfect spots located south of Sydney, you should put here to swim underneath a waterfall. What's more is that it's the perfect location for having a little picnic with your family since these falls have a picnic area over there.
Location: Wollongong
Timing: Open from 7 am to 8.30pm daily.
Entry Fee: Free
Suggested Read: 6 Best Guest Houses In Sydney For A Soothing Stay Amid The Coat Hanger City!
6. Mermaid Pools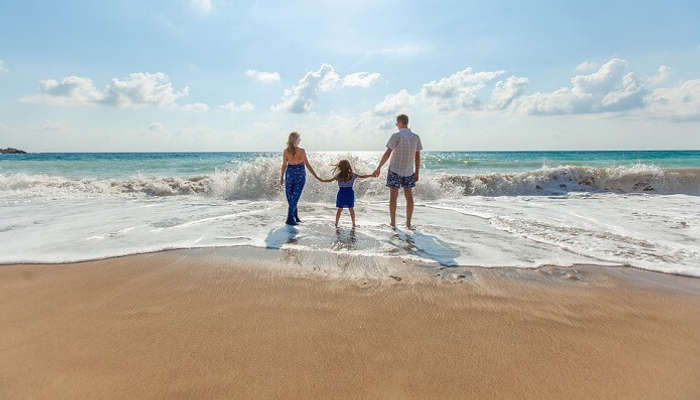 Sure picnics with families are fun, but they also get boring soon and presumably you are here with your buddies for having some adrenaline spiked fun. If that's your goal, then you have stumbled on the right place. Don't get fooled by the name, Mermaid pools aren't for the light-hearted, here the only way you will be able to reach the water if you dive off a 15-meter high rock platform. If you don't think that's high enough for your skill set then there's something higher still- a 25-meter option for those who keep their hearts in their pockets. We must warn you though, don't get carried away in all the thrill and fun as you have to really careful to not slip off the rope. It's your only way out, there's just no other option.
Location: Tahmoor
7. Wattamolla Falls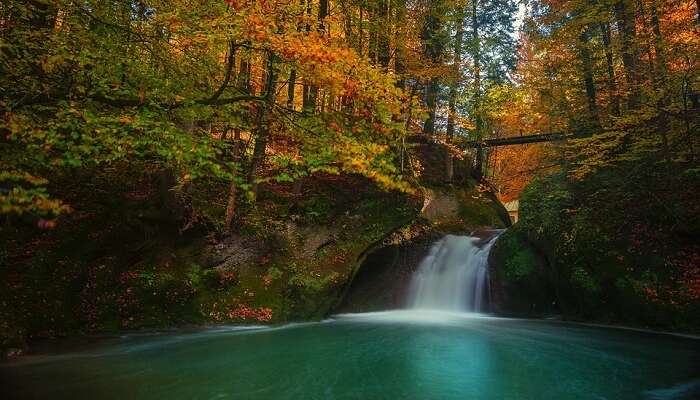 If you want to see paradise, then here it is. This is an absolute beauty which is going to make you feel like you are on the top of the world. You can see the ocean from the top of the falls and it is an amazing scenic to behold. The mist from the falls combined with the sunlight hitting the ocean far off creates something truly magical. The paradise isn't just at the top, it's below too with the sand and the swimming spaces. Just make sure that you head over there early in the morning before it gets too crowded because that's the only way you will get a decent spot to admire the beauty that is this fall.
Location: Royal National Park
Suggested Read: 8 Best Food Festivals In Sydney That Are More Than Just A Treat To Your Soul!
8. Minnehaha Falls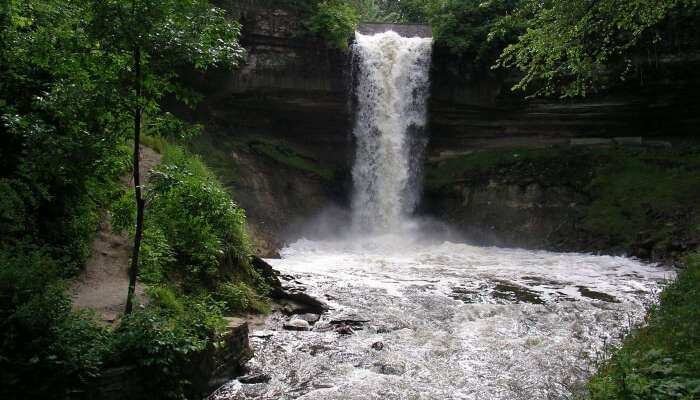 A famous destination for tourists to head to and for good reason. This 20-meter waterfall is the perfect destination to soak in some clear cool water before drying off and soaking in the sun's rays. The water over here is deep and is perfect for intermediate to advanced swimmers to go for a little dive into it. The surrounding rocks just add to the charm of the place and they act as the perfect resting place after you are done with the day and just want to relax while watching some of the most beautiful panoramic visions this place has to offer.
Location: Minnehaha Rd, Katoomba, New South Wales 2780, Australia
Timings: 24 hours
9. Silver Cascades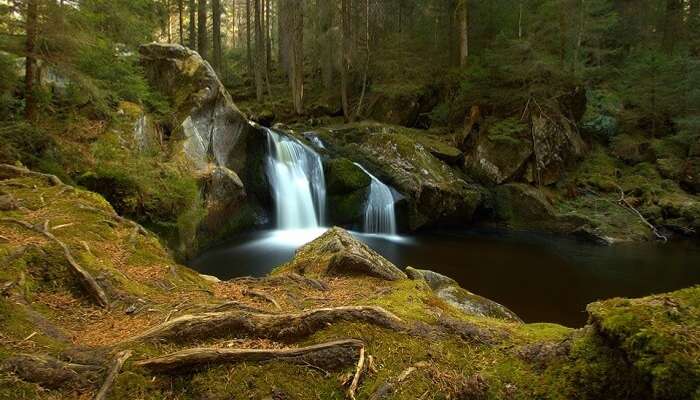 Get ready to work out a bit if you want to get down to these falls. Those leg muscles better be ready to support you all along the 400 meters climb back up to the trail. But you do get a gorgeous reward as well in the form of beautiful cascading cool water, which just sparkles and ripples down the falls before landing swiftly with the large natural blue pool at the bottom. The rewards are great, but the climb is greater, make sure you are up for it before heading out here.
Location: Mount Victoria, Blue Mountains
Suggested Read: Top 10 Indian Restaurants In Sydney Which Are Famous For Their Desi Flavours
10. Paradise Pool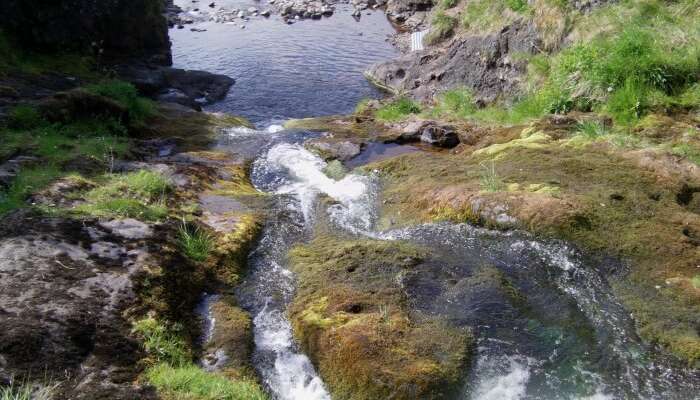 We may have talked of paradise before, but you can add this one to the list too if you are looking for unearthly places to cool off at. Representing its name with perfection, there is a beautiful, smooth, sandy beach over here where you can relax in before heading to the deep pool to splash in. The main attraction is, of course, the waterfall and it is a smooth 25-minute walk till there, but you are sure to get there without breaking a single sweat. For everyone wondering, yes, there's a jump rock too.
Location: Linden, Blue Mountains
Further Read: 6 Best Zoos In Sydney For A Closer Encounter With The Australian Wildlife Like Never Before!
They are the best waterfalls in Sydney which are magical, enchanting, and unique. Each one offers something different to its visitors- it can be a higher jump off a rock platform or a larger pool at the bottom of the fall. All in all, it's a stunning vision go behold no matter where or which one you head to. Make sure you go exploring these places during your holiday in Australia with TravelTriangle.
People Also Read
Waterfalls in Texas Waterfalls In Germany Waterfalls In Hanoi
---
Looking To Book An International Honeymoon?
Book memorable honeymoon on TravelTriangle with 650+ verified travel agents for 65+ domestic and international destinations.
---
.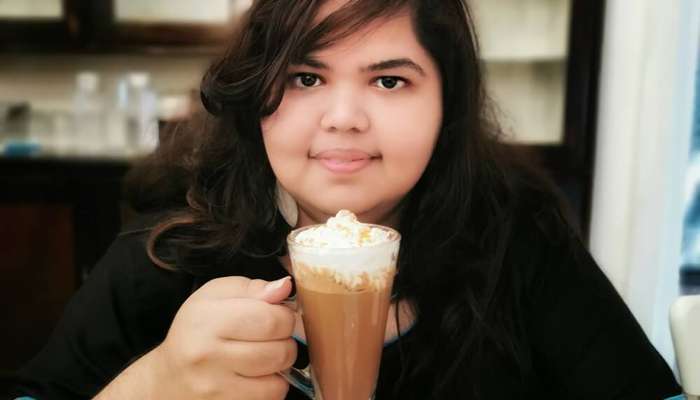 Comments
comments