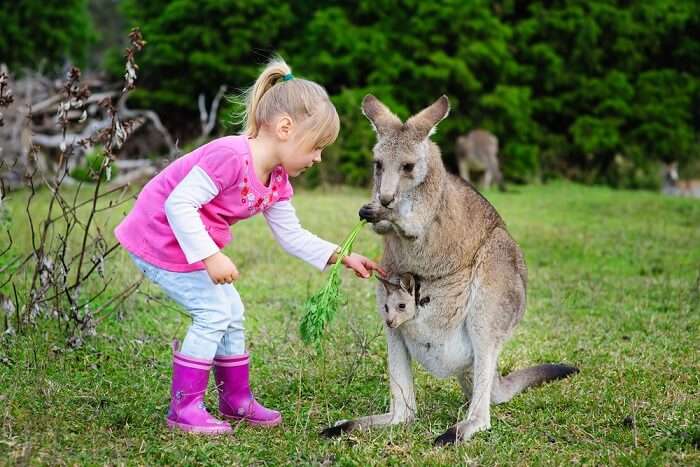 When it comes to world cities, Sydney ranks high on the list of top cities in the world. This is a modern city and the Sydneysiders who live in the city enjoy the diverse culture, modern amenities and many attractions in the city. There are five million people living in Sydney and there are many entertainment options in the city. There are great restaurants, entertainment venues, and places that are great to have a good time. You can choose to either go for a wild shopping excursion in the shopping centers and markets, or hike down the hiking trails, and beautiful beaches. One of the main attractions in the city for folks from all spheres of life are zoos in Sydney.
There are many zoos in all major cities and they display different types of animals and birds and Sydney has some great zoos. Going to the zoo is a great outing and spending a day at the zoo is enjoyed by children and also by adults. School picnics, family outings and just a trip with friends to the zoo are a great way to spend a day or a weekend.
Famous Zoos In Sydney
People from all over New South Wales come to visit Sydney to visit the zoos and tourists also visit these zoos in Sydney. The following are the list of zoos in Sydney that are popular in Sydney:
1. Taronga Zoo in Sydney
Taronga Zoo is located in the Mosman area of Sydney and is one of the best zoos in the city. Taronga Zoo is famous for animals from all over the world. Sumatran tigers, Asian elephants, chimpanzees, meerkats, gorillas, kangaroos, koalas, bears, honeyeaters, and corroboree frogs are all featured at this zoo. Very exotic birds like peacocks, Australian rainforest birds, Australian bush birds, tropical birds, and even domestic animals and cattle are all sheltered at these zoos. Oceanic wildlife is also a part of this zoo including sea lions, pelicans, penguins, seals and different types of fish. The reptile house at the zoo includes exotic reptiles from many tropical countries. These include crocodiles, snakes, dragons, geckos, turtles, frogs, and iguanas. Taronga Zoo gives an educational experience to children as they can learn about different animals from all over the world. This is one of the best zoos in Sydney especially known for its elephants, lions, and giraffes and is also amongst the best zoos in the country. From the English royals who visited the zoo some years ago, to tourists, everyone loves their visit to this zoo.
Must Read: 10 Sydney Travel Tips To Make Your First Vacation As Memorable As Possible
---
Australia Honeymoon Packages On TravelTriangle
Go on a luxurious honeymoon trip to Australia and witness the best of marine life at the Great Barrier Reef. Indulge in Australia's aquatic experiences, go for nature walks, and get the best of food & wine. Find best honeymoon deals offered only on TravelTriangle.
---
2. Koala Park Sanctuary
Koala Bears are native to this part of the world and traveling to Australia also means going to a Koala Bear Sanctuary for most tourists visiting this country. West Pennant Hills is an area in Sydney where the Koala Park Sanctuary is one of the best zoos to visit to see Koala Bears. Other animals at this sanctuary are peacocks, penguins, dingoes, cockatoos, kangaroos, emus, echidnas, and wombats are all features at this zoo. People can plan kid's parties and other types of social events at this sanctuary. This is one of the best petting zoos in Sydney and a perfect place for children to learn about native animals and birds in Sydney.
Suggested Read: Best Airports In Sydney That'll Let You Tour The City's Most Extra Features!
3. Sea Life Sydney Aquarium
Aquariums are great draws and usually get large crowds as it is a true treat to watch ocean life and see marine wildlife that people rarely get to see in real life. An aquarium is a place where there are giant water tanks that house water creatures and plants from all over the world. Sea Life Sydney Aquarium is a wildlife Sydney zoo that specifically caters to marine wildlife. This aquarium was established in 1988 and showcases a variety of marine life. The aquarium has habitat zones that includes South Coast Shipwreck, Dugong Island, Sydney Harbour, and Shark Walk & Shark Valley. Some marine life includes penguins, sharks, moon jellies, silver sweep, mado, cuttlefish, dugongs, Queensland Gropers, and many other types of marine wildlife. Kids, parties, school trips, tourist visit and visits by locals are all common at this aquarium.
Suggested Read: Top 10 Indian Restaurants In Sydney Which Are Famous For Their Desi Flavours
4. Manly Sea Life Sanctuary
A yet another aquarium in Sydney is this one in Manly, Sydney. This aquarium is a public aquarium that was established in 1965 and there are many exhibits displayed in this sanctuary. Sharks, stingrays, tropical fish, turtles, rock pools, seahorses, octopi, and lionfish are all on display at this aquarium. There is a beautiful Penguin Cove at the sanctuary and also a colony of penguins at this sanctuary.
Suggested Read: Kickstart A New Phase Of Your Life With An Awesome Honeymoon In Sydney
5. Featherdale Wildlife Park
Another great Wildlife Park in Sydney is the Featherdale Wildlife Park. Featherdale is a great tourist attraction and is also visited in the past by major Hollywood stars over the years. This is one of the most famous zoos in Sydney and there are many native Australian animals at this zoo. There are birds, animals, marsupials, reptiles and different types of local wildlife at this zoo. Some of the animals at the Featherdale Wildlife include wallabies, kangaroos, koala bears, dingoes, geckos, and many other types of animals.
Suggested Read: Winter in Sydney: 8 Things To Do When Sydney Is At Its Magical Best
6. Australian Reptile Park
In the northern regions near Sydney in Somersby, New South Wales, is the Australian Reptile Park that has to be added to the list of zoos in Sydney. Australia is a land where there are many species of reptiles and people in Australia are very used to snakes and lizards and different styles of reptiles. The reptile park has reptiles, mammals, amphibians, spiders and birds. Some of the attractions at this zoo include Ploddy which is a large replica of diplodocus dinosaur, Elvis the crocodile, Lost World of Reptiles, and Spider World. Koalas, Kangaroos, Cassowaries, and Tasmanian Devils are all features at this zoo. Arachnids, reptiles, wombats, wallabies, platypus, pythons, echidnas, possums, foxes and kangaroos, scorpions and iguanas among other animals are all part of this zoo.
Sydney is a great city and the number of zoos in the city showcases how animals and wildlife are an important aspect of the city.
Further Read: Shopping In Sydney: Top 10 Places In The City For Luxury & Street Shopping
The answer to how many zoos in Sydney is that there are many different zoos in and around the city. Australia is not just known for the modern city life but also known for tropical forests, outback plains and a beautiful countryside. These zoos showcase animals, birds, and plants from Australia and from all over the world.Exciting! Isn't it? Plan your next trip to Sydney with TravelTriangle and know where this city has to offer exclusively for you!
Frequently Asked Questions About Zoos In Sydney
---
Looking To Book An International Honeymoon?
Book memorable honeymoon on TravelTriangle with 650+ verified travel agents for 65+ domestic and international destinations.
---
Comments
comments