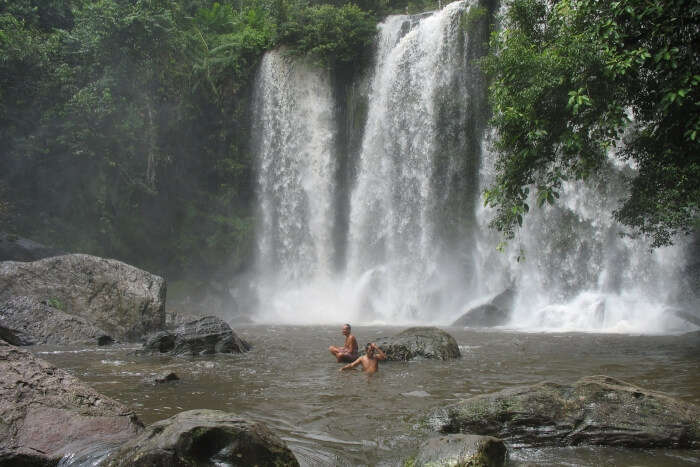 Waterfalls are such a creation of nature that it never stops to mesmerize the mere mortals. From natural beauty to the sound of the water to the smell of the land around it, they are amazing. The mesmerizing beauty of the waterfall does not need any camera to capture its beauty; it gets captured in the heart of everyone who sees it for the whole of their life. waterfalls near Siem Reap is one of them. With what you hear to what you see things are pretty astonishing. These waterfalls are not just simply beautiful but they give you life-changing adventurous opportunities too. They provide you with something different, something thrilling and something lovable.
About Waterfalls Near Siem Reap
Image Source
Speaking about waterfalls near Siem Reap, Kulen falls, in the National Park called Phnom Kulen, is a prominent place for any local people and visitors to chill on a sunny day. This natural beauty is actually situated in the mountains called Phnom Kulem which is in the state of Siem Reap. This state is situated in the north of Cambodia which attracts a lot of tourists locally and from other countries too. This range of mountains called Phnom Kulen Means Mountains of leeches in English. This mountain range does not only have significant attractions for nature lovers but historical lovers alike too. This mountain range is a pilgrimage site for Hinduism followers and Buddhism followers. This is highly significant for various religious rituals. Hen interestingly not only for pilgrimage, history or nature, this mountain range is also very highly significant for national reasons for the Cambodian people. This mountain range was the birthplace of the ancient Cambodian empire Khmer. This was the predecessor state of beautiful modern Cambodia. Power, culture, literature, and art reached a high n that empire state which is said to be the most glorious period in the history of Cambodia. This was the high perhaps which is not even achieved by modern Cambodia in present days too.
---
Cambodia Vietnam Honeymoon Packages on TravelTriangle
Visit Cambodia- Vietnam for your honeymoon and enjoy gorgeous beaches, sparkling bays, colonial structures, stunning landscapes, and colorful culture. Experience luxury at at low cost.
---
Kulen Mountain waterfall: Amazing natural beauty
Image Source
Kulen Mountain waterfall is a famous spot for both domestic and international tourists alike for its outdoor activities and leisure facilities. You can enter this beautiful and astonishing national park with just 20 US dollars entrance fees. There's a gigantic leaning back Buddha statue at the highest point of the mountain. It's cut from sandstone, a part of the mountain, and, at 8 meters, is one of the biggest in Cambodia. The River of a Thousand Lingas highlights carvings in the riverbed itself, going back to the Khmer Empire, and is completely uncovered in the dry season. To see it, you'll have to make a 1.5km trek from the stopping site.
There are two primary cascades in the recreation center; the first is 5 meters tall, while the second is 20 m tall. They're at their fullest amid stormy season which is normally from May to November. Be that as it may, the cascades aren't the main thing to find in the recreation center.
These waterfalls in Siem reap is what brings a huge lot of international tourists to Cambodia and benefits the tourism sector of the government of Cambodia. Visit the Buddha Monastery and 1000 lingas toward the start of the day and value excursion lunch by twelve. This fascination is in the western piece of the Kulen mountain inside the Phnom Kulen National Park. The visit includes Cambodian jeep with your very own driver, additional charges and lunch. This visit is perfect for families who need to jump advance for a multi-day trip in Siem Reap!
Must Read: 10 Best Restaurants In Siem Reap To Satisfy Every Palate
How to get to Phnom Kulen from Siem Reap?
Image Source
So, you must be thinking how to get to Phnom Kulen from Siem Reap? Those who want to visit these waterfalls near Siem reap can visit it pretty easily because at 48 kilometers north of Siem reap Phnom Kulen National Park is located. The best way to travel is by a van or a car or a bus but if you want some adventure then you can prefer two-wheelers like motorcycles. Even tuk tuks are available but they cannot make you reach in time and as a visitor, you lose quite a heavy amount of valuable time with it.
Suggested Read: These Siem Reap Floating Villages In Cambodia Will Cast You Away Into A Surreal World
Best hotels in Siem Reap
A holiday can never be complete without proper accommodation, which is why it is important to book the right hotel. The ideal hotel should not be too far from any of the waterfalls and have all the amenities you need. Here are some:
1. Borei Angkor Resort and Spa
Image Source
Settled inside private greenery enclosures, Borei Angkor Resort and Spa offers extensive Khmer-style facilities in Siem Reap. It includes an open-air swimming pool and visitors can appreciate suppers from 4 eating choices. Free WiFi is accessible all through the property. The staff here can chat in Chinese, Khmer, and English. It costs 80 US dollars per day per person on average.
Suggested Read: Street Food In Siem Reap: Relish The Variant Flavors Of Cambodian Cuisine!
2. Hotel Visoth Boutique
Image Source
Strategically located far from Siem Reap in 4.3 min– Angkor International Airport, Visoth Boutique highlights agreeable guestrooms furnished with a level screen TV and free WiFi access in broad daylight regions. Visitors likewise appreciate free airplane terminal get administrations. It costs 31 US dollars per day person on average. The boutique has unparalleled peace and quiet to offer to its tourists.
Suggested Read: Trekking In Siem Reap: Treading The Unexplored Pathways Of Nature In Cambodia

3. Grand Champei Residence
Image Source
Situated in Siem Reap, Grand Champei Residence has free bicycles. This four-star inn includes open-air swimming pool and free WiFi. The inn includes an eatery, and Pub Street is 1.4 km away. It just cost 27 US dollars per person per day on average, which is a kind of steal you cannot miss. On those lazy days, just jump in the pool and spend your day basking the sun near the bar.
Further Read: 10 Best Hotels In Siem Reap To Suit The Budget Of All Kinds Of Trippers
Looking at every aspect, waterfalls near Siem Reap is a must visit place for nature and history lovers. Pack your bags, fix a date and pay a visit to Cambodia. That trip to waterfalls near Siem Reap will be something which can be cherished throughout life.
People Also Read:
Cebu Waterfalls Chanthaburi Waterfalls Kuang Si Falls
---
Looking To Book An International Honeymoon?
Book memorable honeymoon on TravelTriangle with 650+ verified travel agents for 65+ domestic and international destinations.
---